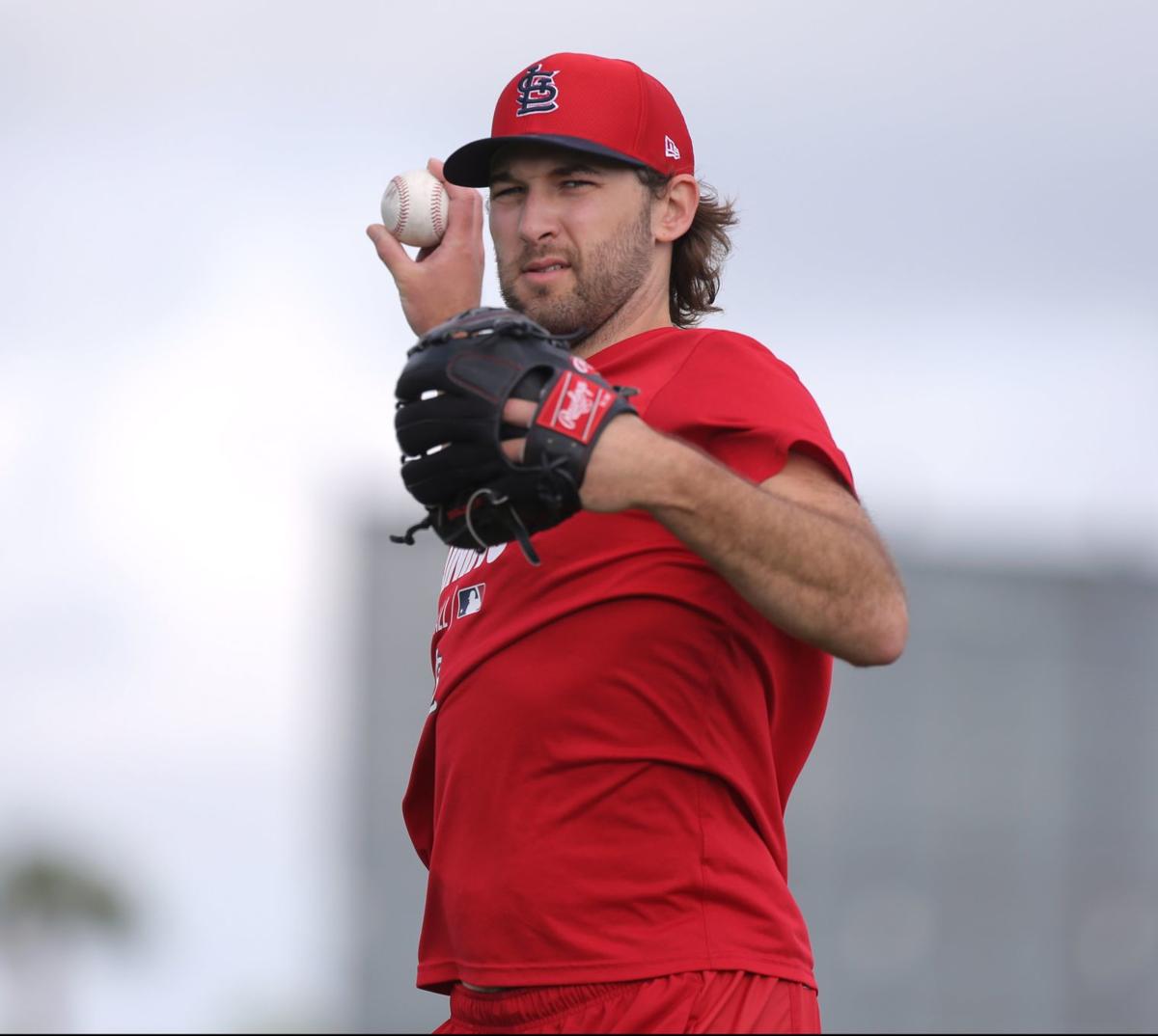 JUPITER, Fla. • Michael Wacha seems to be having more fun in the Cardinals' clubhouse this spring than he probably ever has.
Part of that surely could attest to his side feeling good, after he missed 3½ months because of an oblique strain last season. And the fact his often-balky shoulder hasn't bothered him. And the fact he has pitched well this spring, featuring a five-inning blanking of the New York Mets on Thursday in a 1-1 tie. He scattered five hits and uncoiled a quick delivery to the plate that enabled catcher Yadier Molina easily to throw out a base runner at second.
Perhaps Wacha, a prospective free agent, is making sure he enjoys what might be his last spring in the Cardinals' clubhouse.
The 27-year-old righthander said, however, "I don't think about that. But it's a very valid question."
Another question Wacha addressed was how he felt about teammate Miles Mikolas signing a four-year extension to avoid free agency. Chances are the Cardinals will not sign two starters to extensions.
"That's awesome for him," Wacha said. "I can tell you there's nothing (I have) against the Cardinals, nothing against Miles for signing that contract, for being offered that. Well-deserved for him. He's a stud pitcher and great off the field.
"But it's important not to get caught up in that stuff, from my end," Wacha added. "This is just a great clubhouse. That's why you see me smiling. Guys having fun, meshing well and building that team chemistry. That's very important in this game in order to win."
Cardinals pitchers allowed nine hits to the Mets but stranded 11 runners. And Mike Mayers, after a visit from pitching coach Mike Maddux, induced a double play with the bases loaded in the eighth. Dominic Leone had his fifth consecutive scoreless outing and John Brebbia had a scoreless ninth.
"I liked all of our pitching," manager Mike Shildt said. "And I really liked Michael Wacha. More of the same from what we've seen all spring. He picked up where he left off last year."
Wacha was 8-2 in June before he suffered his oblique injury.
"He's got a lot of weapons," Shildt said. "Last year he started elevating the fastball, which is really lethal."
That high fastball comes in addition to the severe downward plane the 6-foot-5 Wacha usually puts on the ball with his over-the-top delivery.
GANT GOOD, CECIL NOT
Righthander John Gant worked two efficient innings in a squad game pitching against minor leaguers.
But lefthander Brett Cecil, who is something of a mess as he struggles to find some mechanics that work after a huge weight loss in the offseason, got through one inning, allowing an unearned run. But he hit a batter, walked another and fired a wild pitch.
Of his 27 offerings, 15 were balls, several bouncing past the catcher, and his velocity was not impressive.
When asked about Cecil, Maddux said, "I really liked John Gant."
Maddux diplomatically said he and Cecil "had some things to work on. We've got to keep pushing."
But, asked if Cecil's troubles were mystifying, Maddux went into his default mode.
"I liked John Gant," he reiterated.
MOZELIAK LIKES NEW RULE
A hard-and-fast July 31 trading deadline Major League Baseball announced for this season drew approval from John Mozeliak, the club's president of baseball operations. Heretofore, players could be traded after July 31 if waivers were obtained.
"I always thought of that as an oddity in our game," he said. "When you say you have a trading deadline, and then tomorrow you have another trade it's not really a deadline. It's a deadline for not needing waivers.
"So I think clarity for the fans is going to be something that they're going to enjoy. It might put a little more emphasis on the 31st. It's a true deadline. I do think it's going to be more exciting."
Looking at rules that go into place next year, Mozeliak also liked the fact that rosters could not balloon to as many as 40 players in September but will be frozen at 28.
"I've always felt like September has been very odd in our sport," Mozeliak said, "and to have a more normalized approach is healthy."
Mozeliak, referencing a 2020 rule that a pitcher must face at least three hitters under most circumstances, said, "That's going to change strategy a little."
But Wacha isn't too keen on the rule, which would seem to eliminate some lefthanded specialists.
"Personally, I'm not the biggest fan," he said. "If a manager wants to waste a (pitcher) for an out, that's his decision. I don't think it's going to speed up the game, if that's what they're trying to do."
MOLINA AT NO. 2?
Yadier Molina hit in the No. 2 position Thursday, as he had done a couple of times this spring. Shildt said he was doing that mostly to enable Molina to get more at-bats in a game after his late start this spring as Molina was coming back after knee surgery. But Shildt said this could be a strategic move, too.
"We're always exploring," Shildt said. "It's not out of the realm of possibility (for the regular season), I'll tell you that."
Molina batted .283 in 44 games as a No. 2 hitter last season, which was higher than he hit in any other lineup spot. He had hit in that slot in only 18 games in his first 14 seasons in the majors.
AROUND THE BASES
Cardinals pitcher Carlos Martinez, trying to rebound from a shoulder issue, played catch — with Shildt — on the first day of his two-week program.
"He looked great," Shildt said. "I don't think I'll keep doing it for much more. He's got such a beautiful arm action. It's so much fun to watch him throw."
Reliever Luke Gregerson, recovering from a 2018 season replete with injury, threw a bullpen session and worked on some mechanical issues with Maddux and special instructor Chris Carpenter.
"We're just trying to get a stroke (delivery) that repeats," Maddux said. "It's a slow track back.
"We're not over the hump yet."