JUPITER, Fla. — Nolan Arenado has known Matt Carpenter for a long time and one thing the Cardinals' third baseman thinks he knows is that the former third baseman will be heard from this season.
After Arenado's first official workout as a Cardinal Monday, he said on a Zoom conference that "Carp's a great player and he's done some great things in this game. He's going to be a big part of this group.
"We need him. We need him to be who he is and we need him on this team. I'm excited to play with him," said Arenado.
"We're going to push each other at third. He's going to play a little bit at second, a little bit at first. He's going to help us win ball games, there's no doubt about that.
"He's going to have a position and he's going to help us win a lot of games this year."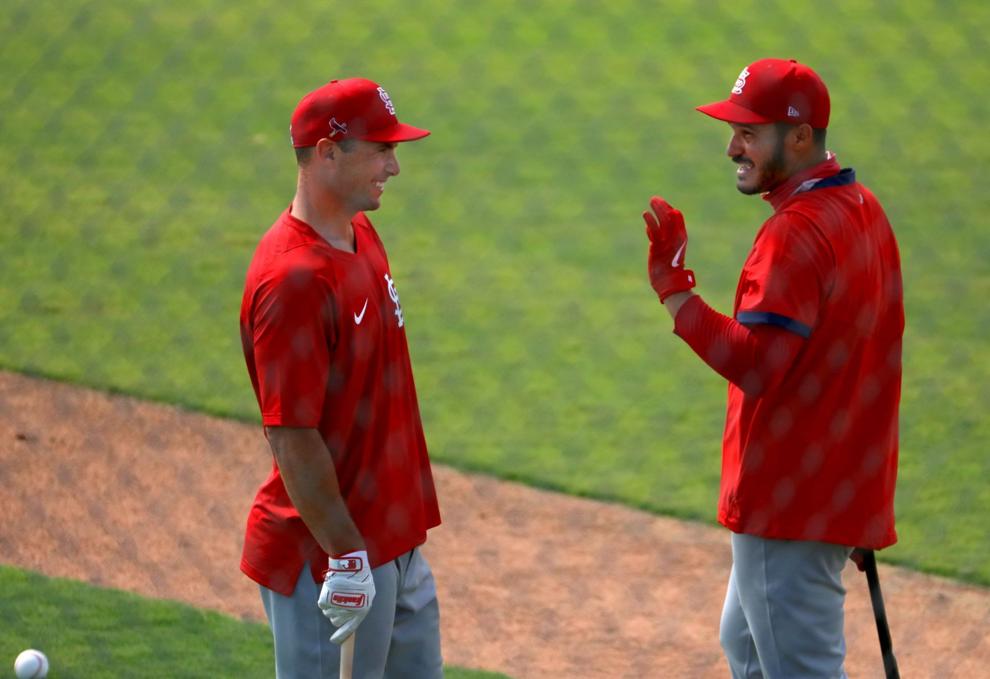 Arenado has been slotted in a hitting group with Carpenter and first baseman Paul Goldschmidt and he has been talking both baseball and life with the pair.
With Goldschmidt, Arenado has been picking the first baseman's brain on how it was to adjust to a new team after spending eight or so years with another team as Arenado did with Colorado and Goldschmidt did with Arizona until he came here in 2019.
"He gave me a lot of great insight," said Arenado. "It's nice to know someone who's gone through it not that long ago."
Arenado came to camp early and now is just rounding into body-clock form after coming from California, where he grew up and lives.
The time difference is three hours and Arenado, who trained in Arizona before, admitted, "Getting up early has been a problem.
"I was hurting for a while. But I'm good now."
A quick study, Arenado said everything he had heard about the Cardinals' organization "has come to light, seeing it.
"I really like it so far. It's the way it should be, so it's been nice."
Reyes may be starter — in 2021
While the Cardinals view Alex Reyes as a starter in their future, that future might not be this year, president of baseball operations John Mozeliak said.
"I could give you my best guess, but I think I'm going to take advantage of the next five weeks," said Mozeliak. "He's talented enough to be in the rotation. But he's going to have to earn that spot.
"If he doesn't, then he's someone you could see out of the bullpen. He is someone who really hasn't pitched a lot of innings over the last four years. We do have to be very cognizant of that, and it wouldn't shock me if we tried to take baby steps and ultimately next year we start to pencil him in as one of the five for the rotation.
"He is someone we do want to give opportunity to as best we can to stretch (him) out and how that role plays out, time will tell.
O'Neill's focus changesLeft fielder Tyler O'Neill, envisioned to be a run producer in the middle of the lineup, turned into a Gold Glover for the Cardinals last season instead. But while he tied for the team homer lead at seven, he batted only .172.
"I'm definitely more focused on that (offensive) side of the ball this year," O'Neill said. "I know it was a down year for me in the average department. I was still able to do some damage but obviously not in the way I would have liked and that the staff would have liked.
"I've got some stuff to prove and I don't have any problem with that. I've got lot of confidence in my ability and I'm not worried about a thing."
Asked for specifics, O'Neill said, "I need to continue to work on my timing. Continue to trust my eyes and see the ball and not think too much up there … and not to get too mechanical. Just be a little more free-flowing."
O'Neill, who has been working with hitting coaches Jeff Albert and Jobel Jimenez for a couple of weeks already, said, "Having a smoother rhythm and trusting my eyes is going to pay dividends for me."
The lack of production by the outfield has come under heavy scrutiny from the fan base but O'Neill said, "I don't pay attention to what the fans say, honestly."
But he has changed his number from 41 to 27, which strikes him as a better number for a veteran player.
"I just thought it was time for a change," he said. "Forty-one was the number I debuted with and the number I won the Gold Glove with. But I felt there was a maturity aspect I wanted to hold with the 27.
"I'm liking seeing my name on top of that number, so far."