LAKE FOREST, Calif. — He's propelled enough swings in his career and already in this workout Friday to know the one he's chasing. When he connected, the echo from the crack of contact had only just faded when Nolan Arenado, head down and hands already circling back for his next attempt, revealed his enthusiasm with a question for a visitor.
The visitor had just toggled his iPhone from photo to video in time, so yes.
"Nice," Arenado said. "That's the one you'll want to share."
For the first time in several winters, Arenado knows for sure where he'll spend the next several years after electing to remain with the Cardinals through at least 2027 and not opt out of his contract for a crack at free agency. That has afforded him welcome comfort in his career, and now it's back to work seeking the same thing with his swing as he aims to amplify it for potentially the last ballpark he'll call home, Busch Stadium.
"My plan was never to leave," Arenado said. "I never wanted to do that."
At the facility he owns and his family helped outfit with personalized décor, like a large portrait of a lion, Arenado hits several times a week, his brother Jonah delivering pitches. Tucked into into an Orange County, California, business district and a short drive from where he grew up, the "warehouse," as players call it, is nondescript until the doors open and the sounds of weights clattering and baseball happening reveal its purpose.
Arenado's place is part Superman's Fortress of Solitude, part Iron Man's workshop. It's where he keeps memories like his minor-league jerseys and milestone baseballs from the majors, and it's where he tinkers to build his future. The "warehouse" is where Arenado keeps memories like his minor-league jerseys and milestone baseballs from the majors, and it's where he tinkers to build his future. It's where he stacks his 2021 Nike cleats in Colorado Rockies colors (never worn) and where he hung a neon Cardinals logo purchased off eBay after the February 2021 trade that relocated his career — and repositioned the view of it, he feels.
And it's where, on the eve of his first Winter Warm-up fanfest, he discussed his swing and the decision to stay with the Cardinals, to affirm a commitment to St. Louis, and not launch into free agency for his first time.
"I came here to be here," Arenado said, referring to St. Louis. "I started a family in St. Louis. My daughter was born in St. Louis. I want to stay in St. Louis. That's why I came here. I didn't come here to leave after two years. That was never my plan. I wanted to be here for the long run. I love St. Louis. I love the culture. I love playing here. I love living here. I just want to hold up my end of the bargain in St. Louis. … I got traded here for a reason. I don't want to be a letdown."
Arenado made the call a few days before the World Series ended and a few weeks before finishing third in NL MVP voting, assuring five more years at $144 million with the Cardinals. What followed was baseball's bonanza of spending. This year's market produced four contracts worth at least $280 million, three for $300 million or more. Contracts got longer, richer, and Boston third baseman Rafael Devers, five years younger than Arenado but never an MVP finalist or Gold Glove winner, scored a record-setting 11-year, $331 million extension.
Arenado's choice not to exercise an opt-out in his contract may have surprised some who did not hear his comments about the Cardinals all season or did not know the dizzying, fragile complexity of the trade that brought him from the Rockies.
As part of the trade to the Cardinals, an opt-out after the 2022 season was inserted into Arenado's contract because the players' union assigned it a dollar value to maintain the present-day worth of his contract. That was necessary, multiple sources said, because among the things that made a deal specifically to the Cardinals possible, Arenado agreed to defer salary both from the Rockies (with interest) and from the Cardinals (without interest). Colorado still owes $16 million this year to cover a portion of Arenado's 2021 salary, sources confirmed. Arenado said part of his decision respected the lengths the Cardinals went to complete a trade he sought. He finalized his choice after a personal conversation in California with John Mozeliak, Cardinals president of baseball operations, about the team's specific plans to contend and "where we're headed" for the coming years.
During an interview on MLB Network, Arenado addressed not leaping from an MVP-caliber season into the free agent jackpot, saying "the grass isn't always greener." And, after opting in, the goal becomes earning an extension to be in St. Louis even longer.
"I could finish my career here," Arenado said.
At a table not too far from jerseys signed with personalized messages from Skip Schumaker and Troy Tulowitzki — both of whom laud Arenado's work ethic — Arenado brought up how he felt the Cardinals have already shaped his career. Within the game, Coors Field has a reputation for elevating offensive statistics. Yet, while playing home games at pitcher-friendly Busch, Arenado fashioned a second consecutive 30-homer, 100-RBI season and slugged .533, the highest since 2006 by a Cardinal who played a position other than first base or outfield. His 154 OPS+, a normalized measure of production where 100 is average, set a career high.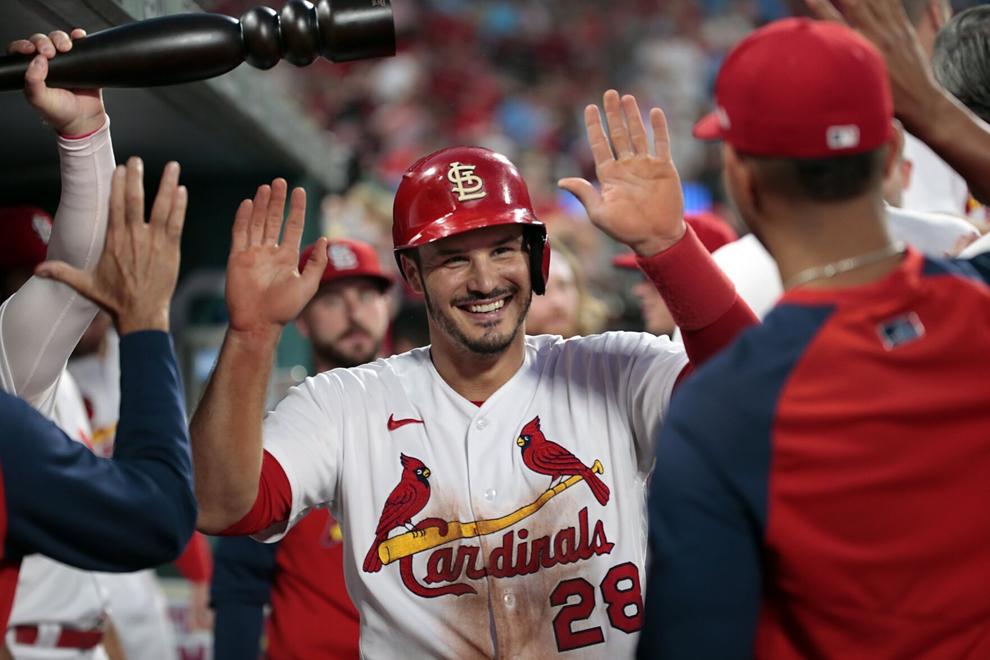 "I think me being a Cardinal changed the landscape of how people look at me as a baseball player now. I really do," he said. "And that's not any fault of Colorado. Colorado gets a very unfair assessment of the players there. There are a lot of great players who play or played in Colorado who would be great players anywhere. Todd Helton, I believe, is a Hall of Famer. I do believe what I did (this past year) and becoming a Cardinal got a new level of respect from the media, from players, from peers, too. I really believe that."
For the first time in his career, Arenado played for a division-winning team, and for his second time in as many seasons with the Cardinals the playoffs ended abruptly.
After the Cardinals lost to the Phillies in the wild-card series, Arenado returned to his home in Southern California and "switched to dad mode." In August, his wife, Laura, gave birth to their first child. One of the biggest accomplishments of Nolan's offseason was getting his infant daughter to giggle. He's got the highlight video handy.
"I told someone getting her to giggle and laugh was like hitting a home run into Big Mac Land," Arenado said. "I finally got it. It's a better feeling."
A year ago, he said he was "tripping out" and frustrated by a swing that felt disconnected. To prepare for this year, he retraced the steps of his cross-country tour that helped him ultimately find a groove — and unlock increased bat speed. Arenado visited the Titleist Performance Institute in California to evaluate his biomechanics. He headed to the Baseball Performance Lab in Baton Rouge, Louisiana, where his swing was dissected with data and bats crafted specifically for him and his training. With teammate Lars Nootbaar, Arenado spent days at Driveline outside of Seattle measuring gains in swing speed and exit velocity.
During practice at the "warehouse," Arenado switched between the Marucci bats designed for his practice — heavier than his game bat, lighter to build speed, and the counterbalance bat with the large "puck" knob. A nearby TV showed a replay of each swing on a six-second delay — a practice former Cardinals hitting coach Jeff Albert introduced to Arenado — and late in the work he affixed a Blast sensor to his bat to work on the velocity of his swing. An app on his phone would announce the speed after each swing. He warned his brother Jonah that he was going to "let it fly" to push himself to see how much he could accelerate his swing and still make potent contact.
"The best players in the game swing fast — Mike Trout, Goldy (Paul Goldschmidt)," Arenado said. "What I do a really good job of is I have good bat to ball skills. I can put the barrel on the ball. Making sure I'm taking my A swing all the time that's what I'm trying to get better at. You play at Busch — you have to be able to show you can use the whole field."
Arenado said they briefly called his facility "Club 28," but it didn't take off, so "warehouse" stuck. The privacy of it has drawn Albert Pujols to hit there, and already this offseason Cardinals hitting coach Turner Ward met Tommy Edman, Nootbaar and Arenado there. There's a weight room kept almost Florida warm, an office, and the backdrop to the cage is a graffiti-like collage of Arenado's interests. The family crest from Cuba rises high over the profile of a bear for California and a lion. His wife's first initial is prominent. Within the mural are the logos from a favorite show ("The Office"), favorite bands (Red Hot Chili Peppers, for one), and Arenado's favorite movie ("The Godfather"). He'll watch "Goodfellas" five or six times a season and eagerly described how an actor studied a character down to opening a ketchup bottle.
Behind Arenado as he hits is an image of Arenado stealing hits — the glove hand of his silhouette reaching toward an arc of golden flashes, one for each Gold Glove he's won.
He won his 10th consecutive in 2022.
There is something missing from decoration at the "warehouse," and adding that helped drive his wish to be traded to the Cardinals. Among the jerseys and keepsakes, images and pictures, there isn't a playoff presence. Arenado homered in his first career playoff game. He has not had an extra-base hit since. Winless in three playoff games with the Cardinals, Arenado's teams are now 1-7 and he's a .152 hitter.
"I didn't perform again in the playoffs, and I never really have," Arenado said. "The way I look at my playoff career is obviously not very good. It's something that definitely eats at me."
And there is only one solution.
Performing in the postseason begins with being in the postseason.
That is, to borrow Arenado's phrase, why he came here.
"I think being in St. Louis, to go back-to-back years, we have the opportunity to do it every year, and I really do believe that we can do that, and that's why I'm here," Arenado said. "That's how I see it. The goal is to go into the playoffs every year and win. I've been fortunate enough to accomplish some cool things in this game, and I think winning is the only thing that I really want."