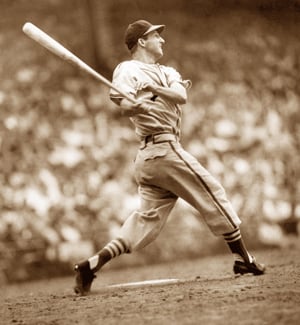 On the grand occasion of Stan Musial's 90th birthday Sunday, we offer our own special gift: a literary cake, topped with 90 reasons why we love The Man, or one for each year:
1 • Musial is the nicest person we've known. He's devoted much of his life to making others happy. "I suppose it's because I'm a you-only-live-once type, and I figure I might as well enjoy everything that happens," Musial said at the end of his career. "It's also with me pretty much a matter of putting myself in somebody else's place. So what I try to do is never to hurt anybody else and figure if I don't, then I'm not likely to get hurt myself."
2 • Musial, unlike so many athletes, always appreciated what he has and was thankful to play baseball for a living. He is the anti-Terrell Owens. "Maybe one reason I'm so cheerful is that for more than 20 years I've had an unbeatable combination going for me - getting paid, often a lot, to do the thing I love the most," Musial once said.
3 • A lovely man, with lovely symmetry. Musial stroked two hits in his first game in the majors Sept. 17, 1941. He ended his career with two hits in his final game Sept. 29, 1963, in St. Louis. And with those last two hits, Musial finished with 1,815 hits at home and 1,815 on the road. As the writer George Will once wrote, "baseball's rich in wonderful statistics, but it's hard to find one more beautiful than Stan Musial's hitting record. He didn't care where he was, he just hit."
4 • The Musial Statue. No, it doesn't look like him. It's not nearly as perfect as the Man himself. But Cardinals fans from around St. Louis, from every state and even the world have flocked to the statue for decades to take photos and meet family, friends and fellow Cardinals fans. It's the destination of a baseball pilgrimage.
5 • The Man once made a cameo acting appearance on the hit 1960s show, "That Girl," starring Marlo Thomas.
6 • Jack Buck said this about Stan: "When you first hear about this guy, you say, 'it can't be true.' When you first meet him you say, 'It must be an act.' But as you watch him and watch him and see how he performs and how he comports himself you say, 'He's truly one of a kind.' There will never be another like him."
7 • Three National League MVP awards. He finished second in the voting four times. He finished in the top five of the voting nine times, and was among the top 10 in MVP votes in 14 seasons. Baseball stats guru Bill James calculated that The Man received more MVP votes than any player in MLB history.
8 • That quirky, hard-to-describe lefthanded swing which emerged from a distinctive peek-a-boo stance. Hall of Fame pitcher Ted Lyons likened Musial's batting form to a kid peeking around the corner to see if the cops were coming. Other pitchers likened it to a rattlesnake, ready to suddenly uncoil and strike.
9 • The Man has been faithfully and unwaveringly married to his one and only sweetheart, Lillian "Lil" Labash, since May 25, 1940. He was 19 on his wedding day, and was making $100 a month playing Class D ball. Lil saw Stan pitch in a game at age 14. Later, she said she became smitten after seeing Stan in a basketball uniform. And she loved his curly brown hair. "It was inevitable that we were going to see each other and be together." They still are. An American love story.
10 • Musial hit five home runs in a doubleheader against the New York Giants on May 2, 1954. Seated in the crowd that day was young St. Louisan Nate Colbert, who later became the only other MLB player to hit five homers in a doubleheader.
11 • Hall of Fame pitcher Sandy Koufax: "In my rookie year, I got my first chance to face Stan Musial. I also gave up my first home run. The two events are not unrelated."
12 • The Man was a patriot. He served his nation with 14 months in the Navy as a seaman first class from January 1945 to March 1946.
13 • Musial won over the toughest crowds, even in New York. He had a .356 lifetime batting average at Ebbets Field in Brooklyn. In 1946, Brooklyn fans began shouting "Here comes the man," when Musial walked to the plate. And with a push from Post-Dispatch columnist Bob Broeg, that's how Musial got his famous nickname.
14 • Seven NL batting titles.
15 • A .331 career average.
16 • He still ranks sixth in MLB history with 1,951 RBIs.
17 • While Ted Williams and other esteemed hitters of the day pontificated about their approach to hitting, Musial kept it refreshingly simple. "You wait for a strike, then you knock the tar out of it," Musial said.
18 • Who hits triples these days? Not many guys do it on a consistent basis. And it's one of baseball's most exciting plays. Musial had 177 in his career, ranking 19th all-time. He led the NL in triples five times.
19 • Musial is an example of perseverance. He became an iconic hitter after his pitching career ended with a shoulder injury in the Florida State League in 1940. And he was a decent pitching prospect, finishing that '40 season with an 18-5 record and a 2.62 ERA with 19 complete games.
20 • Stan and Biggie's restaurant on Chippewa and other locations. How many meet-and-greets did Musial do there? How many families did he charm by stopping by their table to say hello and hand out an autographed photo? How many kids cherished that memory for the rest of their lives?
21 • The Man's rendition of "Take Me Out to the Ballgame," on harmonica. Classic. Among other things, his performance of the song became a fixture on stage at the annual induction ceremony at the Baseball Hall of Fame in Cooperstown.
22 • The Man was country before country was cool; he once put on some bib overalls to blow the harmonica on the television show "Hee Haw." In 1994 Musual recorded 18 songs that were included in a harmonica-playing instruction booklet.
23 • The Man's total of 1,377 extra-base hits still ranks third in MLB history.
24 • World Series championships for Stan and the Cardinals in 1942, 1944 and 1946.
25 • And the Cardinals won the 1967 World Series with Musial as the general manager. To this day he's the only GM in major-league history to win a World Series in his only season in the job.
26 • Has any baseball player signed more autographs than Stan Musial? There's no way of knowing for sure, but given his generosity, accessibility and longevity I sincerely doubt it.
27 • Over 21 full seasons he averaged 172 hits, 92 runs, 92 RBIs, 34 doubles, and 23 home runs per season.
28 • Mike Shannon: "Everybody in St. Louis, every kid in St. Louis, wanted to be Stan Musial. He was the best."
29 • The Man's 3,630 career hits still rank fourth in MLB history.
30 • As he went deeper into retirement, Musial became ridiculously underrated in history by modern fans outside of St. Louis. When MLB had a fan vote to select its All-Century Team at the end of 1999, Musial was excluded. He was placed on the team by the commissioner's office. This snub and others merely strengthened the bond between St. Louis and Stan. To heck with everyone else; Musial would always be our hero.
31 • Musial put up his glorious statistics in a tougher league, which makes his career even more illustrious. The NL was much faster to integrate than the American League. African American players won the NL MVP award in 1949, 1951, 1953, 1954, 1955, 1956, 1957, 1958, 1959, 1961, 1962. An African American didn't win the American League MVP until 1963.
32 • The Man batted .330 with a .417 onbase percentage and a .508 slugging percentage in 1962 at age 41. In a telegram from the White House, Musial's friend, President John F. Kennedy, quipped, "You made all of us believe that life really begins at 40." Musial and his fellow Catholic JFK were friends. Musial referred to Kennedy as "my buddy." They often corresponded until Kennedy's assassination on Nov. 22, 1963.
33 • When Musial retired after the 1963 season, he held 17 major-league records, 29 NL records, and nine All-Star Game records.
34 • Led the NL in doubles a record eight times.
35 • Led the NL in extra-base hits a record seven times.
36 • Led the NL in hits six times.
37 • Led the NL in slugging six times.
38 • Led the NL in onbase percentage six times.
39 • Led the NL in total bases six times.
40 • Led the NL in runs five times.
41 • When Albert Pujols made his major-league debut on April 5, 2001 at Coors Field in Colorado, Musial unexpectedly showed up and threw out the ceremonial first pitch. It was almost as if he knew he had to be there to symbolically transfer his greatness to the young Pujols.
42 • Dodgers pitcher Carl Erskine was once so frustrated by his inability to get The Man out that he wrote a song called "The Stan Musial Blues." Erskine was asked how to pitch to Musial: "I've had pretty good success with Stan by throwing him my best pitch and backing up third," he said.
43 • No major-league player logged more seasons or had more hits with one franchise than Musial.
44 • Only 696 strikeouts in 10,972 major-league at-bats. He averaged only 37 strikeouts per season. He never struck out more than 46 times in a season and that happened at age 41. Through the end of the 2010 season, Arizona third baseman Mark Reynolds had fanned 767 times in 1,982 at-bats.
45 • Over his career, The Man hit for an average of at least .323 in every month of the season.
46 • This stat from Musial biographer Wayne Stewart: approximately 20,000 men have played major-league baseball. And only four finished among the all-time top 20 in their careers in the Triple Crown stats of homers, RBIs and batting average: Babe Ruth, Lou Gehrig, Ted Williams and Musial.
47 • Amazing consistency: Musial batted .326 on the road and .336 at home during his career.
48 • Pitcher Don Newcombe: "I could have rolled the ball up there to Musial, and he would have pulled out a golf club and hit it out."
49 • The Man made only $1.26 million - total! - during his 22-year career. That averages out to about $57,000 per season. The most he ever made in a single season was $100,000 in 1958 and 1959. After batting .255 in 1959, Musial voluntarily took a 20-percent pay cut before the 1960 season. "I'm glad to sign the contract," he said. "A couple of times in the past the Cardinals had me sign for more than what we agreed upon orally. This year I thought I'd be kind to them."
50 • Musial may have invented - or at least first popularized - the so-called "fist bump." Stan came up with it as an option to shaking hands. Musial was convinced that he was catching too many colds by picking up germs while shaking thousands of hands each year, so he adopted the fist bump as a friendly alternative.
51 • For Cardinals fans, is there anything more pleasing to the eye and the heart than watching The Man appear at Busch Stadium in a red sports coat and taking that pantomime lefthanded swing - before a game?
52 • In 1999, Musial was given the Cavalier Cross of the Order of Merit, the highest honor that the Polish government bestows upon a civilian. Musial is immensely proud of that honor. Accordingly, Musial is worthy of the Presidential Medal of Freedom, the highest honor that a civilian can receive from the President of the United States. Congratulations on your latest, and most prestigious, award, Stan.
53 • Musial's 1948 season is recognized among the best seasons ever. He led the league in batting average (.376), RBIs (131), hits (230), onbase percentage (.450), slugging percentage (.702), doubles (46), triples (18) and total bases (429). His 39 homers were second, by one.
54 • If I may share a personal story: I grew up in a Polish family. All of my older relatives worshiped Musial and I had the chance to introduce a family member to Stan in the 1990s. The cordial Musial made my relative feel special and important; later that night my family member cried and said it was the greatest day of his life. Musial has that impact on people.
55 • The Man appeared in 24 All-Star games.
56 • Musial reached base 5,282 times in his career, sixth all-time.
57 • The Man is so cool, that Pope John Paul II had Stan and Lil travel to the Vatican in Rome to be his guests at dinner. And Musial was among the primary reasons why John Paul II visited St. Louis in January 1999.
58 • Preacher Roe on how to pitch to Musial: "I throw him four wide ones and try to pick him off first base."
59 • When Musial shows up at the ballpark, even the most jaded and cynical millionaire player turns into an awestruck little kid in his presence.
60 • In 1946, when he was making a Cardinals salary of $13,500, Musial turned down a $50,000 bonus and a five-year contract worth $125,000 to jump to the Mexican League.
61 • Yes, The Man did a little styling off the field. After getting his 3,000th hit in 1958, Musial put a personalized Missouri license plate - 3000 - on his white cadillac.
62 • Musial played in 2,907 regular-season and 23 postseason major-league games and was never ejected from a game by an umpire.
63 • We know where Musial ranks in assorted career hitting categories today, nearly 50 years after his retirement. But at the time of his retirement, he was first in MLB history in extra-base hits, first in triples, second in hits, second in doubles, first in games, first in at-bats, third in runs, fourth in RBIs, sixth in homers and ninth in slugging percentage.
64 • The Man knew when to retire. He was the first to say that the Cardinals wouldn't have won it all in 1964 with him in left field instead of trade acquisition Lou Brock.
65 • For the way The Man treated Dickie Kerr, an influential figure and great benefactor in Musial's life. Kerr was Musial's manager at Daytona Beach in 1940 and guided and supported the young prospect when Musial hurt the left shoulder and faced a career turning point. Kerr had encouraged Musial to become a full-time outfielder even before the injury and that gave Stan confidence. Moreover, Kerr and his wife had taken Stan and Lil into their home in 1940 as Lil was expecting their first child. In 1958, Musial bought Kerr a home as a measure of gratitude.
66 • In 1964, President Lyndon Johnson named Musial to the post of National Director of the President's Council on Physical Fitness.
67 • Musial worried about setting the right example for kids. Like many star players of his era, Musial signed an endorsement deal with a cigarette company. He later reconsidered and ended the lucrative arrangement because he felt it sent the wrong message to kids.
68 • Ty Cobb on Musial: "No man has ever been a perfect ballplayer. Stan Musial, however, is the closest to being perfect in the game today. I've seen greater hitters and greater runners and greater fielders, but he puts them all together like no one else ... in my book, he's a better player than Joe DiMaggio was in his prime."
69 • Has there ever been a better inscription on a sports-related statue than "Here Stands Baseball's Perfect Warrior, Here Stands Baseball's Perfect Knight." No.
70 • Musial hit a special, sentimental home run for Helen Kloz late in the 1961 season during a game at Philadelphia. A librarian in Donora, Kloz had encouraged the teenage Musial to sign a professional baseball contract at a time when Stan's father, Lukasz, wanted his son to go to college. Before the game, Kloz told Musial, "since this is probably the last time I'll see you play, won't you hit a home run for me?" Done. That's why he's The Man.
71 • Musial was elected to the Baseball Hall of Fame in 1969, picking up 93.2 percent of the vote. Yes, 23 misguided souls left Musial off their Hall of Fame ballots.
72 • The Hall of Fame ceremony was July 28, 1969. It was an overcast day. Moments before Musial's induction, the clouds parted and warm sunshine splashed the crowd at Cooperstown. "Stan brought the sun," said Pat Dean, widow of Cardinals Hall of Famer Dizzy Dean. "He always does."
73 • One of Musial's long-forgotten NL records was his streak of consecutive games played, 895. It ended on Aug. 24, 1957. The streak was later broken but at the time only Lou Gehrig had compiled a longer streak in MLB history.
74 • Musial played a positive role in baseball's integration. He's never been given enough credit for that. Musial was openly supportive of African American players at a time when they encountered imposing ugliness and hostility from other players, coaches, managers and fans. The immortal Jackie Robinson, who broke baseball's color line said that "Musial always treated me with courtesy." This was nothing new to Musial. As a young player in Donora, he'd had African-American teammates and friends, including Buddy Griffey (Ken Griffey Jr.'s grandfather) and always backed them.
75 • African American pitcher Joe Black told a story of being racially taunted by players in the St. Louis dugout during a Cardinals-Dodgers game. Musial, batting at the time, kicked the dirt as if to convey his disappointment. After the game, Musial sought out the young Joe Black and told him, "I'm sorry that happened. But don't you worry about it. You're a great pitcher. You will win a lot of games." Black never forgot that.
76 • Willie Mays has praised Musial through the years for extending his friendship to African American players during those tense days. Here's a story from Mays, who told it to Kansas City Royals broadcaster Denny Matthews: "All-Star Game, late Fifties. There were seven black players on the National League All-Stars. We were in the back of the clubhouse playing poker and none of the white guys had come back or said, 'Hi,' or 'How's it going?' or 'How you guys doing?' or 'Welcome to the All-Star Game.' Nothing. We're playing poker and all of a sudden I look up and here comes Stan toward us. He grabs a chair, sits down and starts playing poker with us. And Stan didn't know how to play poker! But that was his way of welcoming us, of feeling a part of it, making us feel a part of it. I never forgot that. We never forgot that."
77 • Ted Simmons: "After living so many years in St. Louis, you come to know and understand just what impact he had as a player and then what impact he had on that city. He literally is Mr. St. Louis. He literally is in the minds and hearts of everybody there. It's very difficult to explain how big and important that guy is. He's just bigger than life."
78 • The Man fancied himself as a magician and a comedian. And he was pretty good. He'd entertain teammates and others by performing magic tricks and telling jokes. "And when he finished, he'd laugh like hell at his own jokes and still does today," Hall of Famer Monte Irvin once said.
79 • The Man batted .310 or better for 16 straight seasons.
80 • George Brett: "Stan Musial is not bitter about anything. Stan Musial is one happy camper. I hope I can live to be as old as Stan and not have regrets in your life. He's just a special person to be around."
81 • The Man never forgot his roots. Not just the charitable donations, either. During his restaurant's successful run in St. Louis, Musial would pick up the tab for visitors from Donora as long as they provided an ID as proof.
82 • Joe Garagiola: "He could have hit .300 with a fountain pen."
83 • Babe Ruth's granddaughter, Linda Ruth Tossetti: "I never saw him say no to an autograph. I have always seen him take the time for fans ... we really need more of these ballplayers to be like Stan. He is a true gentleman of the game."
84 • Vin Scully: "How good was Stan Musial? He was good enough to take your breath away."
85 • In the late 1960s, Musial and other MLB greats visited U.S. troops in Vietnam. One wounded soldier looked up at Musial from his hospital bed and said, "You're the best." Musial's response: "No, you are."
86 • Henry Aaron, in an interview with Musial biographer Wayne Stewart: "Stan and I got to know each other pretty well, and I know how humble he is. I know what kind of person he is. He was a great ballplayer, but he's even a greater man. I think the world of Stan."
86 • Musial's St. Louis teams won 1,683 games and lost 1,343 for a winning percentage of .556.
87 • Trumpeter Al Hirt: "You can be a big star, you can be an ordinary Joe, and you're just the same to Stan Musial."
88 • The Man was so popular and beloved that even a Republican crowd loved him as he campaigned for his friend JFK in 1960. The famous author James Michener once wrote of being with Musial when Stan made a campaign stop for Kennedy in Nebraska. "In the shadows we saw several hundred silent ranchers awaiting us," Michener wrote. The crowd declined to applaud the pro-Kennedy celebrities that came to ask for votes. But the silence was broken when Musial's name was announced to the audience. According to Michener: "A low rumble arose from the crowd, and men pressed forward, dragging their boys and girls with them" to get close to "an authentic American folk hero."
89 • Bob Costas: "All Musial represents is more than two decades of sustained excellence and complete decency as a human being."
90 • There's never been a better match, a more perfect fit, between a player and a city as Stan the Man and St. Louis.
And let's get ready for No. 91.
(Editor's note: The story has been corrected to show that Pope John Paul II visited St. Louis in 1999.)