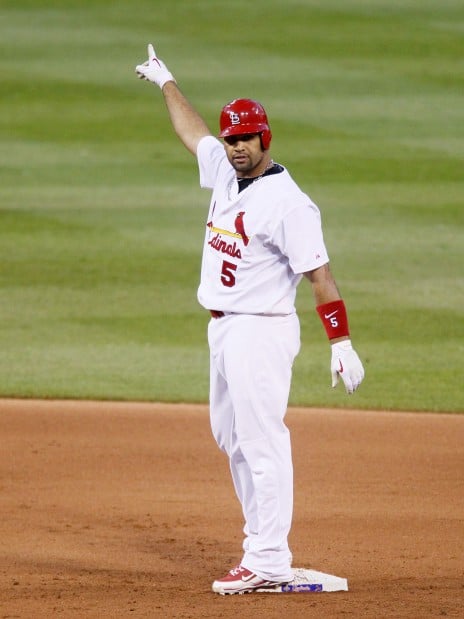 The last time a team sought to re-sign perhaps the best player in the game, Alex Rodriguez was speeding toward baseball's cherished milestones and the New York Yankees knew that to meet his one-of-a-kind price it would take a one-of-a-kind contract.
They had to get creative.
They found a way to both — and cash in on history.
Attached to Rodriguez's 10-year, $275 million contract — the largest in baseball history — is a series of $6 million bonuses that Rodriguez can receive for matching several signature home run totals, such as Babe Ruth's 714 and Hank Aaron's 755. The bonuses are part of a marketing arrangement between the Yankees and Rodriguez that, according to officials with knowledge of the deal, allows them to effectively share in the profits generated by his home run chase. The clause, which had its critics, could be worth $30 million to Rodriguez.
A senior baseball official with knowledge of the contract described it as "a way to enhance the value of the contract under special circumstances." He added: "A-Rod was the best player then, like Albert Pujols is the best player now."
When asked about the inventive incentives last week, Yankees president Randy Levine said, in general terms, the team found "a way to bridge the gap" to get a contract completed. He declined to detail the specifics of the unique deal, citing team policy.
The Cardinals have been very public with their desire to re-sign Pujols, a three-time MVP, before he reaches free agency at the end of the 2011 season. They have been very private with the progress they've made. The Post-Dispatch reported last week that the team and Pujols' representatives engaged in discussions early this month about the extension. General manager John Mozeliak declined to comment and repeated Pujols' request to keep any information about negotiations private "until an appropriate time."
What Pujols will command in his next contract was a favorite topic at last month's winter meetings, with at least one National League team taking a straw poll of its officials for guesstimates.
Two seven-year deals, each worth more than $120 million, were finalized at the meetings, and a third is reported to be expected for Boston Red Sox first baseman Adrian Gonzalez. Pitcher Cliff Lee turned down a couple of seven-year offers. The seven-year trend of this offseason's core-player contracts and the $25 million average annual value of Philadelphia first baseman Ryan Howard's extension are viewed as market indicators for Pujols.
So, too, is Rodriguez's current salary.
Rodriguez will make $31 million in 2011, according to reports, and the average annual value of his deal is $27.5 million. That is already the highest in baseball, but the contract contains the unusual twist. The Yankees found a way to supplement the guaranteed salary through milestone bonuses.
The bonuses give Rodriguez the chance to earn more than $300 million on his current deal. Those bonuses had to be approved by Major League Baseball and the players' union. By doing so they established a precedent for a similar bonus structure "if there's an opportunity for a club to sign or keep a player like this," agreed a baseball official familiar with the contract.
Rodriguez set the stage for the bonuses and re-signing with the Yankees by voiding an earlier contract, clumsily, during the 2007 World Series. Rodriguez had just strafed the American League for a major league high 54 home runs and 156 RBIs to win his third MVP award. He had three years remaining on a 10-year, $250 million deal when he used an escape clause for a shot at free agency.
"A-Rod is a great, great player, a three-time MVP, and you look, especially at that time with him coming off of 50-something home runs, what the (market) was," Levine said. "He was a great, great player. From that viewpoint, we looked at what it would take."
The crowd-drawing and revenue-generating home run chases in the previous decade apparently provided inspiration for an option.
Big league baseball contracts are prohibited from including a bonus based on "playing, pitching or batting skill." That keeps teams and players from rewarding for benchmark home runs, hitting .300 or winning 20 games. It's why bonuses for relievers are, for example, based on "games finished" and not saves. Criticism of Rodriguez's deal was based on the argument that bonuses based on a specific total of home runs were a violation of this rule.
"These are not incentive bonuses," said Yankees owner Hank Steinbrenner, then a senior vice president with the club, in 2007 to The New York Times. "For lack of a better term, they really are historic-achievement bonuses. It's a horse of a different color."
More than a bonus, it was a business arrangement.
Official sources confirmed that the non-guaranteed bonuses were a blend of a marketing agreement and a licensing agreement. In short, the Yankees and Rodriguez were entering into a joint effort that would pay Rodriguez for the use of his likeness and mandatory appearances as he approached agreed-upon "milestone" homers. There are reportedly five milestones: tying Willie Mays at 660, Ruth at 714, Aaron at 755, Barry Bonds at 762 and the homer that breaks Bonds' record.
The Yankees have the right to designate the number as "milestone" and once the team does that, the marketing agreement launches, according to two sources familiar with the terms of the contract.
To ensure the bonuses did not run afoul of the rule, the Yankees had representatives from the commissioner's office and the union on hand to craft the addendum's language. A spokesman for the commissioner's office confirmed its executives' role when asked last week. "Each of these special types of covenants has to be approved," the spokesman said.
Cardinals executives have described a Pujols extension as certain to take "this organization places it hasn't gone before," acknowledging the total wealth of the deal and the clauses and financial tripwires that come with signing an iconic player capable of making history. The Yankees, albeit operating from a larger vault, opted to go where baseball hadn't been before and established a route for such singular players to share in the spoils of historic feats.
Rodriguez signed the deal one full season before he admitted to using steroids, a confession prompted by a Sports Illustrated report that he failed a drug test. In the two seasons since his admission, Rodriguez has averaged 30 homers a season, inching ever closer to the milestones. He'll enter 2011 needing 47 to reach 660 and, for the first time, force the Yankees to consider the bonus trigger and whether the "milestone" luster has been rubbed off Rodriguez's pursuit.
His contract already made history. The rest is up to Rodriguez.