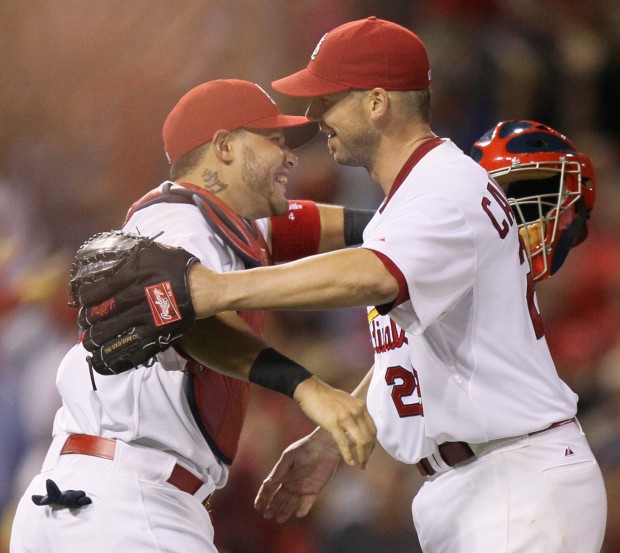 Intent on transacting as much business as possible before dealing with Albert Pujols' looming free agency, the Cardinals have reached agreement with 2005 NL Cy Young Award winner Chris Carpenter on a two-year contract extension worth about $21 million, according to sources familiar with the situation.
The club intends to announce the deal later this week after finalizing formalities associated with it. However, terms of the deal are in place and Carpenter last week passed a physical required for insurance.
The extension rolls the club's $15 million option on Carpenter for 2012 into a longer structure that allows the club about $4 million in annual savings over Carpenter's salary for this season. Carpenter, 36, may now realize his desire to finish his career with the same club that acquired him in December 2002 after the Toronto Blue Jays removed him from their 40-man roster.
General manager John Mozeliak declined to comment Sunday night.
Carpenter, Tuesday's scheduled starter against the Pittsburgh Pirates, acknowledged recent talks between the club and his agent, Bob LaMonte, but deferred to the club for further comment.
The contract includes no option and no appearance incentives, according to a source familiar with the situation.
Carpenter entered Sunday fourth among NL pitchers with 206 1/3 innings pitched. His 30 starts are tied with Jake Westbrook for the team lead, though no Cardinals pitcher is within 30 innings of him.
Carpenter, who started for the club opening day, has assumed the role of staff ace this season in Adam Wainwright's absence following Wainwright's elbow ligament replacement.
Crippled early this season by his own inconsistency as well as lacking run and defensive support, Carpenter has bounced back from a 1-7 start to stand 9-9 with a 3.75 ERA. He leads the team with 164 strikeouts while his 14 home runs allowed are fewest among those who have given the club at least 17 starts. This season marks the second consecutive year and the fourth time since 2005 Carpenter has amassed 200 innings. He led the league with 35 starts in 2010 and finished runner-up in Cy Young balloting while leading the NL with a 2.24 ERA in 2009.
Carpenter signed his current deal in the aftermath of the team's 2006 World Series championship. The deal provided Carpenter $62.5 million, including $43.5 million the past three seasons. Carpenter was also due a $1 million buyout if the Cardinals had declined his option for 2012.
Carpenter has deferred $2 million annually without interest each of the last four seasons.
By securing Carpenter, the club can project a 2012 rotation of Wainwright, Carpenter, Jaime Garcia, Jake Westbrook and Kyle Lohse. Another current starter, Edwin Jackson, is a pending free agent who has impressed in nine starts since arriving from the Chicago White Sox in a July 27 three-team deal also involving the Blue Jays.
The extension becomes the third that Carpenter has signed with the club and the second at perhaps below-market value. After resurrecting his career with the Cardinals following two shoulder operations, Carpenter signed a two-year, $13 million extension in April 2005 that covered the 2006-07 seasons. He agreed to the deal six months before completing a 21-5 campaign and being named the franchise's first Cy Young Award winner since 1970. The club later rolled the second year of that extension into his current deal.
Elbow and nerve disorders allowed Carpenter to make only five appearances, including four starts, in 2007-08. Carpenter also confronted nerve issues during the 2004 season. During six seasons in which he has made at least 28 starts for the Cardinals, Carpenter is 93-40 with a 3.09 ERA in 1,279 innings pitched. He has amassed 634 innings in three seasons since declining to undergo a risky nerve procedure following the 2008 season.
Reaching agreement with Carpenter is the first in a series of pre-emptive moves Mozeliak hopes to finalize by season's end. Mozeliak acknowledged earlier this month a desire to retain shortstop Rafael Furcal, whom the club acquired July 31 from the Los Angeles Dodgers.
The club also has had preliminary discussions with the agent for right fielder Lance Berkman regarding a short-term deal. Berkman, one of only two NL players ranked in the top five in both slugging and on-base percentage, is a pending free agent after signing a one-year, $8 million deal last December.
The Cardinals must also weigh whether to retain second baseman Skip Schumaker, who remains arbitration-eligible when his two-year, $4.7 million deal expires at season's end. The club also retains a $7 million option on Gold Glove catcher Yadier Molina for next season that could become the basis for an extension.
Mozeliak indicated last month that the club would assume Wainwright's two-year, $21 million option for 2012-13.