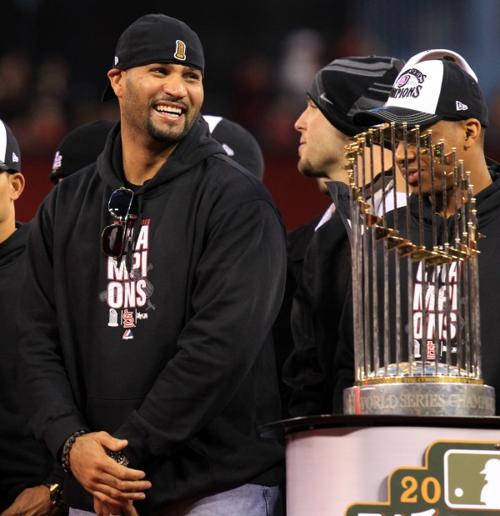 Whether he returns to the Cardinals next season or finds greener grass elsewhere as a free agent, three-time MVP Albert Pujols can already bank on one thing.
He'll have a new manager wherever he plays.
Three days before Pujols hits the open market as a free agent, his only major-league manager, Tony La Russa, announced his retirement, leaving the Cardinals searching for a leader at the same time they are trying to re-sign their iconic first baseman. General manager John Mozeliak said it will be "a daunting couple weeks or a month," but it's uncertain how intertwined La Russa's departure is with Pujols' return.
"He probably understood that Tony is not going to manage forever," Mozeliak said. "I know his relationship with Tony is very strong. But I think ultimately he's going to have to look at this independently as far as how he makes his decision."
Since Pujols earned La Russa's fondness as a rookie in 2001, the duo have forged a bond through 1,705 regular-season season games together and 74 in the postseason. In this era, only Atlanta's Bobby Cox and Chipper Jones and Yankees' Joe Torre and Derek Jeter have had more games together. Usually one to hide behind his "tied for first" description when asked to compare players, La Russa has shed any caveats when calling Pujols the best player he's ever managed.
Pujols has even, at times, adopted his manager's phrases and mannerisms, often echoing La Russa's focus on "winning the series."
Attempts to reach Pujols for a comment through his representatives were unsuccessful Monday.
A person with knowledge of Pujols' thinking on free agency confirmed that the first baseman would like to know who the new Cardinals manager is before completing any negotiations with the club.
During the World Series, La Russa's faith in Pujols and fierce protectiveness of Pujols were both on display. After Game 5, Pujols said he called a fateful hit-and-run that resulted in Allen Craig being thrown out at second base and defused a potential rally for the Cardinals. La Russa, who confronted Craig about the play in the dugout, refused to name names immediately after the game.
The next day he described how Pujols had earned the right within the club to call his own plays, at times, and how La Russa would defend that right.
"Treat the club like a family," La Russa said. "I don't throw the family under the bus, my personal family, I don't throw this family under the bus. So I'd rather take the hit. ... I wouldn't really answer differently because I support the players, and that's what I believe in."
La Russa, with 16 seasons in charge of the Cardinals and Hall of Fame credentials, not only had the relationship with Pujols to offer that protection, he had the cachet to, also. A new manager may not be able to establish that same rapport, or believe in the same kind of protection, or even offer his players, especially star players, such latitude.
Pujols does have a longstanding relationship with one likely candidate for the opening — third base coach Jose Oquendo. The former Cardinals utility infielder has been a coach with the club in each of Pujols' 11 seasons, and the two have worked closely through those years, in the batting cage or on the field as Pujols made the transition to first base.
One former teammate said Oquendo's future could tie into Pujols'.
"My initial reaction (after hearing La Russa retired) was, 'It needs to be Jose Oquendo,'" former Cardinals shortstop David Eckstein told FOXSports.com. "Albert would stay if Oquendo got the job."
Before the start of the season, the Cardinals offered Pujols a nine-year extension, and the first baseman had to be aware that La Russa would not be the manager for all of those seasons. When Matt Holliday signed a seven-year deal with the Cardinals before the 2010 season, he knew it was unlikely La Russa would be the manager for the life of the contract. So, he based his selection on "the talent in place" and the organizational atmosphere overall.
So much of what the Cardinals organization is to Pujols, however, flows from La Russa. When he did not play Pujols in the 2007 All-Star Game, La Russa fretted about the "deep respect that exists between us." He described himself as a "father figure to him." That sentiment has been echoed through the years by Pujols, who has often confided in the manager.
Last season, Pujols said that he hoped La Russa would "manage me for the rest of my career."
The question facing Pujols then is whether the environment he values with the Cardinals comes from the organization or is tied to its longtime manager. He has said that he will be pursuing his best chance to win with his new contract. A lot of what Pujols believes about winning he learned from La Russa.
The Cardinals have an exclusive window to negotiate a new contract with Pujols until 11:01 p.m. (St. Louis time) Wednesday. Pujols became a free agent officially on Sunday, but he can't receive offers from other clubs until the market flies open late Wednesday night.
The Cardinals expect Pujols to explore other options.
It would not surprise them if he waits to see who the Cardinals hire to replace the only manager he's ever known at the major-league level.
"I don't know," chairman Bill DeWitt Jr. said when asked if there was a chance to discuss a contract with Pujols during the exclusive window. "I think it's really their call. Because they've gone to this point in free agency and they probably don't want to try and negotiate something in however many days we have."