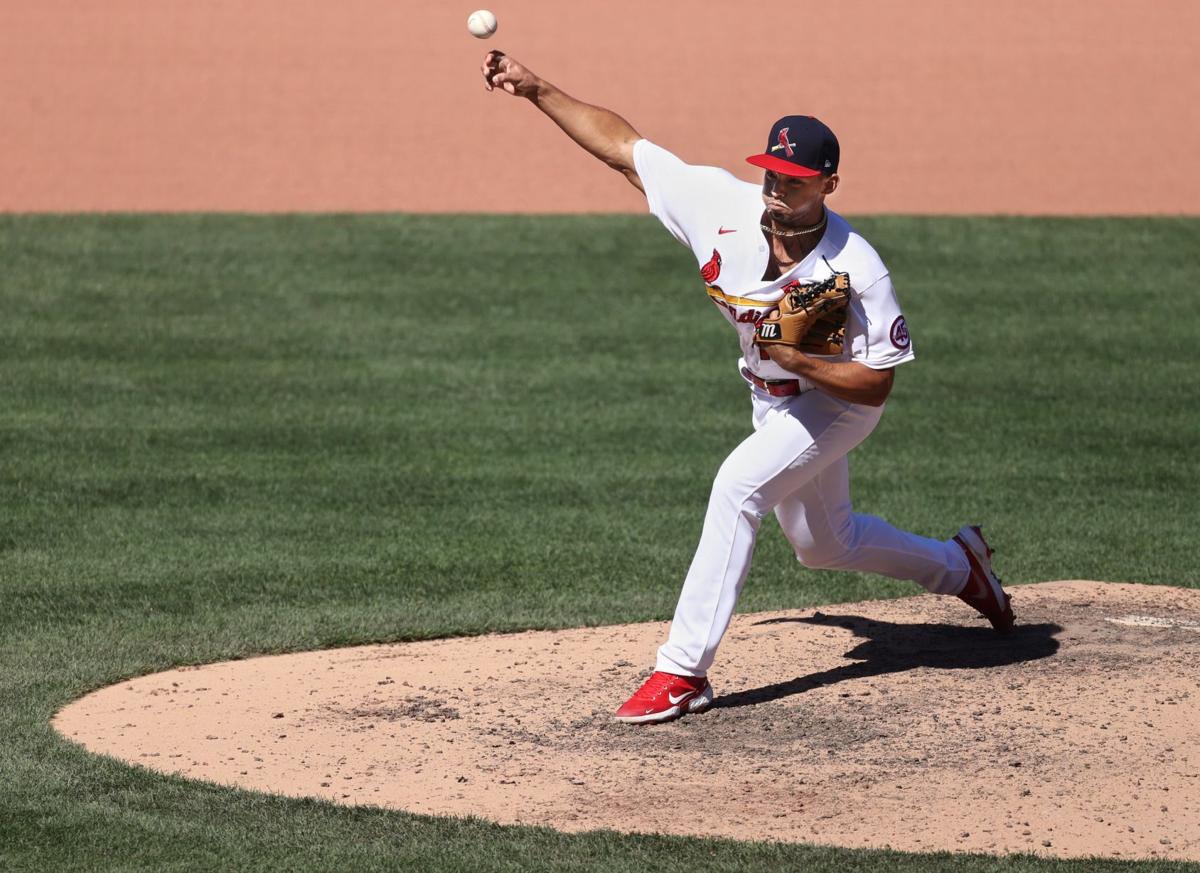 PHILADELPHIA — The phrase manager Mike Shildt used to describe how the Cardinals are plotting Jordan Hicks' appearances usually is applied to a starter building arm strength, not a reliever stoking heat. But building, even in bits, is what they are having Hicks do.
He is "stretching out" so he snaps back to closer.
These are the Jordan Rules, Hicks edition.
"The season basically started and he was still in a little bit of a progression," Shildt said Sunday morning. "Obviously healthy. Obviously able to help us. Spring training looks good, around the plate, so he's on the club. . . . He's passed the physical rehab, and now he's pretty much past the mental rehab as well to where: 'I just pitch.'"
For the second time in three appearances, Hicks pitched into a second inning Saturday, and his 1 2/3-inning appearance was his longest since June 2019, right before his elbow came unwound. He has four consecutive appearances of at least 20 pitches, and on Saturday he eclipsed 30 for the first time, by design.
Usually in his role the fewer pitches the better because he's available the next day then, too. But with Alex Reyes manning the closer role, the Cardinals are scripting these multi-inning appearances so Hicks can throw more pitches and use more of his pitches, not just microwave innings with his fastball.
Against the Phillies on Saturday, Hicks threw a changeup multiple times for the first time this season. A third of his pitches were cutters or sliders. Hicks is getting the chance to expand beyond what teammate Andrew Miller called "one of the best fastballs in the history of the game." In an earlier appearance, 18 of Hick's 25 pitches were that sinking fastball.
"If he were to go in one inning and get 30 pitches, it wouldn't be ideal, but a pitcher needs to be able to do that regardless of whether it's a starter or reliever," Shildt said.
The manager explained the extended outings have been part necessity, part planning.
"Perfect timing in the sense that we need the length, perfect timing in the sense that he had a few days off, perfect timing in the sense that he's started to get stretched out," Shildt said. "Was able to get up to 32 (pitches). We don't want to take him any further."
Late in spring training, Shildt said he, pitching coach Mike Maddux, and surgeon Dr. George Paletta met with Hicks to outline his return from Tommy John surgery.
Hicks had not pitched a regular season game in 22 months when this season started, and they wanted to have pinpoint parameters for his assignments, from when to how often to how much. He has not yet been cleared to throw in back-to-back games — though could be shortly — and as a result they wanted to give him longer outings when he did pitch. That would help him get volume and a feel for his pitches, instead of sending off a few sparks in quick innings.
Shildt called it a "ramp up process" — introduce one pitch, move on to the next, and get the innings to make that possible, with caution.
When Hicks first threw multiple innings, on April 11, he had four days of rest. On Saturday, he was coming off three days of rest but threw a total of 53 pitches in four days.
He touched 101.4 mph and 101.5 mph in both outings.
He's had a pitch 103.2 mph already this season.
He also has had longer outings to mix in pitches he will use when he returns to the shorter, higher-leverage spots — such as the ninth inning.
"Yeah, you're talking about multiple weapons, (and) that's the thing that is so great about our bullpen — Jordan as an illustration," Shildt said. "Alex has four pitches. 'Cabby' (Genesis Cabrera) threw a really good breaking ball. Gio (Gallegos) is working in a changeup to go with his fastballs and slider. (Ryan) Helsley was able to get multiple outs with his cutter. And they all throw 97-plus.
"So, yeah, it's important because you can get pretty one dimensional in this game. I don't care how good your fastball is guys will figure out a way to put a swing on it."
Awaiting 'normal'
The relaxing of coronavirus protocols for the Cardinals will not initiate until members of the alternate-site camp considered part of the team's Tier 1 group are two weeks removed from their doses, which in some cases is a second dose of the vaccine.
The Cardinals hope, eventually, to be permitted to hold team meetings with larger groups, such as the "Ball Talk" that Shildt initiated, and expand the number that can get a meal together.
Many of the players who elected to receive the one-shot vaccination in Cincinnati now are three weeks removed from that. That has allowed for some loosening of protocols, mostly away from the ballpark — such as families on the road, ridesharing, and even expanding their eating options, said Miller, a member of the union's executive subcommittee.
"We're all looking forward to anything that resembles normal," he said.
Train time, etc.
The Cardinals took a chartered train from Philadelphia to Washington D.C. on Sunday evening. It is the same journey they memorably took in 2009, but in the opposite direction.
Shortly after the team's train arrived in Philadelphia, word spread that they had traded for Matt Holliday. Skip Schumaker texted Mark DeRosa, a recent addition, about the deal, and he replied after deboarding from the train: "I guess I was just an appetizer! Sweet!!! I hear Mike Holliday is good."
• The Phillies drew 10,876 for Sunday's game, and throughout the weekend averaged around 10,850 for the limited capacity at Citizens Bank Park.