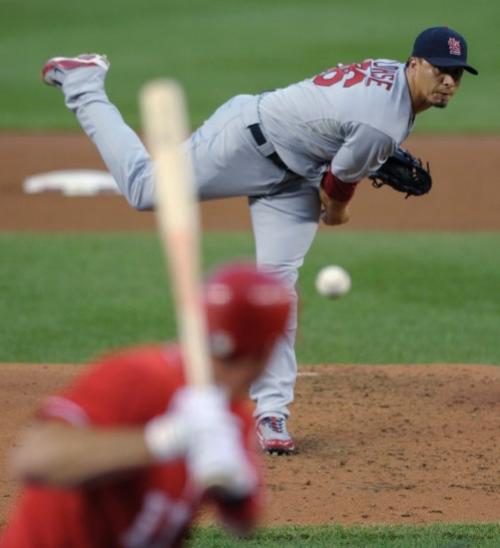 WASHINGTON • The pose was familiar but not within a pennant race and not against the Washington Nationals.
Doubled over with his hands on his knees as if punched in the stomach, nauseated or both, Kyle Lohse couldn't watch the aftermath of first baseman Adam Dunn's three-run homer into the first row of the bleachers in right-center field. A game the Cardinals badly wanted - and dearly needed - had slipped through his hands due to five innings of two-out malfeasance.
After Saturday night's 14-5 loss, the Cardinals no longer can win this four-game series. At best, they can salvage a split Sunday behind Adam Wainwright against the National League bottom-feeder.
Lohse lasted five innings, allowing eight earned runs on 11 hits. All the runs and nine of the hits came with two outs as the Nationals were eight for 11 when Lohse pitched from the stretch.
Thirty-five games remain as the Cardinals try to keep pace with the division-leading Cincinnati Reds. Lohse has made three major-league starts since ending a 12-week stay on the disabled list.
"I want to get back out there and try to help the team, but it's up to them what we're going to do moving forward," said Lohse, whose ERA rose to 7.12. "I know we have an off day between now and my next one. I can read the writing."
Manager Tony La Russa is typically reluctant to discuss long-range thinking after a bad loss.
"Too raw," he often says.
The Cardinals, however, now must determine whether to keep Lohse in a rotation that welcomes back Jeff Suppan from the disabled list Wednesday in Houston.
After surrendering 17 earned runs and 23 hits in 131/3 innings since returning, Lohse knows his next start is uncertain. La Russa and pitching coach Dave Duncan have contemplated alternating between a five- and six-man rotation in a schedule that has only one September off-day, but the manager withheld any insight after Saturday's loss.
"If you want to talk about today's game, I'll talk about today's game," he chastised. "I never talk about perspective. I make too many mistakes. I don't know why you ask."
Lohse mixed 57 strikes among 79 pitches, but 11 of the strikes wound up as hits, including Dunn's three-jack that blew apart a 5-5 game.
The Nationals (55-75) entered the series on a four-game losing streak. They left Saturday's wipeout with 27 runs in three games.
Lohse (2-6) insists he is healthy, a position supported by the velocity on his sinking fastball. Command within the strike zone, however, remains elusive.
"I was pounding the strike zone but just not with good, quality strikes," Lohse said. "Everything is so close: those two-out hits. Dunn's (first) hit is down. A guy gets jammed but the ball is up a little bit. It's so close, but not good enough."
The Cardinals took a 3-0 first-inning lead against Nationals starter Livan Hernandez (9-9) when first baseman Albert Pujols dropped a one-out ground-rule double off the left-field foul line for the game's first RBI. Then, center fielder Jon Jay emerged with two outs to crank his fourth home run, a two-run shot into the second deck.
Lohse ran into his first two-out trouble in the second as catcher Pudge Rodriguez drove an RBI single after right fielder Michael Morse opened his four-hit night with a double.
The Cardinals got a break in the second inning when Lohse threw past Pujols on a bunt play only to have the umpiring crew rule that batter Ian Desmond had interfered with the play by running inside the baseline. An ensuing uproar led to the ejection of first-base coach Dan Radison and returned runners to first and second bases with one out.
Lohse failed to cap the inning as third baseman Ryan Zimmerman, Dunn and Morse drilled consecutive hits to complete a four-run rally.
Lohse helped unearth himself with an RBI double in the top of the fifth inning. Second baseman Felipe Lopez forced a 5-5 tie with the inning's second double.
Dunn's blast arrived after left fielder Roger Bernadina and Zimmerman extended the inning with two-out singles. Dunn, hitting .123 since Aug. 7, wheeled on a straying fastball for his 32nd home run.
The Cardinals remained in touch with the lead until reliever Mike MacDougal collapsed during a six-run eighth inning extended by his looping high throw to first base on an ordinary-looking ground ball.
Unnerved or just vulnerable, MacDougal failed to finish the inning as a walk and five hits compounded his fielding gaffe. Bernadina, who extended the Cardinals' 13-inning Thursday loss with a ninth-inning home run, unloaded a two-run blast to cap the insurrection.