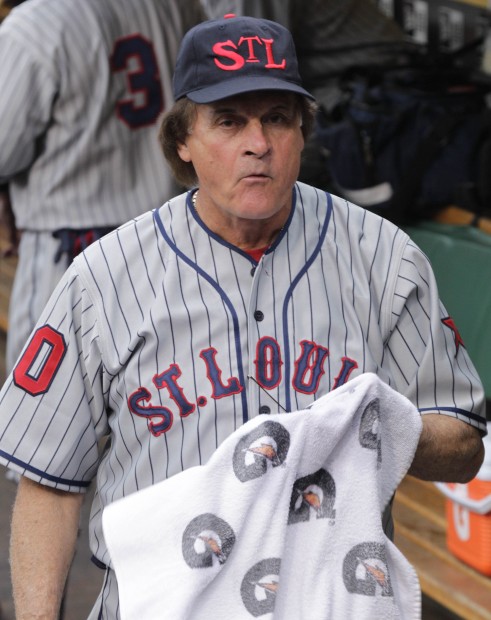 PITTSBURGH • While their manager makes brave sounds about winning with what they currently possess, the Cardinals have begun a new parlor game.
It's called "When does the shoe drop?"
A team good enough to construct the National League's best record little more than a month ago now realizes its shortcomings and believes it essential that its front office find assistance no later than the July 31 non-waiver trade deadline.
The current three-city trip has seen manager Tony La Russa admit as much with his actions, which he won't verbalize in pregame conversations or on infamous postgame "Tony TV'' appearances.
Uncertainty over his bullpen, particularly its left side, has left him to manage a de facto five-man alignment barely three weeks after he more freely mixed seven relievers while carrying quarantined closer Ryan Franklin.
A front office that has tapped down expectations while admitting its quest for pitching has successfully stiff-armed media inquiries while also creating uncertainty within its clubhouse.
"Everybody sees the same thing but nobody knows what's going to happen," one team member lamented recently.
General manager John Mozeliak has made clear his distaste for trading center fielder Colby Rasmus, a stance that confuses a number within the organization increasingly aware of La Russa's preference for Jon Jay.
Growing uncertainty has fed speculation over whether the club will acquire a starting pitcher and then reassign righthander Kyle McClellan as a de facto third lefthanded reliever because of his his effectiveness against lefthanded batters. Or will the club find a lefthanded specialist who represents an upgrade over either Trever Miller or Raul Valdes.
The Milwaukee Brewers' recent trade for New York Mets closer Francisco Rodriguez represented a pre-emptive strike within a division defined by shades of mediocrity.
The Cardinals last won the NL Central title in 2009 by dealing aggressively for third baseman Mark De Rosa and left fielder Matt Holliday.
That aggression contrasted to last season's deadline deal that sent popular right fielder Ryan Ludwick to the San Diego Padres in a three-team deal for Cleveland Indians starter Jake Westbrook.
Westbrook pitched capably for an organization leery of stressing rookie Jaime Garcia; however, the offense stagnated for much of the final two months, leading to a flat-looking August and early September.
In need of a third baseman after David Freese was injured on an August rehab assignment, the Cardinals traded for veteran Pedro Feliz, who created more questions than he answered.
The Cardinals might have seduced their fan base, national media and perhaps their front office with a 37-25 start that left the team with the game's best record (37-25) on June 7.
The team had played without third baseman David Freese for more than a month while compensating with Daniel Descalso's timely offense and plus defense.
First baseman Albert Pujols had yet to fully escape a difficult start, fueling hope of a dominant offense once he found form. Rasmus had just seen his average dip below .270 for the first time this season but was less than a week removed from a six-RBI performance against the San Francisco Giants.
But as soon as the Cardinals got 12 games above .500 they began to take on water. Left fielder Holliday's absence became a weight on an offense that had appeared buoyant with him.
Right fielder Lance Berkman had begun a weird month in which he delivered nine home runs among 19 hits and managed a .299 on-base percentage. (Through Friday he had 15 home runs among his last 33 hits.) Once designated for regular down time, Berkman has not sat out a game since June 5, coincidentally the night before Allen Craig suffered a fractured right kneecap chasing down a foul ball.
The team's 14-22 descent since June 7 included almost as many wins with Pujols on the disabled list (6-7) than off it (8-15).
"We're going to hit enough," Berkman promised. "We're going to score runs. Like most other teams in most other seasons, the question is will we pitch? That's what the game usually comes down to, isn't it?"
The Cardinals entered the weekend leading the league in hitting and runs scored but ninth in ERA and 14th in opponents' batting average. While hitting .266 to lead the league, they had allowed a .268 average within a league that is batting .251.
Mozeliak finds himself in an unenviable position. He is resistant to trading Rasmus or premium prospects Shelby Miller and Carlos Martinez while hoping to hold together the parent club's 25-man roster.
However, real questions persist over whether the organization's second tier of prospects carry enough value to win a bidding war for impact pitching.
"We're looking to get better," pitching coach Dave Duncan said Friday. "No one wants a change just for change's sake."
The Cincinnati Reds, also desperate for pitching, have targeted impact Tampa Bay Rays starting pitcher James Shields.
The Brewers remain in search of a shortstop. The Pittsburgh Pirates, blessed with the division's top closer and highest-ranked rotation, seek another bat.
The Cardinals have almost universal interest in pitching, having been connected to the Toronto Blue Jays, Chicago White Sox, the Rays, the Minnesota Twins and Seattle Mariners, among others.
The Cardinals clubhouse, unsure if this is its last rodeo with Pujols, awaits confirmation that this season is more than prelude to a winter makeover.
Keep up with the latest Cardinals coverage from our award-winning team of reporters and columnists.