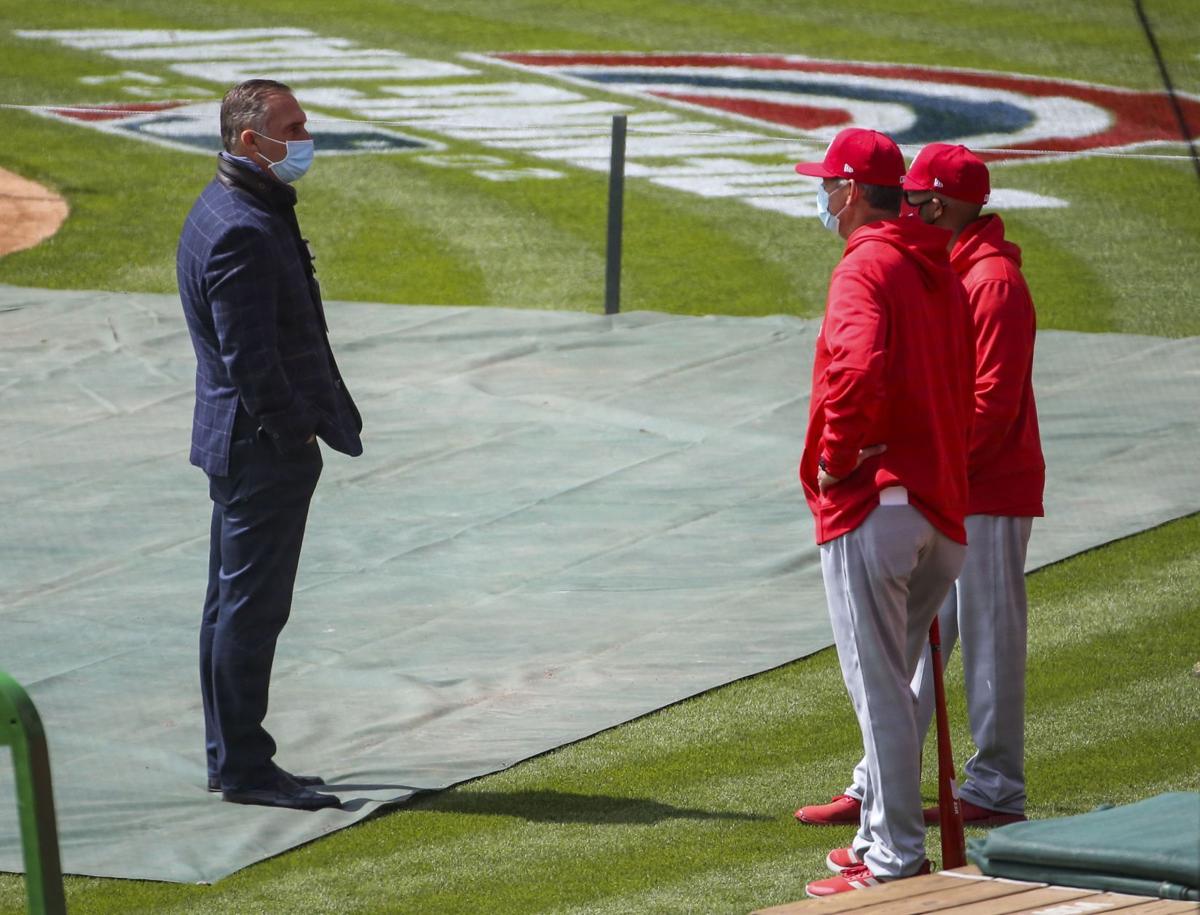 CINCINNATI — Enough Cardinals players and support staff elected to receive the COVID-19 vaccination this week, the team said, for the club to be eligible at some point in April for relaxed protocols that could move them closer to familiarity on the plane and at the ballpark.
In other words: They're close to bringing back "Ball Talk."
At least 85 percent of the Cardinals' traveling party received the vaccination when it was made available to them late Monday evening, manager Mike Shildt confirmed Wednesday. The Cardinals, one of the first teams in the majors to have widespread access to a vaccine, will be eligible in two weeks for the possible loosening of policies. That could include permission to sit beside each other on charter flights, fewer places with mask mandates, and the chance to gather in the clubhouse — for meetings and Shildt's "Ball Talk" sessions.
"We have a number we met to create some freedoms," Shildt said after his team's workout at Great American Ball Park on the eve of opening day. "Excited for the fact that we have the ability to play, but also make that everybody feels like they had their medical, individual choices and there's no judgment to it. We did reach it."
The Cardinals were one of the first teams to reach Major League Baseball's 85-percent threshold, a source said.
The Cardinals secured access to the Johnson & Johnson vaccine Monday evening with assistance from their medical partner, Mercy, in Missouri. On Monday, Ohio opened eligibility to the vaccine for every adult 16 or older. The Cardinals, who had their 2020 season interrupted by an outbreak that infected 10 players on the roster, made the vaccine available to all members of the current traveling party. The club could not mandate use. There was an effort by the club and players' union to encourage the use of the vaccine.
On Monday, Major League Baseball and the players' union circulated a memo to teams that stated protocols could loosen for teams that reached 85 percent vaccination at the Tier 1 level — which includes players, coaches, and staff with direct contact to players.
How that will work precisely is still being clarified.
"We're going to figure (it out) as we get a couple of weeks into this thing," said Cardinals opening day starter Jack Flaherty.
Reds catcher Tucker Barnhart and reliever Sean Doolittle shared photos on social media of how they received the vaccine. Players and teams elsewhere in the majors were also gaining access to the vaccine, according to reports, and teams were working independently of each other due local policies.
The Washington Nationals announced they had a player test positive test for COVID-19 and that at least four other players and on staff member would miss their opener Thursday night against the Mets. At least one roster move was expected.
Max Scherzer, St. Louis native and Washington's opening day starter, said the positive test illustrates after finishing spring without one shows "how quickly that can turn."
"I feel like we're really close to the end of this because of the vaccine," said Scherzer, a member of the union's executive board along with Cardinals reliever Andrew Miller, on a Zoom with Washington reporters. "Once we have the choice to have that vaccination, the guys who do and the guys who don't, it just is what it is. … I'm ready to get back to normal. I'm ready, for me personally, to do everything that we want to do on and off the field and live our lives as normal as best we can."
Molina nears Musial
With his name in the lineup Thursday, Cardinals catcher Yadier Molina will continue the longest active streak of consecutive opening day starts and move within one of tying Stan Musial's franchise record. This will be Molina's 17th consecutive opening-day start for the Cardinals, stretching back to 2005. Musial started 18 consecutive opening days, from 1946-1963, after returning from military service.
Molina is already the only catcher to start at least 16 opening-day games with the same team, and his 17th will put him alongside Hall of Famer Ivan Rodriguez as the only catchers with that many opening-day starts for any team. Rodriguez has 20 opening day starts.
Arenado jersey sales soar
The Cardinals had two players crack the top 15 in Major League Baseball's most popular jerseys, based on sales since the end of the 2020 World Series. Nolan Arenado, who was acquired from Colorado at the start of February, soared to No. 11 in jersey sales overall after just two months with his team. Molina continued to be an annual member of the list, this year coming in at No. 15 despite re-signing with the Cardinals in February, on the eve of spring training.
Bolstered by his marquee performance for the World Series champs, Los Angeles Dodgers outfielder Mookie Betts leads all jersey sales, and he's joined by teammates Cody Bellinger and Clayton Kershaw in the top five. San Diego shortstop Fernando Tatis Jr. leads all non-Dodgers at third overall.
Angels great Mike Trout ranks 10th, just ahead of Arenado.
Waino slugs, etc.
On the eve of what teams expect to be the return of National League rules in the NL after a year hiatus, Cardinals pitchers took batting practice Thursday at Great American Ball Park — and, for the first time this spring, position players were present. Adam Wainwright was "trying to put on a little bit of show for them," Flaherty said after Wainwright put some pitches into the outfield seats. "We're going to try to do everything we can for pitchers hitting going forward." … The Reds announced their rotation for the weekend series. After staff leader Luis Castillo, the Reds will start righthander Tyler Mahle on Saturday and follow with righthander Jeff Hoffman on Sunday. Mahle had a 3.59 ERA in 10 starts in 2020. Hoffman will be making his Reds debut after spending 2020 as a reliever for the Rockies.