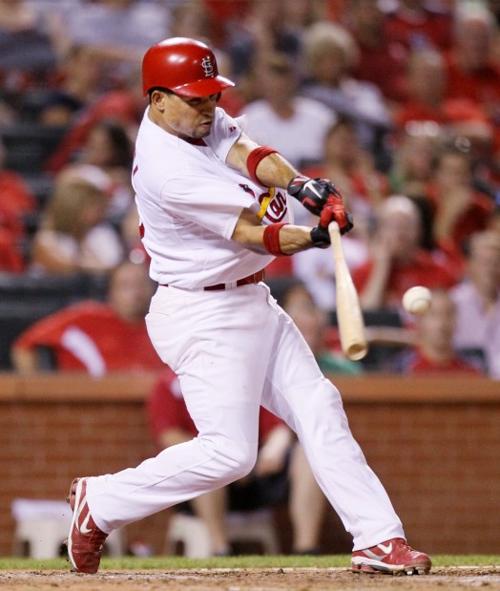 General manager John Mozeliak confirmed strong organizational interest in retaining pending free agent shortstop Rafael Furcal and indicated Sunday he plans to "explore" a pre-emptive move within the next month.
"When you look at our club since he came to our team, he's just really changed the look of it," Mozeliak said following Sunday's 3-2 loss to the Cincinnati Reds. "To try to find a way to get him back makes sense. But we have a lot of balls in the air. To try to balance it out financially and make it work is a challenge. But based on how he's played, and the type person he is and the energy's he brought to the club, there are a lot of positives."
Mozeliak said he has not opened negotiations with Furcal's agent, Paul Kinzer, and abstained from saying when he might move on the matter. However, Mozeliak indicated a hope the club could find a way to retain Furcal before he reaches free agency.
The Cardinals acquired Furcal from the Los Angeles Dodgers on July 31 for minor-league outfielder Alex Castellanos. Slowed by a hand fracture and oblique strain earlier this season, Furcal has solidified the Cardinals' infield defense and offered a mix of power and speed at the plate since the trade.
Held hitless Sunday, Furcal is 28 for 123 (.228) with five home runs and 11 RBIs since the trade. He enjoyed a particularly strong series during last week's three-game sweep of the Milwaukee Brewers in Miller Park and has shown little sign of wear after appearing in 29 of the team's 31 games since he arrived.
Furcal, 33, is in the final installment of a three-year, $27 million contract. The deal includes a $12 million option that vests at 600 plate appearances, a threshold that Furcal can't reach. (He stands at 286 plate appearances this season.)
The Cardinals have treated shortstop as something of a turnstile position since 2007, when they replaced free agent David Eckstein with Cesar Izturis. Khalil Greene, Brendan Ryan and Ryan Theriot have served as starter at the position the past four seasons. Furcal, a two-time All-Star, has long intrigued the Cardinals. Furcal's recent injury history and a looming crush of issues facing the club could create a mutually beneficial environment.
"There are a lot of different things I hope to accomplish by Oct. 1," Mozeliak said. "He's certainly been added to that list."
Mozeliak acknowledged that Furcal's health is a factor. Furcal, who turns 34 next month, has suffered shoulder, knee and lower back issues since 2008. He required back surgery in 2008 that sidelined him for more than four months.
"You're valued on your consistency of play and your ability to play," Mozeliak said. "There are some health issues and I haven't been through all of that with our medical staff."
Without divulging potential parameters of what the club may have in mind, Mozeliak conceded other major contractual matters mean that 'shorter is better for us because it gives us flexibility to keep the club together."
The Cardinals are expected to promote four players from Class AAA Memphis after the Redbirds' season concludes today. The club acknowledges that shortstop Tyler Greene and catcher Tony Cruz will be among the call-ups. First baseman Mark Hamilton also has received consideration. Third baseman Matt Carpenter and infielder Pete Kozma also have appeared in St. Louis this season. The club already has promoted pitchers Brandon Dickson and Maikel Cleto. ... Catcher Yadier Molina missed a second consecutive start Sunday with cramping issues in his left calf. La Russa said he is hopeful Molina may return to the lineup today against the division-leading Milwaukee Brewers but offered no guarantee. Gerald Laird was paired with his former Detroit Tigers teammate, Edwin Jackson, on Sunday. ... Reds closer Francisco Cordero gained his 30th save for the fifth consecutive season Sunday. Cordero now owns sole possession of 14th place on the all-time saves list with 320. ... Jackson lowered his ERA at Busch Stadium to 2.28 Sunday in what also was his first career appearance against the Reds. ... Shortstop Edgar Renteria, who contributed a two-run home run Sunday, is hitting .314 against the Cardinals this season compared with .240 against the rest of the National League. Reds first baseman Joey Votto suffered a 0-for-five game for only the seventh time in his career and the first time since June 11, 2010. The Cardinals play 10 their next 13 games against teams with a winning record (Milwaukee, Atlanta, Philadelphia). Before this afternoon's tilt, they had played only nine of 48 games since the All-Star break against winning teams, all against Milwaukee.