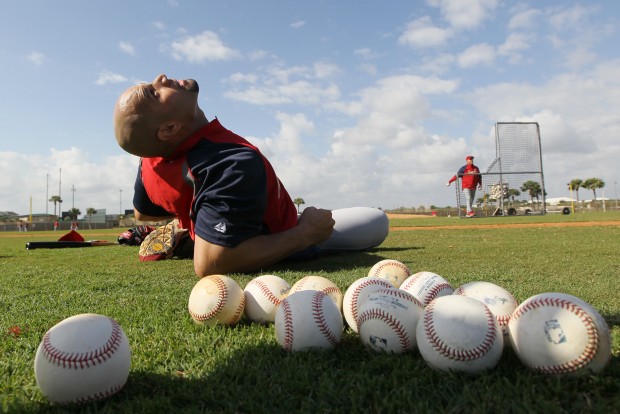 JUPITER, Fla. • "Why," the impeccably dressed and sculpted man says on the way to an early March tee time, "should anything change?"
Albert Pujols offers the question without the slightest trace of sarcasm or dry humor. A man who has stacked unfettered success atop unswerving routine is as serious as can be.
To hear the three-time National League MVP, he sits in the eye of a building hurricane. Let the rest of the world come unhinged about his future, his team's clubhouse chemistry and his demeanor in a walk year leading to potentially the biggest payday in baseball history. Albert will remain, well, Albert.
"I could care less about that," says Pujols, more exasperated than menacing when noting the swirl of attention that welcomed him to camp after a two-month window failed to produce a contract extension. "It was something you guys had fun with for 3½ months before I showed up at spring training."
"It" isn't going away. The parties haven't resurrected talks since Pujols drove a monster F-150 into camp on Feb. 16 and disembarked to a waiting throng of notepads, cameras and microphones.
Pujols' agent, Dan Lozano, has informed the club his client prefers no more contract talk during the season. The Cardinals insist they will respect the stance, meaning it's virtually certain the most productive 10-year player in the game's history will reach free agency after his eleventh.
"I'm fine. I don't have any problem. I'm not afraid of anything," Pujols says. "I'm not afraid of having 20,000 media following me all over the place. I'm not afraid to face it like I did. There is nothing to say. There is nothing to hide." Pujols insists "it's not about attention" but rather maximizing his God-given talent.
"I want to take advantage of it every day," Pujols insists. "People say, 'He's got a responsibility because he's the face of baseball.' I don't believe in that. I believe I have my responsibility — to play for the organization that drafted me and help it attain the goal of a championship. We've been in two World Series. I'm more than grateful for everything we've done the last 10 years."
Production sells. But the player uncomfortable being called ''El Hombre'' knows that uncertainty sells better.
Pujols has mingled with Kobe and LeBron. He was rapt during the New York Yankees' nasty public back-and-forth with their declining superstar shortstop Derek Jeter before ultimately reaching an uncomfortable agreement. Pujols says he knows what awaits him. He just doesn't care.
"It's another season," Pujols says. "What else can it be? How else can I approach it? It's another year like it was in '01, '02, '03 ... like every year since then. Tell me: How do you want me to approach it?"
The question is rhetorical. He knows how he will go through the upcoming season. He will embrace his family, his faith and his agent. He promises he will remain a solid teammate; however, he will not leave himself exposed to those outside his tight circle.
"The reality is I can't control what other people have to say. This is a free country. Say what you want. I can't control that," Pujols says. "The one I need to worry about being judged by is Jesus Christ. People can say whatever they want, negative or positive. I'm not here to try to please people. I'm trying to please God.
"You can't please people. If you do something negative, the same people who were with you will turn their back on you. I don't think that's fair. That's why I don't try to please people. The day you go 0-for-four or into a slump, the same people who were praising you can turn on you."
Spring training offered Pujols an unexpected oasis. February's media scrum receded in March, partly because of his take-all-comers news conference the day he entered camp, and partly because everyone will have another shot this season as the Cardinals tour 18 cities. Yet the February crush noted that Pujols consistently parked in a space reserved for owners.
"I should get paid by Ford. They wouldn't stop talking about my truck," he jokes about the grill time his vehicle got upon his arrival.
His signing habits during an hour-long autograph session at Roger Dean Stadium this spring also became fodder for a nationally recognized blogger who took issue with Pujols' wearing sunglasses and rarely looking up during the event. Likewise, Pujols' appearance at the team's Winter Warm-Up left mixed impressions among those who coveted a more personal touch.
"Do you have to smile?" he asked, wondering where demands begin and end.
Pujols recalled assisting a family with a stroller during the spring training event. His help was not noted in the subsequent blog. "And they were Cubs fans," he quips.
Turning very serious, he says: "They look at the negative thing. That's what the media is. They write whatever sells. If the guy thought I wasn't entertaining, well, I was there signing about 200 autographs. I'm not there to entertain people. How fast was I signing so I could get to as many people as possible?"
Any other year such events would be viewed in different context. Now, as he stands on the stoop of free agency, Pujols' comments and actions will be parsed.
Barely 14 months ago his fleeting reference to a home team "discount" stirred anticipation of an imminent extension. But no reference point was provided, talks became stillborn before the 2010 season and subsequent signings by Ryan Howard, Jayson Werth and Carl Crawford contorted baseball's fiscal landscape. By the time the parties next engaged they saw the topography very differently.
"It's the decision that they have to make," Pujols says. "I told you two years ago. I told you last spring. Danny and I were always open. It's a decision that hasn't been made by the front office, Danny and myself. We didn't get it to the position where a decision was made."
Pujols enters the final season of an eight-year, $111 million deal refusing to speak in absolutes about his next contract. He withholds any predictions and says he doesn't plan to discuss it during the season. Unwilling to trade free agency for an extension worth potentially more than $200 million, he knows there are those ready to accuse him of greed, disloyalty or worse. His team's second-highest paid player has no desire to feed the fire.
"I focus on making sure I'm OK with Christ and my family. I don't need to worry about material stuff. That's why I just worry about the season," Pujols says. "There's a page to flip and you leave it turned. At some point you have to flip it back, but that's not for the season."
The Cardinals insist they negotiated freely before a deadline imposed by Lozano. Likewise, the club calls it presumptuous to assume its position will soften given six more months.
"We were prepared to do whatever we could at the time," Cardinals general manager John Mozeliak says. "I don't see that landscape changing very much."
Pujols believes the day he takes off the uniform — or dons another — perceptions of him will change. The transition can be liberating in retirement, Hall of Famers have told him. Already there are times Pujols understands how it would be a relief — at least his son wouldn't be confronted about his father's contract status.
"My image is about representing God. That's more important than anything else," he says. "The reality is if I walk out of the game tomorrow, people wouldn't care anymore. I believe people don't treat you the same way."
Whether Pujols remains in St. Louis or goes elsewhere, he insists the Pujols Family Foundation will remain. The CBS news show "60 Minutes" next month will air an extended piece about the charity and its outreach, including its work with Down syndrome and its humanitarian efforts in Pujols' native Dominican Republic. Pujols reminds that the network, which asked for and received exclusive access, approached him about the piece. He insists the segment is not a vehicle to better position him nationally for next winter.
"You try to expose the foundation a little more. It's not about getting credit for myself," he says. "It's about Jesus Christ and what we've done through our foundation and the lives we're able to touch. People who donate their money have a trust. It's not about looking good. It's about what God wants us to do."
Pujols' wife, Deidre, saw this day approaching long ago.
Speaking to the couple's faith, she said last spring, "Going from no money, to some money, then to a lot of money . . . we latched onto our faith in a really, really big way. We both thought this thing is going to rip our goodness right out from under us unless we get grounded to something."
If there are those who perceive ulterior motives behind the show's timing, Pujols says he isn't concerned. Baseball has made him wealthy; his faith has made him richer.
"I just wish you were in my shoes so you could understand exactly where I'm coming from," he says. "When you have a relationship with God, you care because you are human. You have a peace. That's how I feel. God has put me in a great place to have peace about the whole thing. I know how important (his contract status) is for my family and for my fans. We tried and we didn't get it done. There is nothing to be mad about. There are no hard feelings between the Cardinals and me. It's their decision. It's my decision. Hopefully we can get something done at the end of the year."
Six months can be forever within a lost season. It can be the bat of an eye with a contending club. Having experienced both, Pujols knows the stands might offer an embrace or a jagged edge. The months leading up to February's deadline educated him on how quickly lines may be drawn.
"If they want to boo, I don't care,'' he says. "But I hope they got the right reason if they boo. I think I've been pretty fair the last 10 years and given the city plenty of excitement. If they decide they want to boo because we didn't get a contract done, I can't control that. I can't control what 45,000 people do. But I'll tell you for every one in St. Louis who boos, there are going to be 20,000 or 30,000 people cheering. That's how I look at it."