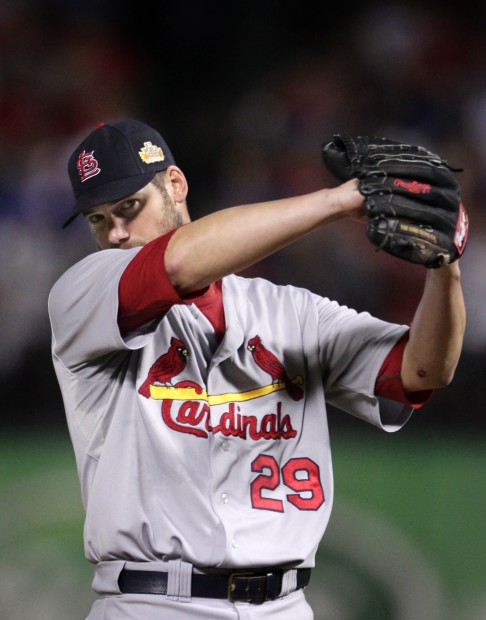 The Cardinals have decided on Chris Carpenter to start tonight's Game 7.
In two starts, including a win in Game 1, Carpenter allowed four earned runs total in 13 combined innings against the Rangers. In Game 5 on Monday at Texas, Carpenter pitched seven solid innings and allowed two runs on six hits.
Carpenter was the team's choice over Edwin Jackson or Kyle Lohse.
Although no announcement was made after the team's dramatic Game 6 win over Texas, he's the man.
"I've got to think about it," La Russa said shortly after his team's improbable Game 6 victory. "We're going to put it all together and see what makes the most sense."
That sets up Carpenter for what would be his third start of the series, if the Cardinals elect to go to him on three day's rest.
"If you don't (want to pitch), you might as well go home," Carpenter said. "This is a very important game. If you don't want that there's no reason for you to be here. ... We'll see what happens. Everybody is going to be ready. I can tell you that much."
Rain made it possible for Carpenter to be one of the everybody.
The storms that rolled through St. Louis on Wednesday and forced the postponement of Game 6 to Thursday opened up the Cardinals to even consider Carpenter for a starter. It would normally be Lohse's turn in the rotation, but the club had planned to put him the bullpen.
As far as days of rest, the turn would belong to Jackson. The righty walked seven and allowed three runs in 5 1/3 innings in a loss in Game 4. Carpenter has been the Cardinals most consistent starter through this series.