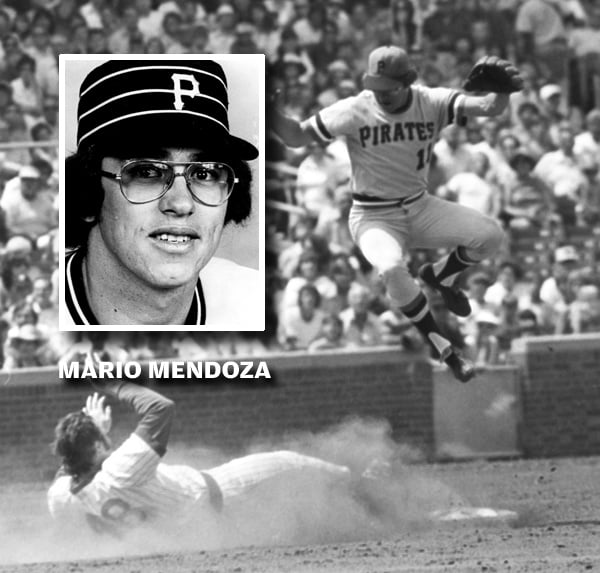 Thirty years ago, in the midst of an early-season slump, George Brett told reporters, "The first thing I look for in the Sunday papers is who is below the Mendoza line." Brett, who went on to hit .390 that year for the Kansas City Royals, was referring to Mario Mendoza, a light-hitting shortstop for the Seattle Mariners whose surname became synonymous with hitting futility. But why did Brett single out Mendoza, who was hitting close to .300 at the time, and why is the term still used to describe batting ineptitude?
The "Mendoza Line" was created as a harmless clubhouse joke amongst friends. "My teammates Tom Paciorek and Bruce Bochte used it to make fun of me," Mendoza said in a recent telephone interview from his home in Sonora, Mexico. "Then they were giving George Brett a hard time because he had a slow start that year, so they told him, 'Hey, man, you're going to sink down below the Mendoza Line if you're not careful.' And then Brett mentioned it to Chris Berman from ESPN, and eventually it spread and became a part of the game."
Berman deflects credit back to Brett in popularizing the term. "Mario Mendoza — it's all George Brett," Berman said. "We used it all the time in those 1980s 'SportsCenters.' It was just a humorous way to describe how someone was hitting."
While the term Mendoza Line has come to symbolize the .200 mark in baseball parlance, the phrase has also crossed over into America's pop culture lexicon and is frequently used to describe almost any type of sub-par performance, from the performance of stocks and mutual funds to bad grades and to quotas for salespeople.
No other athlete in professional sports, save perhaps Vinko Bogataj, of ABC's "Agony of Defeat" fame, is more closely associated with failure than poor Mario Mendoza. "It did bother me, at the beginning, to be honest," Mendoza said. " Because people would come up to me, like making fun of me, so it used to make me mad, but now I don't care anymore."
Despite the notoriety, Mendoza wasn't the worst hitter of his era. He was hitting .294 after the first two months of the 1980 season, just as the term Mendoza Line began to take off, and his .215 career average is significantly higher than that of scores of other players. For example, Luis Pujols, who was a catcher for the Houston Astros and is reportedly a second cousin of Albert's, hit 46 points lower than Mendoza in 1980 and had a .193 career batting average.
Would we still be using the term "Pujols Line" today to describe a mark of batting futility if Luis had been the butt end of a clubhouse joke, rather than Mario Mendoza? Most baseball people believe that Albert Pujols' emergence would have driven the term into extinction before the end of his rookie campaign.
Thanks to Bill James and others in the vanguard of the sabermetric movement, a player's batting average is no longer the most important measure of his value. Yet somehow the Mendoza Line continues to play a prominent role in the collective psyche of hitters across leagues and cultures. The line is like a toxic waste site — no one wants to be near it, no matter how many home runs or defensive gems they've recorded.
But while the term continues to thrive, sub-Mendoza hitting has declined steadily since the 1960s as teams became intolerant of defensive specialists like Mendoza. "In my day, you didn't have to hit much if you were good defensively," recalled Mendoza. "If you were a shortstop or catcher, there weren't many guys at those positions who could hit and play defense — but now everybody in the lineup has to be a good hitter."
Indeed, it's been nearly 20 years since a shortstop was last in the league in batting, and more than 10 since a catcher finished dead last.
The sport may have changed forever, yet 30 years after the creation of the Mendoza Line, sub-Mendoza hitting appears to be making a comeback this season. As of July 4, 20 players (minimum of 100 plate appearances) were hitting below .200; 10 were below .185, and five are former All-Stars. Last year, only four players were hitting below .200 at the same point in the season, and three of them were hitting at least .193. Cardinals fans can delight in the fact that Cubs third baseman, Aramis Ramirez is batting .177 and could become the first player in decades to hit below .200 after hitting .300 the previous season. No major league player has accumulated 500 at-bats while hitting below .200 since Tommy Tresh did so for the Yankees in 1968, but several players have a shot at reaching that ignominious mark this year.
Sub-Mendoza hitting has never been the exclusive provenance of inept hitters. In fact, the list of players who have finished dead last in batting average in individual seasons is littered with some very good hitters, including Brian Giles, Andruw Jones, Jermaine Dye, Mark McGwire and Reggie Jackson.
Batting averages and scoring are down this year, yet the trend defies convenient explanations. Christina Kahrl, managing editor of Baseball Prospectus, believes that this season's anemic hitting may be partly attributable to the emergence of young pitchers like Jaime Garcia, but also questions whether there may be a "hangover effect" from the era of performance-enhancing drugs.
"The idea that you'd have great players playing at their peak until age 40 — maybe it's time to ratchet the expectations down and accept that if you have guys in their mid-30s struggling, well, that was normal for most of the game's history," she said.
Others reject the notions that pitchers are getting better or that the end of the PED era is playing a role in declining batting averages and scoring. "The world is full of .220 hitters right now," said Paciorek, who maintains that it was Bochte who coined the term Mendoza Line. Paciorek thinks that striking out no longer carries the same kind of stigma it used to, and thus players are too often going for home runs and coming up empty.
There may not be a consensus on why Mendoza-esque batting is making a comeback this year, but the term, for better or for worse, is here to stay. Mario Mendoza, now 60, has made peace with his notoriety. He's proud to point out that he's a member of the Mexican Baseball Hall of Fame, a former manager who coached professional teams in the United States and Mexico, and the father of two sons who pitch, one for Pima Community College in Arizona and one for Saltillo in the Mexican League.
Mendoza was recently relieved of his duties as manager of the Monclova Steelers after the team got off to a slow start, but he is currently a scout for the Angels and hopes to manage again someday. "I still love baseball; honestly, I wish I could come back and start playing again," he said.
But does Mendoza think the Mendoza Line should have been called the Pujols Line? "No. I wouldn't want Luis to have to deal with what I went through," he said. "I think we should come up with something different — a lot of other guys have played the game and hit below .200 much worse than me. Thirty years — it's enough."