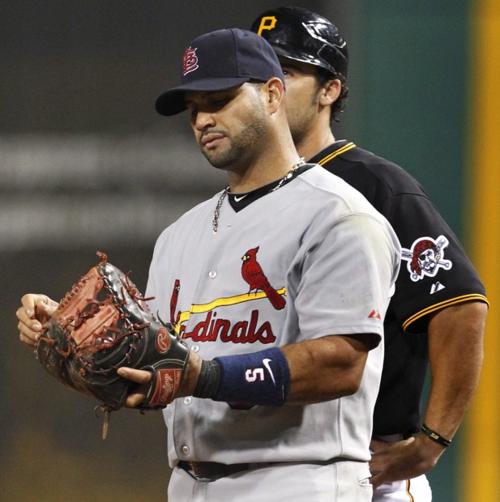 PHILADEPHIA • The Cardinals admit they have no idea whether or not they will be able to retain pending free agent first baseman Albert Pujols. They also recognize there will be ramifications regardless of outcome.
Rather than be held hostage by a situation that may not play out until mid-December, the Cardinals are creating contingencies for both a positive and negative outcome.
Pre-emptive moves began more than a week ago as general manager John Mozeliak intensified talks with at least three of the club's veteran players.
"The way we're approaching it allows us a degree of flexibility in addition to being able to put a very good club out there if we're not able to sign Albert," Mozeliak says. "There will be implications anytime you engage in talks over a contract approaching the magnitude of what we will be discussing" with Pujols.
The Cardinals are so far unwilling to handicap their odds for keeping their signature player. That would be folly absent the competitive marketplace that ultimately will shape term and the average annual value of Pujols' deal. However, that doesn't mean the club enjoys the luxury of preparing for only one outcome.
Last week's retention of 2005 NL Cy Young Award winner Chris Carpenter via a two-year, $21 million extension actually represents a savings of sorts.
Carpenter's previous extension, agreed upon during the afterglow of the '06 World Series, included a $15 million club option for 2012. Folding the option into a two-year structure allows the club a net $4.5 million cost reduction. Though Mozeliak insisted at last January's Winter Warm-Up that Carpenter's status was independent of Pujols' situation, the Cardinals were not inclined to assume the $15 million option unless rolled into a longer-term arrangement.
The club is also negotiating with the agents for right fielder Lance Berkman and shortstop Rafael Furcal on short-term deals. Berkman, who signed a one-year, $8 million deal last December, has communicated openness to a one-year deal. Furcal, 33, may be insistent on multiple years but will accept a lower average annual value than what his current 3-year, $27 million contract affords.
If Pujols returns, Berkman would project as next year's right fielder. If Pujols leaves, Berkman could shift to first base and the cost-effective Allen Craig assume right field.
The Cardinals project a 2012 rotation costing roughly $44.125 million compared to the $43.22 million apportioned to its active opening day starters plus Adam Wainwright. Signing Jaime Garcia to a four-year extension and assuming a two-year, $21 million option on Wainwright provides cost certainty for 60 percent of the rotation through 2013. Kyle Lohse and Jake Westbrook are owed a combined $20.375 million next season. The Cardinals then hope to realize cost savings due to the ascendance of top prospect Shelby Miller in 2013 and Carlos Martinez shortly thereafter. Mozeliak projected lefthanded reliever Marc Rzepczynski as a starter on the day he was acquired from the Toronto Blue Jays.
Significant depth exists within the bullpen, especially on the right side, where Jason Motte, Fernando Salas and potentially Kyle McClellan and Lance Lynn offer ninth-inning alternatives.
Motte's second-half dominance makes a compelling argument that the club re-examine his fitness for a closer role that was prematurely thrust upon him in 2009, when he failed against the Pittsburgh Pirates on opening day and was quickly ushered into a less visible role.
"It's a little premature to start defining roles for 2012. But I think what you're seeing out of Motte gives you reason to be optimistic he can handle that role," Mozeliak says.
Manager Tony La Russa is among those fond of citing the dangers of being overly impressed with what one sees in spring training or September. However, Motte's surge actually began in mid-June and coincides with development of a hybrid secondary pitch, a combination slider-cutter.
Motte, 29, entered this weekend's series against the Philadelphia Phillies having allowed opponents a .141 batting average and one extra-base hit in 92 at-bats since the All-Star break. In that span he owned more strikeouts (21) than he had allowed walks and hits combined (16). He also had allowed one earned run in 32 appearances for a 0.32 ERA and a stifling 0.571 ratio of walks plus hits to innings pitched.
"It's encouraging," Mozeliak says. "He's growing into a role people envisioned him having a few years back. He's got a powerful arm. He's starting to get confidence in his secondary pitches. It's exciting to see."
Motte's development coincides neatly with pressing financial realities and an evolving organizational philosophy.
Despite their failed pursuits of established closers Francisco Rodriguez and Brian Fuentes in December 2008, the Cardinals have refrained from spending heavily on the ninth inning since Jason Isringhausen's departure after the '08 season.
Isringhausen, the Cardinals' all-time saves leader, earned $32.5 million in his final, four-year contract with the club. This season's opening-day closer, Ryan Franklin, received a total $8.75 million the last three seasons. Already inclined to explore internal options for the role next season, the Cardinals do not appear positioned to pursue a big-ticket closer if they keep Pujols.
"Anytime you can do something internally, that's your desire," Mozeliak said.
Motte, Salas, McClellan, Lynn, Mitchell Boggs, Brandon Dickson and Eduardo Sanchez represent seven possibilities for what traditionally have been five righthanded bullpen slots. McClellan and Motte are arbitration-eligible this winter. McClellan may have enhanced his value for other teams by pitching ably (6-6, 4.21 ERA, .310 opponents' on-base percentage) as a starter before the July 27 acquisition of Edwin Jackson sent him back to the bullpen. McClellan stands 5-0 with a 3.45 ERA and a far superior strikeout-to-walk ration within 21 relief outings.
"We made some assumptions about what would happen in the bullpen. We had to audible," says Mozeliak, referring to a makeover that leaves Motte as the club's only pitcher to hold a relief role without interruption this season. "Now there is light at the end of the tunnel as far as getting Wainwright back. We're excited about our righthanded depth in the bullpen. But it's still a little premature to define roles for 2012. I do think what you're seeing from Motte gives you some reason for optimism he can handle the role."
The Cardinals also face a significant decision over how to address second base. Skip Schumaker is arbitration-eligible after this season, the final installment of his a two-year, $4.7 million extension that allowed the parties to avoid arbitration the past two winters. It is unlikely the club would exchange arbitration bids with Schumaker, meaning it must negotiate a deal before contracts must be tendered Dec. 12 or consider a possible promotion of Daniel Descalso or a low-cost veteran.
"Right now," says Mozeliak, "is not an appropriate time to discuss that."
Unspoken is the club's hope that Pujols' future will be determined no later than December 11.