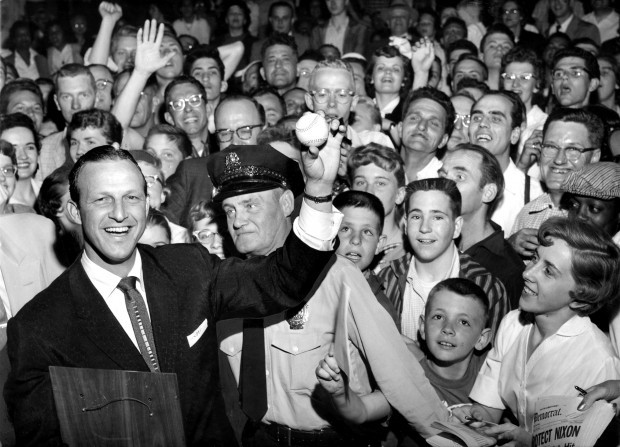 By the time the Cardinals headed to Chicago in mid-May of 1958, Stan Musial was batting .494 and was two hits shy of 3,000. On May 12 at Wrigley Field, Musial doubled in a 6-4 win for his 2,999th hit.
Afterward, he told coach Terry Moore he would like to "save the big one for St. Louis." When Moore passed along the sentiments to manager Fred Hutchinson, he telephoned Musial in his hotel room and told him he would sit out the next day unless needed to pinch hit.
The next afternoon, May 13, 1958, Musial was relaxing in a bullpen chair at Wrigley when Hutchinson reluctantly waved him in. The Cardinals trailed 3-1 in the sixth and had a runner aboard with one out. Hutchinson sent up Musial to bat for pitcher Sam Jones and on a 2-2 count, Musial slapped a Moe Drabowsky pitch into the left-field corner for a run-scoring double.
Cardinals broadcaster Harry Caray exclaimed: "Line drive, there it is! Into left field! Hit No. 3,000! A run has scored. Musial around first, on his way to second with a double! Holy cow! He came through!"
The Cardinals ran out of the dugout and swarmed Musial. The once shy, skinny kid from Donora, Pa., had become only the eighth player in history to get 3,000 hits, and the first in 16 years.
What followed was a sequence Musial considers "one of the best moments of my career." Heading back to St. Louis, the Cardinals' train pulled to a stop in Clinton, Ill., where about 75 people were waiting, chanting "We want Musial!" An open-mouthed Musial emerged to shake hands and sign autographs.
Farther down the track, the train pulled to a stop in Springfield, Ill., where more than 100 called out for Musial and sang, "For He's A Jolly Good Fellow." Again, "The Man" of the hour accommodated the adoring fans.
Finally, the train arrived at Union Station in St. Louis at 11:15 p.m. As it came to a stop, nearly 1,000 fans converged, cheering and calling for Musial. He stepped to the platform and told the loud gathering, "I never realized that batting a little ball around could cause so much commotion. I know now how (Charles) Lindbergh must have felt when he returned to St. Louis."
Without skippping a beat, a wise-cracking fan shouted: "What did he hit?" And the crowd erupted in laughter.
The following evening at Busch Stadium, more than 20,000 greeted Musial with an extended standing ovation when he was announced in the first inning. Ever up to the moment, Musial stepped to the plate and drove a pitch onto the pavilion roof -- hit No. 3,001.