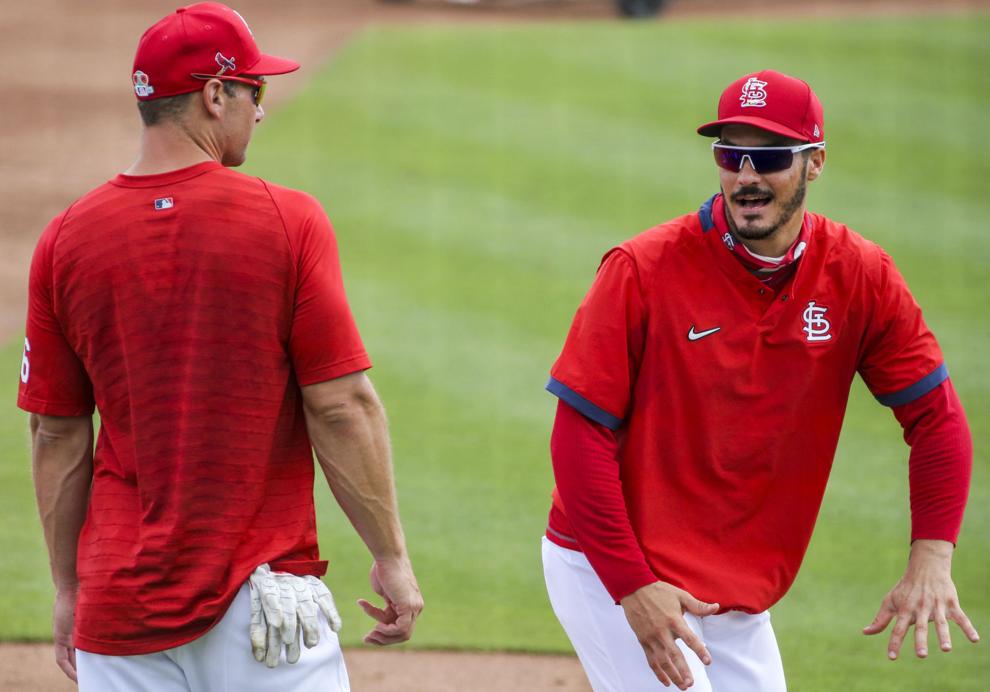 JUPITER, Fla. — The sound of St. Louis that stuck with Nolan Arenado, tradition harmonized with expectation for a choir of 40,000 strong, makes for such a good, archetypal tale he told it again recently over dinner.
Arenado was playing third base, which he does as well as anyone ever, and dove to spear a grounder, stealing a hit at Busch Stadium. After the familiar gasp of disbelief came the unexpected ovation. What stood out to Arenado about fans standing up to applaud is why he tells the story — it's the kicker — and why the same story resonates for a different reason with the Cardinals.
He was a visiting player.
Winter had become a season of cold shoulders in recent years with shivers of doubt for the Cardinals, from costly additions who didn't connect with the club to notable stars who chose to visit but play elsewhere. That began to thaw in 2019 when All-Star Paul Goldschmidt agreed to a five-year extension before playing a game in St. Louis. Then came news this winter of a rock star in Colorado who was ready to head from the mountains for Busch.
The Cardinals focused on acquiring Arenado, even at the risk of "a lost offseason," said executive John Mozeliak. A blockbuster months in the making dispelled recent years of rejection and validated almost two decades of contention, nearly a century as baseball royalty. That ovation sensation Arenado later described — "My God, this is a baseball town" — echoed the statement his trade affirmed: By golly, it still is.
The Cardinals had what Arenado wanted.
Arenado was whom the Cardinals needed.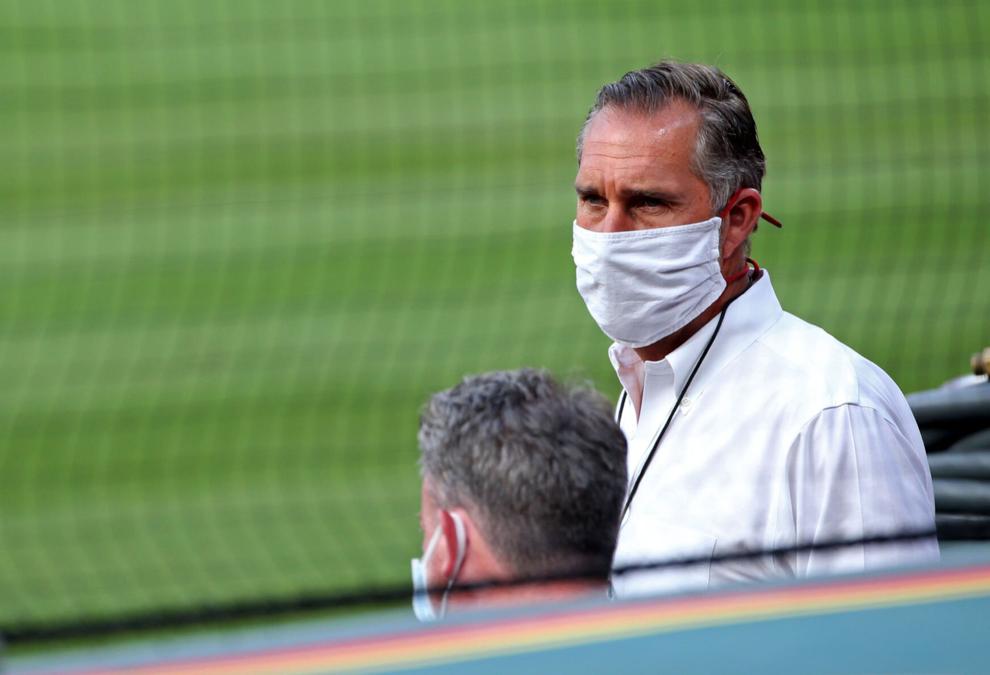 "I felt like our fanbase saw a level of complacency with us," said Mozeliak, president of baseball operations. "I think at times people questioned are we still desirable, and I hope this says, 'Yes.' … We understand that the Cardinals are an important brand in our industry, and how do you continue to build that brand? You look at how our offseason transpired — the re-signing of Adam Wainwright, make the trade for Nolan, and then re-signing Yadier Molina. We felt that would elevate us not just from a team standpoint but to being true players in a competitive industry.
"All those types of players are iconic-level players for an iconic brand."
The Cardinals begin defense of that brand and their 130th season in the National League on Thursday in Cincinnati. For the home opener on April 8, the Cardinals will host about 15,000 fans due to pandemic protocols. The club recognizes it must reanimate a restless, frustrated fan base. Mozeliak saw that in emails this winter that asked if the team was "really serious about winning." With 13 consecutive winning seasons, the Cardinals remain good, but overdue for great.
Seeking a fifth NL Central title in nine years, the Cardinals also enter their 10th season since their 11th World Series title. Reigning champions, the Los Angeles Dodgers creep closer with their seventh as aspiring usurpers to the NL's all-time throne.
The Cardinals re-signed two pillars of the present, Molina and Wainwright, and have the cornerstones of their immediate future in Arenado and Goldschmidt.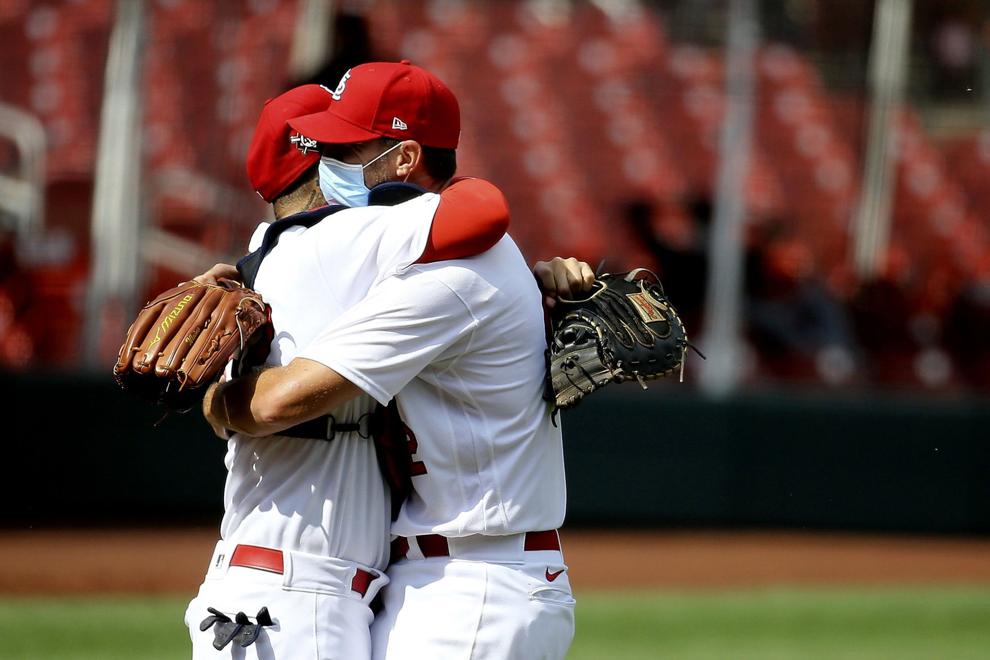 Less than two years after his eight-year, $260-million extension with the Rockies, Arenado became disenchanted with Colorado's shrinking ambition and requested a trade. No-trade protection meant he held the cards. The atmosphere Arenado coveted, Goldschmidt had, saying: "I just took it as a given that this organization was going to do everything it can to win every year." Arenado's arrival is affirmation for the Cardinals that they are what they believed they still were.
"He'll be a megastar there," said a rival.
"He's so content and happy, he looks three years younger," said a friend.
"I can't believe we haven't had him for the last 10 years," Wainwright said.
The pairing of Arenado with Goldschmidt is a fusion of two leading, all-around players from the NL.
Manager Mike Shildt called them a "dynamic duo."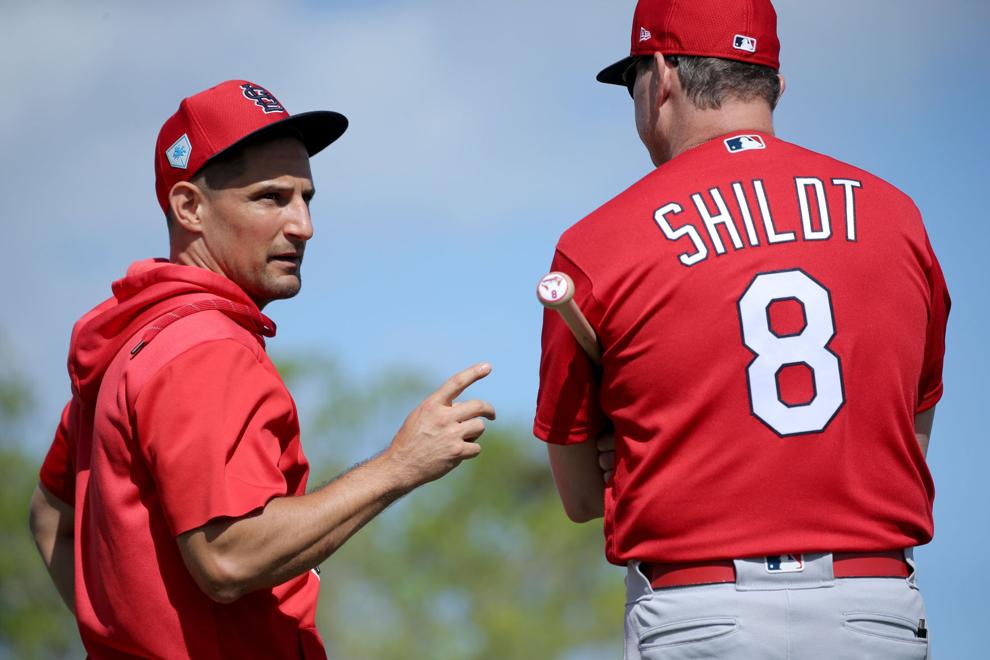 They have the potential to be the mightiest Cardinals corner combo since Scott Rolen embraced Albert Pujols as they won the 2006 World Series. Arenado and Goldschmidt have 11 Gold Glove awards combined, including eight consecutive by Arenado. Since Arenado's debut in 2013, his 235 homers and 760 RBIs lead the NL. Goldschmidt is second with 221 and 720. Goldschmidt signed the Cardinals' largest contract, at $130 million, until they acquired Arenado's contract.
The trade sending Austin Gomber and several minor-leaguers to Colorado was so complex it nearly came apart multiple times. Mozeliak was optimistic Jan. 29, nauseous Jan. 30, and "euphoric" Feb. 1. In a text, Arenado described how he was "a little nervous" at the physical — because the desired move was so close he didn't want "anything getting in the way."
"I think he wanted to be a Cardinal more than just desiring to be traded," said Joel Wolfe, Arenado's agent at Wasserman. "He had a very short list of teams, and that list was the Cardinals and then everybody else was in third or fourth place. Nolan was committed to being a Cardinal from the very moment we started discussing trade. The whole attitude and vibe there are so important to Nolan. He's going to be the Cardinals' lead guitarist."
He's carried the tune in his ear since that ovation. Friends, like Matt Holliday, repeated a familiar refrain about the fit.
Birds of a feather finally flocked together.
"They wanted me. And they are extremely competitive every year. That is something that drives me," Arenado told the Post-Dispatch. "I want to be a part of a group with a great history, a great tradition. This year the expectation is the same as it always is — we need to be really good, again."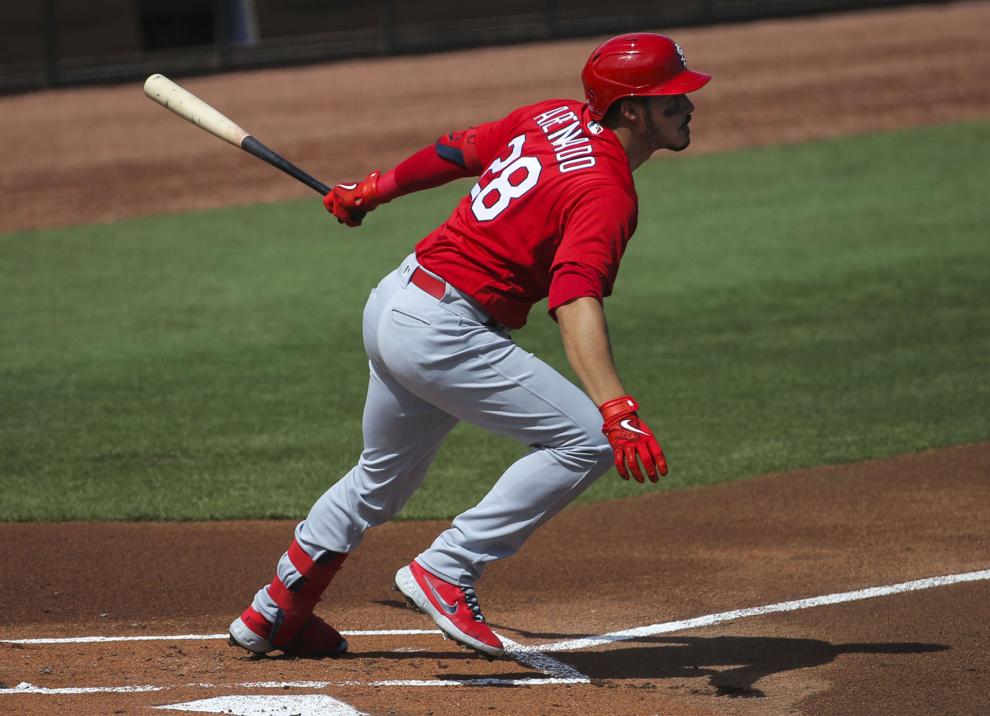 The playing surface at the home ballpark for Colorado's rookie-ball affiliate in Casper, Wyo., was so rocky that the manager of the team called it "the worst in the world." A scout likened the bad hops to playing on the moon, but with gravity. The Pioneer League's best team in 2009, the Orem Owlz, did not take infield practice on Casper's field, ever.
The second youngest everyday player in the league at 18, Arenado aimed to catch 20 consecutive groundballs. A gnarly ricochet off a rogue rock and he'd start over. Back to zero.
"He was talking baseball, he was thinking baseball, he's breathing baseball, he's sleeping baseball, and that's it," said Tony Diaz, Casper's manager that year. "He loved to compete when the game started. But he took true joy in making every play in practice. That's how he separated himself from good players to great player."
Arenado liked to finish with a flourish. Diaz hit the last groundball as a two-hopper a little bit to Arenado's right. The teen would catch the ball behind his back, spin counterclockwise, and throw to first.
"That was the icing on the cake after work," Diaz said.
Pretty snazzy for a future catcher.
At least that was Colorado's plan.
Although arriving in the long-distance, short-season, no-frills Pioneer League on different teams from different routes but out of the same draft in 2009, Arenado and Goldschmidt carried similar scouting reports.
At best, they were uncertain. Some were unkind. All underrated them.
The Rockies were unsure if the 59th overall pick's bat would grow with third base or if he'd grow out of it. They intended to move him to catcher that fall. "His muscular build and howitzer arm appear to fit best behind the dish," wrote Baseball America. Selected 246th overall by Arizona out of Texas State, Goldschmidt had power but scouts questioned his athleticism.
"They didn't pass the eye test," an evaluator recalled.
They aced every other one.
Playing to prove he could stay at third, Arenado hit .300 for Casper with 15 doubles and 18 strikeouts in 203 at-bats — a revelation for a pro debut. With Missoula (Mont.), Goldschmidt led the league in home runs (18) and slugging percentage (.638) and had 62 RBIs in 74 games. The two corner infielders who willed and worked their way into prospects in the Pioneer League next met in the National League in 2013.
They were All-Stars together in 2015.
They finished in the top five for the NL MVP in 2017.
Once questioned, Arenado's defensive acrobatics became legend.
"We would see Arenado six times a year over the past (eight) years and he would do something in those six games where you would say, 'Well, nobody else is going to make that play,'" Cardinals pitching coach Mike Maddux said. "This might happen twice in the six games. Just the fact that we're going to see this guy a full season of what he can do. You're thinking, 'Man, we could get used to this.'"
Goldschmidt's 45.1 career Wins Above Replacement and Arenado's 39.1 rank second and third, respectively, from their draft. The alpha went 25th overall: Mike Trout (74.6).
"I think the Cardinals struck gold to have both of them," said Diaz, a coach with Minnesota who served as Colorado's first-base coach and watched kindred spirits become stars. "The similarities they have are how they prepare, how they study the game, their approach, and how much drive they have. I don't know if you can quantify the impact on the young players who are a part of the future there. Those two have made them better already without taking the field officially."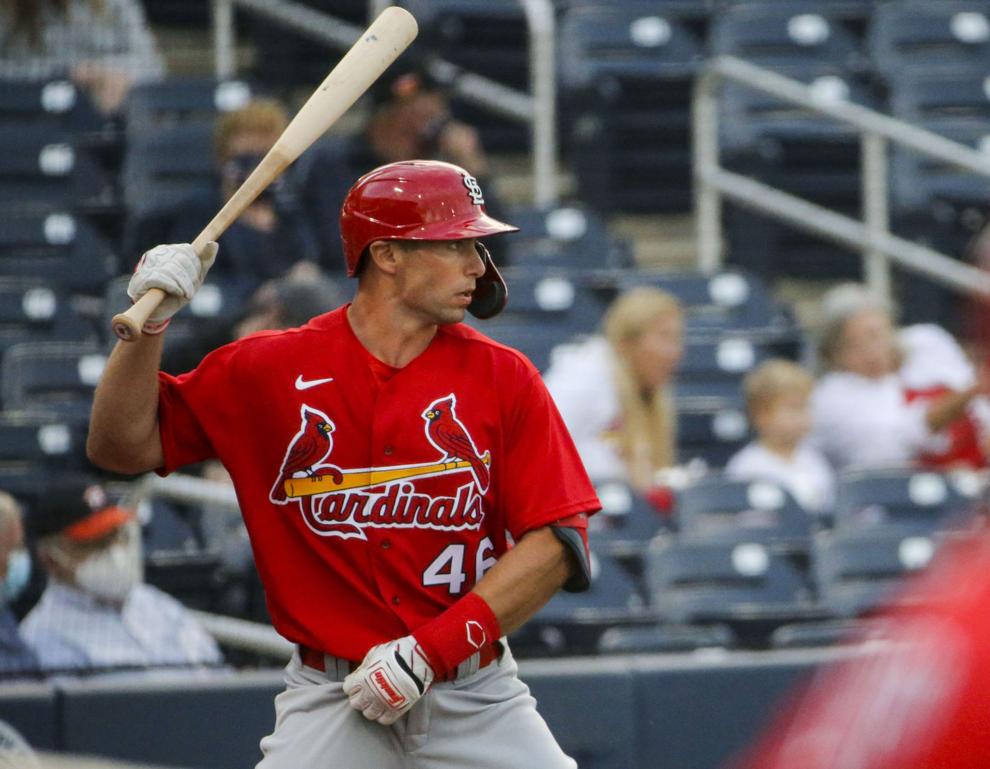 When a trade seems particularly unlikely or problematic, Mozeliak jokes to his staff: "If I squint hard enough I can see a deal."
Some, like Goldschmidt, leave him wide-eyed.
In the past six offseasons, the Cardinals have had highly publicized misses. Jason Heyward, after a year in St. Louis, dismissed an "aging core" for a similar offer from the Cubs. David Price chose Boston. The Cardinals raced to trade for Marcell Ozuna, while Milwaukee waited for Christian Yelich, risking Miami not moving him. The Cardinals needed their mojo back.
As part of their sales pitch to Giancarlo Stanton, the Cardinals constructed a website showing their system's depth. A meeting in a suite paid for by Marlins president Derek Jeter didn't woo the slugger, but did inform his agent — Wolfe, a former Cardinals farmhand and Arenado's agent. The Cardinals first talked to the Rockies about Arenado late in 2019. Not even a squint could spot a deal. This offseason, the Rockies looked for a deal. The Cardinals did not blink.
"If we weren't finding the right type of fit then we might have been dealing with the narrative of a lost offseason," Mozeliak said. "And that poses other challenges."
"Potentially," Mozeliak said. "We were focused on the long view, not just this moment in time. We were willing to risk potentially not getting something done and having to face the music."
To complete the trade, Colorado covered $15 million of Arenado's 2021 salary and Arenado deferred the other $20 million. A year and a second opt-out was added to Arenado's contract. Arenado, 29, can become a free agent after this season or after 2022. Wolfe said Arenado has been struck by how "the Cardinals were so confident they could convince him this was a great match once he was here."
That is their model, their continuity.
During a past Gold Glove dinner, Arenado spoke to Cardinals great Ozzie Smith and heard about how the Cardinals welcome former players back to spring training as guests, even coaches. Generations of Cardinals come and come back, and the expectations never change and each group, Smith to Molina, add to structure that supports success.
As they inherit the lead, Arenado and Goldschmidt have heard how ovations for champions are the loudest of them all.
Those traits that made the Cardinals so appealing to them are now theirs to enhance.
"You want to talk about carrying on the legacy of Yadi and Waino?" Goldschmidt said. "Those guys are prepared. That's carrying on the legacy. It's not an accident that Nolan is so good because that's what he does. That's what we want to keep going. Every time you step on the field or show up here, we understand there's a responsibility that goes along with being a Major League Baseball player and being a Cardinal.
"You want to live up to that."