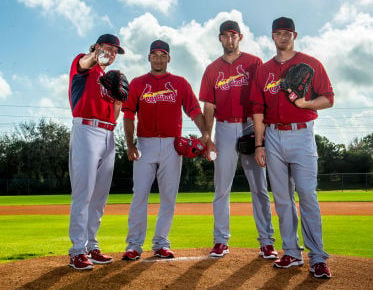 JUPITER, Fla. • When Shelby Miller, pride of Brownwood High and next-generation Texas gunslinger, settled into a chair surrounded by friends to watch the 2009 amateur draft, he had heard he could go as high as fourth overall and knew he would go no lower than 21st.
The Houston Astros, the home-state club he grew up adoring, had No. 21 and an agreement in place, Miller says, if he slipped to them. As the picks clicked by, Miller saw his team coming into view. Toronto wasn't going to take him at No. 20. The Cardinals were on the clock at 19. He didn't know much about them. It didn't dawn on him that the T-shirt he slipped on that morning was Cardinals red. It didn't register until later that as he arrived for the draft party hosted by a friend he walked by a redbird knickknack.
"It's funny now," Miller says, "I guess it was meant to be."
He just didn't see the signs.
The Cardinals were certain they did.
With the 19th selection, the Cardinals changed their way. Miller was, as one former executive phrased it, the "landmark pick" that revealed how the Cardinals would evaluate, develop, and collect the young, talented pitchers they now follow into the 2014 season.
The National League champions begin defense of their pennant Monday and will pursue a third World Series appearance in four years with the youngest rotation and pitching core in the division. After ace Adam Wainwright starts opening day at Cincinnati, 22-year-old Michael Wacha gets Game 2. Lurking in the bullpen is setup man Carlos Martinez, 22, and closer Trevor Rosenthal, 23. Miller, 23, will start later in the week.
They throw fast. They arrived fast. They've starred fast. They give the Cardinals "a depth with maturity beyond their chronological age, combined with the velocity and command," said an NL scout with three decades of experience. "I've never seen anything with one team like it before."
The Cardinals won 97 games last season while getting 121 starts in 179 games from pitchers 26 or younger who are returning.
They will go this season as far as their arms can carry them.
"It's like a perfect storm for this team right now," said Ron Darling, the former pitcher and now broadcaster for the New York Mets and MLB Network. "Young, talented pitchers with the best catcher in the game and a great organization that embraces them, produces them and develops them, and then gives them to Wainwright, the beacon. If you want to be a pitcher for the Cardinals, you've got to be a winner, you've got to overcome adversity, and you've got to be a great athlete. The Cardinal way is to be in the playoffs every season.
"It's like they don't feel that as pressure. It's almost like a birthright."
Leading up to the Miller pick, the Cardinals had earned a reputation for avoiding the draft's radioactive risk, high school pitchers. In 2004, they didn't take a preps pitcher until the 46th round. In the three drafts before Miller's the earliest the Cardinals selected a high school pitcher was the seventh round. During those years the Cardinals hoarded intelligence, researched injuries and data-mined for clues that would change how they scouted and harvested pitching.
When team officials presented chairman Bill DeWitt Jr. with a list of players in the 2009 draft they eyed for the 19th pick, there was the culmination of this effort near the top: Shelby Miller, a high school pitcher from a small town in Texas.
"By the time we picked Miller, I think our knowledge base in at least how to avoid the high-risk players had evolved to the point where we felt more comfortable fishing in those waters," said Jeff Luhnow, the Astros general manager who oversaw the Cardinals' draft until 2011. "He had the delivery. He had the pitches that we thought could develop. The size. The makeup. We had learned from our mistakes."
From 1981 through 2008, the Cardinals took two high school pitchers in the first 30 picks of the draft, both in 1991. But starting with Miller, the Cardinals have selected three preps pitchers in the first round of the five drafts since. To decode pitching — "The most volatile element of the draft," Luhnow says — the Cardinals explored, experimented with an illustrator and controversial experts, and ran forensics on their own misses, such as in 2005 when four of Luhnow's first six picks were pitchers — none of whom remain in professional baseball.
And they collected data, lots and lots of data.
DeWitt said the Cardinals studied the profiles of successful major-league pitchers and "in a sense reverse-engineered it." They needed years and drafts to build the database necessary.
"When I say that it's part art and part science, it really is," general manager John Mozeliak said. "We want to be a data-driven team, but it takes time to accumulate data, and once you acquire all of that data it takes time to run analysis. You also need time to let natural evolution happen."
DeWitt said the Cardinals realized arms come from random rounds, early and deep, because "pitching can develop late." Powerball lefty Kevin Siegrist, 24, was a 41st-round pick who spent 4½ seasons at Class A or lower before blooming. They also saw, repeatedly, two commonalities:
Arm strength and athleticism.
A focus on those attributes wasn't novel, but it proved fertile. Eight years ago the Cardinals counted eight pitchers in the entire organization who averaged better than 90 mph on their fastball. This season's major-league staff will include at least five arms that average 95 or better. As they prepared to draft Miller, an athletic pitcher with repeatable mechanics and a thermal fastball, they also worked to sign a lithe teenager in the Dominican Republic who had been a shortstop and could throw 96 with ease. His delivery wasn't "classic," just easy, athletic and repeatable. Martinez signed eight months after Miller.
"I always thought that if you look at the best pitchers in the game, they have two common traits," Mozeliak said. "They usually have (arm strength), and they are freaky athletic. What I mean by that is Greg Maddux and Tom Glavine and that generation of pitchers — whatever they did they were really good at. That's what we're hoping to find."
In the 2009 draft, the Cardinals took 50 players, including 29 pitchers, and the draft produced opening day third baseman Matt Carpenter (13th round) and first baseman Matt Adams (23rd round). It also found two starters, a closer and a middle reliever. As a group they combined for 15.3 Wins Above Replacement in 2013.
"It was definitely strategic," Mozeliak said. "It was also fortuitous."
"At some point you have to get lucky," Angels general manager Jerry DiPoto said. "If you look at last year (and) how many times did they hit on the upside potential and how many times did they miss, they were pretty close to 100 percent. … Young pitching is kind of the how-the-world works. If you have young pitching and you have it in volumes, you always have the next answer or the next potential answer."
The chatter in the draft room when the Cardinals selected Joe Kelly two rounds after Miller described him as "a big arm" and "raw talent," despite lacking the derrick frame. At 6-1, he was "freaky athletic" — Kelly could jump from flatfooted under a hoop and dunk the basketball — and his 5.65 ERA as a closer for California-Riverside misrepresented a 98-mph fastball and mechanics ripe for refinement.
Pitching coordinator Tim Leveque describes Kelly and 23rd-round pick Rosenthal, a former shortstop, as having "a blank canvas aspect."
"You cannot teach athleticism or velocity," Kelly said, "but you can teach a pitcher to hone it in."
When DeWitt steered the organization toward a draft-and-develop emphasis related to the inevitable surge in free-agent costs, a jagged fissure shot through baseball operations. The major-league staff spoke a different language than that in the minors. The friction in the front office catalyzed an internal big bang, and a new look to the organization emerged. Mozeliak became general manager on Halloween 2007, and through the next several years united majors and minors, meshed amateur and pro scouting with analytics, and streamlined the organization.
Randy Niemann, a former big-league pitching coach who joined the Cardinals as a Class AA coach for 2013, suggested that "everybody wonders how these young kid pitchers get to the majors and perform the way they do? Well, (it's) the continuity in the culture."
Through the organizational manual the club authored, "The Cardinal Way," they also codified expectations and harmonized the vernacular so that every level speaks the same. The development influence of former pitching coordinator Brent Strom, now Houston's pitching coach, and the big-league expertise of longtime pitching coach Dave Duncan coexisted. In the "Way," the Cardinals discuss pitching to "soft contact" or "weak contact." This isn't limited to grounders. They stress the importance of routine between starts, and there is some element of conditioning or strengthening on each day. The "team within a team" concept preached by Chris Carpenter at the big-league level has been adopted by farm director Gary LaRocque this season for rotations in the minors.
The Cardinals "mandate" that pitchers throw changeups to hitters on both sides of the plate, not just the usual lefty to righty and righty to lefty.
The major-league staff welcomes young pitchers, like Rosenthal two springs ago and teen phenom Alex Reyes briefly this spring, to get a feel for them as pitchers and people. Boston manager John Farrell said the Cardinals' willingness to use young pitchers in a World Series "shows they know a lot about those individual players as people and that they are good bets to handle the emotions." The section in the "The Cardinal Way" on poise includes a quote from pitching coach Derek Lilliquist on the tenets of "game presence."
And when the young pitcher arrives, the pillars of the staff await.
There is ace Wainwright to lead by example, inviting a young pitcher like Miller a year ago to offer suggestions to the group. And there is catcher Yadier Molina, who Lilliquist calls the young pitchers' security blanket. The Gold Glove winner is the "rudder the talent flows around," Darling said.
Toss in October experience and it's a system difficult to duplicate because, even as power proliferates through the game, Wainwright and Molina are indigenous to the Cardinals.
"Being the perennial postseason organization the Cardinals are, it stands out how consistent the wave of organizational talent steps in and makes an impact," said Kevin Jarvis, a former Cardinals pitcher and now a scout with San Diego. "For those of us in the game, what they have done should be analyzed, evaluated and then emulated."
The White Sox had their eyes on Martinez last summer. When the Cardinals talked with Baltimore about shortstop J.J. Hardy, the Orioles wanted a starter, reportedly Miller. Most conversations with Colorado about Troy Tulowitzki involved a power reliever. The pitching-starved Angels tried to pry loose a young arm in the David Freese-Peter Bourjos trade.
Teams gossiped that the Cardinals "overvalued" their precious pitchers.
"I'm not running from it," Mozeliak says.
Pitching is baseball's Apple stock.
Teams that have it, keep it. Teams that don't often have to overpay.
"When you think about the top (10) teams in baseball, they tend to be built on more than one starter," Mozeliak said. "When you have a strong five that you've identified, it in essence makes everybody else stronger because you're not forced to retrofit midstream. … Whereas a team that lacks that guy, that ace, is always sort of swimming upstream against the current, instead of creating a current."
The speed the Cardinals changed their current is striking. From 2005 to 2011, the Class AAA Memphis rotation produced two drafted pitchers who reached the majors as regular starters, Lance Lynn and Jaime Garcia. From the 2012 and 2013 Memphis rotations, four homegrown starters emerged who will impact this year's club.
Their rapid rise creates what manager Mike Matheny called "a gap" between this generation and the next crest. The Cardinals believe they have a system in place to sustain competitiveness, but this a rare crescendo of pitching talent. And youth needs patience.
"We realize there's probably not enough attention paid to the fact of how difficult the task we have with these young guys," Matheny said. "Yes, we're talented. And we all appreciate the excitement that this team has right now. But the taste of success that the guys had last year does not automatically translate into future success. It's a matter of staying ahead of the curve."
As dazzling as he was in October, Wacha has had to develop a third pitch to counter a league of hitters that knows him now. As steady as he was as a 15-game winner last season, Miller has to prove more efficient as a workhorse starter. The talent is there, but after bulwark Wainwright only Lynn has a 200-innings season. The Cardinals believe they have developed their young pitchers to both grow on the job and contend.
They will go where their arms point them.
"I like to think that the team that took me was the team that wanted me the most," Miller said while sitting in the clubhouse this spring. "Look around. It's pretty clear what we have going on here.
Keep up with the latest Cardinals coverage from our award-winning team of reporters and columnists.