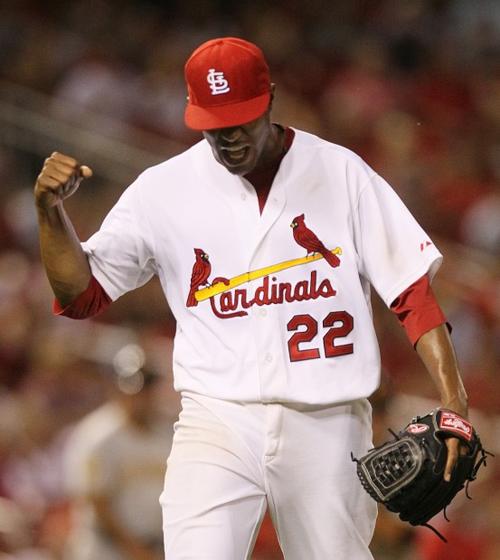 Four days shy of his 28th birthday and 27 starts into the ninth season he's been in the major leagues, there isn't much Edwin Jackson hasn't encountered. He's pitched for six different teams, slogged through innings with a losing club and helped propel a few winning ones.
Parachuting into a pennant chase is old hat for a righty who made his big-league debut on his 20th birthday.
"I've played in a World Series. I've played in the postseason. I've played through everything. I have had a chance to play in playoff races," Jackson listed. "Nobody is going to complain about coming to a team that is in playoff contention. It always makes it interesting."
Jackson landed with the Cardinals at the non-waiver trade deadline as the centerpiece of a deal that sent Colby Rasmus to Toronto, and he's been every bit the arm advertised as a boost to the rotation. On Sunday, Jackson pitched seven innings and struck out eight — a high during his time with the Cardinals — in an outing that was squandered for a 3-2 loss at Busch Stadium. In eight starts for the Cardinals, the hard-throwing righty has pitched at least six innings and allowed two or fewer earned runs in seven of them.
It's been a strong finish for the righty, although it hasn't had the desired effect of getting back to the postseason. But it could position him well for one place he has not been in baseball.
"That will be interesting," Jackson said Sunday after receiving a no decision that kept his career record at 59-60. "My philosophy has been to never be one to worry about what I can't control. I would like to go somewhere where I can take the ball every five days, pitch as best I can, win for whatever team I'm with. I understand the business aspect of the game. I understand being moved around. ... I've experienced it all at a young age."
The Cardinals have several looming decisions with their starting rotation for 2012, not the least of which is addressing the $15 million option on Chris Carpenter's contract. The Cardinals have control of five starters for 2012, including Adam Wainwright, or they could look to clear a spot (and salary) to discuss reshaping the rotation. Jackson has made a solid impression, but the expectation is that the righthander and his agent, Scott Boras, will explore a market thin on standout starters.
Jackson is on target to complete a fourth consecutive season with at least 10 wins, at least 30 starts and at least 180 innings pitched. His 2.98 ERA since the All-Star break ranks 14th in the majors and is nearly a run better than the next closest starter for the Cardinals.
"Talented, learned about pitching through the years," manager Tony La Russa said before Sunday's game. "He's very bright. He mixes very well with the (clubhouse). He's not one of those 'Dig Me' guys."
The improvements he's made during his eight-start turn with the Cardinals were part of how he pitched through seven innings Sunday. Jackson flipped a hanging slider to Edgar Renteria with one on in the first inning and watched the veteran shortstop sky it over the wall in left field for a quick 2-0 lead. Jackson has been prone to lose his pace and work laboriously through innings, especially with runners on base. His pitch count has climbed as a result. He got through seven Sunday on 113 pitches, and he lowered his ERA with the Cardinals to 3.44.
"He just made the one mistake and other than that he pounded the zone," catcher Gerald Laird said. "When he gets in trouble, he tends to be too fine. He's got so much life on that fastball. He blew some guys away with the fastball (Sunday). When he does that, works ahead, and pitches off his fastball he's in total command."
Jackson limited the Reds after Renteria's homer by striking out the shortstop in the second inning with the bases loaded and keeping reigning NL MVP Joey Votto hitless in four at-bats. Jackson's last pitch of the game — a slider set up by back-to-back 98 mph fastballs — caught Votto looking for strike three. Jackson struck out the side in his final inning.
That was the kind of command he had late in Sunday's game.
Traded five times before his 28th birthday, he hasn't had that kind of command in his career — until this winter.