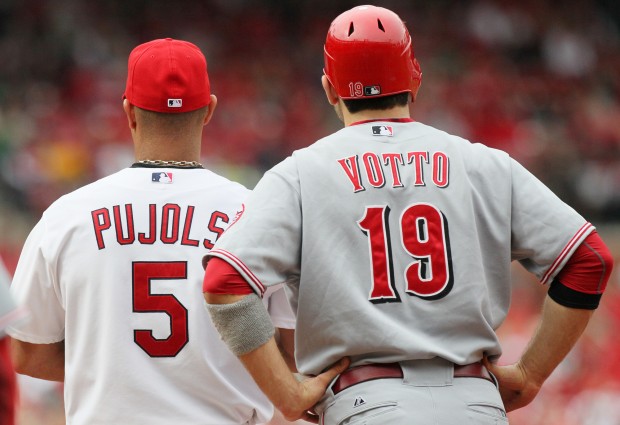 TOWER GROVE • Several springs ago in Roger Dean Stadium's visitors' dugout, Los Angeles Dodgers manager Joe Torre was wearing a new uniform but telling a familiar story.
It's his go-to tale any time the name Bob Gibson comes up.
"Bob wouldn't talk to anybody wearing an opposing uniform," Torre recalled. "He wouldn't even talk to them at an All-Star Game. ... I was his catcher (at one), and he wouldn't talk to me."
Torre then went on to talk about how Gibson refused to acknowledge anything his catcher said to him before or during that 1965 All-Star Game. In the shower after the game, Torre purposefully walked up to Gibson and congratulated him on the game. Torre recalled this part of the story in a recent issue of GQ, writing that "he didn't acknowledge I was even in the neighborhood. ... Baseball was war for him."
1. This report couldn't have come at a more interesting time for the Cardinals. Already this week Albert Pujols has stirred Chicago with his hug(s) for Cubs general manager Jim Hendry before Tuesday's game. Today the Cardinals return to the scene of another crime, Cincinnati. It was during the Cardinals previous visit to Great American Ball Park that Johnny Cueto went Cobra Kai on the Cardinals and raked Chris Carpenter's back with his cleats and kicked Jason LaRue in the head. The resulting concussion hastened LaRue's retirement. Sometimes a hug is just a hug, as it was in Chicago, but a hug could be treason this weekend. There is respect between some players but little love between these teams.
How the Cardinals will handle facing Cueto for the first time since the brawl - "take it out on his ERA" seems like a likely motto - is one question inside a series with first place on the line. It's Torre's new job description to be watching. It doesn't take a memo or an anecdote from Torre to know how Gibson, or others from his generation, would have responded to The Great Wrigley Embrace. It's not for them, but they might have shrugged off the whole hug-abaloo.
There are, as the Cardinals know personally, more serious transgressions that happen behind home plate than a hug.
2. The Cardinals are the first team in the majors to score 200 runs this season, and with 202 they lead the majors. But the club's offensive muscle is most apparent on the road, where with 19 games away from Busch they lead the majors in a majority of the significant statistical categories. And it's not really close:
-- .318 average ... only team better than .300
-- .383 OBP ... 23 points better than next-closest club
-- .495 SLG ... next closest in NL is .425
-- 225 hits ... 35 more than next-closest NL team has in 20 games.
-- 52 doubles ... 20 more than any other NL team.
-- .878 OPS ... Cubs are second in NL with .748
3. The Cardinals' closer carousel remains the biggest bullpen topic for the Cardinals but what about this one: What if Kyle McClellan was still a reliever? Say, manager Tony La Russa had swayed pitching coach Dave Duncan during spring training and the Cardinals had kept McClellan as a stabilizing force for the relief corps ... would he be the closer, now? That's the question behind today's poll, which wonders where McClellan would have had the largest impact on the 2011 Cardinals - as the 5-0 starter he is or as the closer he may have become?
4. On MLB Network's highlight show "Quick Pitch" they put Jaime Garcia's 5-0 start in historical context by comparing him against the other Cardinals' starters in the past six decades to go 5-0 in their first eight starts. The group ranges from a guy who started the season as a reliever to Hall of Famer Bob Gibson to a rookie named Joe Magrane. The eight-start totals for the Cardinals, and how each finished (ranked by ERA through the first eight starts):
Scott Terry, 1988 ... 7-0, 1.58 ERA* ... Started year as reliever
Jaime Garcia, 2011 ... 5-0, 1.89 ERA ... TBD
Woody Williams, 2003 ... 5-0, 2.21 ERA** ... 18-9, 3.87 ERA
Bob Gibson, 1965 ... 7-0, 2.48 ERA** ... 20-12, 3.07 ERA
Joe Magrane, 1987 ... 5-0, 2.57 ERA ... 9-7, 3.54 ERA

* First start didn't come until August. ** Williams got to 7-0 before his first loss. Gibson reached 8-0.
5. Spent some time looking through Albert Pujols' splits so far this season, trying to find where there is an obvious gap between what he's done in 2011 vs. 2010, 2009, 2008, etc. He's batting .209 this season on fly balls, but that's not all that different from the .234 in 2008 or .226 in 2009 and so on. This season, he's batting .632 and slugging .842 on line drives, which is substantially different from previous years:
2010 ... .791 BA and 1.218 SLG
2009 ... .818 BA and 1.556 SLG
2008 ... .810 BA and 1.333 SLG
2007 ... .814 BA and 1.176 SLG
2006 ... .796 BA and 1.509 SLG
2005 ... .763 BA and 1.134 SLG
While those are striking, I found another split that was as unexpected as it was different from previous years. It's going to take some yellow legal pad work, so check back later for that one.
6. On this date in 1958, Stan Musial got his 3,000th hit, becoming the eighth player in major-league history to reach that number, but the only one to do it during an extended era in the game. From some book written by some baseball writer about moments and places in Cardinals history:
Stan Musial wasn't supposed to play the day he got his 3,000th hit. On a brief two-game road trip to Chicago to face the Cubs, Musial got a base hit in the first game of the series to give him 2,999 in his career. After the game, he told coach Terry Moore that he'd like the save 3,000 for the home crowd. Why do it at Wrigley Field when a home stand at Sportsman's Park was just a day away? Manager Fred Hutchinson agreed, and Musial wasn't in the lineup on May 13, 1958. But he wasn't long for the bench.
Musial entered the 1958 season 43 hits shy of mark he'd been privately eying for a decade. It had been 16 years since Paul Waner reached 3,000 and it would be 12 more before Hank Aaron and Willie Mays did it in 1970. Musial was an island - the lone 3,000 hitter in nearly three decades of baseball. From Opening Day of '58, he sped toward the milestone. Musial had 42 hits in his first 87 at-bats of the season, a .483 average. Not really the kind of bat that can stay shelved in a close game against a rival. With the Cubs leading 3-1 in the sixth and a runner at second, Hutchinson sent Musial up to pinch hit for pitcher Sam Jones. The Hall of Famer with the screw-top swing lashed Moe Drabowsky's pitch to the left-field corner for a stand-up double. The shot keyed a rally and the Cardinals won, 5-3. Musial became the only member of the 3,000-hit club to reach in a pinch-hit at-bat.
"I never knew that hitting a little ball around could cause so much commotion," he said after the game.
While Musial had envisioned a 3,000th-hit celebration special for the hometown fans, what he got was a chance to share the career achievement with the region. The train trip back to St. Louis became a congratulatory tour, stopping a couple times in Illinois so crowds could cheer and serenade The Man. When the train reached Union Station in St. Louis, a crowd was waiting - even past midnight. Musial saw the number of kids there to greet him and yelled, "No school tomorrow!"
7. By putting the "acting manager" tag on Joe Pettini instead of the "interim manager" title, the Cardinals have assured that these wins still go on La Russa's record as he powers toward No. 2 all-time. That means any (if any) wins the Cardinals get this weekend opposite Cincinnati Dusty Baker will count in the La Russa vs. Baker stats. The two rival managers will likely face each other for the 200th time at some point this season. The next time will be their 195th game against one another, and Cincinnati Enquirer baseball writer John Fay recently counted up Baker's record at each of his three stops against La Russa:
with San Francisco ... 38-33
with Chicago Cubs ... 37-34
with Cincinnati ... 20-32
Total ... La Russa leads, 99-95