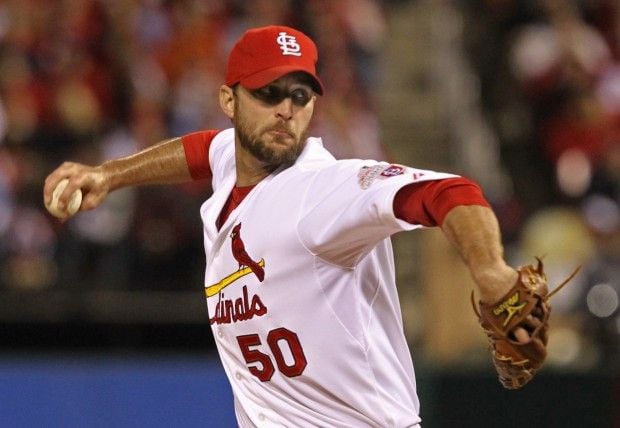 Removed from the game but not unplugged from it, what with a son who still plays and a high-speed Internet connection, former Cardinals pitching coach Dave Duncan has watched with interest the ever-escalating cost of starting pitchers in the past 12 months.
He knows what it means for his former team.
This market is moving Adam Wainwright's way.
"It's hard to believe. It's pretty crazy now," Duncan said from his home in southern Missouri, adding wryly: "It comforts me to know how bad the economy is supposed to be and we hear it is, that there is so much money smart business people are passing out."
Earlier this week, the Los Angeles Dodgers signed Zack Greinke to the richest contract ever for a righthanded pitcher, at six years, $147 million. It is the third contract for a starting pitcher since spring training to eclipse $125 million. Greinke's signing came at the same time the Kansas City Royals traded Wil Myers, Baseball America's minor league player of the year, in a package that yielded James Shields, who is now their ace. Prices are high for pitching. The Cardinals are not shopping for a starter this winter, but they are far from a detached observer.
Wainwright, a two-time Cy Young Award finalist, is entering the final year of his contract, and both sides have expressed an interest in discussing an extension. General manager John Mozeliak said recently the club would not discuss any negotiations publicly, a position echoed this week by Wainwright and his agent, Steve Hammond, who wrote in an email to the Post-Dispatch only that he expects to discuss an extension with the Cardinals during spring training.
Before the winter meetings a club official said the two sides had not held "substantive" talks yet this offseason.
That spring-oriented timetable follows the one the Cardinals had for Yadier Molina this past year and Wainwright previously. The Cardinals agreed to a five-year, $75-million extension with Molina in March that kept him from becoming a free agent this winter. Back in March 2008, Wainwright and the Cardinals negotiated an extension that became his current six-year, $36-million deal. The year he became a free agent, Albert Pujols set the start of spring training as the deadline for negotiations on an extension that didn't happen.
In the meantime, this pitching market moves on.
"I can honestly say it's amazing to see what is happening," said former Cardinal pitcher Mark Mulder, an analyst for ESPN the past two seasons. "When you give somebody $147 million and he's not your No. 1 pitcher … Greinke is a very good pitcher. But if Greinke is worth $147 million then is (Dodgers' ace) Clayton Kershaw worth $210 million? Then you start to compare Wainwright, who is also a true No. 1. What could he possibly get?"
Greinke's contract adds to a salary structure that was already rising for elite pitchers. The righty has a Cy Young Award from 2009 and a 3.77 career ERA pitching mostly in the American League, but has not had repeated dominant seasons. Since 2008, Greinke's 123 ERA+ — a measure that compares a pitcher's ERA against his peers and ballpark conditions with 100 being average — ranks ninth among starters with at least 1,000 innings. San Francisco's Matt Cain, who Greinke replaced as the righty with the richest contract, ranks eighth with a 126 ERA+.
Wainwright missed all of the 2011 season recovering from elbow surgery and returned with a 14-13 record and 3.94 ERA in 2012. Among pitchers with at least 750 innings since 2008 his 133 ERA+ ranks sixth. Cain ranks 10th and Greinke 13th.
"I think (Wainwright) is a top-flight pitcher, and I don't think he's too far off Zack Greinke or Matt Cain, and he'd be right there with them if he didn't miss a season," former Cardinals infielder Skip Schumaker said. "This guy is a beast. He's easily in that same class."
A significant factor that will influence where he fits within that class of contracts is age. Since 2008, five pitchers have signed new deals or extensions worth more than $125 million and lasting at least six years. Johan Santana received a six-year, $137.5-million offer from the New York Mets and Yankees lefty CC Sabathia signed a seven-year, $161-million contract. Cain's six-year, $127.5-million set a new record for righties. Cole Hamels and the Phillies extended his deal six years for $144 million. This week came Greinke's contract.
At 29, Greinke is the oldest of the five at the time he signed.
Wainwright will be 32 at the end of his current deal.
The above contracts show a market that puts elite pitchers at an annual-average salary of at least $20 million. It's the length for a pitcher in his 30s that may not fit those popular six-year structures. This winter, 34-year-old Kyle Lohse, for example, could help define the trend. Salaries aren't set in a vacuum. The marketplace rules.
On the horizon are possible extensions for Detroit ace Justin Verlander and Kershaw. An MVP and Cy Young winner, Verlander is signed through 2014, when he'll be 31. Kershaw can be a free agent at age 26 after the 2014 season. The Los Angeles Times wrote that Greinke's $24.5-million average salary could position Kershaw to be the first $30-million-a-year pitcher. If this seems like risky spending for a position that is one ligament away from unraveling, consider the flood of television revenue coming into the game and the rarity of a true ace.
"I always felt like it was real important that you have a leader of the pitching staff," Duncan said. "You need somebody that the rest of the team believes in. You knew you were going to win the day he pitched. … There are certain guys who are special, like a Chris Carpenter, like an Alan Benes, like a Woody Williams, a Dave Stewart. These are guys who give you more than just what they do on the field. Those (kind of pitchers) are very valuable."
As more large-market teams like the Dodgers start to increase payroll with the help of skyrocketing local-cable rights fees, clubs like the Cardinals will seek avenues other than free agency to compete. Chairman Bill DeWitt Jr. said it is why the club has invested in its farm system, one that's produced budding prospects like Shelby Miller and Trevor Rosenthal. DeWitt said the team plans to build from within while also seeking to "lock in" core players, like they did with Molina and Matt Holliday.
Wainwright is where that approach meshes with the ace Duncan described.
He is part of the core with a contract set to expire, and, for Duncan, he's key to nurturing that next generation.
"They have young arms they really like, and I don't blame them," Duncan said. "You don't know what Carpenter's situation is going to be, but without somebody to set the tone, lead the way in all aspects — conditioning, lifestyle, preparation, dedication, all of it — without a Wainwright around who is going to be that guy? It's important to have Wainwright."