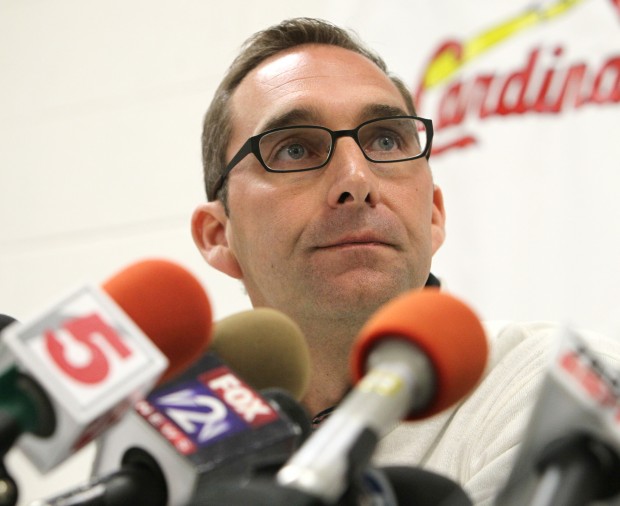 JUPITER, Fla. • About five years ago, John Mozeliak and others in the Cardinals front office sought to satisfy their curiosity by quantifying a gut feeling.
Year after year, it seemed players in the final season of their contract defy coincidence and surge toward free agency. Money motivates is the theory, and players perfectly time their peak year. The Cardinals analysts looked at whether these walk-year wonders could be measured beyond anecdotes. Mozeliak said they found no proof of a statistical spike.
"Intuitively it feels like it does. A guy's on his walk year and boom!" Mozeliak said. "Historically, that's not the case. It doesn't give you quite the bounce that you feel in your stomach."
Even before Wednesday's deadline for a contract extension with three-time MVP Albert Pujols passed, a few of his teammates had romanced about what a contract-drive phenomenon would do to his numbers. Cardinals Chairman Bill DeWitt Jr. acknowledged a risk of not signing Pujols before the season was that his production could only enhance his value. Though, DeWitt added, it's difficult to imagine Pujols doing more.
After all, using a favorite word from Wednesday's news conference to announce the absence of a deal, what's a notch above "historic"?
Is there a peak Pujols hasn't crested?
"I don't think (the walk year) is that big of a deal," said the last Cardinal to play out a contract with a jackpot coming in free agency, outfielder Matt Holliday. "Maybe as a player you put a little extra pressure to put up the normal season and maybe even better because you're going into free agency. Maybe that's the situation for some guys. ... But if some guys have something left in the tank that they go to for their walk year, then shame on them. I don't think there are magic words that make you go extra hard in the walk year.
"I know that won't be the case for Albert. He's the same every year."
Holliday contributed his own contract kick to walk-year legend. In 2009, as he neared the end of his contract, the left fielder hit .353, slugged .604 and drove in 55 runs in 63 games with the Cardinals. That helped push the team into the playoffs, and it contributed to a body of work that scored a seven-year, $120 million deal with the team three months later. Kyle Lohse went 15-6 on a one-year deal in 2008 that netted him a four-year contract worth in excess of $40 million.
Other examples abound, including Exhibit A for all walk-year studies, third baseman Adrian Beltre. In 2004, he timed his breakout year — a league-high 48 homers when he'd never hit more than 23 before — with his contract expiration and landed a $64 million deal. He never hit more than 26 homers or drove in more than 100 runs again — until 2010, at the end of another deal. He translated last year's All-Star turn in Boston into an $80 million deal with Texas.
It's those examples that stand out while the players who falter are forgotten. For every Beltre there's a Derek Jeter, who had a career-low batting average in his 2010 walk year. For every Jack Clark (35 homers and career-high 106 RBIs in 1987), there's a Terry Pendleton (six homers and 58 RBIs in 1990) on the eve of free agency.
Selective memory more than statistical fact fuels the walk-year theory.
"There appears to be something there, but, A), I'm not sure how much of something and, B), it can possibly be attributed to random noise," wrote author Dayn Perry in an e-mail Wednesday. He composed an essay on walk-year performances for Baseball Prospectus' Baseball Between the Numbers. "Sure, it's possible that players in the main bear down a little more in walk years, but outside of the rare truly fluke-ish performance, you know what you're getting."
Perry's study looked at 212 "prominent" free agents from 1976 to 2000 and discovered there was a slight "cumulative performance spike" in the season before a contract expired. The selection of players could have influenced the result. Other studies with a wider pool of players did not find as significant an increase. Sure, some individuals stood out, but no more so than career years that dot baseball without the influence of a contract year. Phil Birnbaum presented a study at a Society for American Baseball Research convention in 2006 that found "no evidence of any effect." Mozeliak didn't remember the inspiration for the Cardinals' project, but it also proved that gut feeling wrong.
In 2010, Bloomberg audited 177 walk-year players from the previous nine years and found their batting average, slugging percentage and on-base-plus-slugging-percentage (OPS) didn't show a contract lift.
"It's pretty much a myth," Forbes.com wrote of the results.
Manager Tony La Russa finds the truth in motivation.
"Money and security. That's human nature," La Russa said. "It's important to some, and it's irrelevant to others. It's irrelevant when a guy is going to settle for less, but more importantly, it's irrelevant when a guy is playing to his max all of the time, like Albert."
In the days leading up to the deadline and Pujols' expected arrival today, his teammates have fielded the questions about whether his status would be a distraction this season. He has the real answer. Holliday said the effort doesn't change in a walk year, but the thinking might as "you're facing a possible change in your life, and you're looking at the end of a deal." What effect, what bounce or what drag that has on Pujols won't be clear until the season.
Pujols has strung together a decade of peak years. It would be hard to discern between a walk-year phenomenon and just the phenomenon.
"We all have expectations of his performance because we've gotten spoiled," DeWitt said Wednesday. "He's had 10 historic years. I hope he does put up MVP numbers and post the numbers that he's done the last 10 years and that's what we're dealing with (in negotiations) at the end of the season. That means we will have had a wonderful year."