WEST PALM BEACH, Fla. • Carlos Martinez's step back could be Dakota Hudson's step forward.
Martinez showed up in the Cardinals' clubhouse Tuesday in Jupiter, Fla., with his right arm in a sling. His latest setback will cost him an additional week as the righthander tries to rebound from a weak right shoulder, which plagued him much of last year.
Martinez, who had been out one week of a two-week, non-throwing program, received a platelet-rich plasma injection Monday at Dr. James Andrews' clinic in Pensacola, Fla. Manager Mike Shildt said Tuesday that Martinez would be out two weeks from now before he is allowed to throw again. Martinez said he expected to be fine in two weeks.
Shildt said the findings of the second opinion were "very, very similar, as far as the imaging. Good news that the second opinion validated the first opinion. Just a little more aggressiveness with the shot," Shildt said.
Martinez's availability for opening day March 28 certainly is in question inasmuch as he won't be throwing until March 12 or so. But Shildt didn't eliminate the possibility of Martinez being able to relieve at or near the start of the season.
For the moment, there is a starting slot available and Hudson, impressive as a reliever last year, will get his first start of the spring Wednesday, to be followed in that game by lefthander Austin Gomber, who started and relieved last year.
"(Hudson) has been built up as a starter and he's definitely in the mix for that opportunity," said Shildt. Hudson was voted the top starter in the Pacific Coast League last season at Memphis.
And, as Shildt pointed out, "Austin Gomber won five games for us in August."
But Martinez says he has another option. Himself. As his new white Lamborghini was being unloaded from a truck and he was about to slide into the driver's seat at the Cardinals' complex in Jupiter, Fla., Martinez dismissed the relief possibility.
"I'm going to start, man," Martinez said.
WAINWRIGHT DOES WELL
Adam Wainwright tossed two perfect innings at the Washington Nationals in his first start of the spring season, a 6-1 Cardinals victory, and all was well.
"The difference today was that I was focused on command and trusting my stuff and last year I was focused on surviving," said the 37-year-old Wainwright. "Making a pitch and trying to make it to the next pitch."
Wainwright threw 13 strikes in 23 pitches as the Nationals employed more or less their regular lineup. He had one strikeout and induced three ground balls while reaching 90 mph with one offering.
Before the short trip from Jupiter, Shildt had said Wainwright was in his rotation. The latter said, "I try not to ever consider myself on the team already."
But Wainwright hasn't had just the support of his manager and pitching coach Mike Maddux.
"Guys have come up, one on one, telling me how much they're rooting for me," said Wainwright. "The other day Carp (Matt Carpenter) said, 'The ball's coming out of your hand great. You've got to challenge guys because you're going to get guys out.'
"When you hear that from an All-Star hitter, that gives me a lot of confidence."
Wainwright, when asked about his velocity, said he was more concerned with his variance of speeds, although he said, "I did notice that there was some action today that I've never had before — a couple of swing-and-miss fastballs.
"I could get it to the low 90s when I was starting but most of the time when I got you swinging at fastballs, it was because you were looking for something else. If you were geared up for a fastball, you usually didn't swing and miss a fastball."
After the game, when Shildt's previous comment was recalled — that Wainwright was in the rotation — the manager responded, "Why wouldn't he be? He's got every opportunity to be in the rotation."
Wainwright has admitted he was tempted several times to quit last season when his elbow wasn't responding. And now?
"I looked at one of our trainers (Chris Conroy) the other day and he said, 'How do you feel? And I said, 'Great. It doesn't make any sense,'" said Wainwright.
"I didn't feel great last year. I didn't feel great the year before. It doesn't make any sense. Just praise the Lord for that, move on and make the most of it."
AROZARENA SHINES
Paul Goldschmidt doubled for his first Cardinals hit when he connected to lead off a four-run fourth for the Cardinals. Francisco Pena, who had a double and single, drove in two runs to cap the rally and Randy Arozarena had three hits, was hit by a pitch, stole a base and drove in two runs.
"He's got tools," said Shildt.
Former Cardinals relief ace Trevor Rosenthal, the club's single-season record holder for saves at 48, got to 100 miles an hour as he worked a 1-2-3 fifth for the Nationals. But Rosenthal didn't face anybody with whom he played.
Rosenthal, who missed all of last season as he recovered from Tommy John elbow surgery, said he did peek at the scoreboard. "I was kind of surprised at how hard I was throwing," he said. "I didn't really want that, either. I just wanted to kind of ease into it. But I guess it happens."
---
1. MATT CARPENTER, Third Baseman
HOCHMAN'S VIEW: He's the anti-Vince Coleman, yet Matt Carpenter is perhaps the greatest St. Louis leadoff hitter since Lou Brock. For his career, Carpenter has had 2,627 plate appearances in the leadoff spot — he has a .287 batting average, a .389 on-base percentage and a .495 slugging percentage.
So his OPS at leadoff is .885. That's in 691 games, a little over 4.2 "seasons" of plate appearances. Think about that. Nolan Arenado's career OPS is .886.
2019 ZiPS projections for Carpenter: 26 HR, 75 RBIs, .252/.371/.484
2. DEXTER FOWLER, Right Fielder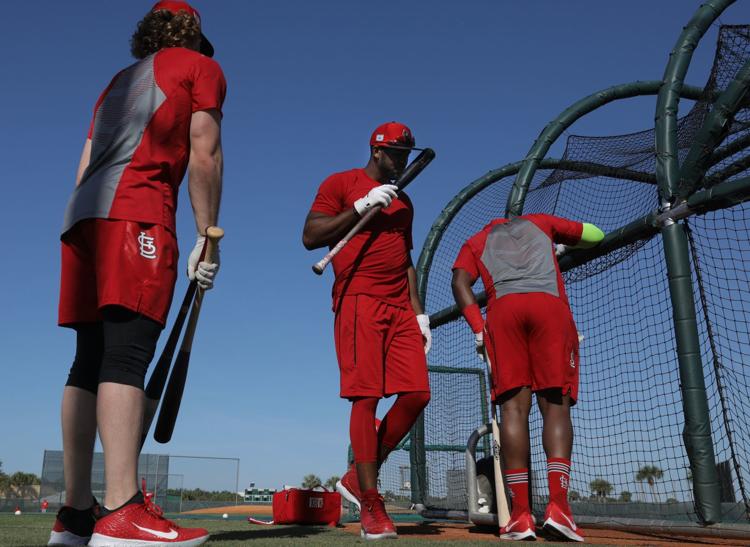 HOCHMAN'S VIEW: The veteran is due for a better season if only because it would be difficult to do worse. Fowler's 2018 is in the rear-view mirror. His switch-hitting gives manager Mike Shildt versatility in that No. 2 spot. Fowler's ability to walk is enticing in that spot, too. Before last season, Fowler's career OBP was .366.
The plan is to stack this OBP of Carp and Dex, to get baserunners for the mashers in the middle of the Cards' lineup.
2019 ZiPS projections for Fowler: 11 HR, 44 RBIs, .238/.337/.395
3. PAUL GOLDSCHMIDT, First Baseman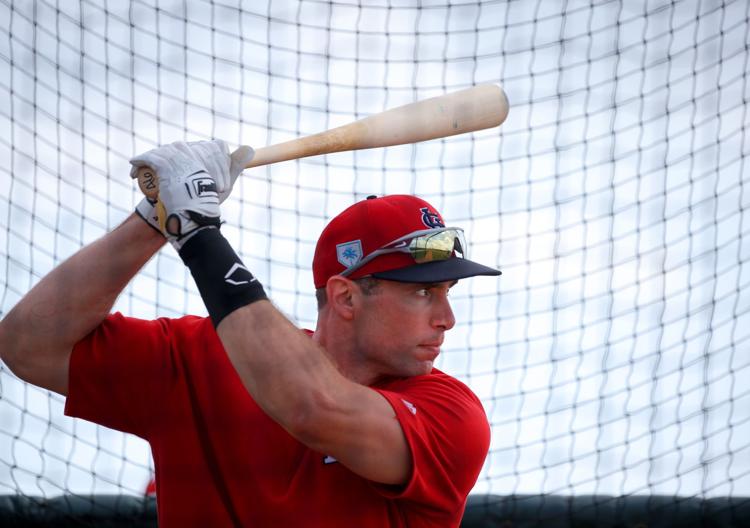 HOCHMAN'S VIEW: Let's get this out of the way — the baseball-reference.com projections for Goldschmidt this season have him at 26 homers, 84 RBIs and a slash line of .281/.383/.501. That makes for an .884 OPS, which would be Goldschmidt's worst since 2012. He should do better than this. But even if he does "just" this, it's still some extraordinary slugging, especially for what the Cardinals have had in recent seasons.
And while RBIs are a counting stat that aren't as important to advance statisticians, here's thinking that Goldy is at least in the 90s, if not triple digits.
2019 ZiPS projections for Goldschmidt: 27 HR, 89 RBIs, .270/.379/.479
4. MARCELL OZUNA, Left Fielder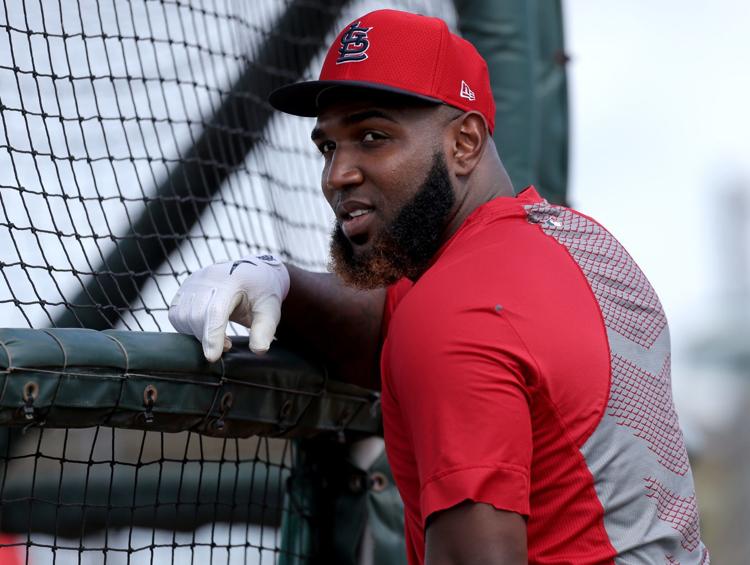 HOCHMAN'S VIEW: He's the most-important Cardinal, offensively, because of how he can sway overall production. Kolten Wong said in spring training that he expects "2017 Marcell" for 2019. That would make for an all-time Cardinal clean-up hitting season, and that's saying something.
But as long as Marcell is better than last season, a little more reliable, then here's thinking he will be the perfect bash brother to Paul Goldschmidt.
2019 ZiPS projections for Ozuna: 24 HR, 97 RBIs, .278/.330/.457
5. PAUL DEJONG, Shortstop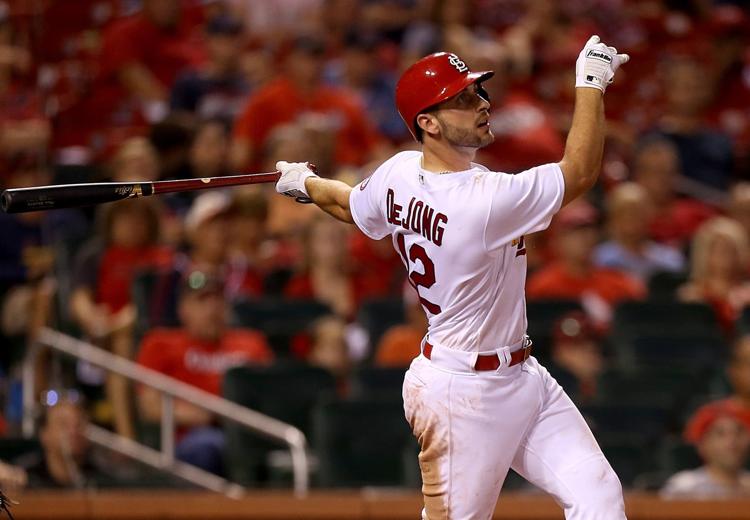 HOCHMAN'S VIEW: He's the second-best Paul in the entire lineup. DeJong homers at a very-enticing rate for both a No. 5 hitter and definitely for a shortstop. As a rookie, he hit 25 homers in 443 plate appearances, and last season he swatted 19 in 490, while regaining strength in his once-broken hand along the way.
He doesn't walk much — though he did improve from a 4.7 percent walk rate as a rookie to 7.3 in his second big-league season.
2019 ZiPS projections for DeJong: 22 HR, 77 RBIs, .247/.306/.437
6. YADIER MOLINA, Catcher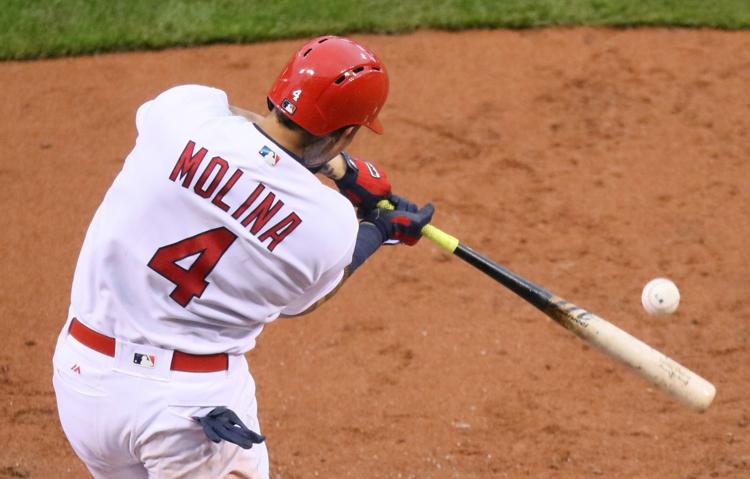 HOCHMAN'S VIEW: The ageless catcher should provide some offense in the sixth spot for St. Louis, especially after such a reassuring 2018 season. He walloped 20 home runs last season in just 123 games, which is impressive in its own right. And then consider that it was the second-most homers he's ever hit (22 in 2012) in his 15-year career.
If Molina has a similarly potent 2019, the Cards could could be among the league leaders in total homers — last season, they hit 205, fourth-most in the National League.
2019 ZiPS projections for Molina: 12 HR, 66 RBIs, .265/.310/.399
7. KOLTEN WONG, Second Baseman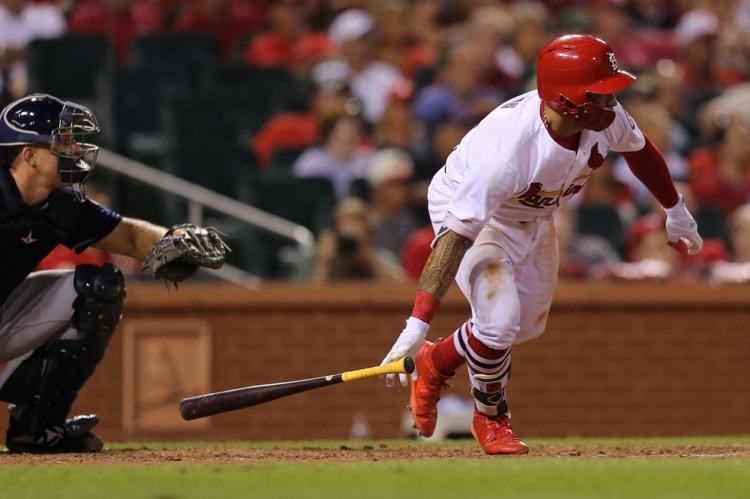 HOCHMAN'S VIEW: If you look at Wong's 2018 numbers from July 1 on, they make for the numbers of a guy who should be hitting at the top of the order — he slashed .319/.379/.466. But the Cards have the luxury of placing this sturdy hitter lower in their lineup. While manager Mike Shildt suggested he might switch Wong and No. 8 hitter Harrison Bader around, depending on lefty-righty matchups, you want Wong to maximize his plate appearances.
He's worked hard on his swing with new hitting coach Jeff Albert — Wong wants to make sure he's pouncing on hittable pitches, or selective swatting.
2019 ZiPS projections for Wong: 9 HR, 44 RBIs, .256/.336/.396
8. HARRISON BADER, Center Field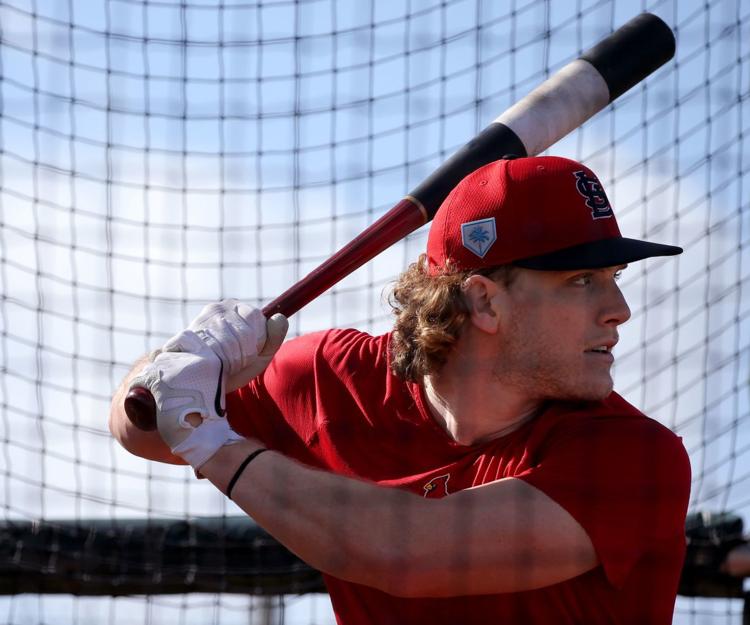 HOCHMAN'S VIEW: Can Bader hit consistently — or at least make an overall impact — for a full season? Last year he had 379 at-bats and batted .264 with a .334 on-base percentage. He's fantastic against lefty pitching, average against righties. And he struggled against the top opponents in the NL Central.
But like his famous locks, he's still growing as a hitter. And having his speed in the eighth spot isn't the worst thing. And, he's got some pop, hitting 12 homers last year.
2019 ZiPS projections for Bader: 15 HR, 50 RBIs, .242/.307/.399
---
HONORABLE MENTION: 'BLAZER' AND 'SPARKY'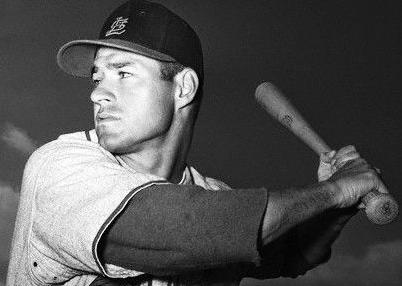 Don Blasingame, aka "Blazer," handled much of the leadoff duties from 1955 to 1959. In '57, he scored 99 runs from the leadoff spot, contributed eight home runs, 56 runs batted in and 18 steals. Maybe the shortstop's best overall leadoff season was '59. He batted .290 with a .362 OBP and .722 OPS in 689 leadoff PA and made the NL All-Star squad.
Blasingame went on to became one of the first prominent big leaguers to play in Japan. He also excelled off the field, marrying 1957 Miss Missouri Sara Cooper, the daughter of Cardinals teammate Walker Cooper. "You know you are getting too old when your daughter marries one of your teammates," Cooper said.
Sparky Adams, an infielder, had 553 at-bats as the leadoff man during the world championship season of 1931. He led the league in doubles (46), and 43 of them came from the first spot. The appropriately-named Sparky also had 15 steals and just 21 strikeouts. He batted .295 with a .343 OBP and scored 92 runs as the first batsman. But on Sept. 20 of his career year, Adams pulled a Geronimo Pena and sprained his ankle participating in a pre-game bunting and running contest. He played in only two World Series games and because of the injury was limited to 31 games the following season. Early in 1933, he was traded to Cincinnati.
10. TONY WOMACK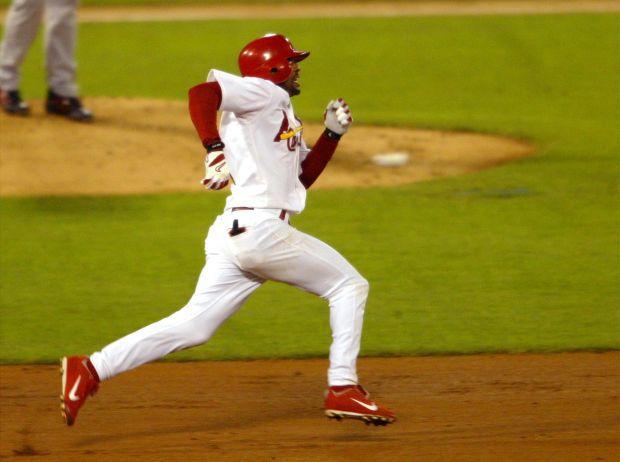 "Champagne" Tony spent only one season at second base for the Cardinals. But he helped them get to the 2004 World Series as a disruptive leadoff hitter, batting .308 with a .352 OBP and 25 steals from the top spot. Womack's .735 OPS was nothing to write home about, but he had five homers and 33 RBIs from the No. 1 hole.
9. LOU KLEIN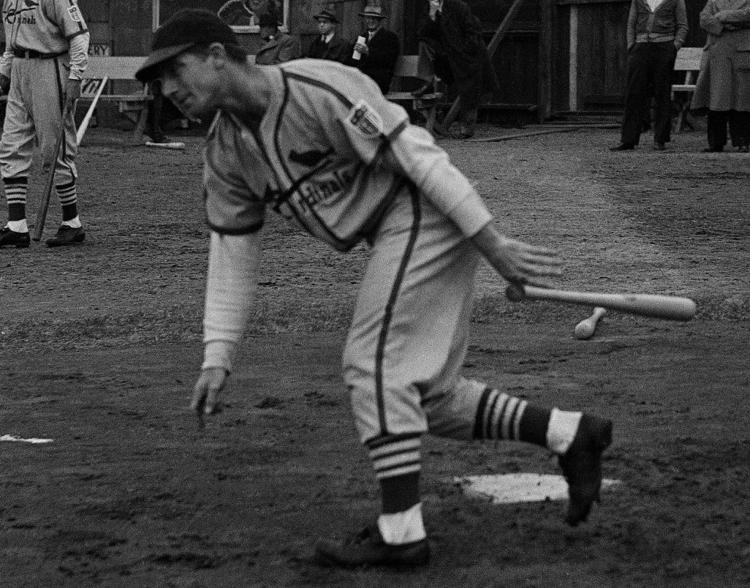 "What might have been" is the first thing that comes to mind where Klein is concerned. He had a terrific leadoff season in 1943, playing every inning at second base for the Cardinals. In 643 plate appearances as a leadoff hitter, Klein had 26 doubles, 13 triples, seven homers and 58 RBIs. He batted .288 with a .339 OBP and .752 OPS, scoring 86 runs.
But Klein spent most of the next two seasons in military service and when he returned in late 1945, he was competing with Red Schoendienst for playing time. Early in 1946, Klein joined Max Lanier and Fred Martin and jumped to the Mexican League. He was banned from the major leagues for five seasons and his career faded to black.
8. DAVID ECKSTEIN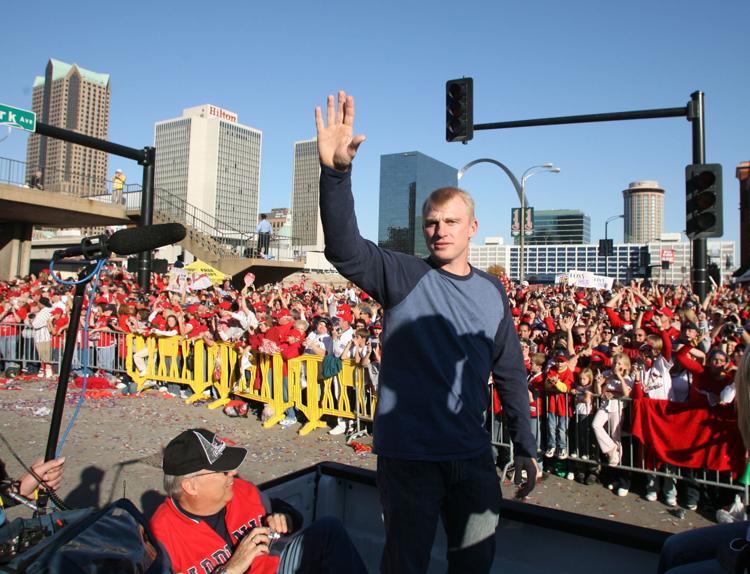 The scrappy "Eck Factor" was part of a World Series winner in 2006 and one of the more popular players in franchise history. His best season as the club's leadoff man was 2005, when he batted .295 with a .364 OBP, .761 OPS and 90 runs. The little shortstop had eight leadoff homers, 61 RBIs, 11 steals and only 44 strikeouts times in 711 PA. He also set an unofficial record for driving pitchers nuts by fouling off pitches.
7. CURT FLOOD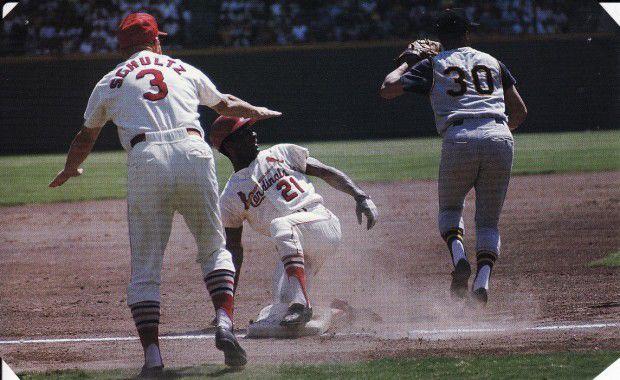 He is overlooked as a leadoff hitter because he spent a good portion of his career in an outfield with Lou Brock. But Flood (above) was a terrific leadoff hitter in the early 1960s before Brock assumed the position. In 1962, Flood had 468 leadoff PA and batted batted .319. He had eight homers, 44 RBIs, seven steals, a .367 OBP and .806 OPS. In '63, he had 519 leadoff PA. He scored 87 runs, plated 45 RBIs, stole 16 bases and batted .304 with a .346 OBP.
And in '64, it was Flood — not Brock — who handled most of the work, batting .308 with a .354 OBP in 691 PA at the top of the order. He had 195 hits and scored 93 runs. In 1965, Brock was inserted at the top of the order and Flood continued to shine elsewhere.
6. LONNIE SMITH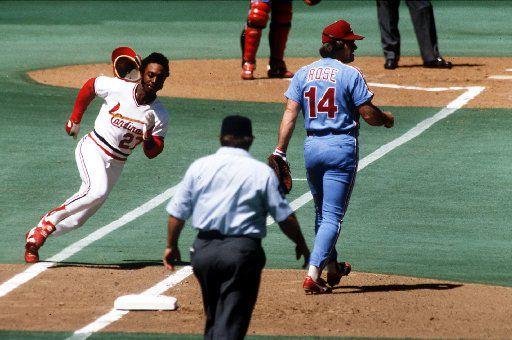 "Skates" had two memorable seasons as the leadoff hitter. In 1982, he helped spark the club to a championship and finished second to Dale Murphy in the Most Valuable Player voting. Smith (above) split time between the first and second holes that season, but he had nearly 100 more PA from the leadoff spot.
In that role, he batted .295 with a .379 OBP, an outstanding .811 OPS and 35 steals. He led the league in runs in '82, scoring 60 in leadoff fashion. In 1983, Smith had 393 leadoff PA, batting .328 with a .385 OBP and remarkable .850 OPS. He had 25 doubles, six homers, 36 stolen bases and 64 runs from the leadoff spot. Unfortunately, he also had some illicit drugs, the use of which caused him to miss a month of the season and caused Whitey Herzog to find Smith a new team.
5. RAY BLADES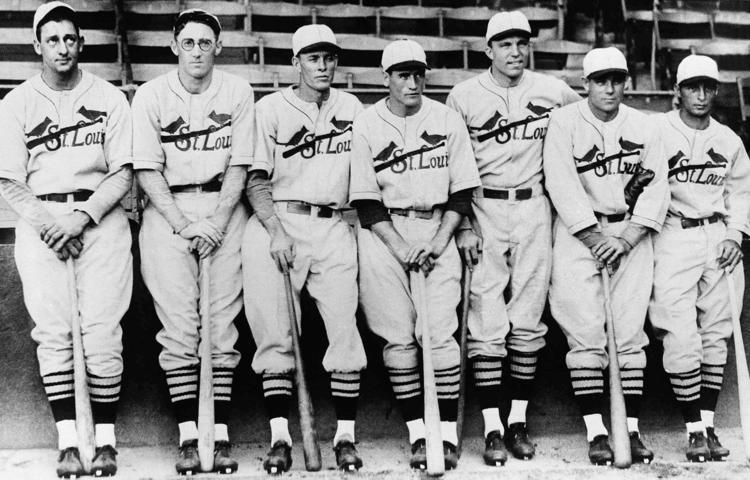 A native of Mt. Vernon, Ill., Blades was first scouted when Branch Rickey — then the manager of the St. Louis Browns — saw Blades playing in a sandlot game for the St. Louis City Championship.
Blades eventually made it to the big leagues, but his career was diminished by a severe knee injury. Still, in 1925 the little outfielder put together a fabulous leadoff season. He batted .325 at the top, with 35 doubles, eight triples, 11 homers, 52 RBIs and 104 runs. His OBP was a remarkable .415 and his OPS of .940 bordered on the ridiculous.
In 1926, Blades tailed off a tad, but the numbers were still spectacular. He batted .308 from the lead spot, with a .409 OBP and .874 OPS. He had eight homers, 43 RBIs and six steals for the World Series champion Cardinals.
4. PEPPER MARTIN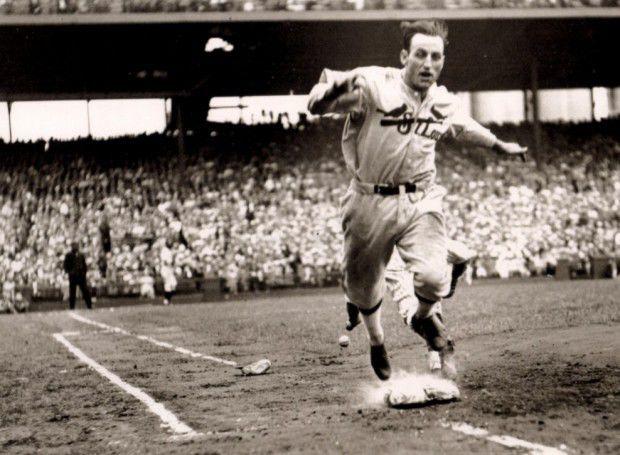 In addition to having one off the best nicknames in sports history, the "Wild Horse of the Osage" was a catalyst for two Gas House Gang championships in the 1930s. Martin (above) batted predominantly in the Nos. 6 and 7 holes in 1931. He became primarily a leadoff hitter in '33 and batted .322 with a .393 OBP and .846 OPS. He had 55 extra-base hits in the leadoff role, 118 runs and 51 RBIs. He led the NL in steals (25) and fanned just 45 times in 621 PA.
The following season, Martin sparked the Cardinals to another World Series win. His numbers weren't as overwhelming, but he batted .290 with 397 leadoff PA, scored 65 runs, collected 43 RBIs and 19 steals. In '35, Martin batted .296 with 106 runs as the leadoff man. He dropped to third in the order in 1936, when he batted .309 with 11 homers, 11 triples, 76 RBIs and 23 steals.
3. VINCE COLEMAN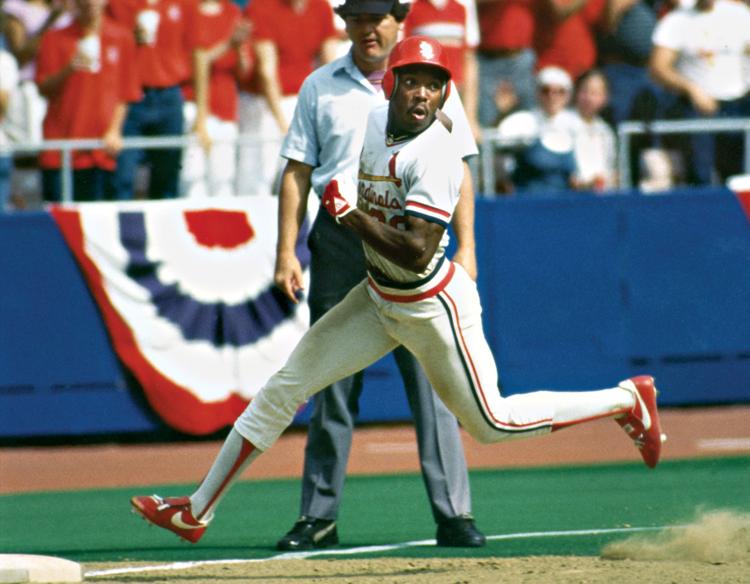 At his best, "Vincent Van Go" was as exciting as they come, and his best was 1987. In 701 leadoff plate appearances he batted .289 with 70 walks, a .364 OBP and .722 OPS. He stole 109 bases, had 10 triples and 43 RBIs as the Cardinals won a pennant. (The Cardinals also won the pennant in Coleman's first season, when he was named 1985 NL Rookie of the Year after stealing 110 bases.)
At his worst, Coleman once injured Mets teammate Dwight Gooden while swinging a golf club in the clubhouse, threw a firecracker into a group of autograph seekers (mostly kids) and got run over by the Busch Stadium tarp before a 1985 playoff game, suffering a season-ending injury.
For all of his stolen bases — and he had 739 as a leadoff hitter — the switch-hitting Coleman was not that wonderful at the top of the order. In 1,275 career leadoff PA, he batted .265 with a .325 OBP and modest .671 OPS. He also struck out 936 times.
2. MATT CARPENTER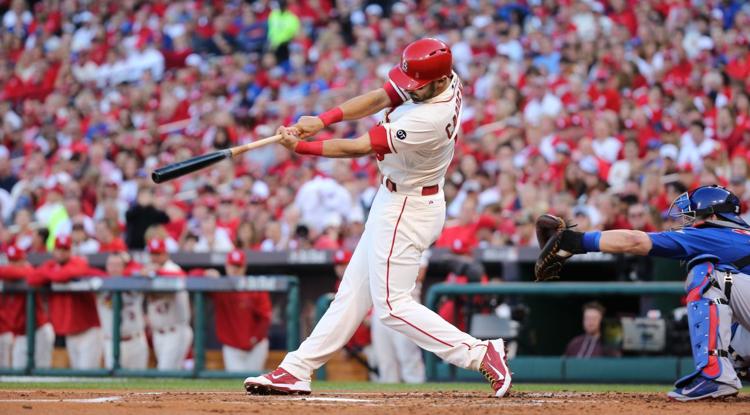 Updated with columnist Benjamin Hochman's 2019 assessment of Carpenter as a leadoff hitter:
He's the anti-Vince Coleman, yet Matt Carpenter is perhaps the greatest St. Louis leadoff hitter since Lou Brock. For his career, Carpenter has had 2,627 plate appearances in the leadoff spot — he has a .287 batting average, a .389 on-base percentage and a .495 slugging percentage.
So his OPS at leadoff is .885. That's in 691 games, a little over 4.2 "seasons" of plate appearances. Think about that. Nolan Arenado's career OPS is .886.
1. LOU BROCK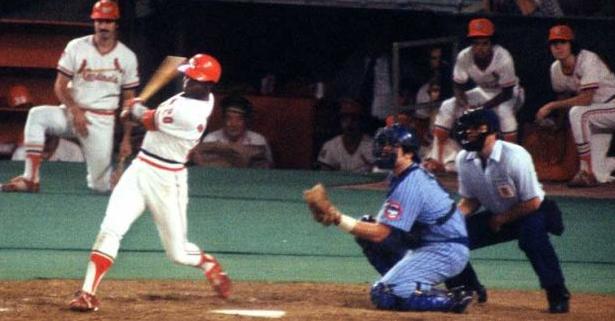 Acquired at the trade deadline in 1964, the "Base Burglar" emerged as a leadoff batter in 1965. Brock would hold the spot for 15 seasons while putting together a Hall of Fame career. In 1974, he stole a then-record 118 bases, but perhaps his best overall season as a leadoff hitter was in 1971.
In '71, Brock batted .304 from the top, added six homers, 53 RBIs and 61 steals. He had a .382 OBP, .795 OPS and 115 runs. Brock also struck out 97 times that season. In that regard, Brock was never the "perfect" leadoff hitter. During his career Brock fanned 1,302 times as a leadoff hitter.
But he also had a .291 leadoff average, 2,210 hits, 376 doubles, 108 triples, 108 homers, 640 RBIs, 1,254 runs and 762 stolen bases.