A team at full-stride, especially against opponents stuck in quicksand, the Cardinals gained another step in the division race with a few more RBIs from Marcell Ozuna, another streak of shutout innings from a young starter, and their 12th win in their past 15 games.
It's how long they've lost a leading player that gives them concern.
Second baseman Kolten Wong left the clubhouse Saturday in pain and on crutches, but hopeful of a quick return.
Late in the Cardinals' 6-0 victory against Colorado at Busch Stadium, Wong, one of the National League's best hitters since the All-Star break, fouled a pitch off his right big toe. The pain was so severe that Wong had to be helped off the field by a trainer, and the bleeding was so immediate that a hole had to be drilled into the nail to alleviate the pressure. Initial X-rays of the toe taken at the ballpark did not reveal a fracture, Wong said, and that offered a glint of relief to infielder's red, anguished eyes.
"I've fouled balls off my toe hundreds of times, but, god, this one takes the cake," Wong said. "Man, that was a lot of pain. I'm glad there's no fracture. This one I could barely put pressure on. I thought for sure it was broke. The whole toe just feels like it's broken."
Wong singled and scored on Ozuna's two-run base hit in the first inning, and that raised his August average to .328 while also offering rookie starter Dakota Hudson all the lead he'd need. Hudson hasn't been scored on in three starts, his shutout streak stretching to 18 2/3 innings – and counting. He handled six innings Saturday of the Cardinals' fifth shutout of the month and the 150th of catcher Yadier Molina's career. Since 1900, only three catchers in major-league history have started and completed more shutouts than Molina, according to Elias Sports Bureau.
The Cardinals, 12 games better than .500 for the first time all season, increased their lead to 1 ½ games ahead of the second-place Cubs. While the rivals deal with the surging Nationals, the Cardinals go for a sweep of the Rockies and what could be an 11-2 jag in August against losing teams. Along the way, Ozuna has returned from injury and raged with three consecutive multi-RBI games. Harrison Bader doubled the Cardinals' lead with a two-run homer in the second inning, and Paul Goldschmidt added his 29th homer, a solo shot, in the seventh.
"Dangerous," manager Mike Shildt said of having Ozuna and Goldschmidt flex at the same time, over several games. "It's a very dangerous team. Ozuna is hitting missiles all over the ballpark. Those guys are in a great spot. Clearly, they're cornerstones of what we do. If they're doing the damage that they're capable of doing that makes us very, very, very, very, very difficult to compete against."
The agents behind the Cardinals' rush into and then ahead in the standings have been Wong, with his .425 on-base percentage since the break, and two young starters, Jack Flaherty and Hudson (13-6).
Unable to meet or unwilled to stomach the coast of an appealing starter at the trade deadline, the Cardinals leaned hard on the arms they had. Once the kind of prospects the Cardinals avoided dealing at the deadline, Flaherty and Hudson have exceeded what was asked. They had to shoulder serious and substantial innings for the Cardinals to remain in the division derby. They've put the Cardinals in front of it. The club has lost only two of their combined 10 starts. Flaherty has allowed one run in August. Hudson pitched 6 2/3 no-hit innings against Milwaukee this past week, and combined the two righthanders have an 0.93 ERA this month, and they've allowed only 32 hits in 58 1/3 innings. They've struck out 60.
"Jack and Dak," Shildt said. "It's a nice duo."
The next evolution for Hudson is following Flaherty into the later innings of games by becoming the efficient starter his sinker allows him to be. Hudson's no-hit bid vs. the Brewers ended when he threw his 111th pitch in the seventh inning. On Saturday, he had 10 outs on his first 70 pitches. He had walked consecutive batters when pitching coach Mike Maddux visited him on the mound. Veteran Adam Wainwright tells young pitchers to try and keep the first digit of their pitch count and the inning the same. Be in the fifties in the fifth, the sixties in the sixth, and here was Hudson nearing the seventies in the fourth. Three pitches after Maddux's visit, Hudson got a double play to end the inning.
He got eight outs from his final 25 pitches.
"I really had to find it as the game went on and that includes aggression of what I'm doing," Hudson said. "That aggression instead of nibbling that inside corner to righthanders or outside to a lefty. With what I do, if I can force them into a situation where they feel like they have to swing, I'm going to throw strikes and maybe that saves me a few pitches and gets me a few more innings. I think that's where my development is going to come through."
Some of the same hitters who pushed them ahead early Friday night did so again Saturday – just in different ways. Ozuna's two-run homer in the first inning produced the Cardinals' first lead Friday. His two-run single had the same result Saturday. Bader used his speed to turn a meek grounder Friday into three runs for the Cardinals – two that scored on an error he helped inspire and his sprint home on a shallow sacrifice fly. On Saturday, he took the express and hit his seventh homer of the season to build a 4-0 lead.
It doesn't take a brain surgeon to see how far the Rockies have crumbled, and only one, Daniel Murphy, reached scoring position against Hudson. He did so twice.
Wong expected to miss at least two days. Rosters expand in a week. His absence frees up a position for Matt Carpenter's return to the lineup, as he did Saturday to finish Wong's at-bat. Turning inward was how the Cardinals entered August – insisting they could fill a need in the rotation with the pitcher they had – and it will be how they exit the month, too.
Shildt's attitude after the deadline still sticks.
"Confidence. That's the way I view it," Shildt said Saturday. "We have what we have and it's plenty good enough what we have. I don't think they need to prove anything more than they did. Say, 'Hey guys this is what we have, and you're good enough and let's go.' And here we go."
Hudson pitches 6 scoreless, Cardinals beat Rockies 6-0
Hudson pitches 6 scoreless, Cardinals beat Rockies 6-0
Hudson pitches 6 scoreless, Cardinals beat Rockies 6-0
Hudson pitches 6 scoreless, Cardinals beat Rockies 6-0
Hudson pitches 6 scoreless, Cardinals beat Rockies 6-0
Rockies Cardinals Baseball
Rockies Cardinals Baseball
Rockies Cardinals Baseball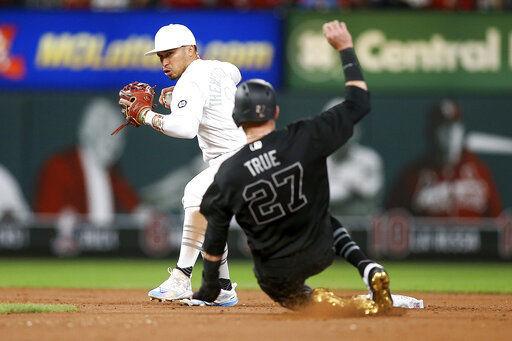 Rockies Cardinals Baseball
Rockies Cardinals Baseball