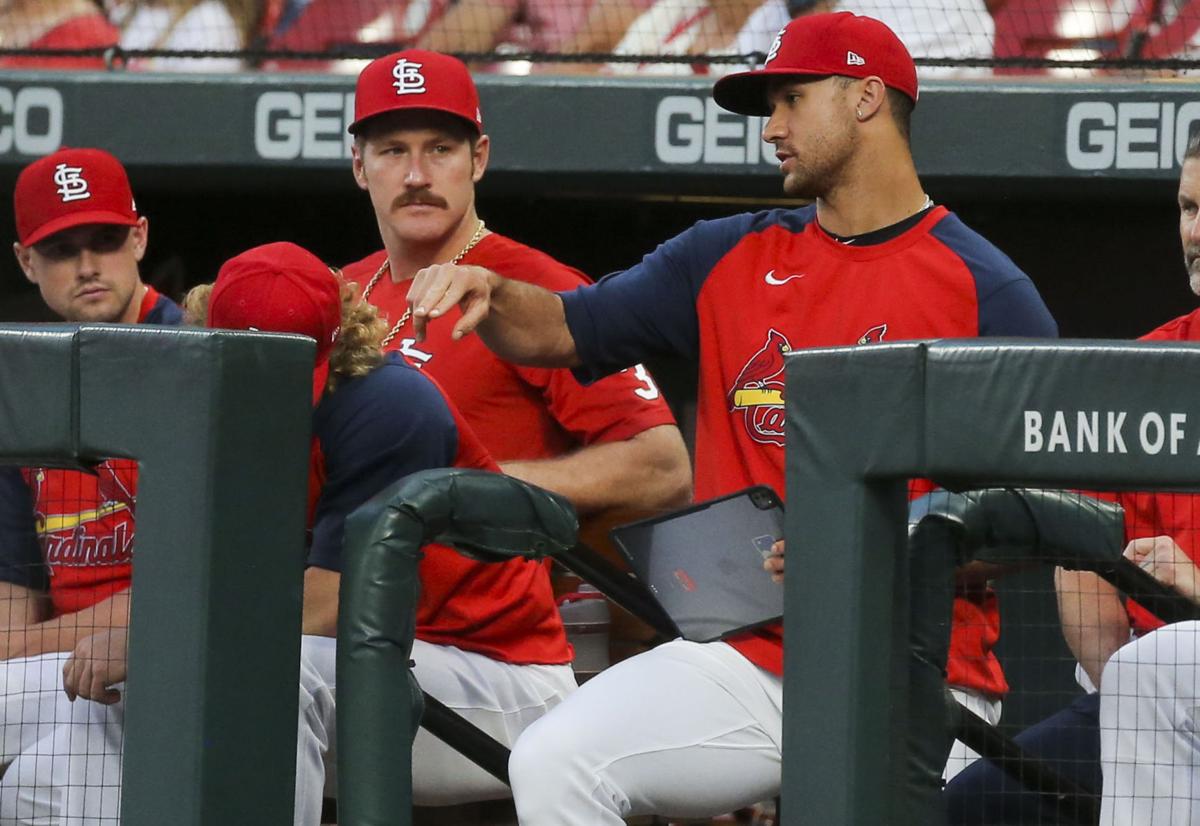 The bet, agreed to before bench coach Oliver Marmol stepped into the batter's box Tuesday afternoon at Busch Stadium, was if Miles Mikolas could keep him from putting a ball in play. At stake was cash or, if Marmol did not connect, Mikolas would get, upon his return, a green light to steal a base.
The more pressing question is when the flashing yellow stops on his pitching.
Mikolas threw the equivalent of three innings, complete with breaks, as the last step before going this weekend to join Class AAA Memphis and begin an official rehab assignment. Mikolas faced teammates Jose Rondon, Andrew Knizner, and coach Marmol, who the Cardinals drafted as a shortstop in 2007. Mikolas' readiness and return will be determined on how effective and comfortable he is in his rehab appearances — and the Cardinals' need for a starter.
"If there is some type of emergency and we need pitchers ASAP and a pitch-limited version of myself is the best option, I'm sure that's on the table, but that would be up to the powers that be," Mikolas said. "How things look, how many pitches I have, and what the situation up here (is) will dictate how many rehab outings I make."
Jack Flaherty, who is set to face hitters soon in a similar simulated game, and Mikolas are on track for returns to the rotation at some point in August.
When he starts games as early as this weekend for Class AAA Memphis in Louisville, Mikolas' schedule could include some repetition of pitch counts, though the righthander said that may change based on the movement and urgency at the major-league level. Asked if the Cardinals could build their arm strength on the job, pitching coach Mike Maddux said earlier this month that the preference will be for both Mikolas and Flaherty to be ready to throw 80 pitches or more before being thrust into competition.
The internal discussions about whether either starter could return and build pitch count in the thick of competition has noted the difficulty of doing that in the National League. Maddux said an American League club, with the DH in the lineup, could script out target pitch counts easier and manipulate the game more than an NL club could. The same goes for utilizing two starters to cover one game in a piggyback fashion. That would test the bullpen's dexterity as well. As with most decisions, need has a seat at the table.
"With all situations," Mikolas noted of baseball and professional sports, "it's fluid."
After two setbacks this year in his return from a forearm injury, Mikolas noted he is now 12 months removed from surgery — and feeling the benefit of that stretch. He was unable to maintain strength and intensity during his spring training turns against hitters, and after throwing 59 pitches in a start on May 22 he had renewed discomfort. Mikolas called the calcium deposit on the tendon after that game "an unforeseen speedbump" in his recovery.
Mikolas has increased in intensity and pitch count in three outings against hitters, and he intended to increase in velocity with his pitches to Marmol on Tuesday. The idea was to start the coach off with one he fouled off and then gradually raise the temp of the heater. Marmol jumped on the first pitch from Mikolas.
The green light on the bases will have to wait.
The green light to start is imminent.
And Mikolas is out some cash.
"I don't feel any hesitancy or timidness in throwing any pitches," Mikolas said. "I feel like my even more extended absence has made me want to compete a little bit more, even if it's losing a bet to a coach. It might keep me up at night because I want to do as best I can."
Cards create spending space for draft signings
The Cardinals continued to finalize deals with their top draft picks Tuesday and now have 10 of their top 11 picks either signed or under agreement, and they have maintained bonus space to pursue remaining picks aggressively if they choose.
The Cardinals introduced their second-round pick, outfielder Joshua Baez, on Monday, and reached an agreement for what a source confirmed as a $2.25 million bonus. That is about $900,000 more than the assigned value of the 54th overall pick, but the Cardinals made deals elsewhere to clear the money needed to overbid on him and at least two other picks. The Cardinals reportedly reached agreement with outfielder Ryan Holgate (third round) and pitcher Austin Love (fourth round).
Colorado prep pitcher Alec Willis, selected in the eighth round, is the last of the top 11 picks to sign for the Cardinals. With a commitment to the University of Minnesota, the righthander will command a bonus beyond the $211,500 assigned the pick.
The Cardinals' committed bonuses bring their spending on picks in the first 10 rounds to around $7,545,000. Their bonus limit to start the draft was $8,167,100.
They can spend close to $8.6 million without incurring a penalty that will cost them a future draft pick. Any spending over their limit within 5 percent receives a 75-percent tax on the overage.
Ponce de Leon's rehab, Mizzou's Drinkwitz, etc.
Daniel Ponce de Leon (shoulder) will join Class AAA Memphis on Thursday to begin his rehab assignment. He's slated for at least three appearances, including two over the weekend during the Redbirds' visit to Louisville. Ponce de Leon will aim to stretch out, possibly to as much as three or four innings, so that he can provide long relief when he returns to the major-league bullpen. … To make room for starter Johan Oviedo on the active roster the Cardinals optioned reliever Junior Fernandez to Class AAA Memphis. … On his way to SEC Media Days, Mizzou football coach Eliah Drinkwitz threw out a ceremonial first pitch Tuesday at Busch Stadium. He threw from a windup off the rubber and was just a bit outside for a righthanded batter.