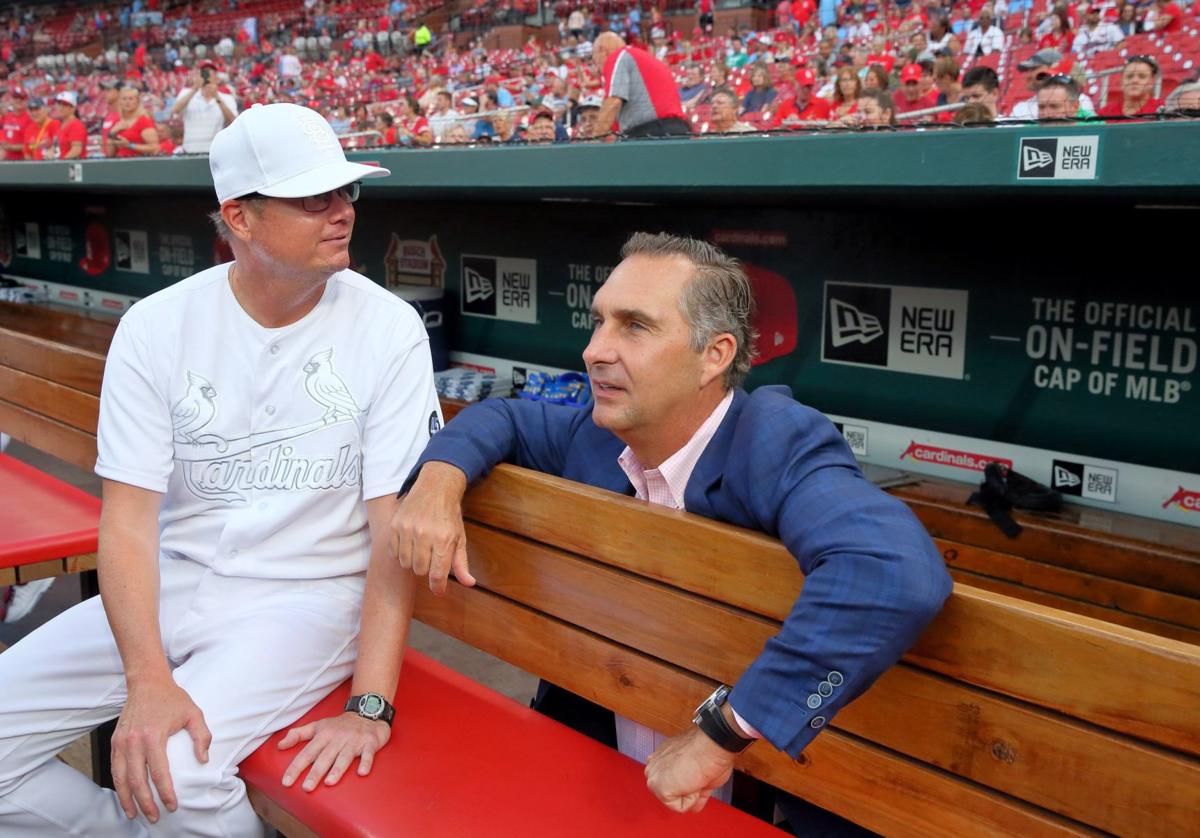 SAN DIEGO — Whether it was a rumored appearance at the downtown San Diego barbecue joint featured in "Top Gun," a spotting in the wild of the lobby bar at the Winter Meetings hotel, appointments in front office suites around baseball, or standing before a backdrop branded with the Boras Corp. logo, superagent Scott Boras seemed to be everywhere this week.
Known — or, rather, notorious — for slowing the pace of the free agent market as if tenderizing, caretaking the best brisket even if it takes till March to serve, Boras instead goosed the action this week. He orchestrated the richest, most systematic series of signings the Winter Meetings has seen in years.
Each day saw a Boras client sign a contract for $245 million or more. Stephen Strasburg (Monday), Gerrit Cole (Tuesday) and Anthony Rendon ($245 million Wednesday) agreed to deals worth a total of $814 million, and other signings were caught in the updraft. After two years of more chills than thrills, Boras helped put the hot back in hot stove.
"Anybody who wants to win is going to be in contact for our players," he said Tuesday before the reports of Cole's record $324 million deal broke. "The level of player available creates a higher level of urgency."
He compared teams to birds and said "you certainly have a lot of hawks."
The Cardinals, meanwhile, were the Cardinals.
They spent the week perched as much as participating.
While still interested in adding a lefthanded-hitting outfielder, the Cardinals spent most of their time this week surveying their options at pitcher. The Cardinals, according to sources aware of their discussions, were not aggressively engaged in negotiations for any of the pitchers who signed this week, from Cole and Strasburg on the top shelf to the short-term deals given Michael Wacha, Tanner Roark and Rick Porcello.
The Cardinals are looking for an arm, preferably a lefty, who can offer innings for the rotation or insurance if Carlos Martinez is not able to start in 2020. Two free agents who are Boras' clients, Dallas Keuchel and Hyun-Jin Ryu, fit the lefty profile, and Keuchel has intrigued the Cardinals, according to sources.
"That's the exercise we're going through right now," said John Mozeliak, president of baseball operations. "We're trying to understand what's the acquisition cost look like, cash vs. prospect. In either case we need a mutual party."
While the market perked up and moves abounded around them, the Cardinals waited, watched, left some wondering. Early to move when the market didn't the previous two years, the Cardinals have downshifted and eased back just as baseball's offseason, finally, has some energy to it. The guiding reason for the Cardinals' methodical approach is they're not chasing one or two specific needs.
They're looking for what they want.
They're not sprinting for the best available players Boras has to offer. They're looking at the winter as a marathon, and the ribbon doesn't appear until March. The risk is that they misread the market for the players who do interest them, that they stumble, that they put themselves in position to scramble for depth or impact in the spring before the fall.
In past winters "we've got to get a shortstop and, bam, we've been able to do that," Mozeliak said. "We have to allow ourselves to be more nimble and more reactionary as well. One of the takeaways for us is the finish line is not necessarily Thursday."
Some races, however, are already over. The three players widely considered the finest free agents available signed this week, with Strasburg returning to the Nationals, Cole going to the Yankees, and Rendon leaving Washington for the Angels. The Angels were one of the leading bidders for Cole, and soon after Boras landed the righthander the whopper deal in New York, he was able to pivot and get a deal for Rendon with the Angels. Include the four-year deal from Cincinnati that Boras already landed for infielder Mike Moustakas and the agent has finalized $878 million in deals already.
With outfielder Nicholas Castellanos, Keuchel and Ryu yet to sign, Boras is headed toward a billion-dollar offseason, one that could restore some faith in baseball's spending after two years in which players griped about a lack of offers.
The long rainbow has found its jackpot, and it's not just in the headlines. Moustakas is one of four Milwaukee free agents who have already signed elsewhere, for a total of $187 million. With Cincinnati still courting outfielder Marcell Ozuna and Pittsburgh sinking into a deep rebuild, the Brewers were the only National League Central team with a substantive move at the Winter Meetings. They brought pitcher Josh Lindblom back from South Korea for a reported three-year, $9.1 million contract.
The Cubs are weighing whether Rendon's contract and Josh Donaldson's market spawns offers for third baseman and former MVP Kris Bryant — a tectonic trade that would free up the Cubs' finances if they wish to make other moves.
The market still has plenty of depth for the teams that, unlike Boras, weren't spotted much of anywhere during the meetings.
"I think when you look at relative to the last couple of years, I also feel (you're) comparing what people are going after," Mozeliak said. "There was a market for two clearly elite pitchers, and rather than drag this out they decided their fits were ideal.
"The Strasburg story is amazing. You get drafted (first overall) and you're probably going to finish your whole career there. That resonates. Once that happened it cleared the field to know whoever was serious on that one was likely going to be serious on Cole. And there you have that.
"We're open to being patient," he concluded. "I actually think time is on our side."
HAVING A BALL
The livelier behavior of the baseball — which a study attributed to less drag, lower seams, and launch-oriented swings — has become a factor in how teams parse performance this winter because, as Cubs president Theo Epstein said, "the baseball is something we used to look at as a constant and now it's being seen as a little more of a variable."
As part of their evaluation of players, the Cardinals identify a "run environment." That could be how a hitter would look in the pitcher-friendly locale of Busch Stadium or how prevalent power has become in the game. Cincinnati, for example, views its ballpark as a booster for offense and intends to build its roster accordingly, expecting greater offense from hitters.
The baseball is a new curve in the data.
"What we normally do is we project the run environment next year to be basically the same as the run environment as last year," Girsch said. "And because we know more about the ball and stuff, we're re-evaluating how we project the run environment will be like. This past year, it was pretty extreme. Do we want to assume the most extreme run environment ever? So we are more aware that we have an assumption of what the ball is going to do, and we're trying to figure out if we're happy with that assumption or not."