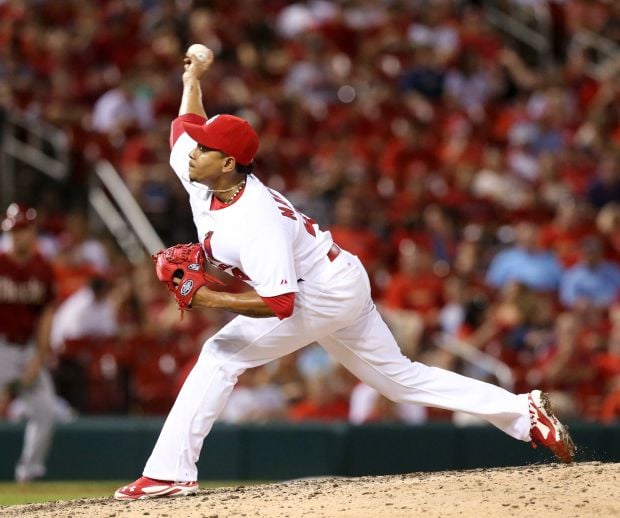 Out of necessity the Cardinals will give young righty Carlos Martinez the promised opportunity by plucking him from the bullpen tonight to start in place of ace Adam Wainwright.
"I think it's part of keeping our word," manager Mike Matheny said. "We've had other opportunities that didn't seem quite right. The role that he was filling in the bullpen didn't really allow us the freedom to bounce him into a start. That's what we had told him – to keep working and he was going to get a chance. He still has a big role for us in the bullpen, but this is an opportunity. And it is also a necessity.
"We need somebody to step up and take this start for Adam."
The Cardinals added a 13th pitcher Sunday by promoting lefty Nick Greenwood from Class AAA and sending prospect outfielder Randal Grichuk back. The move was required Sunday to give the Cardinals protection in relief so that Martinez, 22, would be available to start tonight against the New York Mets. The Cardinals expect the righty, who has been in the bullpen since competing for a spot in the rotation during spring training, to be ready to throw 50 or 60 pitches.
Greenwood has been a spot starter with Triple-A Memphis the past three seasons, and this year he's made three starts, going 3-3 with a 2.61 ERA in 22 appearances overall. He's a sinkerballer with a reliable breaking ball, and he can handle multiple innings to avoid taxing Martinez. Greenwood was the minor-league pitcher the Cardinals got in 2010 from San Diego in the three-team trade that also landed Jake Westbrook from Cleveland and sent All-Star outfielder Ryan Ludwick to the Padres.
With the addition of Greenwood, the Cardinals' 40-man roster is full.
General manager John Mozeliak acknowledged that starter Tim Cooney received consideration, but for the one start the Cardinals needed the team didn't want to upset Memphis' staff too much.
"I don't want to mess with some of these young guys if we don't have to," Mozeliak said. "If there is a need, this (the majors) takes precedence, but I want to see how this plays out short-term."
Who pitches tonight will determine how soon the Cardinals make another roster move. Grichuk follows Oscar Taveras down to the Class AAA outfield, where both will be everyday players. Mozeliak said he's not thrilled about keeping 13 pitchers on the roster, and the Cardinals are handcuffed offensively with a shorter bench. Grichuk and Taveras must stay in the minors 10 days, unless there is an injury, so Shane Robinson could return in exchange for the extra pitcher.
Wainwright's readiness for Saturday's start after missing a turn with elbow soreness will also influence the decision.
When the Cardinals needed a starter earlier in the season, Martinez manned the eighth-inning role and the team didn't want to disturb their late-inning formula. Martinez has since pitched out of that spot and into a longer relief-type situation, freeing him for a spot start tonight. It will be the righty's second start in the majors, and Martinez spoke openly about craving that opportunity this spring, one the Cardinals told him he'd get at some point in 2014 if he pressed on as a reliever.
Keep up with the latest Cardinals coverage from our award-winning team of reporters and columnists.