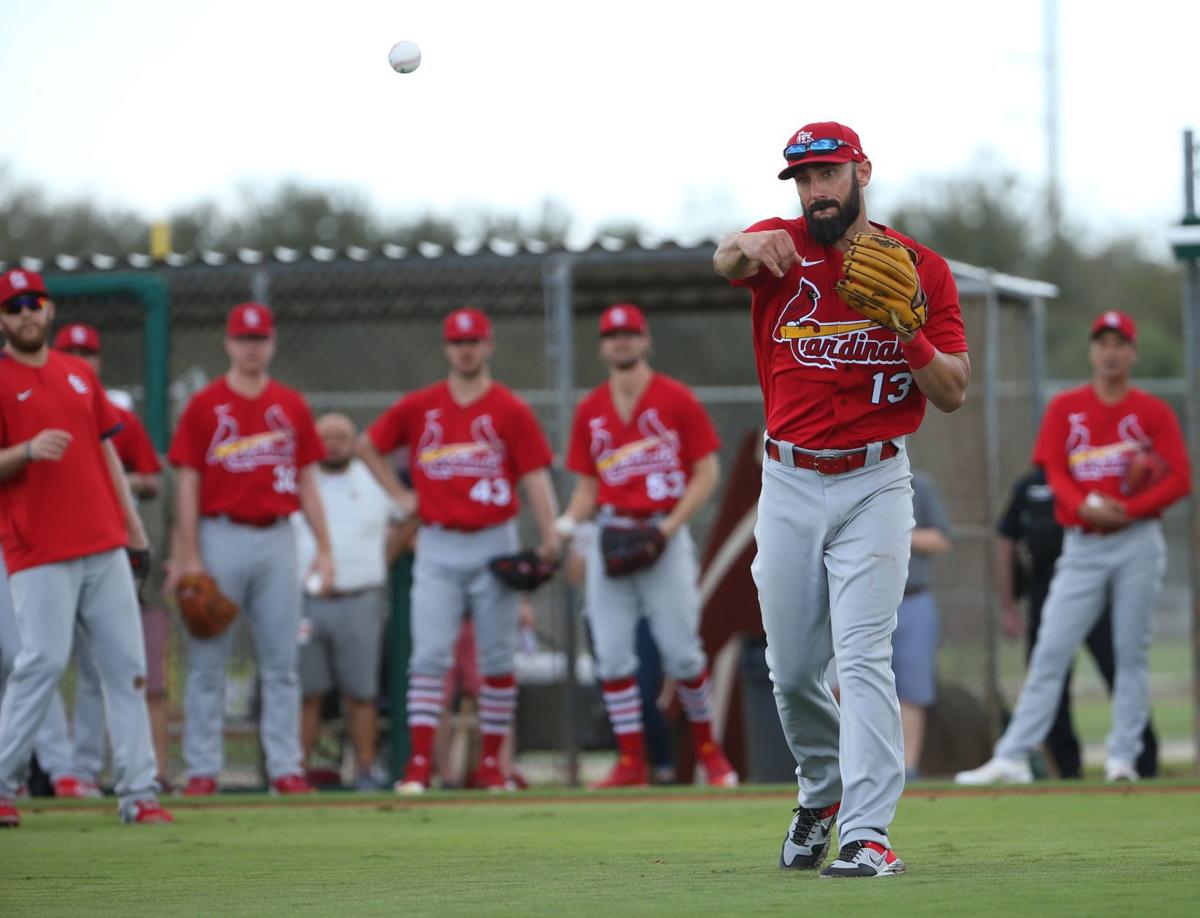 After spending the previous two months watching the whipsaw of negotiations between players and owners that delayed the return of baseball and sometimes felt to him like "fingernails on a chalkboard," Cardinals third baseman Matt Carpenter had only to look at the calendar to erase any frustration.
A shortened schedule fits snugly into his season.
"The worst two months for me are the first two months," Carpenter said Thursday from his home in Texas. "Let's get rid of those and go right to my favorites. I'm looking forward to it, to what's possible — in a 60-game sprint."
Carpenter plans to be part of the first parade of players to reach Busch Stadium on Saturday to begin entry testing for next week's official start to the preseason camp. The team's schedule was adjusted some Thursday, and players already in St. Louis, like infielders Paul DeJong and Tommy Edman, are also planning to begin the testing process Saturday. Outfielder Tyler O'Neill traveled to St. Louis on Thursday, Andrew Miller planned to make the trip Sunday, and a handful of players will arrive from out of the country. Carlos Martinez, who spent the stoppage in the Dominican Republic, intends to report July 1.
Every player will undergo a test and have 48 hours of quarantine before being cleared to join workouts. Carpenter set his schedule so that he could be part of the earliest workouts, which the Cardinals plan to hold, informally, by Wednesday, if not earlier.
Official workouts begin July 3.
Many of the Cardinals have taken to social media to express their excitement for the reboot of the 2020 season — Yadier Molina posted a message in Spanish on Instagram that read, in part, "We are back" — and have been in contact with each other about the commitment to health protocols at the ballpark, and away from it. First baseman Paul Goldschmidt was succinct in a text, "Simply: I'm excited to get back to playing baseball and competing with my teammates."
What awaits them is a season unlike any in Major League Baseball in nearly 150 years, but one many players are familiar with. That's going to be one of Carpenter's first calls.
"I want to talk to him and other college coaches I know and probably other players will too because I want to know what their advice might be," Carpenter said. "This is a college baseball season. This is going to have a similar feel. Obviously it's a different level and we're going to be playing every day, but like that game in college on Tuesday that felt like the world or the weekend conference series that was everything — these games are going to be like that."
With the usual 162-game schedule condensed to a 60-game format and the same playoff spots available and the same trophy awaiting at season's end, each game in 2020 will have the currency of almost three games from recent seasons. A weeklong stretch of games this year will impact the standings at the same rate as 19 games last season. Shortstop DeJong agreed with the idea that each game will have the gravity of college, but the scope of the season "will feel like a big-league season. However, we will still feel fresh for the playoffs."
DeJong was a freshman on the Illinois State team that went 39-19 in a 58-game schedule in 2013, and in 54 games as a redshirt sophomore DeJong hit .349 with a 1.026 OPS. At Stanford, Tommy Edman played 58 of the Cardinal's 61 games his freshman season. Goldschmidt's Texas State teams averaged 57 games in his final two seasons, and he hit at least 17 homers in each of them. The TCU Horned Frogs averaged 60 games during Carpenter's final two seasons in college, and he had 22 homers total and a slugging percentage nearing .600.
Going into the shortened season, the prevailing opinion is that the need for pitching will be acute — especially with the brevity of the preseason workouts — and that teams like the Cardinals will have an edge because of their pitching depth. Drawing on his experience from college and bursts of production he's seen in the majors, Carpenter said pitching is usually a constant for a contender, but a pair of raging hitters could elevate a team for two months — and this year two months is the season. During one 60-game stretch in 2018, Carpenter had a 1.193 OPS to go with 26 homers and 47 RBIs.
"I'll take that," Carpenter said. "We've seen Paul Goldschmidt go on stretches, and you see enough of those to know it can happen and if it can happen fast there are guys who can move a lineup. If that happens in this 60-game schedule, you get two smoking-hot hitters and that could carry a team the whole way."
That means, as Edman said, being "super-locked in from the start."
Edman has joined DeJong, second baseman Kolten Wong, and recently center fielder Harrison Bader for workouts in St. Louis. For more than a month, Wong, DeJong, and Edman have been trying to keep their timing tuned against high-speed pitching machines and, when possible, live pitching. Edman has already had several rounds of live BP at Busch Stadium against pitchers Adam Wainwright, Kwang Hyun Kim, and John Gant. That work at spring training-level speed should mean the hitters aren't cold-starting like a car parked in a garage during quarantine. They haven't let the oil leak, the tires flatten, or the battery die. They don't need a jumpstart. They've taken a head start.
"It is definitely going to feel different," Edman said when asked about the college comparison. "You really recognize the importance of coming out hot and not taking a couple of weeks to get your feet wet. You do that, and you'll find yourself in a hole."
Hence signs, Bedell next
The Cardinals' run of finalized deals with their draft picks continued Thursday with Arkansas high school pitcher Tink Hence, and they plan to finish Friday when Mizzou starter Ian Bedell undergoes a physical and completes his agreement. Hence, who turns 18 in August, was a righthanded star for Watson Chapel High School in Pine Bluff, Ark., and projects as an athletic pitcher who will mature into increased velocity and already has a feel for his breaking pitch.
The Cardinals took Hence 63rd overall in a competitive balance round of this month's draft. He, like Cardinals' second-round pick Masyn Winn who signed Wednesday, had committed to Arkansas. He visited Busch Stadium with his family Thursday as part of the process of completing his contract.
The assigned bonus value for Hence's pick is $1.08 million.
Bedell, the 122nd overall pick, has had an agreement in place with the Cardinals, but it will be completed Friday after he has a physical, a source confirmed. Bedell, a junior for the Tigers, is expected to receive a bonus higher than the $469,000 assigned to the 122nd slot. The Cardinals tied the Giants for the most picks in the draft, and when Bedell is signed the Cardinals will go seven-for-seven in completing deals.
Keep up with the latest Cardinals coverage from our award-winning team of reporters and columnists.