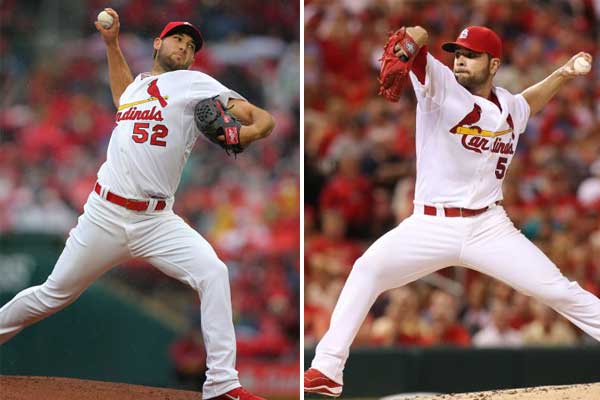 The balm emanating from a comeback 5-3 win over Philadelphia at Busch Stadium and the conclusion to a successful 7-3 home stand for the Cardinals was diluted late Sunday afternoon with general manager John Mozeliak's announcement that two Cardinals rotation members were headed for the 15-day disabled list.
One was not a surprise. Lefthander Jaime Garcia has been there before with elbow and, more often, shoulder troubles and the way he talked — or didn't talk — after his latest start Friday smacked loudly of renewed discomfort in his left shoulder, which was operated on last May. Garcia tried to throw a bullpen session Sunday and, in Mozeliak's words, "It didn't go well."
The other move, in Mozeliak's words, was "a little shocking." Righthander Michael Wacha, who said he never really had been hurt before, will go on the disabled list with what Mozeliak called a "stress reaction" to his scapula, or the back side of his shoulder. The condition was found on a CT scan and an MRI done a few days ago, Mozeliak said.
"It's disappointing to learn of this," Mozeliak said, "but he's too young and valuable to take risks with. This is not a very common injury to pitchers and one that we don't have a ton of experience on how to deal with it."
These will be the second and third starters to go on the disabled list this season, although there was a morsel of good news Sunday. Joe Kelly, who has been out since April 16 with a left hamstring strain, will go to Class AAA Memphis to start Friday and throw 40 to 60 pitches on a medical rehabilitation option. Kelly probably would need at least one more start after that before he would resume his spot in the rotation.
The Cardinals will start probably their most difficult trip of the season tonight in the shooting gallery in Colorado, playing three games against the Rockies, followed by four in Los Angeles and three in San Francisco. And now their starting pitching depth, which at one point was said to be an embarrassment of riches, will be tested severely.
"They say you can never have too much (starting pitching)," said staff ace Adam Wainwright, who recently had to battle a balky elbow himself. "I'm still confident that the guys who step in are going to do a great job.
"But I didn't know (Wacha) was going on the DL until I saw you (media) guys all storming his locker. This trip will test anybody anyway, with the teams we're playing on it. Those cities and those teams ... this is a big-time stretch we've got coming up."
After Lance Lynn and Shelby Miller pitch the first two games in Colorado, the Cardinals will need a pitcher to fill Garcia's start Wednesday. Wacha, who was bypassed for Carlos Martinez on Sunday, could have started next Friday but will be replaced by Martinez again.
With the Cardinals off a week from today, Garcia's next scheduled start could be skipped, so the Cardinals might need just one more starter for the foreseeable future. But, if they intend to follow through on their bent to carry 13 hurlers on this trip, especially with pitching-draining Coors Field on the agenda, they will need two more pitchers to be summoned from the minors.
Mozeliak said that decision wouldn't be announced until today. Lefthander Tyler Lyons, just removed from the disabled list and optioned to Memphis, could be the starter Wednesday because he last pitched Thursday. Lyons wasn't very good in that game, giving up nine hits and six runs in 3 2/3 innings.
Zach Petrick, the minor league pitcher of the year in the organization last year, worked six innings in a win for Memphis on Wednesday. He is 4-3 with a 4.60 earned run average.
The Cardinals could turn on Wednesday to lefthanded rookie Nick Greenwood, who has been a spot starter in the minors and pitched a strong inning in relief Sunday or even righthanded reliever Seth Maness, who started in the minors but hasn't been stretched out to anything resembling starter's innings here.
A longer shot would be lefthander Marco Gonzales, the club's top pick in last year's draft, who is pitching at Class AA Springfield and would be properly rested. To add Gonzales or Petrick to the 40-man roster would take some doing, though.
With 40 percent of the present rotation going down in one swoop, Mozeliak said, "It's concerning. We really don't know what's coming.
"I'm not in the position where I know when they're going to return or how they're going to return or the effectiveness of how they're going to return. It does leave us in a little bit of a gray area."
Speaking of Wacha, Wainwright said, "If you think about it, in the long haul, it's probably a good thing. Give him a couple of weeks off and he'll still be close to 200 innings — 180 maybe — by the end of the year. That's probably a good number."
Wacha, 5-5 with a 2.79 earned run average, already is halfway to that 180-inning number, with a week go to before the halfway point of the season.
"In between starts, (the shoulder) was more tight than I had been used to," he said. "It takes a little longer to warm up and get loose. It's just a little discomfort."
The immediate prescription for Wacha is rest, if not relaxation.
"Continue to get stronger and build the muscles around (the shoulder)," said Wacha, who will turn 23 next week.
Mozeliak said, "We're going to give him a couple of weeks, re-evaluate and then see how he is."
Wacha said he first was affected "four or five starts" ago. "I thought was getting a little bit tired, not recovering the way I should be. We thought rest would help it out but it ended up being a little worse than what we thought.
"I guess there haven't been a lot of players with the same kind of stress reaction back there. If I had continued to keep on throwing with it, there's that chance where it could come into a fracture or stress fracture, so we're not trying to take that chance right now."
But, Wacha said, "I definitely have high optimism. I hope for a pretty speedy recovery. There's nothing wrong with the labrum or rotator cuff, or anything like that."
Mozeliak said, "Fifteen, 20 years ago, you probably wouldn't even have known this had happened. But technology allows us to get a better look at what's going on in the human body."
Garcia, 3-1 with a 4.12 earned run average, was not available to comment after the game.
"I haven't had time to debrief with him, but it's my understanding that in the last couple of (starts), this has been bothering him," said Mozeliak.