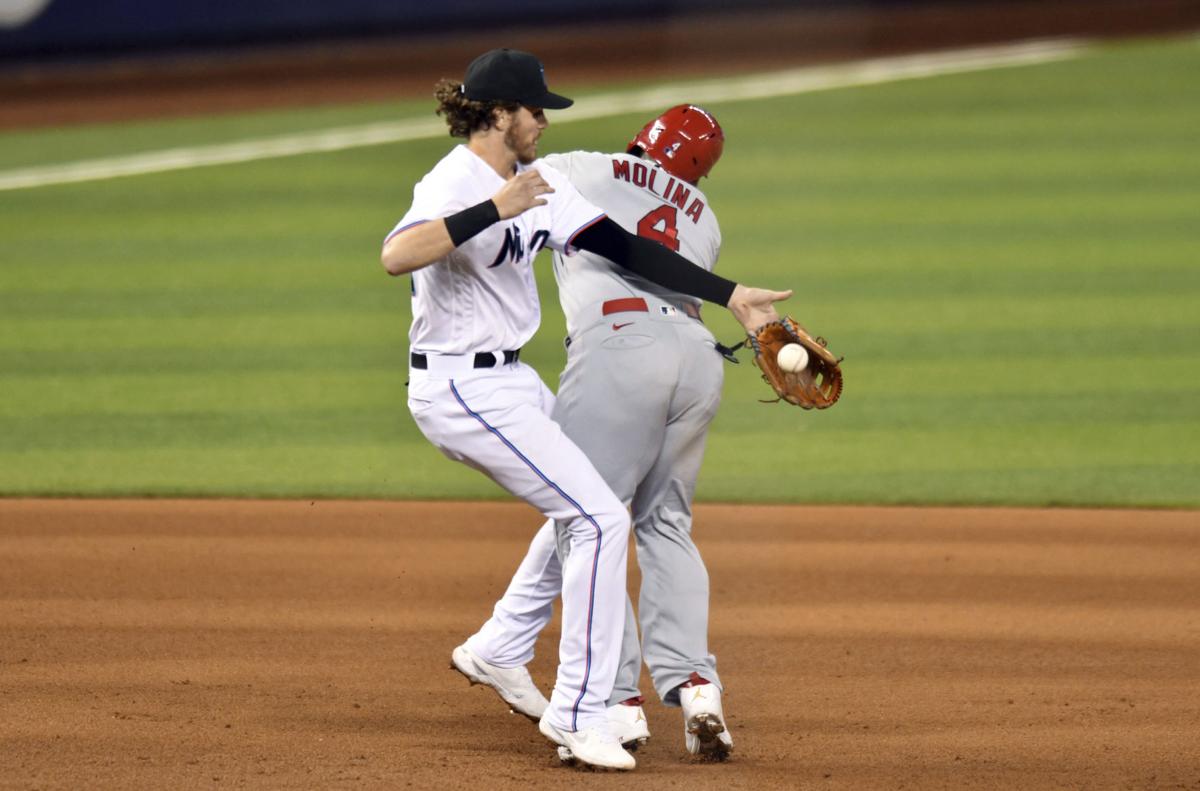 MIAMI — For those who had been concerned about Harrison Bader's offense this year if he had been in the Cardinals' lineup, consider that the two players who replaced the center fielder in the lineup while he has been on the injured list with a forearm problem had not even reached base before Tuesday.
Dylan Carlson moved from right to center but hadn't had a hit in his past three games after hitting a three-run homer in the first game of the season. But the right fielders who replaced Bader didn't reach base in their first 15 at-bats.
Lefthanded-hitting Justin Williams was nothing for nine with five strikeouts, all in his past five at-bats, and Austin Dean nothing for six with four strikeouts, three coming when he gained a start on Monday.
So it was that manager Mike Shildt inserted Matt Carpenter at second base and moved second baseman Tommy Edman to right field on Tuesday night against Miami righthander Sandy Alcantara, against whom lefthanded batters have had slightly more success at .247 vs. .219.
Shildt insisted he was "not overly concerned early," about the dearth of production from right field.
"But, clearly, we want to have some production. And we expect we'll get plenty of it. I'm aware of what's taking place. They'll get opportunities."
Bader, who received a platelet-rich plasma injection in his right forearm a couple weeks ago, is continuing his rehabilitation at the alternate training site in Sauget, Illinois.
"He's having positive days," Shildt said. "He's also doing baseball activities when he can. He's doing straight rehab, which is his primary focus. But we also want to make sure he keeps his lower body engaged and activated working on his routes and working on his base running."
In addition, Bader is working on plate zone discipline, said Shildt, which is something others could work on, given the 43 strikeouts by the club through four games, including 14 on Monday.
"He's doing a lot of things keeping himself mentally and physically ready to play," said Shildt.
"The hope is that it goes fairly quickly without (Bader) being rushed and he'll be back playing for us."
The likelihood is that Bader won't rejoin the club until late April or early May.
Carpenter makes start at secondCarpenter hadn't started in a regular-season game at second base since he started 11 games there in 2018. Counting spring training, he was two for 40 at the plate before Tuesday.
"You've got a guy who's two years removed (2018) from being in an MVP discussion and he hasn't had a start yet, so he needs to get out there and play," Shildt said.
"He's earned that opportunity."
Carpenter batted fifth because "it's a position he's somewhat familiar with hitting," Shildt said. "It made competitive sense as well."
Rolen to toss to ArenadoPregame ceremonies for the Cardinals' home opener at Busch Stadium on Thursday against Milwaukee will begin at 2:30 p.m. ahead of a 3:15 start.
There will be tributes to Hall of Famers Lou Brock and Bob Gibson, who died last year, and to broadcaster Mike Shannon, who is doing his 50th and final year in the booth.
A number of Cardinals Hall of Famers will be on hand, including third baseman Scott Rolen, who will toss the ceremonial first pitch to new Cardinals third baseman Nolan Arenado.
And, of course, there will be fans in the stands, an appearance by the Budweiser Clydesdales, and a motorcade of the 2021 Cardinals around the outfield track.
"Our fans are second to none," said Shildt. "Opening day at Busch Stadium, we're going to have a raucous crowd whatever the number ends up being. I'm excited for Nolan to get a taste of what it's like to play in front of our fans.
"I can't speak for him but I imagine he'll be very excited and feel very grateful about being received like I'm sure he will be."
Three-headed bullpen monster
Giovanny Gallegos, Jordan Hicks and Alex Reyes have been a three-headed monster as late-inning righthanded relievers. The three ran off a total of seven scoreless innings (three by Gallegos) in the first two appearances by each.
Hicks, who had missed a season-and-half after Tommy John surgery, had two perfect innings. Gallegos gave up one hit and Reyes two.
"We don't take it for granted, but, yeah, that what's we're capable of doing," said Shildt.
"(Hicks) has two 'plus' pitches. Gio mixed in a changeup to go with his two 'plus' pitches. And Alex has got probably four 'plus' pitches."
Gallegos, who features an upper-90s fastball and slider, decided in the offseason to work on adding a changeup. "I think that pitch is going to help me," he said.
Asked if he had something else he might be working on, Gallegos smiled and said, "I have a split-finger. Be ready, man. Just kidding."
The return of Hicks has gladdened Gallegos. "It was a long time for not pitching in a game," said Gallegos. "I feel good we have that guy in the bullpen."
Shildt is happy with his three righthanders at the end but he said, "The bullpen always is going to be fluid, just based on availability. But the good news is that we have a lot of interchangeable parts. It's not two, three, four guys who can do the job. Clearly, that's important but you have five, six, seven, eight guys who can be effective and do the job and that way, interchangeable parts work.