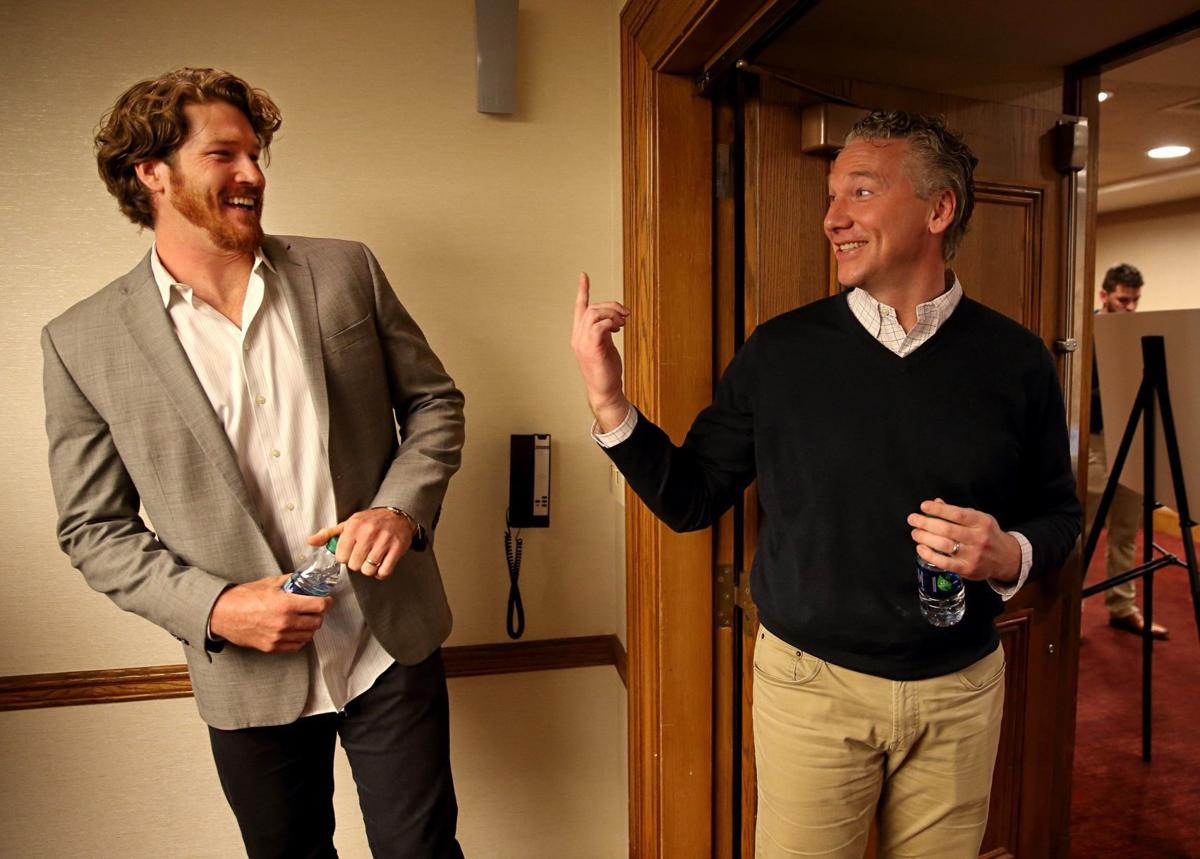 Whether it's in the ballroom converted into a temporary athletic trainers' and testing room, over breakfast in the manager's suite, or while lining up a winning shot at a pool table, there is more to the Winter Warm-Up for the Cardinals and team officials than signing autographs.
Behind the curtains — out of sight for the crowds, but on the mind of the team — the annual fan fest offers a chance for the Cardinals to set the stage, in person, for the official start of their season. Some players go through physicals, some get strength tests, and others have their injury recovery reviewed. Some teammates coordinate when they'll report to spring training. Others meet for the first time. Without a game to play, an opposing pitcher to prepare for, or a scouting report to digest, the Winter Warm-Up offers a gathering of Cardinals, minus their cleats, and a chance for what manager Mike Shildt agreed was best described as "fellowship." It's also a reminder.
Jupiter is on the horizon.
"It gives us — and this in some ways has become less and less of a thing — a good reminder for players to ask, 'Where are you in your throwing program? Where are you with hitting?'" general manager Michael Girsch said. "It's a warning bell. Are you going to be ready in three weeks? Veterans don't need that question. Younger players who are just starting in pro ball can see it. Any time we get our hands and eyes on guys who haven't spent time in St. Louis or Jupiter (Fla.), it's a meaningful step in seeing how they look and feel because this is the time we're ramping up for spring."
All of the players currently on the 40-man roster are set for 2020, so there are no arbitration hearings to avoid. The Cardinals continue to talk to Matt Wieters about returning as Yadier Molina's backup, and they have not closed the door to talks with Marcell Ozuna about a return. The front office continues to seek other ways to augment the lineup and possibly add a pitcher for bullpen depth.
In the week leading up to Saturday's opening of the three-day event at the Hyatt Regency St. Louis at The Arch, Shildt and his field staff convened at the team's spring training facility for meetings to plot their plans for camp. They spent 3 ½ days mapping out workouts, updating player readiness, and pulling together the goals of winter into the emphases of spring. Several times during a conversation Friday, Shildt stressed how these plans are done "with" players, in conjunction "with" players and through conversations "with" players.
Spring plans are not being sprung on them at the Warm-Up.
Third baseman Matt Carpenter spent three days recently in Florida working on his swing, in person, with hitting coach Jeff Albert. Center fielder Harrison Bader has been driving up from Miami three days a week to train with Albert. Other players who live in the Jupiter area — Miles Mikolas, Paul DeJong, and Yadier Molina — have all been around the facility in recent weeks, working out. Jordan Hicks has been continuing his rehab there from elbow surgery. The Cardinals already have a good feel for how many of the players on the 40-man roster will enter spring, and how they've done with what Shildt called "winning our offseason, winning guys' individual goals."
Asked to elaborate what he meant, the manager said: "It's just time. We have time now that we're not going to have later. You want to be respectful of the offseason, make sure they get their down time, that time with family, that time in their communities — the time away from the game that's not possible in the middle of the season when there are higher stakes. But you can be doing things now that help then."
The Cardinals will have members of the training staff and performance department travel to St. Louis for the Warm-Up weekend to meet with players. A room at the Hyatt will be outfitted like a training room at the ballpark. For some players, it's the first chance for the team to see how their offseason fitness program has progressed. For pitchers Carlos Martinez and Alex Reyes the Warm-Up is also a scheduled checkup. It's their last one before the start of spring, as their throwing programs intensify. There are times, Girsch said, when "what we learn (at the Warm-Up) influences what we do in three weeks once we get there to Florida."
And there are players who are getting their first glance at Warm-Up and who the Cardinals are seeing, in person, for the first time. The team has most of the players from the 40-man roster and a handful of top prospects participate in the event and the corresponding caravans to meet fans around the region.
Lefty Matthew Liberatore, acquired earlier this month from Tampa Bay, was put on a caravan with leading prospect Nolan Gorman because they've been friends since age 5, and the Cardinals weren't sure Liberatore knew anyone else in the organization as well. His meeting with the trainers and staff could be a little longer than others — because it will be his first.
Girsch and John Mozeliak, president of baseball operations, will circulate through the VIP rooms that are off the main hallways, away from the lines, and use that time to catch up with players, in person. Last year, Shildt had a suite at the hotel — complete with a pool table — where players got to spend time with him and each other. He plans to have a similar setup this year and "carve out time for a meal or two." Some players will use the time in St. Louis to throw or hit in the cages at Busch Stadium, to swing through the clubhouse — whether they'll call it home for 2020 or they're seeing it for the first time as a desired destination. Away from the clubhouse and the usual trappings of a ballpark, there's a chance to foster "that relationship outside the game." The Warm-Up offers venues for that — traveling from town to town on the caravan or racking up some billiards with the manager.
Once the Cardinals peek out from three days in the Hyatt, they shouldn't see the shadow of the previous season.
"Clearly, we're always in baseball mode in this area," Shildt said. "That's this city and that's this fan base. But there is a significance to Winter Warm-Up that, hey, this is our chance to connect, to re-connect, and, hey, it's right around the corner for us. We're getting there, we can see it, we're closer, and — all of us — we're getting this going."