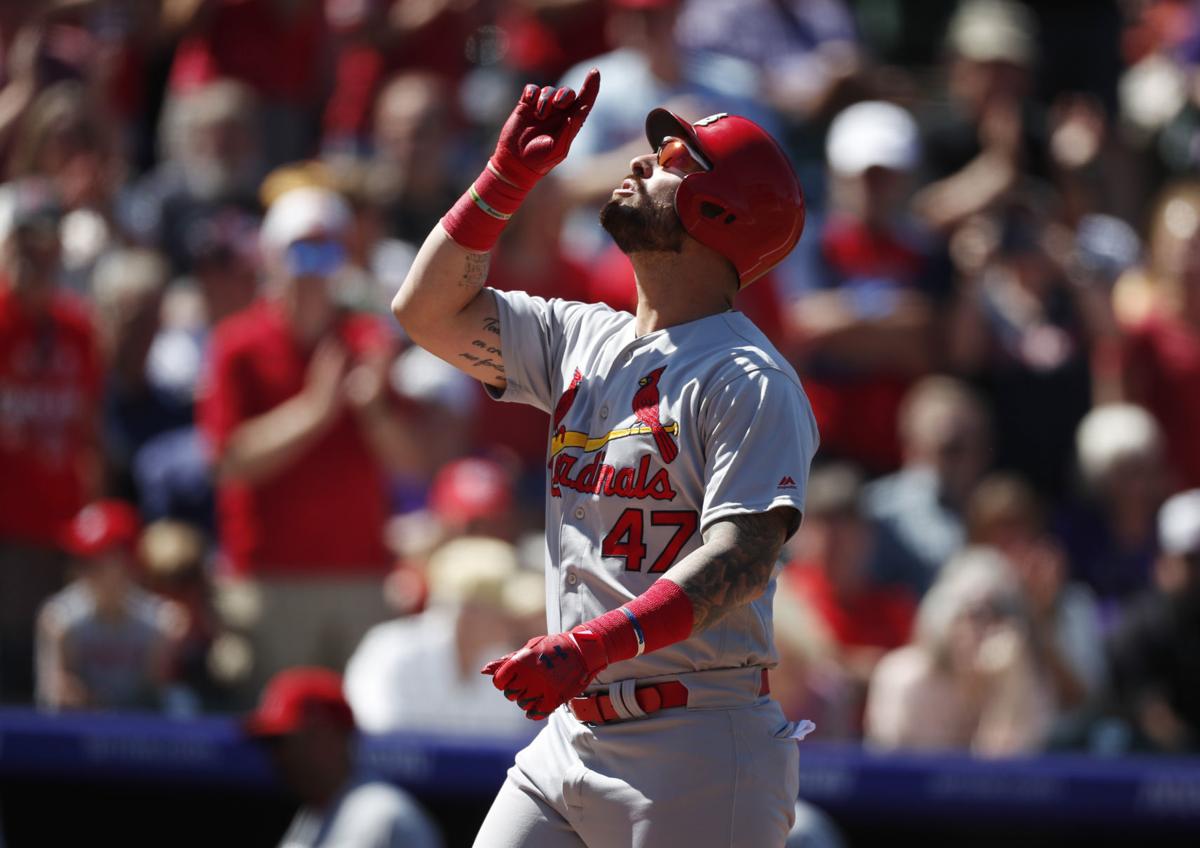 DENVER — As he stood in the on-deck circle late Wednesday night, rookie Rangel Ravelo waited for a pinch-hit at-bat that could win the game and watched as Colorado pitched around Matt Carpenter. He calculated that if the Rockies weren't going to throw Carpenter a strike, he was likely to see the next one. He went to the plate hunting fastball.
That he went to the plate at all is telling.
Ravelo, a September callup, has steadily forced his way into a prominent pinch-hit role with the Cardinals as the postseason race intensifies. The righthanded-hitting first baseman drilled a sharp line drive that was caught to end Wednesday's game, and then followed that with a start Thursday and the longest home run hit by a Cardinal since 2015, when Statcast became the official measure of homers. Ravelo's homer traveled an estimated 487 feet.
The rookie grinned as he described how "fun" it is to hit at Coors Field.
"It was," manager Mike Shildt said, "well-struck."
It was also well-prepared.
"When those opportunities come up, I try to be aggressive," Ravelo said before Thursday's start through the team's translator. "You're coming off the bench a lot and the pitcher knows that. So, they're going to try to be ahead in the count and throwing the fastball to get ahead. You have to be ready to hit it. Have to be aggressive."
Ravelo, 27, joined the Cardinals' organization in 2017, and he hit his way into a promotion this season with a .299 average, a .473 slugging percentage, and a .856 OPS in 95 games at Class AAA Memphis. The Cuban infielder had 3,515 plate appearances in the minors before hitting his first homer in the majors earlier this year, and he's started to appear regularly in significant spots for Shildt. In the ninth inning Wednesday, the Cardinals expected the Rockies to pitch around Carpenter to face whoever they put on deck. Rather than turn to Tyler O'Neill or Yairo Munoz, two righthanded hitters who have served as pinch-hitters much of the season, Ravelo got the nod.
Shildt referred to him several times as a "professional hitter."
That opportunity "does speak to how this guy can hit," Shildt said. "He's demonstrated that up here. He's demonstrated that his whole career. We trust him. If you know you're going to get a professional at-bat that's all you can (ask) and Ravy is going to give you a professional at-bat."
The line drive that ended Wednesday's game was lashed to left, but right at the outfielder to make the catch. The homer to lead off the second inning Thursday was put more than a dozen rows up into the bleachers where no fielder was going to get. Each swing, though, had the trait that Shildt ascribed to a "professional hitter." He quoted former hitting coach Gene Tenace saying that every hitter has a "good approach" and a "good swing." Ravelo's approach came from anticipating.
On Wednesday it was eyeballing the pitches to Carpenter and recognizing Colorado intended to come to him, try to take control of the count early. On Thursday, starter Tim Melville lost control of a fastball that went up and in and dropped Ravelo to the ground. He got up, figured the fastball was coming to get Melville back in the count, and had the good swing waiting. He lined out and grounded out twice in his next three at-bats. Those opportunities that he's getting are revealing the role he's being measured for.
"I never lost my focus in that at-bat," Ravelo said. "He's a big-league pitcher so I knew he was going to come back in the zone. I feel proud every time I get the opportunity. I'll be able to live up to it. After all those years in the minor leagues, I feel really happy … to be able to perform when the opportunity is given."
WAINO UP FOR CLEMENTE AWARD
While his numerous charitable endeavors, at home and abroad, have earned Adam Wainwright previous nominations for the Roberto Clemente Award, one measure of the Cardinals pitcher's contributions off the field is how his initiatives have spread through baseball and pollinated lists of Clemente finalists with peers who took part. A year after his teammate, catcher Yadier Molina, won baseball's highest off-field honor, Wainwright is the Cardinals' nominee for the 2019 Clemente award.
It is his fourth time as the club's candidate, and it comes during another year when he has helped organize and recruit players from every big-league city to contribute to a cause, this time to help feed children in need.
"One of the biggest missions for me is to help other players recognize their platform, to realize and help them understand what their passions are," Wainwright said. "What makes them cry? What makes them stay up at night on the pillow just thinking about how can I help? Helping other players find what they have to help with has been fun for me."
All 30 big-league teams had representatives work with Wainwright's organization and musician Garth Brooks' foundation for the "Home Plate Project," which raised $900,000 for hunger prevention. The signature event for Wainwright's Big League Impact and brainchild of he and his other brother Trey has been an annual fantasy football league that allows fans to compete with big-league players and celebrities. Five major-league cities had drafts this year, and all of the events Big League Impact orchestrates will raise more than $1.5 million to help aid clean-water programs and other essential need initiatives.
In addition to work he's done with clean-water construction in the Caribbean and work with an orphanage in Haiti, Wainwright's post-career plan includes a farm he's purchased in Georgia that is already yielding crops and will help feed families in need.
The Roberto Clemente Award, given annually to a player who captures Clemente's spirit of character, community involve, and philanthropic contributions, will be selected from the pool of 30 nominees by a panel of voters. No organization has won more Clemente awards than the Cardinals, including Molina (2018), Lou Brock (1975), Carlos Beltran (2013), Ozzie Smith (1998), and Albert Pujols (2008).
EXTRA BASES
With Kolten Wong's stolen base in the ninth inning the Cardinals reached 100 steals as a team for the first time since 2004. Paul DeJong added two steals Thursday to give the Cardinals 102. The Tony Womack-led thieves in 2004 had 111. … Matt Wieters continued to advance through a series of tests for his torn calf muscle. He took part in catching drills without issue Wednesday and increased the intensity of his runs Thursday. He continues to have trouble breaking from a standstill without soreness. … Paul Goldschmidt did not start Thursday, but entered his 145th game of the season as part of a double switch in the seventh inning. He leads the team in games, one ahead of shortstop DeJong.