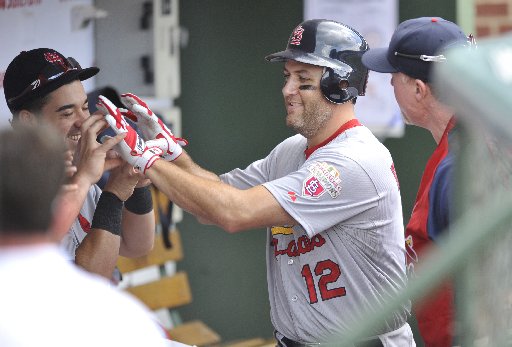 MEMPHIS, Tenn. • Lance Berkman took a step toward September on Friday night, appearing in the first of five minor-league games over a seven-day period before returning for what he says will probably be the final weeks of his career.
Speaking hours before playing five innings at first base for the Memphis Redbirds, the six-time All-Star first baseman acknowledged that he is leaning toward retirement after concluding his second season with the Cardinals.
"I don't want to rule anything out. But if you asked me right now I'm leaning toward not playing next year," Berkman said. "I don't want to say for certain because I don't want to do like Brett Favre and say, 'I retired; I'm not retired; I'm retired; I'm not retired.' I don't want to make that call right now, but if you put a gun to my head and demand an answer today I would tell you I'm probably not going to play next year."
Berkman, 36, is on a rehab assignment to test a damaged right knee that required surgery in May before sustaining additional injury when hit by a Clayton Kershaw pitch following his return.
Berkman says his goal is to rejoin the club in Washington on Sept. 1 and provide tactical help to a group of players he considers one of the best clubhouses he's been part of in 13 major-league seasons.
"I'm here (on rehab) largely out of a sense of obligation to be available to help the team and to help the organization," said Berkman, who admits he briefly considered ending his season in recent weeks. "It's about the guys and the Cardinals organization. It's not a personal thing about me wanting to win another World Series. Obviously, that's everybody's goal. But I don't want it to be about me personally. It's about being part of this team."
Wearing No. 38 for the Cardinals' Class AAA affiliate, Berkman walked and grounded out twice in three plate appearances while playing five innings in the field.
The night against the Albuquerque Isotopes was anything but easy for the Puma in his first game appearance since Aug. 2. After working a seven-pitch walk in the first inning, Berkman had to hustle and slide into second base to avoid a rare 9-6 forceout. He took a long minute to straighten and eventually scored from third base on a shallow fly that initially threatened him with having to tag up.
Berkman fielded his position a bit stiffly and failed to reach shortstop Pete Kozma's low throw in the fourth inning. Though Kozma received the error, Berkman scolded himself after the play.
A season after contributing 31 home runs, 94 RBIs and a .301 average to the Cardinals' mad dash to a National League wild card and the franchise's 11th world championship, Berkman admits the most powerful lure for him extending his career are two big round numbers — 400 home runs and 2,000 hits — that might help his chances of induction into the Hall of Fame. Berkman currently sits on 360 home runs and 1,842 hits.
"I'm OK with one championship in my career," said Berkman, also part of the Houston Astros' 2005 NL championship. "Sure, another one definitely would be nice. But I think the career decision for me and my family is whether it's worth going through another season or two just to reach those milestones."
Berkman noted last month that his legacy is set. He is aware, however, of the vagaries of Hall of Fame balloting and the significance of counting stats.
"Whether or not I'm a Hall of Fame-caliber player, I feel like in my decade-plus from a percentage standpoint I stack up against anybody. I may not retire with what some people think is enough home runs and RBI to merit induction, but in my mind I can hit with anybody in that building," he said.
Berkman's career .409 on-base percentage ranks fourth among active players and 37th all-time. His career .545 slugging percentage stands 12th among actives and 34th all-time. Combined, the two form a .953 career on-base plus slugging percentage that is fifth among active players and 19th all-time. His career OPS is higher than Willie Mays, Frank Robinson, Mel Ott, Ty Cobb and Hank Aaron, among others.
Berkman's knees currently make a compelling case against going on. He refers to a weird, grinding sensation in his right knee and pain in his left one.
"It's not like a physical hurt that I can't move. It's waking up every morning with sore knees, sore back and just feeling old," he said. "When you're young it's easy to summon the will to battle through that.
"The older you get and the fatter and happier you get, the harder it is to do it. It requires a lot of will. And if I don't have it, I don't have it."
The grind Berkman goes through to keep himself available entails an arduous offseason conditioning program. Right now, the thought of going through it is not appealing. His assessment at times sounds like a portion of a going-away speech.
"I'm proud to have played my whole career supplement-free," Berkman said. "I can honestly tell you every home run I've hit and every run I've driven in is all me. I don't even take vitamins. I'm happy and proud of the way I've played over the course of my career. Right now I've got to get to the end of the season to see what opportunities may be available. And am I OK not getting to some of those statistical things? Right now I have a pretty good idea."