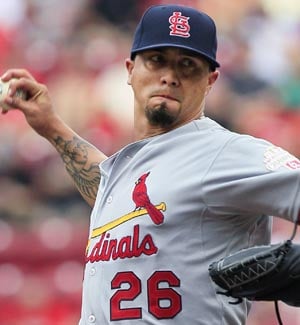 And a pleasant Thursday to you ... The Cardinals are off today, so this will give them time to rest -- and give their fans time to restock the medicine cabinet with antacid...
* The Cardinals' starting pitching is a nice surprise. Think about what this rotation has gone through since the start of spring training: Chris Carpenter, lost for the season, and no innings pitched. Jaime Garcia, out since early June due to shoulder problems. (He'll try to return next month.) Adam Wainwright, needing time to recalibrate his arm after missing 2011 with elbow surgery. There was Jake Westbrook's 8.28 ERA over a five-start stretch. Lance Lynn was roughed up for three consecutive starts. Rookie Joe Kelly had to be rushed to the majors to replace Garcia, and Kelly is less than a season removed from Class A ball. The most consistent pitcher has been Kyle Lohse, who simply rolls along, putting up quality starts without much fanfare. But given the turmoil and the risk of the rotation blowing up, the Cardinals have stayed clear of danger.
• The Cardinals' rotation ERA of 3.62 ranks fourth in the NL, and fourth in the majors.
• The Cardinals' fielding independent ERA by starters (3.52) is No. 2 in the majors; Washington (3.37) is No. 1.
• Cardinals starters rank fifth in the NL in innings pitched but are only a few innings behind the teams in front of them.
• Since June 9 the Cardinals have a 3.16 rotation ERA; that's No. 2 in baseball over the 33-game stretch.
• Through the first 14 games in July, the starters have a 2.58 ERA.
The Cardinals are getting it done because of Lohse's consistency. He has 14 quality starts and a 2.80 ERA. They're getting it done because Lynn, an All-Star, has won 11 games with a 3.27 ERA and a strikeout rate of 9.41 per nine innings. They're getting it done because Kelly has stepped in and pitched to a 2.75 ERA in seven starts. They're hanging in because Westbrook has rebounded for a 3.26 ERA in his last seven starts. And because Wainwright — despite being a hard-luck pitcher — is demonstrating the "stuff" that tells us he still has elite ability.
This presents an interesting puzzle for Cardinals GM John Mozeliak.
With the starters in good form, does Mozeliak adjust his priorities? I still think he's pursuing a starting pitcher, and it makes sense. They don't know with certainty if Garcia can make it back. There's the X factor of the innings piling up for Lynn. Kelly is an impressive rookie, but with a limited track record. Do you trust him to be dependable the rest of the way?
By acquiring a starter, Mozeliak can give his team rotation insurance, and flexibility. The addition of a veteran starter would give the club the option of transferring a young starter to the bullpen. That makes sense, but I wouldn't move Lynn to the 'pen as long as he's thriving as a starter. And if Garcia returns? Well, as it's been said many times before: you can never have enough starting pitching.
Here's the most important question: if Mozeliak concludes that it makes sense to pursue a starter, how ambitious will he be? If Mozeliak feels better about his starting pitching, does he back away from the idea of trading some of the better prospects? Does he take a more moderate lower-cost approach by adding a starter to provide innings and depth? Does he rent a pending free agent?
There are a lot of ways to go here. It isn't just about getting a starter. It's about the price you're willing to pay in a trade for that starter. It's about the level of ambition. It's about the confidence you have in your Cardinal starters. It's about the realistic optimism over a Garcia return.
The Cardinals have other needs. They could always use a more proven commodity in the bullpen. I guess some of their thinking depends on how much the Cardinals believe they can depend on lefty reliever Brian Fuentes when he's put on the 25-man roster. I believe they could use a RH bat that can play center field, in case something happens to Jon Jay (injury, extended slump). The team can't count on Carlos Beltran to play CF. And suppose Beltran gets hurt? Or if Jay gets hurt? Who pays center? No disrespect to Shane Robinson or Adron Chambers, but I'd prefer a more proven OF to handle an emergency. And yes, Skip Schumaker could fill in there, too. But Schu is a lefthanded hitter. Balancing Jay with a RH bat makes sense.
Mozeliak has pulled off some stunning trades without warning. Matt Holliday in 2009. The big deal involving Colby Rasmus last year, a deal that fixed the STL bullpen and delivered Edwin Jackson into the rotation.
What does Mozeliak have planned this time around?
* Here I go again: I put this together the other day while participating on a Matt Holliday thread on Bernie's Press Box forum on STLtoday.com. The term "clutch" hitting is frequently misused by people. The statistically challenged seem to glom on one category: batting average with runners in scoring position. It is presented as the ultimate proof of how a player hits under pressure. Which is rather silly for reasons that should be obvious. A hitter can come up to the plate with runners in scoring position with his team down 8-1, or up 8-1. He can have the RISP at-bat in the first inning, or the second, when the outcome isn't on the line.
And to turn the "clutch" argument against those who abuse it, let's look at it this way: if a batter delivers a single with a runner in scoring position for an RBI in the first inning, is that the same as doing it late in games, when the team is tied, down by a run, or up by one run? My personal opinion: games can be won or lost early, so I tend to take the broad view and see the competition as a nine-inning experience rather than to obsess over a late inning. For example, If a hitter can clear the bases with a three-run double to blow open a close game in the fourth inning -- and put his team in control -- that's a significant, game-changing development. So why isn't that considered "clutch" by those who fixate only on the eighth and ninth innings? It makes no sense. It's absurd.
Anyway, I'll play along with their flawed logic -- that "clutch" should be applied to late-inning situations. I'll even raise the ante by narrowing it down to late-inning situations that have the teams tied, or dueling in a one-run game. To me, this is a much more telling statistic than batting average with runners in scoring position. Because a performance in Close & Late pressure situations represents the closest thing we have to a true "clutch" situation. (The clutch concept is mostly a myth, but that's another discussion for another day.)
Holliday played his first game for the Cardinals on July 24, 2009.
Since July 24, 2009, here are the Cardinals' batting averages in Close & Late pressure situations. I used a minimum of 50 at-bats. The list includes players who are no longer Cardinals, but it was important to include them for perspective. For those ex Cards, the Close-Late batting average mentioned here are from their days as a Cardinal.
I've also included the number of at-bats, which provides context. The more at-bats, the more credible the sample size. The number of at-bats are in parenthesis.
Here's batting average in Close & Late pressure situations since July 24, 2009.. from top to bottom, with at least 50 ABs: 
Matt Holliday .333 (252 ABs)
Rafael Furcal .322 (87 ABs)
Albert Pujols .305 (243 ABs)
Daniel Descalso .298 (114 ABs)
Yadier Molina .286 (276 ABs)
Ryan Ludwick .263 (133 ABs)
David Freese .252 (143 ABs)
Lance Berkman .250 (96 ABs)
Carlos Beltran .247 (53 ABs)
Tyler Greene .243 (74 ABs)
Skip Schumaker .233 (227 ABs)
Ryan Theriot .227 (75 ABs)
Nick Stavinoha .220 (50 ABs)
Rick Ankiel .217 (69 ABs)
Felipe Lopez .213 (61 ABs)
Brendan Ryan .209 (134 ABs)
Colby Rasmus .198 (182 ABs)
Allen Craig .186 (97 ABs)
Thanks, as always, for reading ...