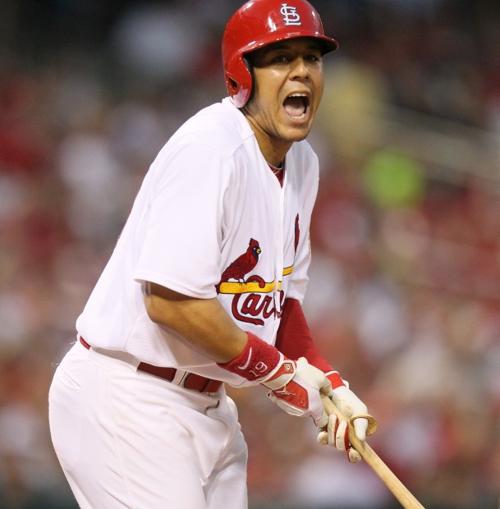 I'll be brief, because I'm off to a late start today, and there are Bits to process and write for Saturday's print edition.
Should the Cardinals be concerned with the hitting performance of center fielder Jon Jay? Well, that's their decision. But Jay's numbers are alarming. He's been a different hitter, and a much lesser hitter, since injuring his right shoulder early in the season. Jay sat for a while, returned, didn't feel right, and finally went on the DL on May 15. He returned on June 22.
Understand that this isn't a rip job on Jay. I'm not criticizing him. Quite the opposite. I just wonder if he's hurting, and if the shoulder is affecting his hitting. It's a legitimate point of concern.
To be honest, I wasn't fully aware of Jay's struggles. Which is silly; I'm a numbers guy. But a helpful fan told me to take a look at Jay's decline offensively. I had assumed, wrongly, that his numbers were OK. And they're not. Here's a look:
• This is Jon Jay before the injury: From the start of his MLB career in 2010 through May 2 of this season, Jay had a .308 batting average, .359 onbase percentage, and a .434 slugging percentage for a fine .793 OPS. That was over 896 plate appearances. And Jay, while not a pure power guy, could hit the ball with authority. Over the 896 plate appearances he had 16 homers, 45 doubles and 4 triples.
• This season Jay got off to a tremendous start; his numbers held up for a little while after suffering the shoulder injury. Through May 2 of this season Jay was batting .429, with a .471 OPB and a .556 SLG. We're talking about only 70 plate appearances, so those stats lack substance.  Obviously, Jay wasn't going to hit anywhere close to that level for the 2012 season, even with full health. But here's the point: he was off to a sensational start, and it was a continuation of his progression as a big-league hitter.
• From May 3 until the time he went on the DL, Jay batted .214 with no power (.262 slugging pct.) That was after 47 plate appearances. There was no reason for major alarm at the time; we figured Jay needed to shut it down, go on the DL, heal, rehab the shoulder. When he returned, everything should have been fine; Jay would be good to go.
• Unfortunately, that's not happening. In his first 83 plate appearances since returning from the DL June 22, Jay is hitting .211 with a .309 OBP and a .268 SLG. He has four extra-base hits in 71 at-bats.
• Put both shoulder-related phases together, and Jay is hitting .212 with a .299 OBP and a .265 SLG since May 3. In 130 plate appearances, he has five extra-base hits.
• Here's a bit of an unusual twist: Jay, a lefthanded hitter, has gotten more done against LH pitchers lately. Since May 3 he's hitting .270 against lefties, but only .184 vs RH pitchers. In the 87 plate appearances against RH pitchers since May 3 Jay has a .224 slugging percentage and two extra-base hits.
• Since returning from the DL, Jay is hitting .191 vs. RHP (55 plate appearances) and .250 vs. LHP (28 plate appearances.)
So what is manager Mike Matheny supposed to do?
Jay still plays good defense. He still can run.
Jay, however, isn't getting on base or displaying power. It's changed dramatically since Jay's season was interrupted by the shoulder contusuion and separation. Jay had served the team as a fine No. 2 hitter, but if he can't get on base, it's not wise to slot him there. Jay also lacks pop. So if anything he has to hit near the bottom of the order.
Jay could rally, sure. Jay tends to be streaky; perhaps this is just an unusually severe slump. But in his three major-league seasons Jay has never had a slugging percentage lower than .354 in a given month; this season that slugging pct. is .324 since May 1.
I hope Jay isn't damaged. He's a good guy. He's important to the Cardinals' fortunes. The Cardinals need Jay to be at his best, or close to it. But what if Jay doesn't improve? What happens if the shoulder is a chronic problem that prevents him from supplying sufficient offense?
If that's the case, the Cardinals would have a problem in CF. Carlos Beltran isn't a viable option for frequent use in center.
Skip Schumaker can play in CF, but I don't think Matheny would run him out there on a daily basis, and not against every LH pitcher.
The Cardinals could summon Shane Robinson from Memphis. But if the Cardinals have a void in CF, does Robinson represent a satisfactory solution? In 135 big-league plate appearances Robinson has batted .242 with a .284 OBP and a .318 SLG. Robinson bats right, but has a .229 career average against LH pitching.
Adron Chambers has gotten a couple of chances with the big club, and he offers speed and defense. But Chambers is a lefthanded bat, and really doesn't advance the cause or provide balance should the Cardinals have to rely on Schumaker in CF.
Of course, I am getting way ahead of things here; the Cardinals clearly hope that Jay will kick in and crank up some offense. But if Jay is unable to get going, CF becomes a large area of uncertainty for the Cardinals. GM John Mozeliak presumably will be looking at the situation before the July 31 non-waiver trade deadline.
The Phillies are listening to offers for pending free-agent CF Shane Victorino. Arizona's Justin Upton may be available, but for a big cost in the trade exchange rate. Former Cardinal Rick Ankiel was just designated for assignment by Washington. Ankiel is a popular figure in The 314, but keep this in mind: (1) he bats left; (2) in 536 at-bats over the last two seasons Ankiel is hitting .236 with a .292 OBP and .377 slugging pct. He's struck out 155 times. Personal connection and history aside, Ankiel and the Cardinals do not seem to be a match.