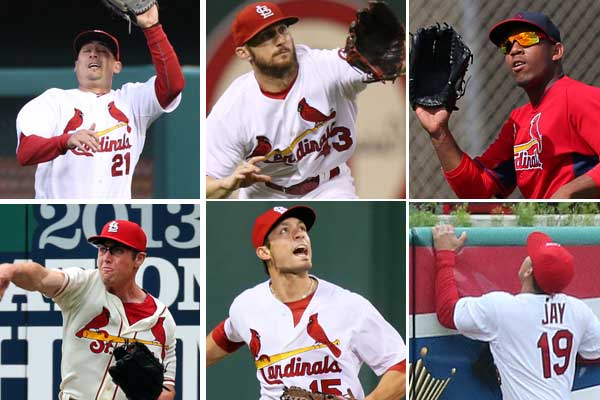 How many outfielders does it take to screw in a major-league offense?
The Cardinals are still trying to sort all of this out. They have more outfielders than major-league jobs, and it's approaching a sensitive stage where something has to give, and someone has to go. Pass the pain pills to GM John Mozeliak, for this is a headache.
"When you look at depth in baseball, it's a good problem to have," Mozeliak said Wednesday afternoon. "But I think we're starting to get to that point where it might become a problem. So even though it's a nice thing to have true depth in your system, at some point you've got to be able to play the depth."
Hoping to scratch out a few more runs here and there with an attack that's 29th in the majors in homers.
Offensively the 2014 Cardinals have one of the least menacing outfields in the majors. As a group they came into Wednesday's game against the New York Yankees with 10 homers and a rather scrawny .374 slugging percentage. To put it bluntly, they scare no one. That .374 SLG would be the weakest by a Cardinals outfield since 1988.
The St. Louis organization also possesses one of the most productive outfields in the Triple A minors, headlined by young guns Oscar Taveras, Randal Grichuk and Stephen Piscotty. While Piscotty isn't quite ready, Taveras and Grichuk loom as potential remedies. But a top-prospect bat can't be a solution unless the GM and the manager ask him to move up from Memphis to solve the problem.
Mozeliak isn't ready to pull the plug on his current outfielders, or rearrange the configuration by moving right fielder Allen Craig to first base to open a spot for Taveras or Grichuk. An upcoming stretch of games in American League parks presents a designated-hitter opening that can temporarily relieve the personnel congestion. But soon it will be back to the normal overcrowding.
Mozeliak is paid to be calm and rational, and he's earning his keep. There's no panic in his veins. Well, not yet, anyway. But Mozeliak isn't afraid to strike and do it suddenly; remember his stunning three-team trade before the trade deadline in July 2011? Result: Hello, new bullpen. Bye-bye Colby Rasmus. And hang another World Series flag at Busch Stadium.
It's difficult to read exactly where this is headed, but a bold move is inevitable in July, or in the pre-2015 offseason. The Cardinals averaged 4.8 runs a game last season. This year they're averaging 3.9. If Mozeliak was willing to fix the bullpen in 2011, he'll certainly try to upgrade the offense in 2014.
It's just a question of when. And who.
In left field there's Matt Holliday, an effective overall hitter with a slugging percentage that's been in gradual decline since 2011. But he won't be displaced. In center field, there's Jon Jay and Peter Bourjos. (Feel free to yawn.) In right field there's Craig; over the past two seasons his slugging percentage has dropped 98 points from the previous two-season block of 2011-2012.
At first base there's Matt Adams, who is batting .370 with the bases empty. But Adams has had 38 at-bats with a runner on second base this season and has driven in only one of the 38. (Astounding, isn't it?) But Adams is batting .326 overall, so how do you bump the big man and move Craig to first? Or how do you cut into Craig's at-bats after he'd cranked out a .312 batting average and .462 slugging percentage in his previous 101 plate appearances before Wednesday?
Where do you play Taveras? He isn't suited for center field. Unless Craig or Adams is traded or relegated to part-time duty, then it isn't easy to see a clear path for Taveras. But if the Cardinals want to keep Taveras in Memphis, then will they at least give the center field job to Grichuk and let him run with it for a while to see if his raw power can amp the offense?
Does Mozeliak try to move a veteran outfielder in a trade to accommodate a prospect or two?
Or does he put an outfield prospect in a trade package?
Too many questions. One throbbing headache.
"You look at how we're constituted at the major league level," Mozeliak said, "and it's difficult trying to find major league at-bats for Taveras, Grichuk and, not too far down the road, Piscotty. So we are going to have to look at what our arbitrage possibilities are with this. And we will have to explore what that looks like between now and the end of July."
Translation: Someone could be on the move. But even so, that doesn't necessarily complete the puzzle. Mozeliak doesn't want to summon Grichuk or Taveras unless manager Mike Matheny is fully prepared to give the graduates regular major league playing time. Matheny didn't do that when Grichuk briefly came up earlier this season.
"If we're going to bring up somebody like a Taveras, it's certainly going to be where everybody agrees with the plan," Mozeliak said. "It's not necessarily something I'm just going to dictate. I obviously want to talk to Mike and his staff and get their thoughts. But you're not going to start somebody's (arbitration) clock, and then have them sit. That makes no sense. If you get to the point where you feel he can help you, then you've got to be committed to him playing a certain amount of games."
This could be exactly why the Cardinals promote Grichuk – again – instead of Taveras. I don't think Mozeliak is willing to take the chance of having Taveras move to the majors, only to sit and chew sunflower seeds.
This much we know: If a desperate GM is looking for an outfielder, then he should keep Mozeliak's number handy. Because Mozeliak has a surplus. Something has to give. And someone's got to go.