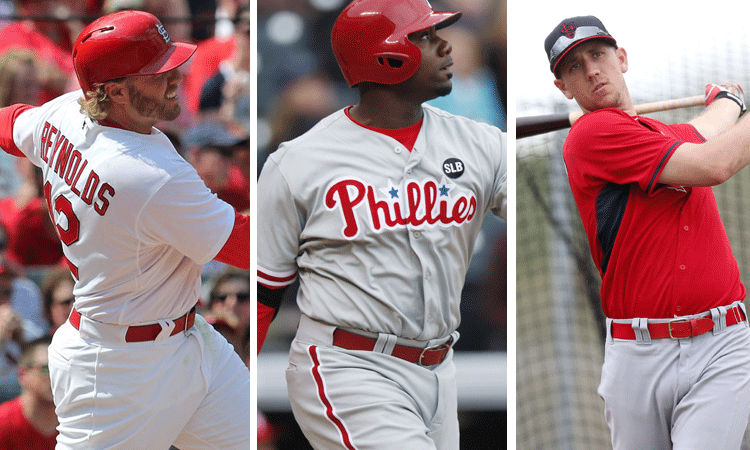 The Cardinals are down a man, with first baseman Matt Adams likely sidelined for the remainder of the season with a torn right quad that requires surgery. 
So what, if anything, should GM John Mozeliak do to reinforce the position? That's a good question. And while I dislike playing these fantasy-GM games that are usually misguided or detached from reality, the mad rush to match the Cardinals with potential trade candidates is well underway. 
1. There's no hurry. And there is absolutely no reason for panic or overreaction. The Cardinals are 31-16, lead their division by 5.5 games, and have a respectable offense that's averaging 4.3 runs per game, which ranks 13th in the majors. The best aspect of the STL offense is a high on base percentage that sets up plentiful run-scoring opportunities, and Adams wasn't an OBP asset. The Cardinals are also backed by a pitching staff that has MLB's lowest ERA, 2.78. The result is the best run differential in the majors, plus 59. 
2. Let's maintain some perspective here; Adams was having a season heading for slightly above replacement level. Through extensive playing time, he was projected to finish with 1.1 WAR, which hardly leaves a disturbing void. Adams certainly could have helped as a platoon bat against RH pitching. But even with that, his performance had tapered off. In his previous two seasons Adams had an .862 OPS against RH pitching, but that OPS had dropped to .683 over the first two months of 2015. I'm not trying to be a jerk here, and I certainly hope that Adams resurfaces as a weapon in the future. But from a pragmatic standpoint I just can't pretend that the Cardinals just lost Anthony Rizzo, Adrian Gonzalez or even Lucas Duda. 
3. Mozeliak wants to see what Mark Reynolds will do, and there's nothing wrong with that thinking. As a primary backup, Reynolds was projected to finish with 1.0 WAR, but he should exceed that now that he's moving into a regular starting role. We're all well aware of the extreme Reynolds profile, heavy on power and strikeouts. Reynolds' slugging percentage has been in decline since he posted a .483 SLG for the 2011 Orioles. And his SLG% has been just under .400 in each of the past two seasons. Reynolds is still dangerous — but not nearly as often. Reynolds isn't the ideal solution for taking over at first base. But with a history that includes Reynolds' current streak of seven consecutive 20-homer seasons, it's OK to see what he can do with full-time at-bats for a while, as Mozeliak explores the trade market. 
4. Don't limit the search to a LH bat: Yes, a lefthanded hitter would balance a bench that's mostly stocked with RH batters. The understandable tendency is to view this as a platoon situation, with Reynolds starting against lefty pitchers, and the LH bat to be named later slotted in the lineup to face righties. But here's the thing, and it's something we've pointed out a few times already this season: Reynolds isn't a force against LH pitchers.
Once upon a time, Reynolds menaced LH pitchers, slugging .513 with an .882 OPS against them from 2007 through 2012. But since 2012 Reynolds has a .373 SLG and .691 OPS vs. lefties. He's actually done better against RH pitchers over the last three-plus seasons, with a .420 SLG and .729 OPS. If Mozeliak has a chance to acquire a RH hitter that can play first and crush lefthanded pitching, it wouldn't be a bad move. But just to be clear: if Mozeliak makes a deal, I'd be surprised if he didn't add a LH bat. All I'm saying is that it's a mistake to view Reynolds as a conqueror of lefthanded pitching. It's no longer true. 
5. Along the same lines, don't confine the search to a first baseman. Mozeliak doesn't need to pursue a one-dimensional addition here. For the right guy, that would be fine. If he has a live bat, park him at first base, even if it's the only position the dude can play. But why limit the potential options? For example, suppose Mozeliak has a chance to acquire a third baseman or a multi-position player that can give his offense a lift? Not that manager Mike Matheny wants to move third baseman Matt Carpenter all over the place, but Carpenter is capable of playing first base. I'm not talking about MCarp starting there every game. But Carpenter can be used enough at 1B to give Mozeliak a wider scope in his trade search. And it would give Matheny more lineup flexibility. This also comes into play if Mozeliak has a chance of adding a multi-position player — and we'll cite Ben Zobrist as an example. (And no, I'm not predicting that Mo will make a run at getting Zobrist.) 
6. Enough already with the foolishness of nominating Matt Holliday to play first base. There is no chance of that happening. None. Zero. So can we please move on from the video-game mindset? Holliday is 35. He's never played any position other than left field. He's also dealt with back problems later in his career, and first base isn't a comfortable fit for a guy with back-related issues. Everyone seems to think that playing first base is easy as could be. When Lance Berkman was here, he told me that first base was much harder on him physically than a corner outfield spot. The sudden movement, the diving for ground-ball shots, the charging in for bunts, the hunched-over position, the footwork. Berkman said playing first base was a pain for his knees and back. He said it was much easier to patrol the corner outfield.
To expand the point: obviously it's possible to convert an outfielder to first base, but only if there's time to train and prepare. Offseason, spring training, minor leagues, etc. But not in the middle of a season. I see people mentioning Scott Hatteberg of "Moneyball" fame; Oakland GM Billy Beane moved Hatteberg from catcher to first base — and Hatteberg had never played first. Here's what you also should know: the A's signed Hatteberg before the 2002 season, on Jan. 2. He had more than a month to work on the position switch before spring training. Then Hatteberg had a full spring training of instruction to aid his preparation. And other than a few brief cameos, the A's didn't really move Hatteberg to first base until June of the '02 season. Beane didn't just drop on first base one day; the A's took several months to train him at the new position.  
7. If you want to nominate Stephen Piscotty for a transfer to first base, that makes sense. It's always best to first look for internal solutions to a problem. Piscotty, the Cards' top hitting prospect, played third base at Stanford. The Cardinals minor-league supervisors moved him to right field. But the Cards' outfield is well populated these days, with Jon Jay about to come off the DL to rejoin Holliday, Peter Bourjos, Randal Grichuk and Jason Heyward. Even if Heyward departs as a free agent after the season, the Cardinals will have outfield choices in 2016. Obviously the organization is hoping Grichuk can develop into a full-time starter.
Even if Piscotty begins to learn how to play first base, it doesn't mean he's prohibited from returning to the outfield. Playing multiple positions would only enhance Piscotty's value. With Piscotty at Triple A Memphis for a second consecutive season, it gives the organization an opportunity to teach him how to play first base in preparation for a possible opportunity in St. Louis. That's the difference between Piscotty and other outfielders that fans want to suddenly move to first base during the regular season ... Piscotty is in the minors, and that's what the minors are for: player development, and that includes training for a new position. 
There is one issue to consider, however. The RH-batting Piscotty has altered his swing in an attempt to get more loft and try to turn some of his line drives into wall-clearing homers. The swing is still under construction, and Piscotty is batting .235 with a .337 OBP and .463 slugging percentage at Memphis. New swing, new position ... would it be too much for him right now?
It would be silly for the Cardinals to give up an asset (or assets) in a trade for an aging first baseman when they have Piscotty already in house as a potential solution. And his experience playing third would help him make the transition to first  
8. The Cardinals' primary need is starting pitching. And tradable assets must be preserved and use in case of emergency. With LH prospect Marco Gonzales on the mend again, the Cards' rotation depth is pretty much tapped out, unless you're jonesing for a return of Tyler Lyons or Tim Cooney. 
9. If you must have names of potential trade targets, then here are nine names listed by our intensely hard-working friend Buster Olney of ESPN: 
Ryan Howard, Phillies. But only if the Phillies are willing to eat about 80 percent, of Howard's remaining contract obligations. At least 80%. Many are excited by the Howard-STL connection; he was born and raised here But the Cardinals are on Howard's no-trade list, and that's no coincidence. Howard had a terrible, bitter falling out with his family a couple of years ago, and under the circumstances I can't imagine that he'd feel comfortable here. Oh, and by the way: even though Howard has been hitting better as of late, his projected WAR for the season is 0.8. .... which means he's basically a replacement-level player. 
Ben Zobrist, A's. Still pretty capable as a hitter, and can be used an a number of infield-outfield positions. 
Aramis Ramirez, Brewers. Aging, and always battling injuries, deteriorating OBP skill, but still slugging .441. This would be the third-base option, with Carpenter going to first. 
Adam Lind, Brewers. This LH bat has a career .510 SLG and .860 OPS against righthanded pitchers; he's the epitome of a platoon bat. But does anyone think Brewers GM Doug Melvin would just hand him to the Cardinals without extracting a high price? 
Daniel Nava, Red Sox. He's having an awful season, batting .159. Good OBP guy in his career, but isn't much for power. A LH hitter, Nava used to have some punch vs. RH pitchers, but since the start of last season his slugging percentage against them is only .364. He's an outfielder but has started 19 MLB games at first base. Oh, and while we're talking about Red Sox property: no, the Cardinals won't be reacquiring Allen Craig ... so for your own sanity please get that out of your noggin.  
Ike Davis, A's. Another LH bat with power, Davis has a career .454 SLG and .881 OPS vs. righties. Have no idea what the Oakland would want in return. 
Garrett Jones, Yankees. Yes, another LH bat with some pop. Has a career .477 SLG against RH pitching, and that looks swell until you realize that slugging percentage vs. RH has been in decline for a while, and is down to .372 this season. (Shrugs.) 
Daniel Murphy, Mets. Interesting name. Has played 1B, 2B, 3B and LF. Bats left and has a .436 career SLG and .778 OPS against righties. But with the Mets desperate for offense, I'm not sure why they'd want to move him. 
Travis Ishikawa, formerly of the Giants. Why? Just because he homered off of a very rusty Michael Wacha to beat the Cardinals and clinch the 2014 NLCS? He bats left and has a career .408 SLG vs. righthanders.