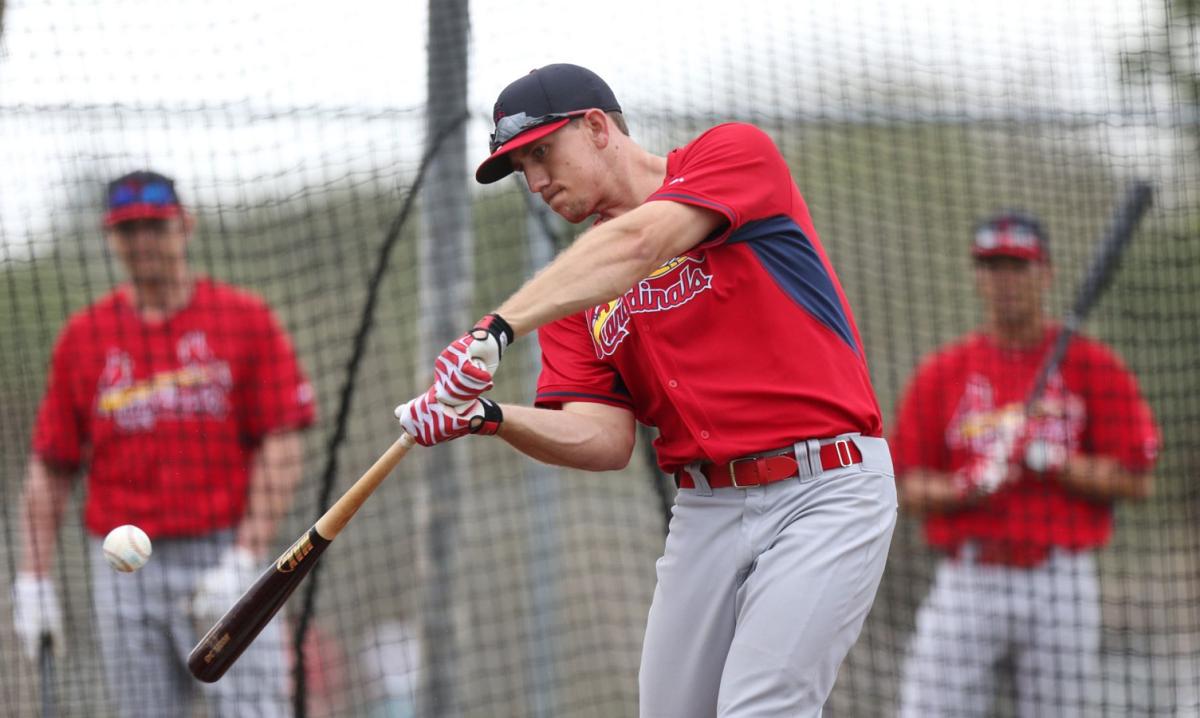 When the Cardinals placed CF Jon Jay on the disabled list Thursday, they opted to promote Xavier Scruggs from Triple A Memphis. Scruggs is a first baseman by trade, but has gotten some work in the corner outfield. 
The Scruggs call-up raised a familiar inquiry: why didn't the Cardinals bring up the more highly-touted outfielder Stephen Piscotty? 
It's an understandable question, given that Piscotty is rated as the Cardinals' top hitting prospect in the third-party prospect rankings. Some analysts have him as a Top 50 MLB prospect. He was a premium draft pick, chosen 36th overall in 2012. 
Piscotty also spent the entire 2014 season at Memphis, adding 556 plate appearances to his minor-league development process. He isn't a raw, inexperienced newbie. He came out of Stanford's baseball program as a polished hitter. 
Over the past two seasons, when the Cardinals have called Memphis to summon an outfielder or bench player, they've chosen others instead of Piscotty: Randal Grichuk, the late Oscar Taveras, Shane Robinson, Scruggs and even Joey Butler.  Tommy Pham received a September promotion. But still no Piscotty. 
What should we make of this?
Have the Cardinals soured on Piscotty? 
And there are valid, sensible reasons for keeping the 24-year-old right fielder in Memphis for now. 
• Piscotty isn't on the 40-man roster. (Scruggs is.) To put Piscotty on the 40-man, the Cardinals would have to remove another player. This wouldn't be a big deal if the Cardinals planned to plug Piscotty into the starting lineup, giving him an extensive opportunity to play. But that isn't a consideration at this time.
• Piscotty doesn't play CF so he wouldn't get many at-bats for the Cardinals right now. With Matt Holliday in left field and Jason Heyward in right field, Piscotty would be a spot-duty hitter at best. So what's the point of putting Piscotty on the 40-man roster to (mostly) sit in a big-league dugout? And why start burning his MLB service time if he won't play regularly? 
With Jay down, the Cardinals have one natural center fielder, Peter Bourjos. Depending on the length of Jay's absence Heyward could move to center on occasion, but keep in mind he's played only 182 innings in center during his six MLB seasons. 
Grichuk can play all three outfield spots, which is why he'll likely be brought back to the big club as soon as he completes his injury-rehab assignment to tune his swing. 
• The most important reason: Piscotty will benefit from daily at-bats in Memphis. And we'll explain why, just in case you missed the information presented over the winter or during spring training.
In an attempt to hit for more power, Piscotty reworked his swing last offseason. His goal: getting more loft on the ball. This is how Piscotty described it when I interviewed him two months ago in spring training: 
"Mechanically, it was finding a little bit better slot for my bat path," Piscotty said. "Something that allows my bat plane to stay on the pitch longer, through the zone more, get more extension. I'm trying to use my longer arms as an advantage, instead of disadvantage. I felt in Triple A that I kind of got tied up a little bit — my arms are so long I can't get extended, I can't stay short so I think I was really trying to attack that."
Last season at Memphis Piscotty had a 43.4% ground-ball rate and a heavy GB/fly ball ratio of 1.44. A low percentage of his fly balls left the ballpark for homers.
Piscotty, who hits a healthy percentage of line drives, ripped 32 doubles at Memphis in 2014. But he hit only nine homers and had a mediocre .406 slugging percentage. To enhance his HR capability Piscotty had to hit fewer grounders and send more batted balls airborne. 
With GM John Mozeliak and the organization's blessings, Piscotty is still working on his swing project. He's transitioning as a hitter, making adjustments, and trying to repeat his modified righthanded swing more consistently. 
If enhanced power was the goal, Piscotty is making progress _ but there have been some tradeoffs. His strikeout rate has increased to 17.4%, up from 11% last season.
But much of that could probably be attributed to Piscotty's habit of chasing a surprisingly high percentage of pitches out of the strike zone. Last season his "chase" rate was 12.5%, and that's jumped to 27% so far this year. Pitchers have undoubtedly picked up on this and are throwing fewer strikes to Piscotty.
Piscotty is batting .228, which doesn't look good on the page. And that's down from his .288 average at the same Triple A level last year. But the low average is misleading due to an unusually low .214 average on balls in play. Better batted-ball luck is inevitable for him, so Piscotty will pull that average up. His onbase percentage (.355) is a more representative number. 
The power is definitely coming around.
Here's a look at the pertinent numbers, compared to 2014.
Slugging percentage: .456 through Wednesday. It was .406 last year. 
Homers: Five in 132 plate appearances; he had nine in 556 PA last year. And he's banged nine doubles and a triple. 
Isolated Power: His ISO is .228, a noticeable rise from last year's .118.
HR/FLY rate: So far 14.3% of his fly balls have gone for homers; last season that figure was 8.5%.
Groundball rate: It's 34 percent, down nearly 10 points from last year. 
GB/FLY ratio: 0.79 this year, down from last season's 1.44. 
As you can see, Piscotty's power game is trending in the right direction. But the modified swing remains a work in progress, and it's best to keep him Piscotty busy in Memphis. It's smart to have him playing every day, refining and improving that swing. 
And when the Cardinals have a true need for Piscotty in a role that will provide a generous number of at-bats, he'll be better prepared to take advantage of his opportunity.