10 best leadoff hitters in Cards history
Compiled by former Post-Dispatch sportswriter Dan O'Neill, and updated in February 2019.
HONORABLE MENTION: 'BLAZER' AND 'SPARKY'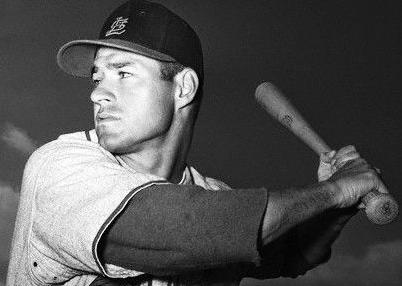 Don Blasingame, aka "Blazer," handled much of the leadoff duties from 1955 to 1959. In '57, he scored 99 runs from the leadoff spot, contributed eight home runs, 56 runs batted in and 18 steals. Maybe the shortstop's best overall leadoff season was '59. He batted .290 with a .362 OBP and .722 OPS in 689 leadoff PA and made the NL All-Star squad.
Blasingame went on to became one of the first prominent big leaguers to play in Japan. He also excelled off the field, marrying 1957 Miss Missouri Sara Cooper, the daughter of Cardinals teammate Walker Cooper. "You know you are getting too old when your daughter marries one of your teammates," Cooper said.
Sparky Adams, an infielder, had 553 at-bats as the leadoff man during the world championship season of 1931. He led the league in doubles (46), and 43 of them came from the first spot. The appropriately-named Sparky also had 15 steals and just 21 strikeouts. He batted .295 with a .343 OBP and scored 92 runs as the first batsman. But on Sept. 20 of his career year, Adams pulled a Geronimo Pena and sprained his ankle participating in a pre-game bunting and running contest. He played in only two World Series games and because of the injury was limited to 31 games the following season. Early in 1933, he was traded to Cincinnati.
10. TONY WOMACK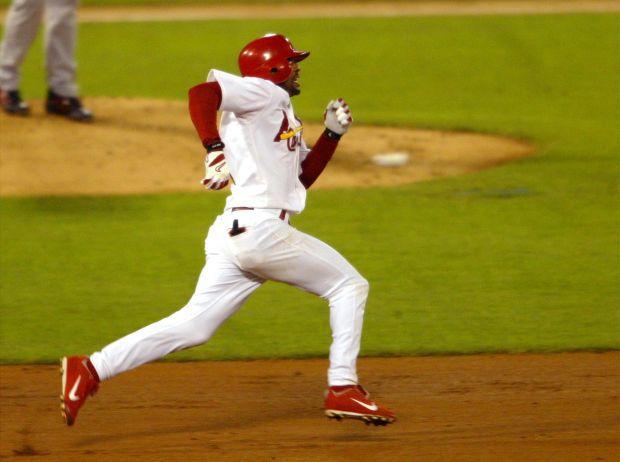 "Champagne" Tony spent only one season at second base for the Cardinals. But he helped them get to the 2004 World Series as a disruptive leadoff hitter, batting .308 with a .352 OBP and 25 steals from the top spot. Womack's .735 OPS was nothing to write home about, but he had five homers and 33 RBIs from the No. 1 hole.
9. LOU KLEIN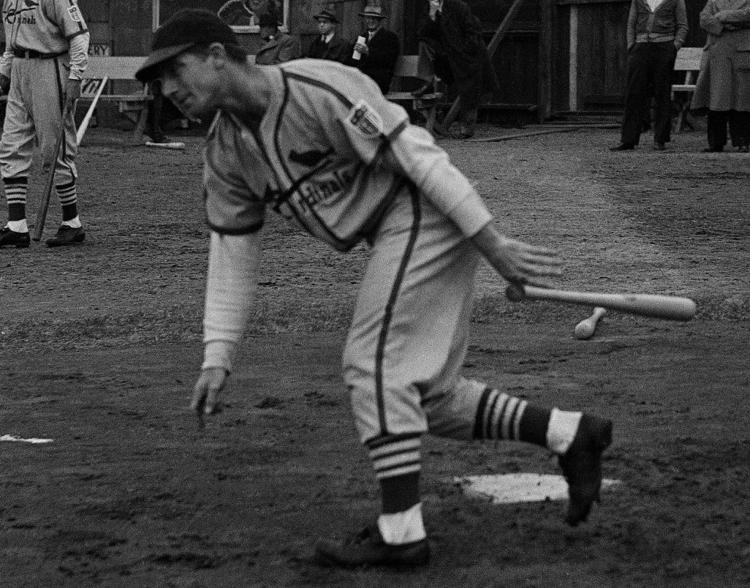 "What might have been" is the first thing that comes to mind where Klein is concerned. He had a terrific leadoff season in 1943, playing every inning at second base for the Cardinals. In 643 plate appearances as a leadoff hitter, Klein had 26 doubles, 13 triples, seven homers and 58 RBIs. He batted .288 with a .339 OBP and .752 OPS, scoring 86 runs.
But Klein spent most of the next two seasons in military service and when he returned in late 1945, he was competing with Red Schoendienst for playing time. Early in 1946, Klein joined Max Lanier and Fred Martin and jumped to the Mexican League. He was banned from the major leagues for five seasons and his career faded to black.
8. DAVID ECKSTEIN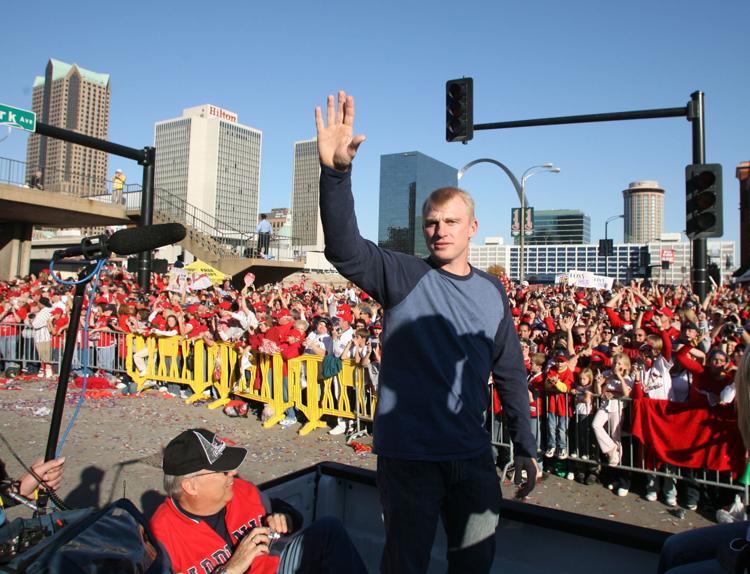 The scrappy "Eck Factor" was part of a World Series winner in 2006 and one of the more popular players in franchise history. His best season as the club's leadoff man was 2005, when he batted .295 with a .364 OBP, .761 OPS and 90 runs. The little shortstop had eight leadoff homers, 61 RBIs, 11 steals and only 44 strikeouts times in 711 PA. He also set an unofficial record for driving pitchers nuts by fouling off pitches.
7. CURT FLOOD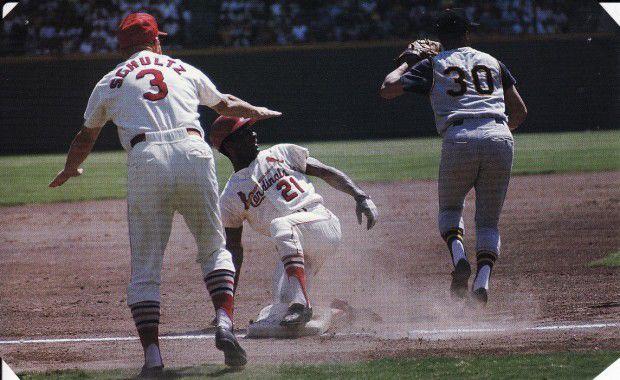 He is overlooked as a leadoff hitter because he spent a good portion of his career in an outfield with Lou Brock. But Flood (above) was a terrific leadoff hitter in the early 1960s before Brock assumed the position. In 1962, Flood had 468 leadoff PA and batted batted .319. He had eight homers, 44 RBIs, seven steals, a .367 OBP and .806 OPS. In '63, he had 519 leadoff PA. He scored 87 runs, plated 45 RBIs, stole 16 bases and batted .304 with a .346 OBP.
And in '64, it was Flood — not Brock — who handled most of the work, batting .308 with a .354 OBP in 691 PA at the top of the order. He had 195 hits and scored 93 runs. In 1965, Brock was inserted at the top of the order and Flood continued to shine elsewhere.
6. LONNIE SMITH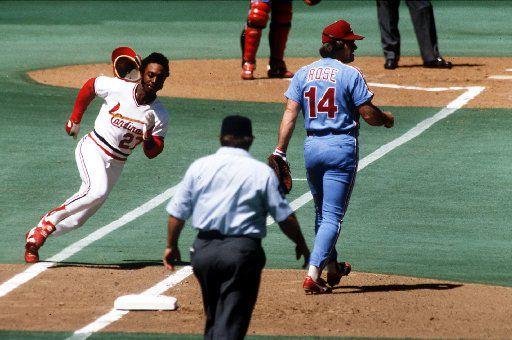 "Skates" had two memorable seasons as the leadoff hitter. In 1982, he helped spark the club to a championship and finished second to Dale Murphy in the Most Valuable Player voting. Smith (above) split time between the first and second holes that season, but he had nearly 100 more PA from the leadoff spot.
In that role, he batted .295 with a .379 OBP, an outstanding .811 OPS and 35 steals. He led the league in runs in '82, scoring 60 in leadoff fashion. In 1983, Smith had 393 leadoff PA, batting .328 with a .385 OBP and remarkable .850 OPS. He had 25 doubles, six homers, 36 stolen bases and 64 runs from the leadoff spot. Unfortunately, he also had some illicit drugs, the use of which caused him to miss a month of the season and caused Whitey Herzog to find Smith a new team.
5. RAY BLADES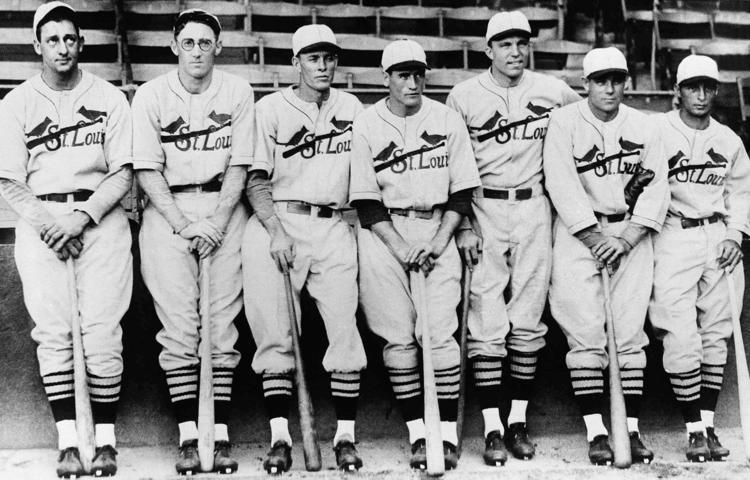 A native of Mt. Vernon, Ill., Blades was first scouted when Branch Rickey — then the manager of the St. Louis Browns — saw Blades playing in a sandlot game for the St. Louis City Championship.
Blades eventually made it to the big leagues, but his career was diminished by a severe knee injury. Still, in 1925 the little outfielder put together a fabulous leadoff season. He batted .325 at the top, with 35 doubles, eight triples, 11 homers, 52 RBIs and 104 runs. His OBP was a remarkable .415 and his OPS of .940 bordered on the ridiculous.
In 1926, Blades tailed off a tad, but the numbers were still spectacular. He batted .308 from the lead spot, with a .409 OBP and .874 OPS. He had eight homers, 43 RBIs and six steals for the World Series champion Cardinals.
4. PEPPER MARTIN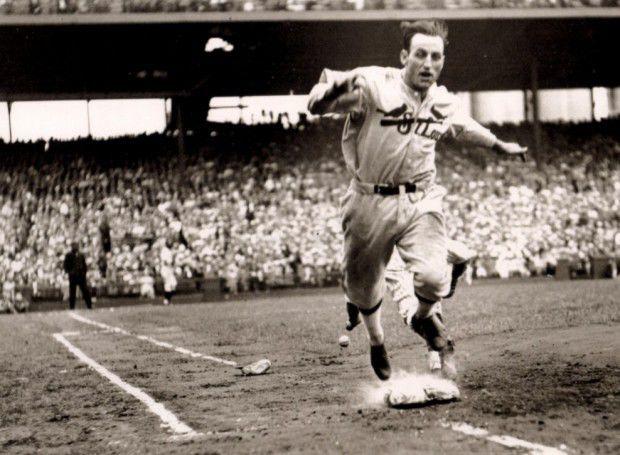 In addition to having one off the best nicknames in sports history, the "Wild Horse of the Osage" was a catalyst for two Gas House Gang championships in the 1930s. Martin (above) batted predominantly in the Nos. 6 and 7 holes in 1931. He became primarily a leadoff hitter in '33 and batted .322 with a .393 OBP and .846 OPS. He had 55 extra-base hits in the leadoff role, 118 runs and 51 RBIs. He led the NL in steals (25) and fanned just 45 times in 621 PA.
The following season, Martin sparked the Cardinals to another World Series win. His numbers weren't as overwhelming, but he batted .290 with 397 leadoff PA, scored 65 runs, collected 43 RBIs and 19 steals. In '35, Martin batted .296 with 106 runs as the leadoff man. He dropped to third in the order in 1936, when he batted .309 with 11 homers, 11 triples, 76 RBIs and 23 steals.
3. VINCE COLEMAN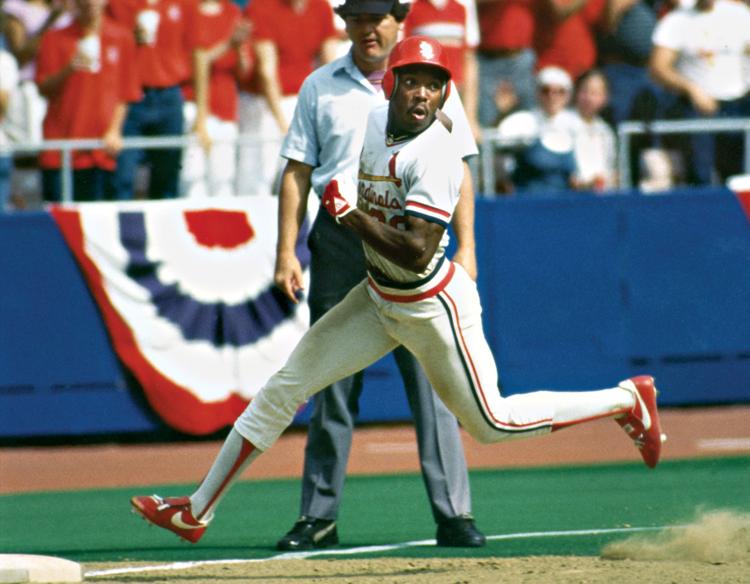 At his best, "Vincent Van Go" was as exciting as they come, and his best was 1987. In 701 leadoff plate appearances he batted .289 with 70 walks, a .364 OBP and .722 OPS. He stole 109 bases, had 10 triples and 43 RBIs as the Cardinals won a pennant. (The Cardinals also won the pennant in Coleman's first season, when he was named 1985 NL Rookie of the Year after stealing 110 bases.)
At his worst, Coleman once injured Mets teammate Dwight Gooden while swinging a golf club in the clubhouse, threw a firecracker into a group of autograph seekers (mostly kids) and got run over by the Busch Stadium tarp before a 1985 playoff game, suffering a season-ending injury.
For all of his stolen bases — and he had 739 as a leadoff hitter — the switch-hitting Coleman was not that wonderful at the top of the order. In 1,275 career leadoff PA, he batted .265 with a .325 OBP and modest .671 OPS. He also struck out 936 times.
2. MATT CARPENTER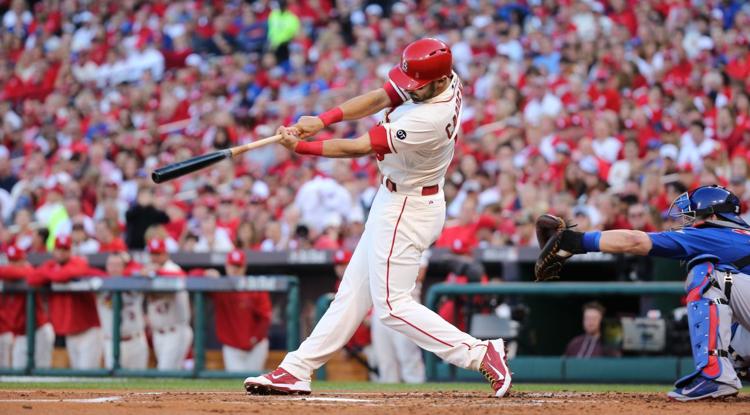 Updated with columnist Benjamin Hochman's 2019 assessment of Carpenter as a leadoff hitter:
He's the anti-Vince Coleman, yet Matt Carpenter is perhaps the greatest St. Louis leadoff hitter since Lou Brock. For his career, Carpenter has had 2,627 plate appearances in the leadoff spot — he has a .287 batting average, a .389 on-base percentage and a .495 slugging percentage.
So his OPS at leadoff is .885. That's in 691 games, a little over 4.2 "seasons" of plate appearances. Think about that. Nolan Arenado's career OPS is .886.
1. LOU BROCK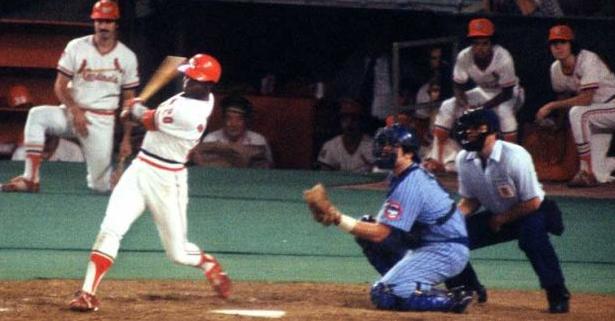 Acquired at the trade deadline in 1964, the "Base Burglar" emerged as a leadoff batter in 1965. Brock would hold the spot for 15 seasons while putting together a Hall of Fame career. In 1974, he stole a then-record 118 bases, but perhaps his best overall season as a leadoff hitter was in 1971.
In '71, Brock batted .304 from the top, added six homers, 53 RBIs and 61 steals. He had a .382 OBP, .795 OPS and 115 runs. Brock also struck out 97 times that season. In that regard, Brock was never the "perfect" leadoff hitter. During his career Brock fanned 1,302 times as a leadoff hitter.
But he also had a .291 leadoff average, 2,210 hits, 376 doubles, 108 triples, 108 homers, 640 RBIs, 1,254 runs and 762 stolen bases.