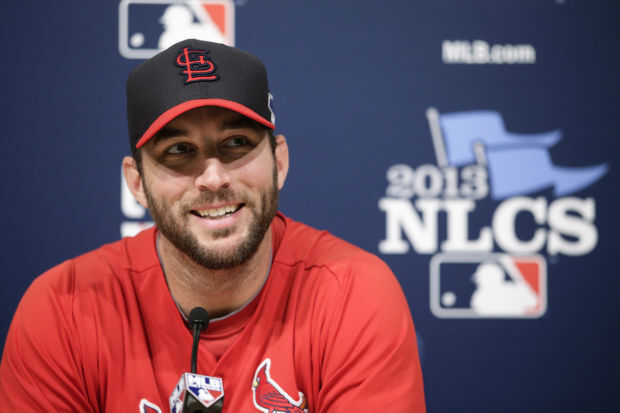 A veteran of seven postseasons and 109 playoff innings pitched, Adam Wainwright has seen almost every angle of October, from the first pitch of a game to delivering the one that ends a championship series to even the dugout as teammates won, and on Tuesday he got a new view.
He swapped his jersey for a necktie and watched from the broadcast booth.
"I never thought I'd be a rookie again," Wainwright said as he was introduced during the FS1 pregame show. "I feel like it today."
A favorite go-to, in-game interview for national broadcasters throughout his career, Wainwright had a microphone in his grip not a curveball Tuesday as he made his debut as a network analyst. Wainwright will be part of FS1's call for the Marlins-Braves division series all week at Minute Maid Park, starting with the Braves' 9-5 victory Tuesday and continuing with Game 3 on Thursday. The series' Game 2 is Wednesday afternoon on MLB Network.
It is Wainwright's first formal dabble into being a part of a national broadcast and he acknowledged a dress rehearsal for a career after pitching.
Not that he's made a decision on pitching in 2021.
During the broadcast, Wainwright was urged to make predictions on other series, and he paused when asked if he was hesitant to pitch against a team that might sign him.
"That's the thing — pitching next year," he said. He then prepped the audience for making news on the broadcast and said: "I'll either do what I'm doing now, or play baseball."
Wainwright, 39, has said his preference is to return to the Cardinals, if the club is interested. He is coming off a season as the Cardinals' most reliable starter. He went 5-3 with a 3.15 ERA.
Wainwright is at the end of a one-year contract that guaranteed him $5 million, and in the shortened season he triggered bonuses for games started worth at least an addition $3 million. It is the second consecutive year he's pitched on an incentive-laden one-year contract for the Cardinals. Wainwright has recently said he would make the decision about pitching in 2021 after talking with his family during the offseason.
At Minute Maid Park, he was flanked by play-by-play broadcaster Adam Amin and former teammate A.J. Pierzynski. For COVID-19 precautions, they were separated by Plexiglass dividers. Pierzynski and Wainwright played off of each throughout the broadcast, offering different viewpoints from either side of the battery and even debating whether the losing team could take positives from a playoff loss for the next day.
Wainwright offered insights on former Cardinals prospects like Marlins starter Sandy Alcantara and center fielder Magneuris Sierra, who he said "run like he's got a jet up his rear end all the time." Seconds later, Sierra went first to third on a ground ball single.
The game hinged around a pitch that hit Ronald Acuna Jr. and appeared to ignite the Braves for a rally to win. During the conversation about how much getting hit by a pitch hurt, Wainwright had to borrow from what he recalled from the minors because, he explained, "I think I'm the active leader for not being hit by a pitch."
He has not been hit in 772 plate appearances, and the next closest active player has had 589 plate appearances without a HBP.
It is not unusual for an active player to take part in postseason broadcasts. One of Wainwright's friends, John Smoltz, appeared on the postseason telecasts in 2008, a year before he pitched for the Cardinals. He's since been in the booth with Joe Buck for the World Series on Fox the past four years. Three years before he played for the Cardinals, Pierzynski was part of the Fox Sports broadcast for the 2011 World Series. Wainwright reminded him Tuesday that he picked the Rangers to win that championship.
Egged on by Pierzynski, Wainwright eventually did make his picks — suggesting a rally for the Tampa Bay Rays and the Athletics to advance to the American League Championship Series. In the NL, he called the Dodgers maybe "the best team I've ever seen," and then picked as winners the San Diego Padres, the group that ousted the Cardinals and meant Wainwright could see how a headset fit without a cap on.
Molina and Wainwright belong here, for years to come
Keep up with the latest Cardinals coverage from our award-winning team of reporters and columnists.