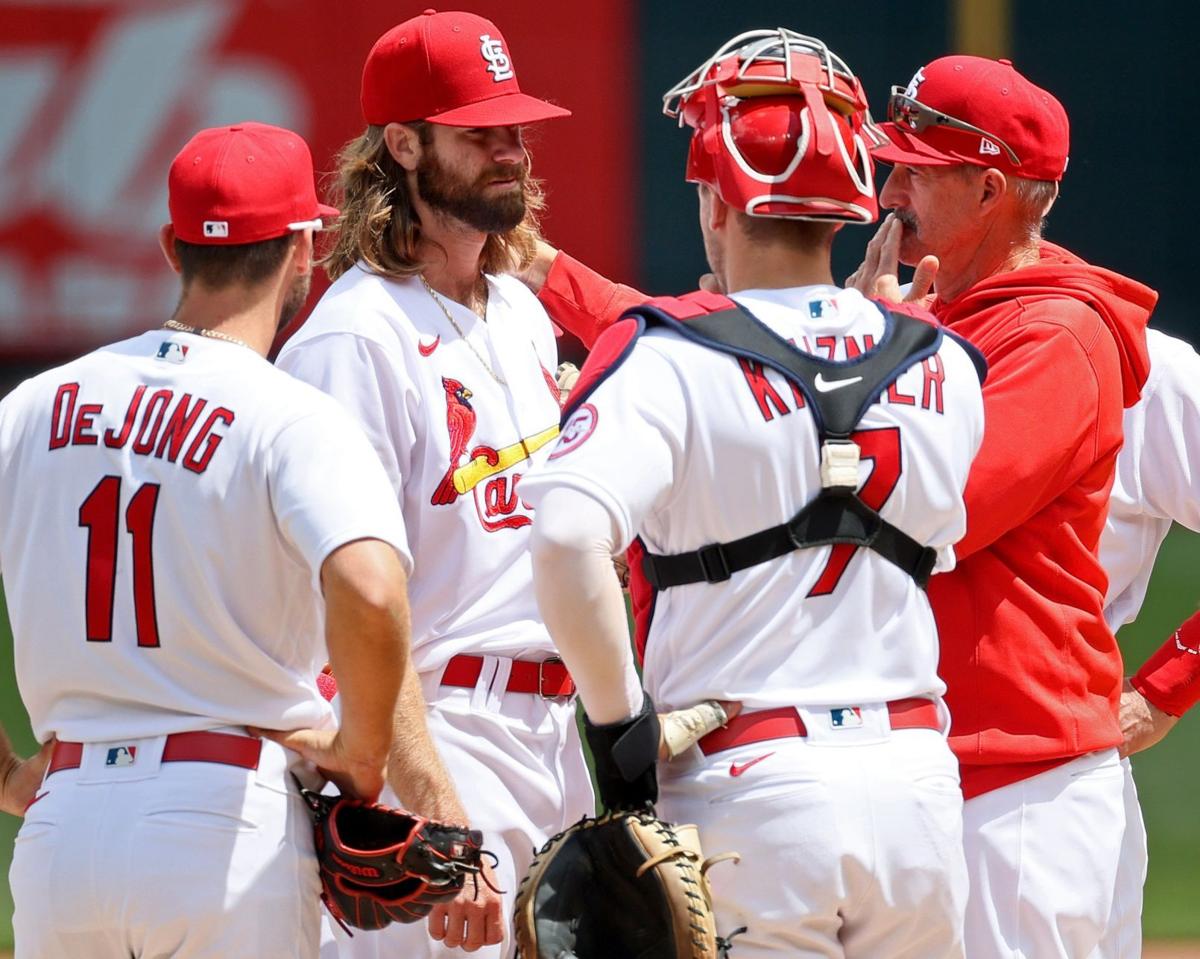 CHICAGO — A thunderstorm warning and the rain to go with it has swept over Wrigleyville and brought some cooler temps to a hot town, summer in the city.
Cardinals starter Adam Wainwright bulldozed through the rain drops as he ran from the visitors' dugout at Wrigley Field to the bullpen under the bleachers for what was presumably a bullpen session. A tarp remains on the field about three hours before first pitch.
Plenty of time to sell new merch.
The Cubs will debut their City Connect "Wrigleyville" gear in this evening's national broadcast, and the Cardinals are set to sport their victory blue Saturday variant edition alternate road jerseys. Plenty of blue will be on the field. That comes a day after the Cardinals left seeing red by blowing a four-run lead after the top of the fifth inning and losing their ninth game in 11.
The Cardinals felt they got some traction coming out of the win Wednesday against Cleveland only to see most of it slip away as the ball slipped too often from their grasp Friday afternoon at Wrigley. An error, a grounder not gloved, and a pass ball all contribute to a run the Cubs scored, and that surrounded Anthony Rizzo's 14-pitch at-bat against Daniel Ponce de Leon that ended with a home run.
They need a stopper for the second time in three games.
John Gant gets the attempt.
Gant is coming off a start where he allowed seven runs on seven hits and three walks through four innings. The Cardinals had won the righthander's previous three starts before the dud against Cincinnati that really captured the Cardinals' overall struggles in the four-game visit from the Reds. Gant will be making his 12th start of the season, and he'll need to carry the game through the sixth inning just to get to a point where he's averaging five innings a start this season.
The Cardinals have ample bullpen ready to hold a lead should they get one. Closer Alex Reyes has gone almost a week without appearing in a game, and because of the losses the righthander has thrown a total two innings and 40 pitches in June.
Whether they can get a lead is a question, given the pitcher facing them.
Kyle Hendricks has mostly confounded the Cardinals in his career. 
The righthander has a 4.59 ERA through 12 starts this season, but during a visit to St. Louis he allowed one earned run in 6 2/3 innings. That start was the second of five consecutive quality starts that he takes into Saturday evening's game, and his most recent two came during the Cubs' swing west to face San Diego and San Francisco. 
This will be Hendrickson's 22nd career start against the Cardinals. He's 10-3 in those games with a 2.81 ERA and only 23 walks in 134 2/3 innings. 
He has made a habit of making quick work in Cardinals starts.
This is the lineup Hendricks' will face followed by the one behind him:
A few quick notes: Justin Williams has been assigned to Class AAA Memphis to begin a rehab assignment. ... Cubs have announced that Kyle Davies will start Sunday night's national telecast game against the Cardinals at Wrigley. He'll pitch opposite Carlos Martinez. ... The Cardinals have made a few of what could be several pitching moves at the minor-league level. They officially signed righthander Clay Thompson and lefty Kevin McGovern to minor-league deals and assigned them Saturday. 
Update: Sun is out, tarp is coming off at around 3:57 p.m. Chicago time.
Check back later this evening and into the night at StlToday.com for coverage from Wrigley. There will be updated and exclusive coverage in the pages of the Sunday Post-Dispatch as well.