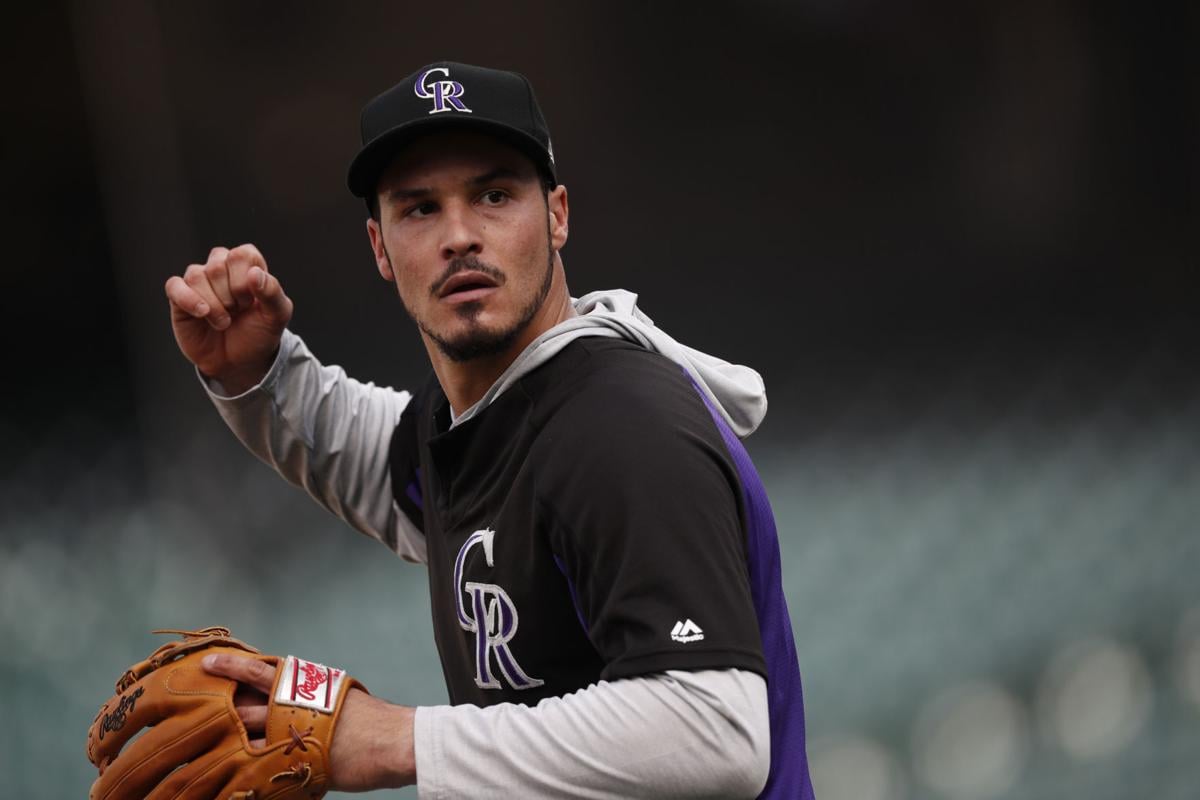 As part of his revised contract that was necessary to become a Cardinal, Nolan Arenado has the choice on whether he wants to remain a Cardinal — not once, but twice.
He said Tuesday he already has an answer in mind.
"I plan on sticking around," he said.
The Cardinals introduced their new third baseman during a 40-minute long Zoom conference call with media. John Mozeliak, president of baseball operations, had a No. 28 Arenado jersey hanging behind him in his office at Busch Stadium, and Arenado joined from Florida, where he has been working out. The press conference to announce the trade for Arenado was the formal culmination of more than a year of negotiations with the Rockies to acquire the five-time All-Star and eight-time Gold Glove winner.
To complete the deal, Arenado and the Cardinals had to revise his contract — extending it through 2027 but also including two chances for him to opt-out and become a free agent. He can elect to be a free agent after the 2021 season or after the 2022 season.
"I plan on sticking around. So, that's my goal," Arenado said. "I plan on staying here for a long time. I've said that once in Colorado, but truly — I mean it. I expect to be here a long time. I'm not worried about that."
The Colorado Rockies held a press conference at the same time to discuss with the media how they got to this point — so soon after signing Arenado to an eight-year, $260-million extension. Following that deal, completed during spring training 2019, the Rockies tumbled out of contention, and friction developed between Arenado and the Rockies' front office.
During the team's press conference Tuesday, Rockies ownership said Arenado came to them nine months ago to request a trade, and the team became convinced that he was going to opt-out after the 2021 season. Their goal became to maximize the return they could get for him in trade, using the compensation draft pick as a comparison.
The Cardinals felt their conversations with the Colorado gained momentum in December, lost it at times, encountered steep inclines and new pitfalls, and at times seemed like it was impossible to complete.
Mozeliak said in the past week he felt "nauseous."
The richest contract in Cardinals history — Arenado's is now valued at seven years, $215 million — is also the most complex trade in their history. Arenado agreed to defer salary to reduce it over the course of the contract. The Rockies are sending around $50 million in cash to the Cardinals over the life of the contract, and they are paying $15 million of Arenado's $35 million salary for the 2021 season. To keep the present-day value of the contract, the Cardinals and Arenado extended it one year for $15 million in 2027. The Rockies will pay that salary. But they will only owe it and the bulk of the $50 million if Arenado remains a Cardinal.
Throughout his press conference, Arenado referenced players he knows who have been Cardinals and what he knows about the roster he joined, officially, on Tuesday. First baseman Paul Goldschmidt and Arenado were competitors in rookie ball, rising prospects in the NL West together, and later teammates with Team USA. They remain close — and are part of each other's fan club.
Arenado called Goldschmidt one of the best players he's ever watched. He didn't lack for All-Star teammates in Colorado — playing beside standout shortstops Troy Tulowitzki and Trevor Story, for example — but elsewhere, as an organization, the Rockies were more rubble.
Arenado mentioned several times the Cardinals' 13 consecutive winning seasons, their style of play, and the commitment he saw from ownership — just in the months and months of trying to get him.
"Hopefully we get the best catcher back, and we'll keep it moving," he said, referencing the imminent deal the Cardinals have with Yadier Molina to return for 2021. "That's enticing enough to me. I know they care about winning, and I believe they do everything we can to win."
Arenado spoke about how his extension with the Rockies set the stage for an inevitable trade if the standings didn't improve, and he referenced how he's watched Giancarlo Stanton and, already this winter, Francisco Lindor be traded from their first teams.
Closer to his former home he saw it with Tulowitzki and knew about Holliday, and from both of them had heard about what was possible in other places, like St. Louis.
"When you have a contract like mine, and you're losing, usually a lot of these contracts get moved, and that's what happened now," Arenado said. "I signed there to be there a long time, and I wanted to win there. It didn't work out. So, you move on. That's what I'm going to do. I'm real excited to be here.
"I feel like this is a really good team, can do special things. I can't wait to get to Jupiter."
"And he knew he was going to run into something, whether it was the stands or the tarp," Walt Weiss said. "But he didn't care."
The gold standard at third base is now a game-changer for the Cardinals. 
Redbirds often have gone to the Rockies to obtain talent.
An April 28 regular season start, designated hitter in the National League and seven-inning doubleheaders are among proposals to players' association.
Third baseman Cards are working on to acquire impresses former Redbirds outfielder.