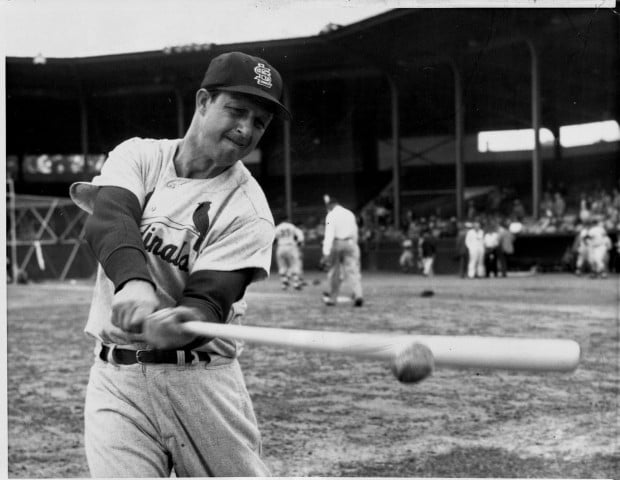 TOWER GROVE • About to suffer through an 0-for-22 stretch that drove his batting average down to an uncharacteristic and unlikely .143, Cardinals first baseman Stan Musial was flown back to St. Louis in May 1947 soon after he complained of an intense and persistent ache in his gut.
Musial knows Matt Holliday's pain, but he and the Cardinals settled on a different treatment that put him back on the field sooner.
Complete with his appendix still intact.
Frozen in place, if you will.
Last Friday, Cardinals left fielder Holliday underwent an emergency appendectomy. Holliday left the ballpark with some pain Thursday night, and team officials first learned of the severity Friday morning, just several hours before he had the laparoscopic procedure. The club is waiting to determine by today or Tuesday if Holliday will be back within a couple weeks, or if they need to place him on the disabled list and fill his roster spot.
Holliday is not the first Cardinal to have an attack of appendicitis during the season. In 2005, outfielder Reggie Sanders was taken from the spring training facility for an appendectomy, and he returned to the field in less than two weeks and was ready for opening day. In 2003, Eduardo Perez had an appendectomy and, according to MLB.com, was able to pinch-hit a week afterward. As with everything Cardinals, they failed to meet the standard set by Musial.
In May 1947, he had four at-bats five days after diagnosis.
Of course, he still had his appendix.
Musial had just gone 1-for-4 on May 7 in Brooklyn when he then let the team know about the stabbing pain near his stomach. The Cardinals' first baseman was sedated and flown back to St. Louis to meet with the team doctor, Dr. Robert Hyland. According to reports from the time and later recounts in books and Bob Broeg columns, Hyland diagnosed Musial with appendicitis and tonsillitis. Hyland, however, suggested a different treatment than removal of the appendix.
"He recommended the freezing of Musial's appendix because the surgery would sideline him for nearly a month," wrote James N. Giglio in Musial: From Stash to Stan the Man. "Meanwhile, he slowly regained strength, thanks to Hyland's treatments, Lil's cooking, and five days' rest before returning to the lineup."
Broeg also described the meeting with Hyland in his memoirs, which you can view here on Google. He, like many, casually reference how Hyland would "freeze the appendix." Finding more detailed account of the treatment has been tricky. A journal from 1938 dismissed it as a treatment, though I couldn't verify the validity of the journal. In other accounts, the freezing of the organ is mentioned as a treatment to stymie inflammation, but how the process is done wasn't described.
(Turn up the lights, a sec: Is there a doctor in the house?)
Musial went hitless in his first five games back in the lineup, a stretch of 22 plate appearances. (He only struck out once in the stretch.) But, about the time that several Cardinals have returned from appendectomies, Musial was gaining speed. He got his average up to .200 on June 1. On July 26, he was hitting .282. And on August 10, Musial reached .300 for the first time all year. Musial would finish the year with a .312 average, and he later called it "a lousy year."
No wonder. He played most of it with an ice-cubed organ.
At the end of the 1947 season, Musial had his appendix and tonsils removed, giving him plenty of time to rest up for one of the best seasons in baseball history.
"From the time Musial picked up a bat in spring training, he felt stronger and the bat lighter," Broeg wrote about Musial in 1948 for Post-Dispatch column in 1998. "Removal of infected appendix and tonsils had turned him at 27 into a healthier and more vicious hitter."
There's no doubt. In 1948, Musial led the National League in nine significant offensive categories including batting average, triples, runs, RBIs, double, total bases, on-base percentage, etc., etc. He finished one home run (rained out homer?) shy of a Triple Crown.