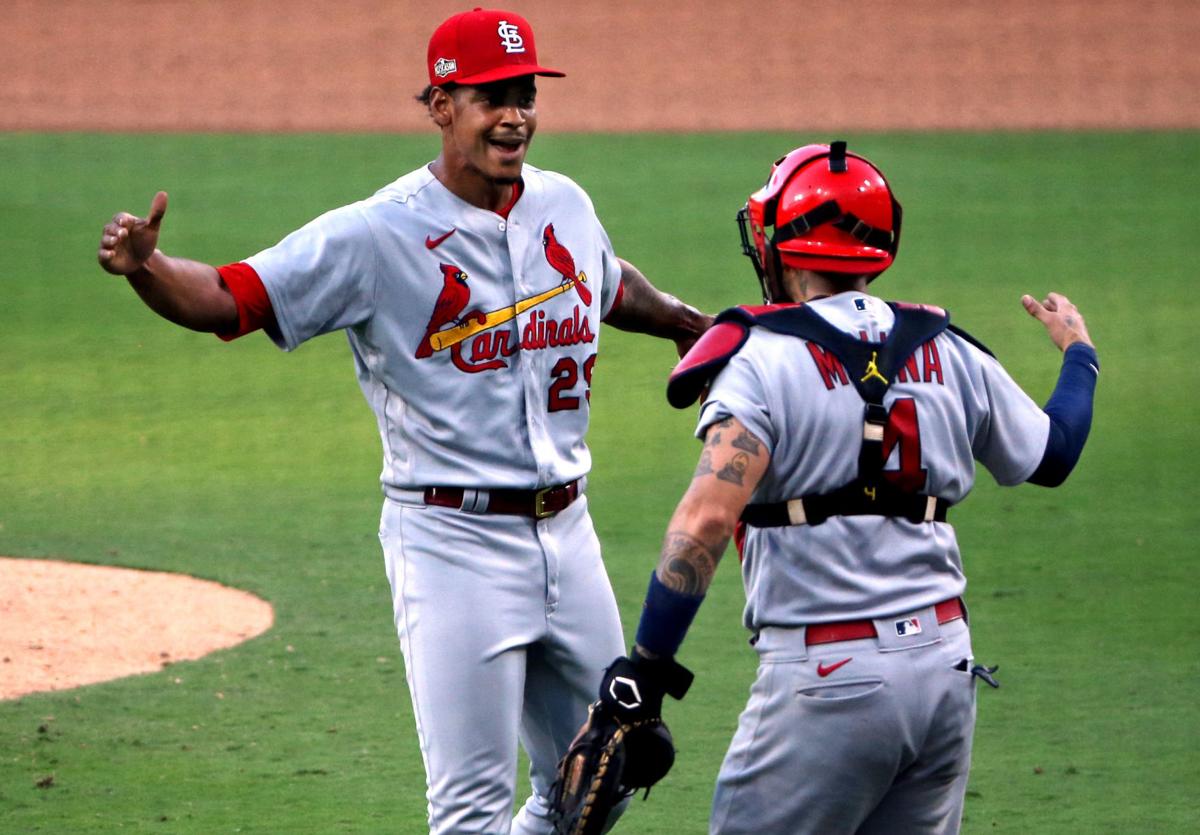 The Cardinals were able to reach agreements with three of their four arbitration-eligible players before Friday's deadline, and they continue to have dialogue about his salary for 2021 with the fourth, starter Jack Flaherty.
The Cardinals announced agreements with Jordan Hicks, Harrison Bader, and Alex Reyes.
Center fielder Bader, one of the elite defensive players at his position, received a significant raise as he and the Cardinals agreed to a one-year, $2-million deal and avoided arbitration before Friday's deadline, a source confirmed for the Post-Dispatch. Reyes, a longtime prized prospect who asserted himself as a reliever this past season, also agreed to a one-year, $900,000 contract for 2021 and avoided arbitration, two sources confirmed.
Hicks received a salary around $865,000, a source confirmed.
The deadline for swapping salary figures between teams and their arbitration-eligible players is noon St. Louis time Friday.
The Cardinals presented Flaherty with an offer for $3 million, and Flaherty's representative countered with a request for $3.9 million, according to two sources.
The Cardinals have adopted a policy of "file/trial," meaning if they cannot come to an agreement or have momentum for one before Friday's deadline then they will intend to proceed to an arbitration hearing next month and all that to decide the player's salary for 2021.
The arbitration process, especially early in a player's career, is geared to reward performance and regular playing time. Bader saw a rise from his salary of $590,100 to the $2 million due in part to his exceptional defensive play, and also the fact that he was an everyday player for the Cardinals in his two seasons leading up to his first crack at arbitration.
Reyes, 26, finished the Cardinals' season as their closer, and he got the save in the team's one playoff victory at San Diego. He joined the club after quarantining due to a positive COVID-19 test, and the was part of the teams late-season push for a playoff berth. In 15 games, Reyes had a save and a 3.20 ERA to go with 27 strikeouts in 19 2/3 innings.
For as many as four years, Reyes was considered the Cardinals' top prospect and he was once ranked the best pitching prospect in all of baseball. Injuries have delayed his breakout in the big leagues.
He is set to come to spring training to compete as a starter for a spot in the rotation.
Bader, 26, hit .226 this past season with a .336 on-base percentage that was an improvement from his career high. He also slugged .443. In his career, he's been a .234 hitter with a .399 slugging percentage. He has emerged as one of the game's finest center fielders and has twice been a runnerup for the Gold Glove Award, his candidacy buoyed by advanced metrics.
CARDINALS SIGN 15 INT'L TALENTS
On the first day of the international signing period, the Cardinals signed shortstop Adari Grant, of the Bahamas, and switch-hitting catcher Leonardo Bernal from Panama along with 13 other international free agents. All of the bonuses were expected to be less than $300,000, and a handful of the bonuses will not be revealed out of a team security policy.
Grant was ranked by Baseball America as the 47th-best player available in the class, and he's considered a highly athletic infielder who could handle center field or either middle infield positions as he advances. Bernal was one of the leading players for his country's national team, and he's considered an advanced bat with a good base behind the plate.
• Samil De La Rosa, 3B, Dominican Republic
• Adari Grant, SS, Bahamas
• Leonardo Bernal, C, Panama
• Elias Reynoso, SS, Dominican Republic
• Carlos Carmona, OF, Venezuela
• Christian Avendano, OF, Venzeula
• Anyelo Encarnacion, SS, Dominican Republic
• Yancel Guerrero, SS, Dominican Republic
• Robelin Lopez, OF, Dominican Republic
• Marcelo Perez, SS, Dominican Republic
• Romtres Cabrera, OF, Dominican Republic
• Jose Suarez, OF, Dominican Republic
• Esteban Contreras, RHP, Dominican Republic
• Carlos De La Cruz, RHP, Dominican Republic
• Samuel Fabian, RHP, Dominican Republic
De La Rosa's deal was for a $300,000 bonus. The Cardinals have a purse of nearly $6 million to spend on this year's class. It is the second-largest in the majors. They did not have any bonuses larger than $1 million on the first day of signing but have space remaining to continue to pursue additional players as they become available in the coming months.
This is a developing story and will be updated.