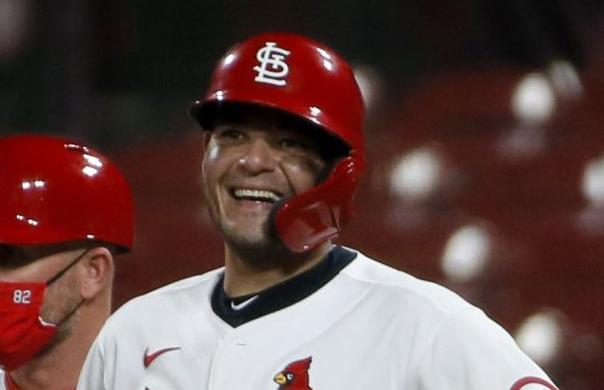 Perhaps it was the confluence of a molasses-like offseason and the annual stream of Hall of Fame ballot grumbles that brought on the deluge of questions, because when the weekly Cardinals came to an end there were still nearly 200 questions remaining from readers.
I pulled out 40 more of the questions and tried to find ones that were challenging, intriguing, or captured topics that were asked about repeatedly in other questions. I also wanted to sprinkle in some whimsy, too. We haven't done a mailbag in a while, so cleaved the 40 in half and today will post two 20 Questions mailbags. Haven't done a mailbag in a while. You'll see in the first question it gave me a little time to really dig into the research.
Enough prelude, onto your questions:
Q: What Elite metrics does Yadi possess to get in the HOF? A lot of the younger Sports writers are going to be looking at his WAR and I'm not sure his WAR metric is going to help his case. – Jimmy
DG: You might be surprised. At the moment, Yadier Molina's overall WAR, according to Baseball-Reference.com, is 40.4. That ranks 15th since 1961 among players who have played more than 1,000 games and had 51 percent of them at catcher. For kicks, dial that last part up to 90 percent and here is the list of everyday, full-time catchers with the top WAR since 1961:
I don't know of any voters who use only one statistic to determine their ballot, and so this is the beginning of the case with new metrics for Molina in Cooperstown. Clearly, Rodriguez stands out from his peers, and what lifts Molina in this ranking is his defense. The WAR component that measures defense for catchers has been adjusted in recent years, and that has given Molina a deserved bump. While researching where Omar Vizquel was worthy of a Hall of Fame vote, I came upon this ranking of players using B-R.com's Stathead database.
The highest Defensive WAR (dWAR) since 1961 for players at all positions with at least 1,000 games. The No. 1 player won't surprise you, and No. 2 shouldn't.
8. Andrelton Simmons, 26.2
The 13th-highest score belongs to Andruw Jones (24.4) and the next player with Cardinals tie on the list is Scott Rolen (21.2) at 20th. As you can see there are three catchers – Rodriguez, Carter, and Boone – ahead of Molina, though give Molina another full season and he'll surpass Boone and have a chance to retire in the top 10 at any position since 1961. That helps move the case forward, and then we call in the counting numbers.
Sorting again by players who mostly played catcher since 1961, Molina's 2,001 hits ranks ninth. Only Rodriguez has more hits and a higher dWAR. Molina's 2,025 games, most of them at catcher, ranks ninth, and his dWAR is based on that – despite playing fewer than 200 games than Boone, almost 300 fewer than Carter, and 518 fewer than Rodriguez. Molina's 381 doubles ranks seventh for catchers since 1961. Again, only Pudge has more with a higher dWAR. Molina's 160 home runs rank 24th among catchers, but the only catchers with a higher dWAR and more homers are Carter and Rodriguez. Sensing the trend? The same goes for Molina's 932 RBIs, which rank 10th among these catchers, though it would be higher if we went full-time, everyday catchers. Again, Rodriguez and Carter are the only catchers with a higher dWAR and more RBIs. Molina's .281 average ranks 12th (only Rodriguez is better with higher dWAR) and his .333 OBP ranks 37th (Rodriguez again is better, at .334!). Molina's .404 slugging percentage does rank 44th among this broadly defined group of catchers, but only two of those other 43 also have a higher dWAR for a position that requires defense. Those two will be familiar.
Both, of course, are already in the Hall of Fame.
Q: Do the Cards utilize any non-employee scouting of themselves? Thanks. – Simple 10.
DG: Great question. Truly fantastic. This is like hiring an outside consultant for a TV station to audit and offer suggestions, and I don't know if the Cardinals have anything quite that formal. I don't believe they do. Informally, they have for a long time. Many of the Cardinals executives, including Mozeliak, have confidants outside of the organization to get feedback from. Mike Matheny, as manager, had a group of people he relied on for input and advice – and only one of them was even peripherally tied to the Cardinals. This is a great question because I wonder if this is going to be part of the Cardinals' audit of their evaluations in the coming year, and we're likely already seeing the structure of it. Part of the downsizing the Cardinals did was eliminating the positions for many "special assistants" to the front office. That meant a lot of former players were dismissed, but it also meant that former GM Bob Gebhard was, too. He's a mentor for Mozeliak, and he still will be even though he's not an employee. But so will other mentors who previously were tied to rivals or opposing teams – and are now untethered. That does create the opportunity to build a group of non-employee input that offer insight from beyond Clark Street.
Q: Happy New Year. Very much looking forward to another year of this chat and BPIB. Thank you always. In BPIB, you mentioned Cards advantage in its ability to generate significant revenue earlier than other franchise due to its fan base. With that, why wouldn't agents approach Cards for backloaded deals? In particular, I have yet to hear ideas like personal service contract (like the one Pujols has with the Angels) with Yadi/Waino. Shouldn't Cards try creative ways to balance future revenue with immediate cash demand? – Cards Fan in Tokyo
DG: One reason why you haven't heard about "personal service contracts" is because they are no longer allowed. The last one of its type was Albert Pujols', and now they are no longer permitted. Keep in mind that backloaded deals can be worth less in the end than advertised because the value of today's dollar changes vs. tomorrow's. Deferred money, backloaded deals – these are all part of the equation to determine the "true" value of a contract, and of course agents and players want to maximize the guarantee on contracts. This is a great time to get creative, of course. But more and more it becomes clear that teams are focused on immediate release of financial strains and not massaging offers for later spending. The structure of contracts is definitely something to watch as the market starts to move, because we're going to see some inventive moving around of money.
Q: Having listened to the most recent BPIB, I was intrigued by a comment Ben (Hochman) made about Yadi being like another pitching coach. Do you think a catcher (Molina or otherwise) could have success post-career as a pitching coach or is it the realm of former pitchers only? – Dave
DG: What with Mike Maddux in St. Louis and so many of the other name-brand pitching coaches – Leo Mazzone, George Bamberger, Don Cooper – coming off the mound to only return there as a coach, I see where you're coming from. However … Dave Duncan, one of the best pitching coaches of all time, was a catcher. It's rather common for catchers, who work so closely with all pitchers and have the viewpoint they do for much of their careers, to become pitching coaches. Many seem to veer toward manager, but pitching coaches who caught are possible. The question for Molina is what does he want to be – because given his ability and feel and knowledge of the game he'll likely be whatever that is.
Q: In listening to the BPIB, and in reporting from several on the PD, I have seen variations of the phrase "legacy contract" in reference to the Molina negotiations. Now don't get me wrong, I would love to see Molina back. But this phrase sort of irks me in that it usually refers to a contract where the team overpays a bit for past performance. And that is actually admirable. The problem is that Molina's last contract was his legacy contract, was it not? The team overpaid to reward past performance and he said he would be retiring when it was finished. And yet, here we are. Talking about another legacy contract. – SaintGiff
DG: You have articulated the view the team had, yes, and is now confronting again. When they signed him to a the three-year, $60-million extension they were relieved that they could rationalize the raise, calculate his value beyond the hard data, and know that it was going to keep him in Cardinals laundry till the end of his career. But they also were really aware that there was no guarantee. If he played as well as they hoped – why wouldn't he keep playing? In a way, they paid for him to produce well enough to extend his career, and here they are.
Q: Is there anything an otherwise hall-worthy player could say that would make you not vote for him? More specifically, is it that you didn't think Shilling's antics were "that bad" or that such post-career statements should not matter to the vote? – Archie
DG: Some of the things that Curt Schilling has said are reprehensible, ill-conceived, and toxic. Should I go on? It is a delicate line to walk as a journalist, someone who has a job discussed in the First Amendment, to then hold speech against someone, even if it rises to the level of hate speech. After all, Free Speech does not mean Freedom from Consequences of That Speech. You ask if there is anything that a Hall of Fame candidate could say that is so disgusting, so vulgar that it would take away a vote. I'm sure there. I don't want to spend much time thinking about it, and would rather confront it once that sewage belches from their mouth or oozes of their fingers and onto Twitter. Here's how I have approach Schilling: I'm not going to let him step on me to make his point about journalists. I'm going to make my decision as a journalist, and if you think giving him a vote gives him a platform, then I'll counter by saying it does the same for me. I got to go on national television the other day and point out how vile some of the things he's said are. That's how I'll use the vote. Other baseball writers have done the same. I think that is consistent for me – my personal view that others do not have to share – as a journalist.
Q: I know you need a Nolan Arenado question. I know money would be the main cause of a trade not happing now, but with so much coming off the books in 2022 couldn't the cards tough it out 1 more year and be better for it. If they could get Arenado without giving up Gorman then they could have Arenado move to first and godly be the DH and give 3b to Gorman when he is ready for it. Also if Gorman didn't pan out u still have an elite 3baseman in Arenado. It seem Arenado could solve a lot of problems for the cards. 3rd base and power. Then they can sort out their outfield this year because that seems to be the log jam that they can't get straightened out anyway. – Brian
DG: Let's start with the fact that if the Cardinals add one of the finest defensive players ever to play the Hot Corner, it's hard to see a reason to move that player from third base to play another position, especially if defense ages better than his bat. Keep the better fielder at the position with the higher degree of difficulty and find another spot for the lesser glove that may or may not have the better bat at that point. That said, while Nolan Arenado isn't likely to be the move the Cardinals make, your question does bring up an approach that the Cardinals could take – bet on themselves. Bet on their fan base. Bet on the fact that they are going to rebound quicker financially than other teams because of the loyalty of their fans and their willingness to buy tickets, and use that likelihood to gamble now. That approach, one the Cardinals have not yet adopted or agreed is an option, is one that can be argued they should take.
Q: Which of your Beatles songs would best describe the current state of the Cardinals? Help!, Getting Better (can't get much worse), Let it Be, The Long and Winding Road, or Get Back (to where you once belonged)....or another? – Stan the Fan
DG: "Can't Buy Me Love," of course. With all of the layered meanings.
Q: Wondering why you left off Andy P and Manny R. Assuming it is performance related since other PED users are on your ballet; agree with your 8 selections – P.S.
DG: Manny Ramirez was twice suspended for PED use, and the rules weren't a secret either time. Andy Pettitte had an incredible career, for sure, and strong postseason performances to go with standout seasons, but his overall career, to me, has not vaulted to the level of other pitchers I've voted for, such as Smoltz and Mussina, two players elected to the Hall of Fame, and the aforementioned pitcher Schilling. They stood above their peers from the mound.
Q: I'm really bummed out that Brebbia is gone. His attitude is surely going to be missed, along with his excellent relief work. What would it have took for the cardinals to keep him? Remove someone else from the 40 man roster? – Montana Redbird
DG: It would just have taken the Cardinals presenting him a contract for 2021, and either negotiating a structure that allowed for him to rehab and perhaps give the team the guarantee of a salary for 2022 or letting arbitration set his salary. In the end, what it would have taken was the commitment of a 40-man roster spot. That's it. That's it most of all. And the Cardinals did not want to do that for spring training with a rehabbing reliever. They still have three spots unclaimed.
Q: Would Ted Williams hit .250 in today's game with the shifts, bullpens and Tommy John surgeries etc? – The Great Hambino
DG: Ted Williams would be 102 years old and facing 102-mph fastballs. It is my view that it has never been harder to hit – velocity, sinkers, Jordan Hicks and sliders, cutters, Devin Williams, not to mention shifts and granular scouting reports. I have no idea what Ted Williams would hit if transported from his prime to this time, but I trust a gifted relentless hitting intellect like him would find a way to do better than .250.
Q: Is it time for us Cardinal fans (especially season ticket holders) to recognize that we are being played for fools? It might be difficult to re-sign Yadi Molina but re-signing Adam Wainwright should have already been done before Christmas. I fear we are doomed to spend another abbreviated season hearing how the Cardinals will always seek to field a competitive team when they are really just running out the clock on some bad contracts. Please wake me up when the 2021 season is over. – Technophobia
DG: This is a stance that comes up often in the chat, and yet there hasn't been much evidence of it becoming widespread action. We'll see. It's worth noting how many other teams aren't making moves, and that is more revealing than anything else about the situation baseball is in. More on that later.
Q: With all the teams slashing scouting and analytics departments wouldn't it be the time for the cardinals to jump on all this talent sitting unemployed. Mo said they will have to look at how they evaluate talent. Getting smart people from outside "the cardinal way" would be refreshing and smart. – Mr. Preston
DG: Indeed. I think this suggestion because it speaks to capitalizing on a potential market inefficiency. The Cardinals have augmented their analytics group, and they have been able to avoid slashing that down to a skeleton crew by making cuts elsewhere. Other teams have chosen another approach. The Cardinals would benefit from outside thinking, and they have moved in that direction – or were moving in that direction before the pandemic. It's likely they will again, especially once John Mozeliak gets to move his role closer to the one he imagined with the new title. That said, something the Cardinals and other teams could do now that they should have done years ago is invest in internships so that they can improve the diversity in baseball executive rooms, and really acquire the best brainpower to shape the game's future.
Q: Bill and Mo should release Carp and Fowler now. They are taking much needed playing time away from the younger players. I know the Cardinals have to pay Carp and Fowler even if they release them. But they want be here in 2022. Time give the young players a full chance. Not splitting playing time with Carp and Fowler. Why is this not a good idea? – Bryan
DG: Because it gets the team nowhere except having to spend more money immediately and possibly longterm, and that's the opposite of what they want to do. There is no game today, no game tomorrow, and no game that counts for several more months, so there is no harm in a team keeping the players already paid for as depth, for the very least. Even if the Cardinals enter spring training with the plan to put both of those players on the bench, then why not keep them in case of injury? If the Cardinals select that Lane Thomas will play right field ahead of Dexter Fowler, and do as you suggest, then what happens when Thomas (or another outfielder) is injured for opening day. Do the Cardinals get even younger? Or have to now pay for the depth they won't have? Here's the deal with contracts. Teams sign players to contracts with the idea that the player's production will give a return on that investment. Teams have already bet on that production with the zeroes and commas, and they're going to take the time they have to give for that production to arrive. Rosters are about controlling assets, not punitive dismissals that make it likely the team will have to spend more to cover that decisions.
Q: Thanks for sharing and discussing your HOF vote. I don't always agree with your vote, but appreciate your process and logic. I've heard you mention that you have voted for guys--like Andruw Jones or Jim Edmonds--because you felt like they deserved to remain in the discussion. Two questions: (a) specifically with Jones do you think he's deserving of the HOF, and (b) assuming he's not, have you wrestled with the possibility that you could end up voting for a guy like him, he gets to say 60% of the vote, and then you quit voting for him, because he doesn't quite meet the threshold but was deserving of a longer look? – David H
DG: (A) Andruw Jones is arguably the finest defensive center fielder of his generation, and to that great glove he also added a remarkable bat. As mentioned earlier, he ranks 13th with dWAR since 1961 among all positions. That stands out given the fact that ahead of him are mostly shortstops and catchers and the best of the best third basemen. The next closest outfielder who is a contemporary is Devin White, at 16.7. (B) I don't know why I would do that, or anyone would pull the rug at the moment the player crosses the threshold. That's a waste of everyone's time. Anyone I vote for I have to be ready for them to be Hall of Famers. Period. I have to be comfortable with that eventuality otherwise why cast the vote? I had to face that question with Bobby Abreu and put an 'x' by his name, and others I did not because I couldn't give the same answer.
Q: With Carpenter, Fowler, Miller coming off the books next year, why not trade for Arenado with some prospects? Then trade DeJong to the Indians for Lindor. If we can not resign Lindor there will be a lot of very good free agent short stops next year. Makes the Cardinals a lot better this year and in years to come. Why not? – Bryan
DG: Bryan asked a lot of these questions, and I appreciated his relentlessness especially as each was phrased so aggressively: first his premise and then the demand that he be proved wrong. In this case, the biggest reason why this couldn't happen is because other teams are involved and the Cardinals do not have a Jedi on hand to convince Cleveland or Colorado that these are not the prospects they're looking for. Cleveland isn't looking for that kind of deal. Cardinals aren't looking that make that kind of deal. The Cardinals, if anything, have made it clear they're not looking to add to their payroll, and this move alone would add $50 million, at least. There will be a lot of good free agents at shortstop after the 2021 season, and they will cost dollars, not prospects. Eventually that will have great appeal. Having a Jedi around would definitely make trades easier, but for now the Cardinals have yet to figure out a way to impose those will on other teams to give them the best players for pennies on the dollars.
UPDATE (11:43 a.m. Thursday): The New York Mets are close to finalizing a trade for Francisco Lindor, according to multiple reports from New York.
Q: DG, There are some overly optimistic views of when baseball should open. There are also the opposite in the discussion. What I hear from those who firmly believe when baseball starts should be connected to when fans return. I have a couple thoughts on this myself. I do not think communities should be treated as a petri dish with exposure to unnecessary exposures. To the extreme baseball itself is unnecessary. Why can't the game return then allow attendance when or how it can be reasonable to do so? Why not accept less than ideal revenue vs zero revenue? Why not adjust or use technology to gain other sources of revenue whether that's streaming gambling whatever not only to capture losses but to increase accessibilities for fans who have previously be locked out of trips to the park? And lastly what is the cost of not being in the public view? -- RenoSTL
DG: You outlined exactly what many of us have reported and what many people in baseball are discussing. Find that spot where fans can be allowed in, some form of ticket revenue can made, and games can go on – not with empty ballparks and not yet with full ballparks. It's exactly what you're describing. They're not going to get "ideal" revenue, so they're doing the math on what is "acceptable" revenue given "known cost" of a game. It's exactly as your questions spell out, unless I'm missing some nuance in your list here. Baseball isn't the one turning communities into "petri dishes." There were fans at the World Series because of local policies – local government policies that allowed for tickets to be sold and people to gather. In some locales, restaurants can have inside dining, and I would imagine you wouldn't fault a business owner from doing that if local policies allowed. So it's not baseball, buddy, it's baseball making the most of local policies, and here in St. Louis that's part of the ongoing conversation. The Cardinals and the mayor's office have had discussions about how many fans and when those fans can enter Busch Stadium – not as some science experiment, but as a direct response to the virus and its spread in the area. If the community does better reducing the spread, getting healthy, then we'll be getting fans into the ballpark sooner and more of them in there eventually.
Every one of your questions is already being explored by baseball, and perhaps I'm wrong in getting the sense that you're asking because you believe they are not. Gambling during broadcasts to make additional revenue? Already in the works. Streaming as a route to reach more fans and introduce another stream of revenue? Was part of the rights deal the Cardinals wrote more than five years ago, and it's a big part of the tech push by MLB, and its why so many fans want the blackout policies lifted, as they should be. Because yes, out of sight is out of mind, and baseball is working now to make sure it isn't out of sight – heck, look at the attention the Hall of Fame vote gets – and that how it gets into that sight increases revenue and, when that sight is in person, adheres to local policies regarding COVID-19.
Q: I appreciate the strategy of winning with pitching, but I don't think you can win a championship with that alone. We keep talking about getting back to an average offense, but when was the last time a team won it all with an average offense? The Nationals had great pitching in 2019. They also had an underrated, or perhaps overshadowed, offense. I believe the game has changed and the Cardinals haven't. Do the Cardinals really believe that they can make it all the way if they were to get back to a league average offense? – WP
DG: They do, yes, because it's about all they got. They are a run prevention team, and that does work better over the long haul of a season than it does in the short, wild window of the postseason. But average would greatly enhance the Cardinals' chances of doing better in the postseason. There is a part of your question that really strikes at the issue: The game has changed. The Cardinals haven't kept up. They need to regain more edges, but the one they have maintained is the ability to develop and deploy pitching, so as the game changes and other teams pull ahead that gives them one facet in which they've set a pace.
Q: Who's the next Tommy Edman in the Cards organization (i.e. prospect no one really cared or knew about that makes it to the big leagues and becomes a productive player)? – Redheaded Redbird
DG: Evan Mendoza has his advocates for the quality of his approach at the plate and his willingness to work at a variety of positions to be an option off the bench. He's a cornerman, mostly at third, so a different kind of fielder than Edman. Kramer Robertson has already been called upon by the organization when a fielder was needed because he's reliable, and that's going to get him opportunities. It's hard for me to guess who "no one really cared" or "knew" about, so perhaps I'm not the best person to answer this question. Coming up in the minors, it sure seems like Mateo Gil is an infielder people should get to know.
Q: Thanks for the informative chat DG. For one thing you help keep old geezers like me in tune with the new baseball terminology. For example we found out this week that a brand new GM considers trading the 2nd best pitcher in the NL for a rental journeyman and 4 mid-level teenage prospects as "retooling"? (We used to call this "a bucket of balls".) In an effort to keep us up with the mainstream, please give us your best guess at what would match our archaic terms like "tanking" and "salary dump" in Chicago? – MS Bird Brain