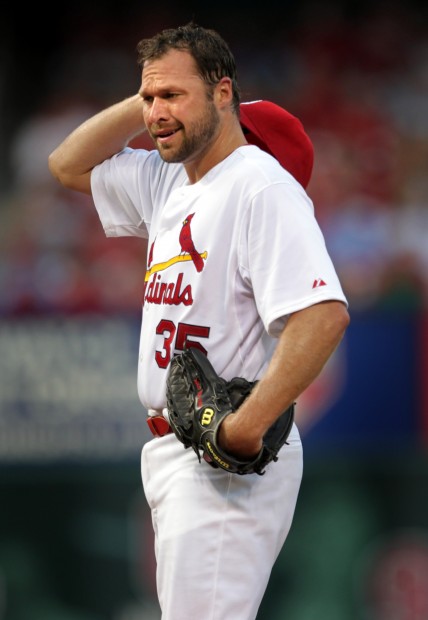 TOWER GROVE -- Since Jake Westbrook arrived at the non-waiver trade deadline, the St. Louis Cardinals have gotten everything from him that they expected. Well, maybe a few more strikeouts.
And certainly fewer wins.
The sinkerballing Westbrook has had four quality starts in four games, struck out at least seven in three of the four, and has won only once since becoming a Cardinal. He's won "points" with his teammates, as manager Tony La Russa explained, by pitching with a snappy pace: "Get it and throw it," the skipper explained. Since he showed up, Westbrook, Adam Wainwright and Chris Carpenter have yet to start a game that became a three-hour, nine-inning slog. Westbrook started a 2-hour, 23-minute 10-inning game, in fact.
"We've got to play better behind him," La Russa said this past week. "We didn't field particularly well behind him."
Fielding behind Westbrook is critical.
The Cardinals have shown with their two acquisitions this season that, given the choice, they'll side with pitching and defense over offense. GM John Mozeliak has recently said that if the Cardinals could have found an available offensive upgrade for the middle infield or a offense/defense combo at third they would have, obviously, pounced. The market just didn't offer that. The market forced them to choose.
That they did by trading right fielder Ryan Ludwick -- who provided the Cardinals offensive depth as the No. 5 hitter, or thereabouts -- in a three-way deal that got Westbrook. It was true to the club's philosophy, true to what the brass believes is the way for this club to win, and true the concept that pitching and defense are within a team's control. Offense? Clearly, not so much.
And, La Russa offered, that choice wasn't difficult (1).
"Ideally we would have had both (Ludwick and Westbrook)," La Russa said this past week in his office before one of the game against San Francisco. "We couldn't do that. It couldn't happen. So, you have to stand behind the decision. Would you rather have the hitter or add that pitcher? It wasn't even close, actually."
2. The Cardinals' groundball tendencies -- which unite the pitchers and fielders in a symbotic knot -- aren't any different this year than in years past. The Major League Leaders for groundouts this season, by pitching staff:
Cleveland ... 1,457

Cardinals ... 1,435

Atlanta ... 1,402

Philadelphia ... 1,337

Colorado ... 1,330
It helps that most of those teams have two pitchers that rank high in accumulating quick, groundball outs. Cleveland has Fausto Carmona (7th-most groundouts in MLB) and Justin Masterson (tied 10th). Atlanta goes with Derek Lowe (2nd) and Tim Hudson (1st), and the Cardinals have Wainwright (3rd) and Carpenter (8th). By adding Westbrook into the mix -- and taking Westbrook out of Cleveland's rotation -- the Cardinals could close that gap in the coming month and lead the majors, once again, in groundouts.
But there's more to the Cardinals' groundbouts than just gobs of groundballs. There's the first comment from La Russa and what it implies: Westbrook, and other sinkerball pitchers like Joel Pineiro before him, lean on the defense. The Cardinals' pitchers lean heavily on the defense, and Mozeliak even acknowledged recently that the goal for the Cardinals has always been to stress infield defense for the type of pitching staff and pitching approach that Dave Duncan prefers.
3. To illlustrate that point, combine the team defensive totals with the pitching staff totals:
Cleveland ... 1,457 groundouts ... 4,821 total chances ... 1,442 total assists

Cardinals ... 1,435 groundouts ... 4,837 total chances ... 1,436 total assists

Atlanta ... 1,402 groundouts ... 4,852 total chances ... 1,398 total assists

Philadelphia ... 1,337 groundouts ... 4,739 total chances ... 1,297 total assists

Colorado ... 1,330 groundouts ... 4,740 total chances ... 1,329 total assists
I found it interesting that the Cardinals were the only member in the group that had more "total assists" than "groundouts," only interesting. It wasn't like revealed a greater truth, but it does show how heavy-groundball staffs also lead to busy fielders. No duh, right? It makese sense that for almost every groundout there is going to be two "total chances" -- the assist and the putout. That would double the chance of an error, right? And, that's where this is headed: A look at how reliable the Cardinals' defense has been for its pitchers.
4. The Cardinals have committed 77 errors, 19th in the majors. That does not count double plays not turned or scoring decisions that hide a fumbled play at, say, third base. There is another way to judge defense. Look at the unearned runs. The Cardinals have allowed 45 unearned runs. That is the most of any NL teams in the top five groundball staffs mentioned above. But not that much more than the other teams. Philadelphia, No. 4 on the above rankings of groundball staffs, has allowed 34 unearned runs.
The average number of unearned runs allowed by a team this season is 43.7. The Cardinals are right there. Average. Since I added them all up this morning, here are how the other winning teams in the NL compare:
Cincinnati ... 28

Cardinals ... 45

Atlanta ... 42

Philadelphia ... 34

NY Mets ... 34

San Diego ... 20

San Francisco ... 27

Colorado ... 40

LA Dodgers ... 42
5. A brief interlude to this talk about staying grounded. Albert Pujols and Cincinnati Reds first baseman Joey Votto are dueling each other for a historic run at a Triple Crown. I'm told there will be more about that later this week in The Post-Dispatch. Pujols is, essentially, one more strong day at the plate (or one 0-for day from Votto) away from leading all three Triple Crown categories. I heard this morning on MLB Network that there is already a player who is doing that: Carlos Gonzalez.
For the Mile High Haters out there, this will only add to the evidence that altitude elevates stats, too. Gonzalez's home numbers in the Triple Crown categories are all tops in the NL. Though, Pujols ain't far behind here either:
Gonzalez ... .374 (1st) ... 20 (1st) ... 52 (1st)

Pujols ... .352 (3rd) ... 17 (3rd) ... 48 (2nd)

Votto ... .306 (18th) ... 15 (6th) ... 43 (7th)
6. OK, back to the groundballs, briefly. Atlanta's Hudson has 50 more groundball outs than any other pitcher in the majors. He has 56 more than Philadelphia's Roy Halladay, and Halladay has pitched 22 1/3 more innings. Clearly there is a better way to rank groundball pitchers -- not just by the total groundouts they get, but by the percentage of their outs they collect via a groundball. I took the top 10 totals for groundouts (three pitchers were tied at 10th), and reordered by the percentage of their outs that came on the ground:
1. Tim Hudson, ATL ... 306 GO ... 57.4 percent

2. Justin Masterson, CLE ... 231 GO ... 53.0 percent

3. Derek Lowe, ATL ... 254 GO ... 52.9 percent

4. Trevor Cahill, OAK ... 231 GO ... 51.8 percent

5. Fausto Carmona, CLE ... 247 GO ... 50.5 percent

6. Ricky Romero, TOR ... 231 GO ... 46.1 percent

7. Carl Pavano, MN ... 249 GO ... 45.6 percent

8. Adam Wainwright, STL ... 252 GO ... 44.1 percent

9. Chris Carpenter, STL ... 238 GO ... 43.0 percent

10. Felix Hernandez, SEA ... 251 GO ... 42.5 percent

11. Roy Halladay, PHI ... 250 GO ... 41.7 percent

12. CC Sabathia, NYY ... 232 GO ... 41.2 percent
For the sake of expanding the comparison, here are the two other pitchers from the Cardinals' rotation with more than 100 innings pitched as a starter:
Jake Westbrook, CLE ... 188 GO ... 49.1 percent

Jaime Garcia, STL ... 200 GO ... 47.2 percent
7. I plan to look deeper at this subject when I get a chance to really dig into the numbers, but it's been such a topic on Twitter and in the press-box this season and it was a factor in last night's game that I'll offer a tease: The Joy of First-Pitch Swinging.
Matt Holliday went after the first pitch he saw last night with the bases loaded in the ninth inning. It is the second memorable time this season that Holliday has had a chance to win the game, and he's gone up there hacking -- unsuccessfully -- at the first pitch. There have been fans and members of the media critical of this approach. That makes no sense to me. None. That might be the best pitch that Holliday sees in the at-bat. Holliday is here to drive in runs, to win games, to hit the ball hard and in what universe is it beneficial that he automatically take the first pitch, even if it's an imminently hittable pitch?
Holliday has about the equivalent of a full season of swinging at the first pitch, according to the splits available at Baseball-Reference.com. He has 594 at-bats when he's swung at the first pitch, and in those at-bats he has a .386 average, 45 home runs, 50 doubles and 149 RBIs. That is a pretty good season. Subtract his first pitch-swinging at-bats from his career totals, and here is how they compare:
1st-pitch ... .386 BA, .724 SLG

All other ABs ... .303 BA, .508 SLG
Clearly this topic deserves more explanation, but so far the evidence is mounting that the First-Pitch Camp has a pretty good case.
8. HIT THE LINKS: Ozzie Smith tells folks up in Quad Cities during his visit to the Cardinals' Low-A affiliate that the bug is biting him, that he'd like to get back into baseball as a coach. Check out the story here, written by Steve Batterson at The Quad-City Times. ... Non-baseball, but still cool: Joe Williams, music critic at the PD, was up late at his blog writing this entry about a collection to benefit New Orleans that features OK Go, My Morning Jacket and -- oh, wait, there is a baseball part to this -- The Mendoza Line. Check out Williams' explanation here.
Will be scavenging for more this afternoon, and, yes, I'm still working on an answer to the Fulgham Riddle.