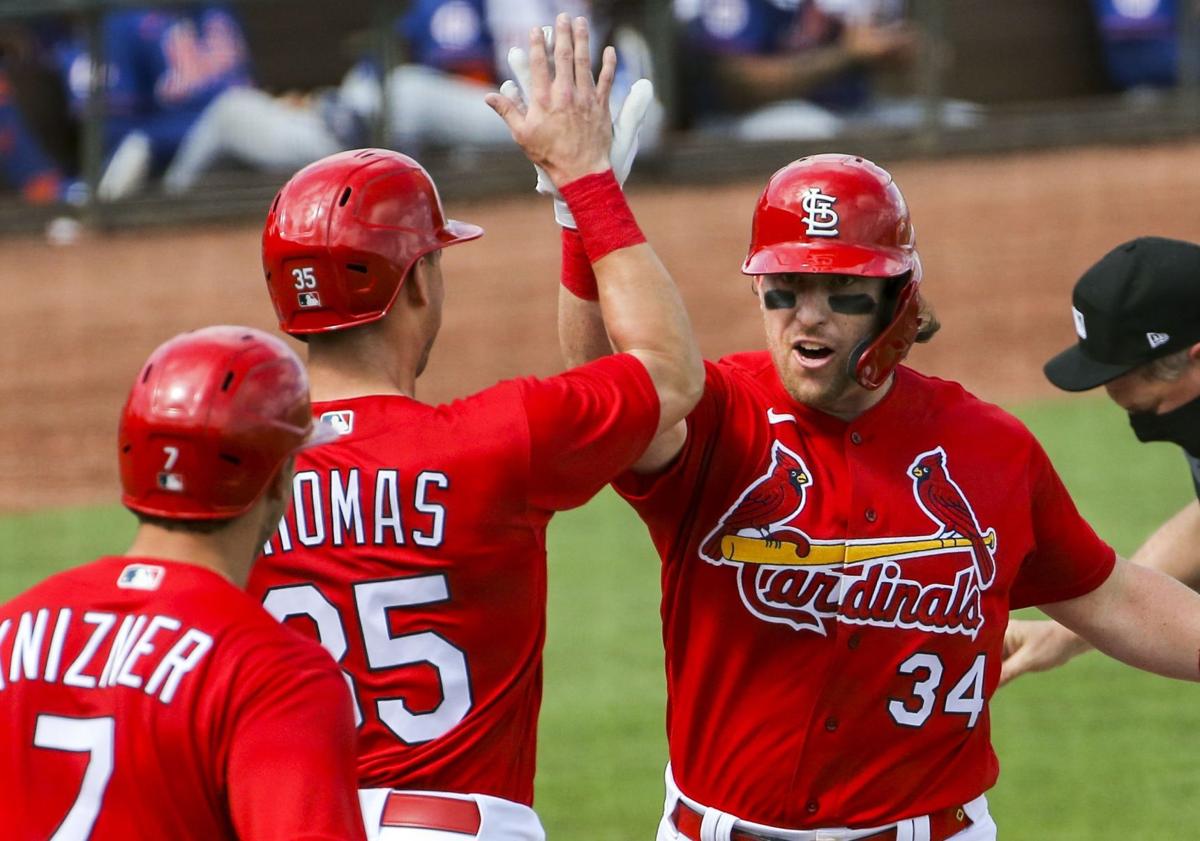 WEST PALM BEACH, Fla. — On the eve of their final spring training game, the Cardinals finalized who will be leaving Florida on the opening day roster, and late, strong performances from John Nogowski and Jacob Woodford forced their way onto the flight.
Manager Mike Shildt described the conversations as "difficult," both with the decision-makers and then with some of the players who did not crack the 26-man roster.
"This is my third spring training in this position and, man, this is as hard of decisions as we've had," Shildt said after the team's loss to Washington at the Ballpark of the Palm Beaches. "And we knew coming in that we'd have them. A lot of times the camp kind of sorts itself out it gets to be pretty crystallized. Candidly, it stayed competitive the whole camp and right down to the end we had a lot of healthy dialogue."
The injury to Harrison Bader threw open a multitude of possibilities for the Cardinals who could then choose between taking an extra center fielder into the regular season or turning to a pinch hit-oriented player.
Nogowski's production and what the Cardinals think he can do against the high-speed pitchers lurking in the late innings swayed the decision.
Nogowski joins outfielder Austin Dean, infielder Matt Carpenter, backup catcher Andrew Knizner, and infielder Edmundo Sosa on the five-man bench. Sosa being out of options allowed him to stay ahead of challengers Max Moroff and Jose Rondon for the backup infielder spot.
The Cardinals will carry 13 position players and 13 pitchers to start the year. When Kwang Hyun Kim is available for the rotation the team may shift to 14 pitchers.
Woodford, who was used in long relief on Sunday, will give the Cardinals length out of the bullpen, and they selected the righthander ahead of reliever Kodi Whitley, who is a short-burst reliever.
Whitley and outfielder Lane Thomas were optioned to the minor-league camp Sunday. The following players were also reassigned to the camp as they are not on the 40-man roster: Rondon, Moroff, and catchers Tyler Heineman and Dennis Ortega. Some of them will be on the five-man taxi squad the Cardinals take to Cincinnati for the first road trip of the season, and all of them could spend time at the team's alternate-site camp in Sauget, Ill., in April.
Shildt met with Carpenter to let him know that Tommy Edman will open the season as the everyday second baseman, and that means a bench role for the former All-Star and veteran leadoff hitter. 
Edman will also be the team's backup center fielder, in a pinch.
Jordan Hicks, 21 months removed from elbow surgery, will be on the active roster as expected to open the season. His fastball touched 103 mph in his outing Sunday against the Nationals.
The Cardinals also officially placed their four injured players on the 10-day injured list.
Daniel Ponce de Leon, RHP