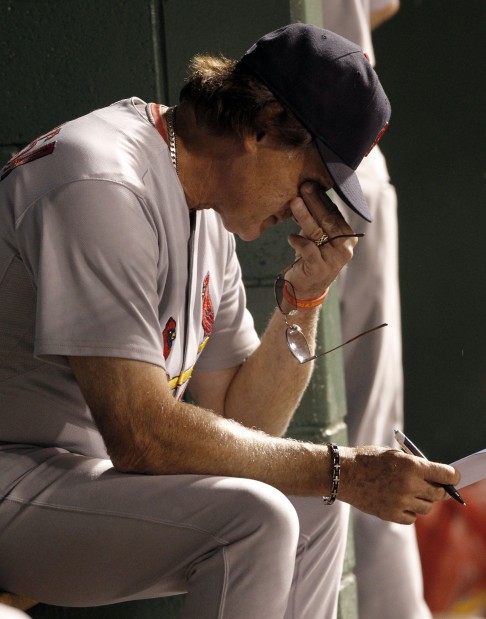 TOWER GROVE -- After inexplicably losing a series at PNC Park during which the woebegone Pittsburgh Pirates defeated Adam Wainwright and Jake Westbrook in back-to-back games, St. Louis Cardinals manager Tony La Russa summed up the team's goals thusly to on-site reporters: "We have a very consistent philosophy of winning the series."
Yeah, see, there's the problem.
The Cardinals have not won a series against a team with a .500 or losing record this month. They've lost or split series with the Chicago Cubs, the Milwaukee Brewers, the Pirates, the Houston Astros, and the currently .500 Florida Marlins. Those five teams are a combined 87 1/2 games out of first place. Not since sweeping the Pirates at the end of July at Busch Stadium have the Cardinals won a series against a team beneath them in the standings. And that's only half of it.
The Cardinals have lost or tied seven of the eight series they've had against "inferior"* ballclubs since the All-Star break.
* If, we agree, "inferior" is defined as beneath them in the standings. I understand all things are relative. But for the sake of argument ...
Focus only on the losing teams and the Cardinals have played 62 games against teams who have losing records today and 62 games against teams that are .500 or better this morning. In those 62 games vs. losing clubs, the Cardinals are 33-29. There are many ways to cut the Cincinnati Reds' 3 1/2-game lead in the NL Central and search for reasons why the Reds have taken a strong hold on the division title (1):
The Cardinals are 50-28 in games started by Wainwright, Chris Carpenter and Jaime Garcia.

That means, they're 18-28 with anyone else.

The Cardinals 5-33 wnen scoring 3 or fewer runs.

The Reds are 4-23 (notice fewer games).

The Cardinals have 24 come-from-behind wins.

The Reds? They had their 35th on Thursday.
But the real difference continues to be the Reds ability to thump the teams they should thump. The Reds are 41-21 against teams with losing records in today's standings, and that includes a 1-5 record against AL dregs Kansas City and Seattle. Cincinnati uses losing teams to improve their standing. The Cardinals have allowed losing teams to erode theirs (2).
I went through the Cardinals' performances against losing teams to see if there is an explanation, something that stands out when compared to their overall play or, more specifically, their play against winning teams.
HITTING

vs. Team L ... .264 BA, 4.8 runs per game

vs. Team W ... .272 BA, 4.4 runs per game

PITCHING

vs. Team L ... 3.63 ERA

vs. Team W ... 3.18 ERA
There are several ways to read into this. The Cardinals score more runs against losing teams, as they should, but also allow more runs. Why? Well, in recent series it's because the Cardinals have shifted their rotation to set up the Big 3 for Cincinnati, a winning team. Of their combined 54 starts this season, Carpenter and Wainwright have made 25 against losing teams. Garcia has nine of his 24 starts against losing teams. Doesn't seem like much, but look at it another way: Of 19 starts for Jeff Suppan and Kyle Lohse this season, 14 have come against losing teams. The Cardinals are 5-9 in those starts.
In 62 games against clubs with winning/.500 records they've allowed 16.
That leaves 29 for the losing teams to exploit, enjoy ... and add to that 3.63 ERA. In the 62 games against losing teams this season, the Cardinals have allowed 1/2 earned run more per game than vs. winning teams, and have then added a 1/2 unearned run a game to that total. It doesn't take much to see how the improved runs per game vs. losing teams vanishes ...
-- With the help of a dear friend, a fitting poll for this subject now appears above under the picture of La Russa (3).
-- Since Bernie Miklasz is on vacation, please allow me to appropriate one of his riffs briefly: Free Brendan Ryan. Wasn't the purpoes of landing Pedro Feliz to play third base to improve the defense and get Felipe Lopez a breather for his slumping bat? Maybe I misremember ...
-- Albert Pujols has 83 at-bats of latitude when it comes to hitting his 400th homer (5). Pujols, who enters this weekend's series against Washington with 399 career homers, will be the fifth-fastest to the mark (measured by at-bats) if he hits No. 400 within the next 83 at-bats. Plenty 'o time. The Orf Sports Bureau offers the list of the fastest, by AB, to 400:
Mark McGwire ... 400 in 4,726 ABs

Babe Ruth ... 400 in 4,853 ABs

Harmon Killebrew ... 400 in 5,300 ABs

Jim Thome ... 400 in 5,416 ABs

Albert Pujols ... 399 in 5,613 ABs

Manny Ramirez ... 400 in 5,695 ABs

Jimmie Foxx ... 400 in 5,711 ABs

Willie McCovey ... 400 in 5,751 ABs

Willie Mays ... 400 in 5,761 ABs
-- Cardinals' first-round pick Zack Cox made his pro debut Thursday down in Florida (7), playing for the Gulf Coast League Cardinals. Cox went 4-for-5 with a double and an RBI. He started at designated hitter and batted cleanup. Why Cox is in the GCL instead of a higher level has been covered here before -- it has to do with his options -- and his first real test will be later this season when he reports to the Arizona Fall League. Cox said his goal for the GCL is to get in "playing shape," and the Cardinals plan to ease him into the field. He'll play third base eventually, with a move to second only coming later based on performance/need.
-- FARMNIK REPORT (8): Righty Scott Gorgen, out about three months with an elbow strain, will return to the Class AA Springfield rotation and start tonight for the S-Cards. Kary Booher, beat writer for the Springfield News-Leader, writes about Gorgen's return in time for a playoff push. ... Rookie-level Johnson City won its 40th game on Wednesday, going 40-20 and reaching the 40-win mark for the first time since 1994. The JC Cards have a two game lead in their league. Outfielder Oscar Taveras had three hits and drove in three runs in JC Cards'6-3 victory Wednesday. ... Batavia swept a doubleheader, 4-3 and 4-1. DH Patrick Biserta had two hits and three RBIs in the 4-1 win. Lefty John Gast, who has arguably had the best debut of any 2010 draft pick, improved to 5-0 with a six strong innings. He allowed one run on four hits. He struck out six and walked two. In 29 innings this season, he has 32 strikeouts and four walks. ... Brian Broderick pitched a complete-game four-hitter for Class AA Springfield in a victory against the Kansas City's affiliate. ... Quad Cities got hammered, 14-5. The River Bandits hit three homers, including the 22nd of the season for Matt Adams. Starter Jorge Rondon took the bruising, allowing eight runs (six earned) on five hits and five walks in 1 2/3 innings.
-- HIT THE LINKS (9): A moving story from Florida, where rookie Logan Morrison, a Northshore High alum (another Slidell big leaguer), got to enjoy some time with his father, who took the train from New Orleans to be sure he saw his son in the majors. Wait until you read why, in this article from Joe Capozzi of The Palm Beach Post. (On his Twitter feed, Morrison wrote about his day with his dad: "Best birthday present ever - lunch w my dad @CarnegieDeli.") ... Morrison has struck up a first-base friendship with Pujols because the two share an alma mater, Maple Woods Community College. ... Sports Illustrated details in this week's issue how a friend of Larry Bigbie's played a role in the sting that has landed Roger Clemens' in trouble. Bigbie's year with the Cardinals sure was an eventful one what with the hernia that kept him off the field and the FBI investigation swirling around him. Where is he now? Hitting .390 in the Golden League. ... And if you haven't read the source material for the recent talk about the Pittsburgh Pirates making money and the Florida Marlins hiding revenue to get more taxpayer money for the new posh stadium in Miami, you can find the original reports, all neatly organized, here at Deadspin.com's MLB Confidential:
I don't think Josh Hamilton is the best player in baseball. I think it's just kind of silly to say that anybody at this point is a better player than Albert Pujols - this reminds me of the NBA's constant effort to give someone other than Michael Jordan the MVP award.
And regarding that finding somebody else for the MVP award thing, Cincinnati Reds first baseman Joey Votto had that kind of MVP day out in San Francisco. Votto hit two home runs and helped the Reds avert disaster, per this report in the Cincinnati Enquirer. ... Enquirer baseball writer John Fay writes that both Reds management and Reds manager Dusty Baker are "upbeat" about an extension for the skipper. That would erase won quiet option for manager Tony La Russa should he choose to walk away from the Cardinals at the end of this season. Old chum Walt Jocketty wouldn't have room for a reunion -- unless it's somewhere nearby in the Reds' front office.