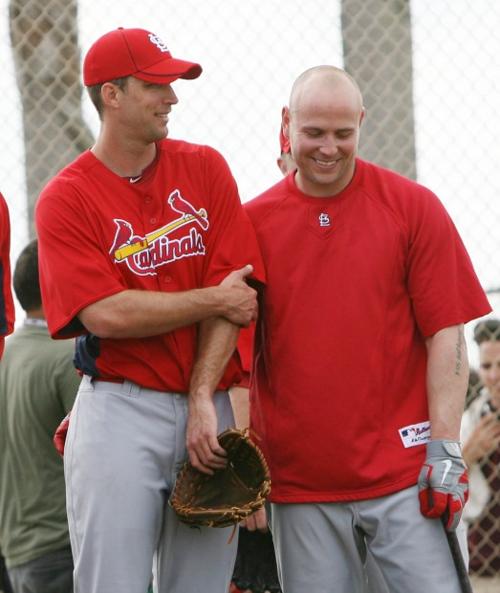 TOWER GROVE • The first domino will fall later this week when the St. Louis Cardinals officially confirm that starter Chris Carpenter has signed a two-year extension and will be a fixture in the 2012 rotation, as first reported by Joe Strauss in this morning's Post-Dispatch.
The other dominos are already lined up.
General manager John Mozeliak said he wanted to use the final few weeks of the regular season and some of October to lock-in existing free agents and clear up any questions for 2012 beyond the biggest question: Albert Pujols. There is mutual interest and ongoing conversation with the representatives for shortstop Rafael Furcal. Outfielder Lance Berkman has not only directly discussed his interest in returning with the Cardinals, he's also given them a sense of the deal he's willing to take - if it's with the Cardinals.
"Every contract that I sign from now on could be my last one," Berkman said this past weekend. "I think I could definitely get a multi-year deal from somebody. I've told the Cardinals I would come back on a one-year deal. I'm not going to hold their feet to the fire on multi-year deal. But I want to be paid what I'm worth on a one-year deal."
The Cardinals begin their weeklong tour of Pennsylvania this evening with a 79-67 record, 4 ½ games off the lead for the Wild Card. They have a legit chance at being a 90-win team -- a reasonable goal, outfielder Matt Holliday recently said -- and sudden relevance in the postseason race. Their first five-game winning streak of the season included a sweep of the Wild Card-leading Atlanta Braves. They are poised to be a second-guesser's buffet if they miss the postseason by a few games or less. There are the blown saves. There was the devotion to Ryan Franklin early on. There are the games mishandled by the defense. There are, of course, the injuries.
All of that and the intent to re-sign players blends into a single question for the Cardinals as 2011 ends and 2012 approaches: Should they bring back the same team?
Will an encore prove any different? Is this band worth a command performance?
A few weeks ago, as the Cardinals wallowed some 10 ½ games behind NL Central-leading Milwaukee, it was mentioned here that now would be a good time for the minor-league system to produce an impact player. The payroll demands it, especially if the Cardinals are able to re-sign Pujols this winter. As of now, this is how the Cardinals' lineup and cornerstone pitchers look for 2012:
C Yadier Molina (option for 2012)
1B open
2B open
3B David Freese (one year till arbitration)
SS open
LF Matt Holliday
CF Jon Jay (one year till arbitration)
RF open

SP Adam Wainwright (option for 2012)
SP Chris Carpenter (re-signed)
SP Jaime Garcia (signed extension)
SP Jake Westbrook (signed through 2012)
SP Kyle Lohse (signed through 2012)

CP open
Jon Jay and David Freese stand out as cost-controlled players who have earned incumbency at two key positions for the Cardinals. Jason Motte, who will have his first bite at the arbitration apple this winter, and Fernando Salas have done well enough in the closer role to be considered candidates if the Cardinals do not attempt to clear cash and make a run at one of the big-rep closers available through free agency. Otherwise ...
There are more positions open than the Cardinals have kids to fill.
Allen Craig could be the answer in right field, should the Cardinals need a pre-arb player at a power position. Shortstop is less clear, especially with manager Tony La Russa recently recalibrating the expected playing time for Tyler Greene, partially because of Furcal's role in this 11th-hour surge. Greene is out of options and either makes the Cardinals' major-league team out of spring next season or is available to the other 29 teams via waivers.
If you consider the re-signing dominos that are in place, here is how the roster could look:
C Yadier Molina (option for 2012)
1B >> Albert Pujols/Lance Berkman
2B >> Skip Schumaker or Ryan Theriot* (both arb-eligible)

*Or an alternate pre-arb option at second base?
3B David Freese (one year till arbitration)
SS >> Rafael Furcal
LF Matt Holliday (signed through 2016)
CF Jon Jay (one year till arbitration)
RF >> Berkman/Allen Craig

SP Adam Wainwright (option for 2012)
SP Chris Carpenter (re-signed)
SP Jaime Garcia (signed extension)
SP Jake Westbrook (signed through 2012)
SP Kyle Lohse (signed through 2012)

CP >> Fernando Salas (pre-arb)
or Jason Motte (arbitration eligible)

One word leaps to mind when scanning over the principals in place for 2012.
Re-signing Carpenter to a two-year deal locks the rotation in place for at least 2012, and puts four of the Cardinals' 2012 starters under control for 2013. Any interest in re-signing Edwin Jackson is now contingent on trading either Jake Westbrook or Kyle Lohse. Both have no-trade protection in their contracts with the Cardinals. The reworked deal for Carpenter clears $5 million from the 2012 salary he would have had if the Cardinals exercised the option on his current contract. Still, the Cardinals have a lot of the payroll cemented in the rotation. Consider:
Chris Carpenter ... approx. $10 million
Adam Wainwright ... $9 million
Kyle Lohse ... $11.875 million
Jaime Garcia ... $3.25 million
Jake Westbrook ... $8.5 million

TOTAL ... $42.625 million
It has become somewhat of a mantra around the Cardinals front office, whether they are talking about handling the 40-man roster or approaching arbitration-eligible players about an extension: flexibility. They want payroll flexibility. They want transaction flexibility. They want roster flexibility. They want acquisition flexibility. And so on. And so on. There are a few weeks remaining in 2011, and already 2012 is starting to lack some flexibility.
That's not necessarily a bad thing.
The Cardinals could use a little certainty as they head into an offseason that will be dominated by the negotiations with Pujols and his agent, Dan Lozano. Knowing what pieces the Cardinals have to put around Pujols and what pieces could replace Pujols are critical to how competitive they will be with or without Pujols in 2012. But as they re-sign players or exercise options (Wainwright and Molina will happen soon after the season ends), there is a sameness that is taking hold. In the wake of consecutive 100-win seasons, La Russa described how even a successful roster needed a shakeup to avoid being stale: "We like to keep it fresh. There is a certain amount of intrigue when new people come in. It's new blood. It gives you a new look, new characters."
And, yet, the Cardinals could Xerox their current roster for next season and try again. Is that a good thing?
Can the Cardinals count on better return from a similar roster?
One of the returning players offers a resounding answer to that question. The biggest change from the Cardinals from 2011 to 2012 won't be a name on the roster, but the designation beside it. Wainwright will be healthy. If the Cardinals are able to re-sign Pujols this winter, Wainwright's rebuilt elbow could be the most significant change for the Cardinals headed into 2012. That changes the question from the above -- can the same roster do something different? -- to how many wins is having Wainwright worth?
Would he have been enough to make it a race with Milwaukee? Would he have been enough to have the Braves chasing the Cardinals this week? The floor is yours. Because by bringing back most of the leading players from this year's team the answer to that question is clearly what the Cardinals are banking on for 2012.